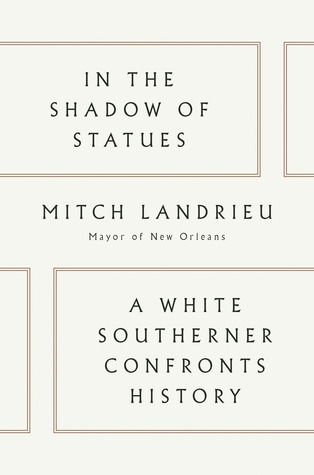 "An extraordinarily powerful journey that is both political and personal...An important book for everyone in America to read." --Walter Isaacson, #1 New York Times bestselling author of Leonardo Da Vinci and Steve Jobs The New Orleans mayor who removed the Confederate statues confronts the racism that shapes us and argues for white America to reckon with its past. A passionate, personal, urgent book from the man who sparked a national debate."The...
---
Details In the Shadow of Statues
Reviews In the Shadow of Statues
People are somehow reading this history book and getting distracted by the fact that the author is a politician. But let's not be so cynical that we overlook the issue of race solely because someone in the public square is raising it. A white politician is an ideal messenger for an historical account of race relations in the Deep South and the rest of the U.S. This is a book review of the content of Mayor Landrieu's message and the manner of his ...

There's a lot to like about this book. Mitch Landrieu, mayor of New Orleans, gives, I think, an honest and down-to-earth account of his life, from his youth growing up in New Orleans, to his early tangles in state legislature with neo-Nazi David Duke, to Hurricane Katrina and its aftermath, and finally, to the removal of the four Confederate monuments from New Orleans in 2017. I appreciated that Landrieu's recollections felt clear-eyed, and h...

I'm trying to read up on possible Democratic candidates for the 2020 presidential race. Mitch Landrieu, currently mayor of New Orleans and formerly Lt Governor of Louisiana, has been mentioned as a dark horse, lurking on the edges of the political landscape. Landrieu's new book, "In the Shadow of Statues: A White Southerner Confronts History", is a good look at three major issues that he has handled in his time in the two major offices he has hel...

A brief book commissioned by a mayor (there is no way he wrote this) who was vaulted to moderate political stardom for defeating inanimate objects. The truth is under Landrieu New Orleans has rapidly gentrified, with its black population declining and forced to the West Bank. The culture is actively diluted as residents are forced out by AirBNB. I live across from the Faubourg Treme, birthplace of Jazz and America's oldest integrated neighborhood...

This book was too much like a political campaign ad for my taste.

"I have often heard it said by elders that you can't know how a man feels until you walk in his shoes. It has taken me the better part of forty years to find those shoes. This is what I have come to call transformative awareness. We are all capable of it; but we come kicking and screaming to a sudden shift in thinking about the past. To get there we have to acknowledge that we were inattentive, insensitive, myopic, or God forbid, hateful in o...

I grew up in the cradle of the Civil War, a city where Fort Sumter is part of who we are -- and always will be. I'm from Charleston., S.C. Do love that city with all its flaws. When I was young, my family attended a church downtown that had a gym right across from the slave market. I always walked through that place because it was a like a maze for me. It stretched for a few blocks, had a concrete floor, a low roof and oppressively hot in the sum...

This book is memoir from the mayor of New Orleans and his role in taking down a series of statues honoring Confederate figures in the city and igniting a controversy that sparked intensive debate across the nation. The work starts as an autobiography of a Louisiana politician, whose experience with race started early on, as his father was mayor of New Orleans at the height of the Civil Rights movement of the 1960s. As he moves through life, Landr...

Things I learned and understand better because of this book:1. Schools in southern states teach that the "war between the states" was fought for state's rights and had nothing to do with slavery. I have friends from the south who whole-heartedly believe this and will not listen to any discussion about the Civil War being about slavery. I've always been so confused about that; now I know why.2. The cult of the Lost Cause. This is an organization s...

One can't help but wonder if this book will be a launching pad to the presidency as Obama's "Dreams of My Father" was. It's sincere and passionate. Mitch comes off as the next Bill Clinton but without the sleaze. He tells his life story as well as the trauma of Hurricane Katrina. If you read the acknowledgments at the end of the book you might question how much of the book he actually wrote with thanks to speech writers and journalists....

An honorable memoir in many ways that still fails in its execution. My full review: https://medium.com/@jpark_21/in-the-s...

Landrieu, resident of New Orleans, Catholic, Democrat, and politician, weaves the story of his life and his city. Touching on the War on Poverty, David Duke, Hurricane Katrina, and the removal of Lost Cause statues, Landrieu reflects on what New Orleans is, was and could be. Why I started this book: I was eager to read about the statues being taken down... and while Landrieu teases it in the beginning, he saves it for his grand finale.Why I finis...

What an inspiring book written in a very conversational, even avuncular tone!The first third of the book is Mr. Landrieu recollecting his upbringing that emphasized value for all people, the middle section details his challenges in contributing to deal with Hurricane Katrina and rebuilding New Orleans and the last part is about him spearheading a movement to take down American Civil War statues that were out of place and out of time. I greatly re...

In the ongoing news cycle about removing statues that commemorate Confederate Civil War figures, we get a memoir from Mitch Landrieu, the now former mayor of New Orleans to how he got to this point and his role in getting them removed. We begin and end the book with book ends about the process of the statue removal and in between we get his biography and political career.I was disappointed. Don't quite remember how this caught my eye but like oth...

This is one of the most encouraging books I have read! The mayor's honesty and commitment to justice and equality as a public servant is not only refreshing, but it is inspiring. The Trump administration , Republican Congress and Senate are a shameful disgrace by comparison. Mitch Landrieu for president 2020! Ernest Farmer.e te Awesome and courageous , a must read for K = 12History Thank you mayor for your courage and actions E, farmer

I discovered this on Obama's 2018 summer reading list, and decided to read it because I was feeling nostalgic about when we had a President who read books. This book was largely autobiographical, but also included many interesting historical, social and political insights. It was a quick read, and gave me a shot of hope in these troubled times.

While that contained a lot more history of Mitch Landrieu and his career than I expected, it was informative and perhaps the last few chapters about taking down the statues wouldn't have been so moving if there hadn't been some background set. I will never understand the Americans who want to revere the Confederates. They lost and rightly so. They were people who fought for a horrible cause. Let's tear them all down.

It's hard for me not to have issues with Landrieu's book--spawned most likely out of the attention he received via The New York Times last spring after these statues were taken down. I know about New Orleans culture because I had spent a good many years living there--studying and then teaching and though there are truths here, it is all slanted to fit this polemic on the wrongs of the Civil War and its implication of pro-slavery. The Civil War is...

The South could use more leaders like Mitch Landrieu.

This is a quick and easy read. Mitch Landrieu, second term mayor of New Orleans, centers his conversation on race around his childhood, the period he served in the state legislature with David Duke and his removal of four confederate statues from prominent places in New Orleans. Landrieu begins with his childhood, where his father as mayor of New Orleans worked to integrate the city and he relates the name calling, hate mail and hate filled phone...

Mitch Landrieu's *In the shadow of statues: A white southerner confronts history* is an interesting, in places even gripping, read. Landrieu, who also credits the assistance of his speechwriter, is a very good writer. The book reads very smoothly (I finished it in a morning). It wrestles with southern politics of race through the lens of Landrieu's (and Landrieu's father's) political career in Louisiana. Landrieu traces key moments in LA ...

Enlightening. The good work Mr. Landrieu is doing is exceptional and I'm thankful for it. I have to agree with a friend's take that it was difficult and maybe unnecessary to have so much information about David Duke. A few parts did feel like a political plug. After reading there is no doubt in my mind that confederate statues = racism... I think anyone else who reads it will feel the same.

Perfect Extremely well written, scholarly and with heart. Love this book about a city I love. Couldn't have come at a better time.

Mitch Landrieu is going to run for Presidency. I saw him on Bill Maher and enjoyed the conversation and so had to read this book. With the rise of fringe right wing groups, white supremacy and the aftermath of Charlottesville; this book has hit the stands at perfect time. His experience as growing in NOLA as a son of politician shapes his writing. This is not a history lesson but more like musings of a liberal Mayor who took a stance in the face ...

It's pretty clear Mitch Landrieu has further political aspirations by writing this book, but I enjoyed reading it. He gives his autobiography growing up as the son of a New Orleans mayor, and now the city of New Orleans has evolved and faced the issue of race. He devotes only one chapter to the actual removal of the Confederate statues of the title, but he also tells his story of rebuilding after Katrina and his interactions with various politi...

The book's message was spot on. However, too much of it seemed like bragging on record and his setting up for a Presidential run in 2020.

I'm not sure what I expected from this book but I have found it a bit disappointing. To put it simply, the book was divided into three parts- the author's childhood, his accomplishments as a political leader and then the story about the Confederate statues coming down. There was A LOT of trophy shining. Landrieu did more during his mayoral tenure than just taken down some monuments to racism, and I think this book serves to support that. New Orle...

This was an expansion on the thoughts and ideas that Landrieu gave in 2015 after the last of the city's four Confederate monuments were removed and a mini-biography as to how he came to his beliefs as well as the struggle to get the monuments removed from their prominent locations in the city in which he was Mayor, New Orleans. If you haven't read it, I really implore you to do so, it's easy to find on the web and is even included at the end of t...

I am grateful Mr. Landrieu wrote this memoir/history/moral guide. First, it is important to peek into the diseased minds of those Americans who harbor hatred. At one point Landrieu recognizes a eucharistic minister in his church as the woman who screams vile epithets at him when he jogs in the park. He is surprised, but of course, he should not be. Priests and evangelical fundamentalists and their minions and benefactors have been spewing hatred ...