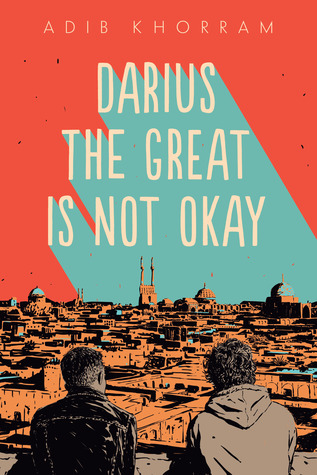 Darius doesn't think he'll ever be enough, in America or in Iran. Hilarious and heartbreaking, this unforgettable debut introduces a brilliant new voice in contemporary YA.Darius Kellner speaks better Klingon than Farsi, and he knows more about Hobbit social cues than Persian ones. He's about to take his first-ever trip to Iran, and it's pretty overwhelming--especially when he's also dealing with clinical depression, a disapproving dad, and a chr...
---
Details Darius the Great Is Not Okay
Title
Darius the Great Is Not Okay
ISBN

9780525552963

Author

Adib Khorram

Release Date
Aug 28th, 2018
Publisher

Dial Books

Language

English

Genre

Young Adult

,

Contemporary

,

Lgbt

,

Fiction

Rating
Reviews Darius the Great Is Not Okay
"Suicide isn't the only way you can lose someone to depression."Darius the Great Is Not Okay and neither am I.I will rave about this book. A lot. I have so many good things to say about it that I need to gather my thoughts before I can write a coherent review. This book took my heart by storm. It made me sad and happy and also very hungry.When I started this book, I knew that I would get emotional. With some books, you just know. The tension star...

4.5 stars, rounded up.What an enjoyable, sweet, and special book!"What kind of name is Darius Grover Kellner? It was like I was destined to be a target."Darius Kellner calls himself a "Fractional Persian"—his mother is Persian, and he refers to his blonde, Teutonic father as the Übermensch. But he feels like he doesn't quite fit into either world. He looks like his mother but never really learned to speak Farsi (although his younger sister did...

"It's okay not to be okay." The first thing you should know about Darius the Great is Not Okay is that it actually made me cry (which doesn't happen frequently). It was hilarious, and heartbreaking, and gorgeous. I saw so much of myself in Darius, and each time I put the book down I just wanted to pick it back up and read more.This book is about a boy named Darius, who has never really been in touch with his Persian identity until visiti...

I used to believe that the first chapters of a story set the tone for the whole book, but DARIUS THE GREAT IS NOT OKAY proved me wrong.See, I had trouble picturing the events happening in the first twenty or so pages. I couldn't picture the characters, settings or figure out the relationships between people. But the more I read, the better it got and this is not something I get to say very often.This book quickly escaladed from a DNF to a three...

Darius Kellner is what he likes to call a Fractional Persian as his mother was born and raised in Iran but his dad is white. Although he has a nightly ritual of watching Star Trek reruns with his father, the rest of the time Darius feels like he is a big disappointment to his dad. The family makes a trip to Iran to visit relatives and there Darius meets Sohrab, the teenage neighbor of his grandparents. This is a YA story of feeling like you don't...

WOW OKAY I liked this a heckin' ton. This is the first book I've ever read with an Iranian mc and I learned so many things about the culture that I never knew before! It was also just really well written and I will without a doubt read everything Khorram publishes in the future. So good!

3.5 starsA solid YA novel I would recommend to fans of Simon vs. the Homo Sapiens Agenda . Darius the Great Is Not Okay did not blow me away, but I appreciated several parts of it, in particular its emphasis on Persian/Iranian culture, its careful portrayal of depression, and its focus on friendship. With the awful current political climate, Adib Khorram's rendering of Iran felt like a much needed respite from the racist and problematic images w...

Find all of my reviews at: http://52bookminimum.blogspot.com/There are no bells and whistles for this one. Some books don't need them. Darius the Great Is Not Okay is the story of a young boy who takes a trip to Iran with his family when they discover his grandfather is terminally ill. It's about finding a place in the world when you feel like you're nothing but a social outcast. More importantly, it's about clinical depression. And it is...

Darius Kellner isn't sure he fits in anywhere. At school, he's the Fractional Persian, the kid who sticks out as being just a bit different. At home, he struggles to connect with his dad, who is Zero Persian but rather a blond Teutonic ideal. He doesn't speak Farsi like his mom and little sister. Even the way he makes tea seems called into question.But when his grandfather is diagnosed with a brain tumor, Darius is thrown into his most fish-out-o...

As I've gotten older, I've developed a curiosity about/longing for connection to my Persian heritage that I didn't have as a younger person. I couldn't tell you where exactly this sudden interest came from, but I have lately found myself following the news about Iran, and asking my grandparents about the old country, and, of course, reading a lot of novels by Iranian-American authors. What I'm trying to say, in short, is that I was primed to like...

It's been longer than normal since I've read a book in one sitting. And god, this one is certainly a one-sitting read. Filled to the brim with heart, Khorram's debut shines on every single page. It made me laugh and cry within one scene. This was my most anticipated 2018 release and it was so worthy of that.

"You're okay," he murmured."No. I'm not.""I know." He rubbed my back up and down. "It's okay not to be okay."I was a bit scared going into this book, because what if I ended up being the only human being not liking it? But, fortunately for me, I ended up really liking this beautiful story.It's a story that deals with so many important subjects: friendship, grief, clinical depression, the feeling of not belonging or being enough, a...

"It's okay not to be okay."Darius the Great Is Not Okay by Adib Khorram gives readers a look into a world rarely seen in YA fiction. A world I really enjoyed learning about. Persian culture is the star of this book. Foods, stories, traditions, social cues, places, and more all come to life through the eyes of young Darius.Darius (Darioush) Kellner, who is half Persian on his mother's side, is visiting Iran for the first time in his life. ...

4.5 starsThis book did not let me down at all.I've been so excited for Darius the Great Is Not Okay for longer than I can remember, and this turned out to be just as stellar as I thought it would be!I mean, one of the greatest things about this book is that Khorram knows his writing style & what Darius' voice sounds like, and he isn't afraid to use it. Darius is such a unique protagonist and you can tell when he speaks just by his dialogue and ho...

I received this ARC from Dial Books via BookishFirst in exchange for an honest review. This does not affect my opinion in any way."It's okay not to be okay."Okay, so this was strangely really relevant to my entire life. And to my family reunion vacation I was on as I read this. Creepy.Thing number one: Darius is a Fractional Persian who doesn't speak Farsi and goes to Iran for the first time. I'm half Chilean, have never been to Chile, and don't ...

I received a copy from the publisher in exchange of an honest review.Actual Rating: 4.5 starsIt took me A WHILE to finish this book (not its fault, ya girl is slumping) but it was worth it at the end. Darius the great is not okay, it's amazing. I loved the cultural aspect, the complicated sense of belonging, the FAMILY, the friendship, the depression rep, and how full of emotions this book is. It's real and heartfelt, so what's there not to like?...

I didn't know what I was expecting when I requested for Darius the Great is Not Okay. The blurb looked interesting and I was looking for something light to read, so uncontrollable me hit the request button. Little did I know that I will be handed one of the best books I'll read this year.There's just so much to love in this debut - an awkward, relatable main character who will endear himself to readers, a healthy friendship, an honest portrayal ...

Here it is, friends. My 4th five-star rating of 2018: Darius the Great Is Not Okay.Darius the Great Is Not Okay made me cry on the bus and, given its raw and poignant writing, I am not even ashamed of it.- Follows biracial teen Darius, who goes to Iran to visit family he has never met before, and is about how he navigates his unfamiliar family landscape and his friendship with a boy named Sohrab.- It explores three things that I absolutely love: ...

I don't usually read YA, but when I found a proof of this at the Strand I didn't know what genre it was. And I'm glad I picked it up; although it has a lot of the hallmarks of what I don't like about YA (overly simplistic characters, over-obvious themes [another reviewer called it "as subtle as a seizure"], a sense of being really led around by the nose by the author), it was a very sweet story that I devoured in a day. Darius is an awkward, nerd...

Oh man...this book was so beautiful and emotional. RTC.

This was absolutely not what I thought it would be... But it doesn't mean it was bad (I think?).For some reason I picked it up thinking it would be an m/m romance. It isn't.And I am stating this straight away because I was led to believe it was, and i felt almost disappointed when some phrases were suggesting queerness but it was never stated as such. I don't want you to be disappointed. I don't want you going in to this book expecting boys falli...

Thanks to BookishFirst for this free review copy! This YA novel releases on 8.28.18 from @penguinteen and it 100% deserves a place on your Fall TBR..DARIUS THE GREAT IS NOT OKAY is one of my favorite YA reads in recent history due to the following:* Heartbreakingly hilarious - Darius is the nerd of my high school dreams. His terminology and descriptions of being a Fractional Persian, his Star Trek and Lord of the Rings references and a million ot...

Sometimes I start to get restless with YA and think maybe I should pull back from it for a while, and then I read a book like this that is absolutely everything and I remember why I do it. Sometimes YA can take on subjects like depression and identity and discovering your cultural heritage and turn it into something that feels like an after-school special, but this is one of those books that gets it just right. This book is such a lovely cinnamon...

"Your place was empty before." 5 stars TW: depression, mentions of suicide, fatphobic comments (challenged), racist comments (challenged), comments criticizing depression (challenged)Rep: fat, biracial Persian (Iranian, white), gay, and depressed MC; major Persian (Iranian) Baha'i side character; major depressed side character; multiple Persian (Iranian) side characters The Writing An actual note from my notebook that I wrote after finishin...

*I received an early copy of this book from edelweiss and the publisher in exchange for an honest review.*This book was so beautiful. I absolutely loved it. The family, the friendship, the depression rep. It was all perfect. I can't properly express how many things I felt while reading it. YA is definitely lacking books about sensitive boys and lately there has been an influx and i am HERE FOR IT! Darius is just so sweet and kind and anxious and ...