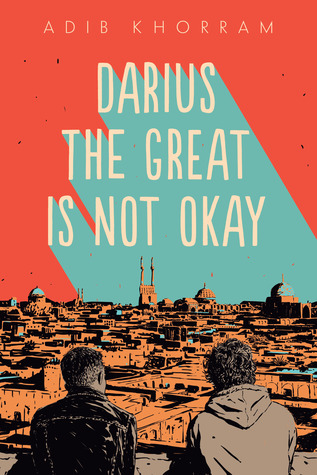 Darius doesn't think he'll ever be enough, in America or in Iran. Hilarious and heartbreaking, this unforgettable debut introduces a brilliant new voice in contemporary YA.Darius Kellner speaks better Klingon than Farsi, and he knows more about Hobbit social cues than Persian ones. He's about to take his first-ever trip to Iran, and it's pretty overwhelming--especially when he's also dealing with clinical depression, a disapproving dad, and a chr...
---
Details Darius the Great Is Not Okay
Title
Darius the Great Is Not Okay
ISBN

9780525552963

Author

Adib Khorram

Release Date
Aug 28th, 2018
Publisher

Dial Books

Language

English

Genre

Young Adult

,

Contemporary

,

Lgbt

Rating
Reviews Darius the Great Is Not Okay
"Suicide isn't the only way you can lose someone to depression."Darius the Great Is Not Okay and neither am I.I will rave about this book. A lot. I have so many good things to say about it that I need to gather my thoughts before I can write a coherent review. This book took my heart by storm. It made me sad and happy and also very hungry.When I started this book, I knew that I would get emotional. With some books, you just know. The tension star...

Darius Kellner is what he likes to call a Fractional Persian as his mother was born and raised in Iran but his dad is white. Although he has a nightly ritual of watching Star Trek reruns with his father, the rest of the time Darius feels like he is a big disappointment to his dad. The family makes a trip to Iran to visit relatives and there Darius meets Sohrab, the teenage neighbor of his grandparents. This is a YA story of feeling like you don't...

Darius Kellner isn't sure he fits in anywhere. At school, he's the Fractional Persian, the kid who sticks out as being just a bit different. At home, he struggles to connect with his dad, who is Zero Persian but rather a blond Teutonic ideal. He doesn't speak Farsi like his mom and little sister. Even the way he makes tea seems called into question.But when his grandfather is diagnosed with a brain tumor, Darius is thrown into his most fish-out-o...

It's been longer than normal since I've read a book in one sitting. And god, this one is certainly a one-sitting read. Filled to the brim with heart, Khorram's debut shines on every single page. It made me laugh and cry within one scene. This was my most anticipated 2018 release and it was so worthy of that.

As I've gotten older, I've developed a curiosity about/longing for connection to my Persian heritage that I didn't have as a younger person. I couldn't tell you where exactly this sudden interest came from, but I have lately found myself following the news about Iran, and asking my grandparents about the old country, and, of course, reading a lot of novels by Iranian-American authors. What I'm trying to say, in short, is that I was primed to like...

"It's okay not to be okay."Darius the Great Is Not Okay by Adib Khorram gives readers a look into a world rarely seen in YA fiction. A world I really enjoyed learning about. Persian culture is the star of this book. Foods, stories, traditions, social cues, places, and more all come to life through the eyes of young Darius.Darius (Darioush) Kellner, who is half Persian on his mother's side, is visiting Iran for the first time in his life. ...

4 starsThis was not okay. This was fantastic. I loved all of the reflection on Darius' character and the subtlety to his character development, as well as how sure Khorram is of Darius' voicw throughout the story. I only wished there was more physical plot vs. character.PRE-REVIEWVicky is not okay. Why? Because this book sounds SO GOOD!!! Like, just read the summary and try to tell me that it doesn't sound kick-ass (spoiler: you can't!) Please be...

Thanks to BookishFirst for this free review copy! This YA novel releases on 8.28.18 from @penguinteen and it 100% deserves a place on your Fall TBR..DARIUS THE GREAT IS NOT OKAY is one of my favorite YA reads in recent history due to the following:* Heartbreakingly hilarious - Darius is the nerd of my high school dreams. His terminology and descriptions of being a Fractional Persian, his Star Trek and Lord of the Rings references and a million ot...

This book was so beautiful. I absolu tely loved it. The family, the friendship, the depression rep. It was all perfect. I can't properly express how many things I felt while reading it. Pre-order it immediately, and keep your eye on Adib Khorram, he's going to do great things with his writing.

I think books about American teens of Middle Eastern descent are much needed in YA literature, so I was thrilled to read an ARC of DARIUS THE GREAT IS NOT OKAY. Through fiction we can gain insight and understanding of other cultures, essential in working towards a peaceful world. When his Persian mother gets word that her father is dying, high school sophomore Darius, his sister, Laleh, and their parents make the long journey from Portland, Orego...

From the synopsis, I was expecting a bittersweet tale of a forbidden first love. That's not what this story is, and I was frankly very disappointed by it. I didn't hate it, but I didn't love it either. SPOILER ALERT: I just feel like the subtle flirting and touching and based on some of the things Darius thinks, that yes, he is gay. All the "oh why don't you have a girlfriend" and "I can't tell him the truth." (not exact quotes, but you get the j...

Coming in August. So good. A great portrayal of a teen with depression - Darius's voice is spot on - and that pressure we all put on ourselves to be okay. Like, I feel like I know this kid. Star Trek references are a fun bonus (but not necessary to be a Star Trek fan to enjoy this book).

What to Expect: A story about a boy and not just any boy. This is a boy who is an undesirable and, simultaneously, unapologetically himself. When he goes to Iran, a place people in his social circle consider his home but a country he has never been in, he meets his grandparents and a boy named Sohrab, who teaches him more about love than he has ever known. Chock full of reflections about being depressed, overweight, bi-racial, gay, and unfriended...

Darius the Great is Not Okay is often charming but sometimes frustrating. I was excited about reading it because I love journeys to places I have never been, and I have never been to Iran or anywhere in the Middle East. This is a subtle book in many ways, and that certainly has its appeal (I am certain many, many people will identify with his struggles with depression and identity and be blown away by its relationship to their own experiences) bu...

*Thank you First to Read for providing an e-ARC in exchange for an honest review. All opinions expressed are my own.*A beautiful story so subtle and wonderfully written. From the food to the landscapes to the cultural identity struggles. Iran came alive before my eyes. Darius is an endearing character. He is a half-Persian teenage boy trying to figure out who he is. On the family trip to Iran, he gains a little more insight into himself with the...

I need to stop reading books that make me ugly cry on the GO train 😩

I finished Khorram's DARIUS THE GREAT IS NOT OKAY last night and goodness

This book had me in tears (in a good way). The relationships between the characters are so wonderfully complex. My heart kept breaking and mending, breaking and mending...

I received free access to an advance galley through the Penguin First to Read program. I have to step out of myself a bit to review this one, but not as far as I expected. If you know me at all, you know that I don't read a lot of YA. That said, I think that YA fills an important literary niche, and I was thrilled to gain access to this particular ARC.Darius Kellner doesn't fit. He's too Persian for America, and too American for Iran. Unlik...

Khorram, Adib. Darius the Great is Not Okay. Penguin, 2018.Darius is a socially awkward Trekkie (or Trekker, if you're picky). He doesn't have a lot of friends at school and is obsessed with tea, even though he works in a Teavana-esque store that sells a lot of "tea," which is mostly sugar. Darius and his family go to Iran to visit his maternal grandparents as his grandfather is dying of a brain tumor. This will be Darius's first time in Iran, an...

(I received an arc courtesy of Penguin Random House.)Darius the Great is Not Okay is a book that explores a young man's discovery of personal identity, greatness in ancestral roots, and true friendship. Darius (or should I say Darioush) is a fractional Persian who travels to Iran to meet his grandparents and the rest of his extended family (on his mother's side) for the first time. Darius, to his own surprise, however, discovers much more than ...

Review/Book: Darius the Great is Not OkayAuthor: Adib KhorramThis story is about Darius (Darioush) who is part Persian, living in America, with his blended family. His mother was born and raised in Iran, and then met Stephen Kellner, fell in love, married and moved to the United States where they had 2 children: Darius, and his sister, Laleh. Darius is a sort of outcast at his school, has only 1 friend and works at a local tea store - which he lo...

Quick note before the review; I'm not too sure why people have this on their LGBT shelves, but it's not LGBT. I believe the author is LGBT, but there are no apparent LGBT themes. Also trigger warning for depression and talk of suicide.I really really loved this book. Darius's mom is Persian, but Darius has lived his whole life in America. He's fat, awkward, takes meds for depression, and loves tea. He doesn't really have friends at school and is ...

I really enjoyed reading an ARC of this book! Darius was such a sweet character to get to know, and very realistic. Darius' character is revealed very well throughout the book and I loved seeing how his trip to Iran changed him, and his growth with his family, especially his dad.I also thought the feelings of a diaspora kid, especially one who is mixed race, were very well described. I really felt connected to Darius in a lot of parts in this nov...

Penguin First-to-Read ARC & BookishFirst.com ARC.Darius the Great is Not Okay was a very enjoyable read. Darius is a Fractional Persian (he's half) and lives in Portland, Oregon with his family. He's the least Persian Persian he knows. He has depression for "no reason, nothing bad has ever happened to him" and he has no friends. He doesn't get along with his father except for 47 minutes every night when they watch an episode of Star Trek together...

This is a tough book to review because there were so many things I loved about this book but a couple things that irritated me to no end.  Let's start with the positives.  I loved learning about the Persian culture when Darius goes to Iran.  All the food and tea mentioned made my mouth water and the customs and family get togethers the author described had a nice homey feel.  Darius' little sister, Lelah, was my absolutely favorite character....