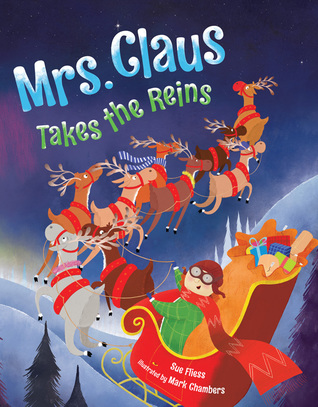 It's Christmas Eve morning, and Santa Claus is still in bed! He's feeling stuffy and sneezy and slow as a yeti. Will Christmas have to be canceled? Not this year! Because Mrs. Claus is ready to take the reins in Santa's place. With a plan in mind, Mrs. Claus assembles the crew, maps out the route, and preps the sleigh. Then, with a snap of the reins, she shoots off into the night. Delivering gifts all over the world without Santa's magic ...
---
Details Mrs. Claus Takes the Reins
Reviews Mrs. Claus Takes the Reins
This is a children's book, so I'm going to rate it a little differently than I would a novel or a full-sized nonfiction book. The illustrations were adorable and the storyline was simple and fun. I thought the scenes with Santa were really funny and, for those who celebrate Christmas, it is definitely something that is very enjoyable. I'm going to give the book a B+ on my grading scale, because there are a few things that could've been changed as...

I won this book through the Goodreads Giveaways. Santa is so sick that he'll have to cancel Christmas, but Mrs. Claus saves the day. She might not have Santa's magic, but she uses logic and skill to fix any problems that pop up while she's delivering presents all over the world. It has a fun rhyme and hilarious illustrations. My two year old loved it. Though, now he keeps asking when Santa is coming...

It's Christmas Eve morning, and everything is set, that is, except Santa Claus. He's bedridden with a cold, and his ho-ho-ho is not holiday ready. Mrs. Claus steps in to take his place, so a course is set, and off she goes. Will Mrs. Claus save Christmas, or will it be canceled? Not with the sparkle that Mrs. Claus brings.

Added this to my list of new readalouds for Christmas 2018. Reads like "Twas the Night Before Christmas" Bright primary color pictures will appeal to my K-1 classes. Loved the use of map outlines to show her trip around the world. My favorite line is "I may not have magic, but I've got a brain!"

A cute rhyming story about the Christmas Eve that Santa was too sick to deliver presents. A strong female perspective on a classic story. I think the idea has been tackled before, but this take was a little bit different. My kids will definitely like this one, but they're at the age now that they want a little more meat out of picture books. Good for younger kids.

It was a different take on Christmas almost not happening.

Mrs. Claus Takes the ReinsThis was a really cute children's book. With great illustrations and a cute story line. This has the feel of the night before Christmas With a new twist.

Read this with R. She loved the looks of the book and is currently really into seeing Santa and the whole bang. This was a cute read, and I would recommend further to those with kids.

Cute rhyming book for kids about Mrs. Claus taking control when Santa can't make it. Brightly colored pictures.