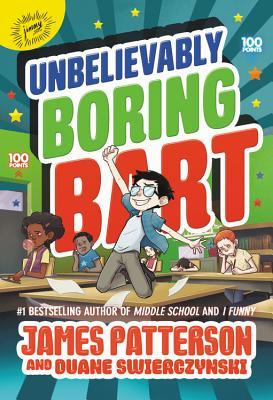 There's more than meets the eye in James Patterson's newest illustrated middle grade novel--a book so fun kids will actually put down their games to read it!Invisible creatures are attacking the school, and 12-year-old Bartholomew Bean is the only one who can stop them! Okay, so maybe Bart is only a hero in the video game app he created. But if he reveals his identity as the genius behind the game, he'll become the most popular kid in school! Or ...
---
Details Unbelievably Boring Bart
| | |
| --- | --- |
| Title | Unbelievably Boring Bart |
| ISBN | 9780316411530 |
| Author | James Patterson |
| Release Date | Sep 3rd, 2018 |
| Publisher | jimmy patterson |
| Genre | Childrens |
| Rating | |
Reviews Unbelievably Boring Bart
I received an advanced copy from the publisher.Patterson and Swierczynski's book is a fun read. Mny middle school students can realte to Bart's desire to be noticed and remain anonymous at the same time. The large text and illustrations will help developing middle school readers, and the absurdity will appeal to middle schoolers and upper elementary alike. Readalikes: I Funny series, Gamer Squad, How to be a Supervillain series.