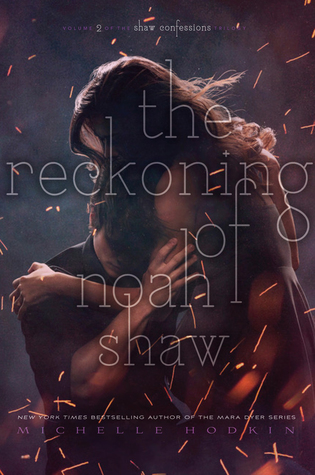 Noah Shaw confesses all in this second novel of a chilling new companion series to Michelle Hodkin's New York Times bestselling Mara Dyer trilogy!Noah Shaw doesn't think he needs his father's inheritance.He does.Noah believes there's something off about the suicides in his visions.There is.Noah is convinced that he still knows the real Mara Dyer.He does not. Everyone thought the nightmare had ended with Mara Dyer's memoirs, but it was o...
---
Details The Reckoning of Noah Shaw (The Shaw Confessions, #2)
Title
The Reckoning of Noah Shaw (The Shaw Confessions, #2)
ISBN

9781481456463

Author

Michelle Hodkin

Release Date
Nov 13th, 2018
Publisher

Simon & Schuster Books for Young Readers

Language

English

Genre

Young Adult

,

Fantasy

,

Paranormal

,

Romance

Rating
Reviews The Reckoning of Noah Shaw (The Shaw Confessions, #2)
tw/ depression, suicidal thoughts and ideation, self-harmliterally nothing happened until the last page, and that cliffhanger bullshit ending can catch some hands*two days later*I'm adding to this review because it's absurd that this is even a real book. the writing reads like not a single editor has touched this. there's no clear beginning, middle, and end of this book. the edgy "ooooh, what's happening?" vibe from the original trilogy just turn...

*I received an arc from Edelweiss in exchange for an honest review*1) The unbecoming of Mara Dyer ★★★☆☆2) The evolution of Mara Dyer ★★★☆☆3) The retribution of Mara Dyer ★★☆☆☆4) The becoming of Noah Shaw ★★☆☆☆I haven't read a book this bad in ages ohmygodNothing happens in this book. Nothing. Nada. Niente. Rien. It's basically 500 pages of Noah and Goose getting drunk, taking acids, falling into the stupi...

Thank you Edelweiss and Simon & Schuster Books for Young Readers for sending a review copy in exchange for an honest review.Actual Rating: 3.5Michelle Hodkin is one of my absolute favorite authors. I was almost sobbing when I received an approval to review this book. Noah is one of my favorite characters ever. Reading from his point of view is a completely different experience than when we were reading from Mara's perspective. I read this one i...

Oh man, I don't have words, but I have a lot of feelings. I loved this portion of Noah's story. I loved being in his head, being back in England, being with Goose. Seriously, I could read an entire book with Goose as the MC. Also, I desperately need him and Jamie together ASAP. Plot wise, it was fantastic and maddening and literally everything I could have wanted for a second book in a trilogy. We get some answers and more questions, and you ...

This series knows how to mess with your emotions. Get your heart racing and always, always leave you wanting more.After both the killer cliffhanger and heartbreaking ending of book one, I was left anxious to get my hands on book two. I just had to know that that wasn't how it all ended. That that wasn't the end period between so many beloved characters.Noah and Mara are explosive together, sometimes in the very worst ways possible but no, it coul...

Even though the first book disappointed me a bit, I'm still super-psyched for The Reckoning because dammit I want Noah and Mara and Jamie and all their peeps to make it out of this new series happy!Except if this ARC is anything to go by, they don't, but what else is new?This one still isn't as good for me as the original series was, mostly due to a somewhat unfocused second half that kinda drags it down. But the first half, when we get an extend...

H U G E D I S A P P O I N T M E N T.Among all the Michelle Hodkin books I've read and loved, this one is undoubtedly my least favorite.Full review to come.

I feel like the moment I start to get a handle on this series slash spinoff the next book comes in and shoots it all to hell. I wish I knew why I was still reading but alas I need to see this through after all the time and effort I've put into it. And I did like the first of the The Shaw Confessions. Mostly because we were out of Mara's head.I honestly don't know what to say about this one. In true Hodkin fashion it once again seems like a lot of...

Trigger warnings for: suicide, depression, self harm, drug/alcohol abuseI really wanna know what Michelle was smoking when she wrote this because what the actual fuck. None of this makes sense. And not in the cool, what's real-what's not fashion of the original Mara Dyer series, it's just literally incomprehensible. I can kind of see what is trying to play out here, especially with some of the reveals at the end and the connection to the events i...

Reading the arc for the Reckoning of an Asscrown was too much for my overheated mind and I almost collapsed after seeing the first page of Noahs' letter. His POV makes Noah more real and more tangible, than when we met him through Maras' eyes. It's not possible for me to find anything wrong with these series, I'm too much of a goner for that, and when I say that I love this twisted and messed up story, it's an understatement. I live and breathe w...

I received this book from Edelweiss in exchange for an honest review.Spoilers and swearing below!The Reckoning of Noah Shaw continues the trend of its predecessors: telling the story of some really and truly fucked up characters, whom I can't help but love.I was so excited to get this book, y'all can't even imagine. I was ready to love it and hug it and squeeze it and call it George (anyone get that reference or am I just that old?). What happene...

**Thank you to NetGalley and Simon and Schuster for sending me this ARC in exchange for an honest review**Trigger warnings for suicide, depression, self-harm, and drug/alcohol abuse. This rating pains me. It truly does. When I read the Mara Dyer Trilogy during my sophomore year of high school, I fell in love. This trilogy was unlike any other that was published at the time. It was dark, twisted, raw, and chock full of supernatural themes--it was ...

We left Becoming with shit hitting the fan and a huge comeback from a certain character. Reckoning picks up right from there, and if you really thought shit hit the fan in Becoming? EL OH EL, WE'RE ALL IN FOR A WILD RIDE. Upon starting the book, I had to put it down after reading the first page. I honestly could not handle my emotions. Noah's thoughts are so raw and bare, and I'm telling you guys, they're not always the nicest. They're not always...

I read this in one sitting because I needed Noah, I needed his love for Mara and I needed him loving her after this shit day. But I didn't get that really so I'm kind of disappointed. Honestly, nothing really happened. This could have been a novella if it wasn't for the ending. This could have been called Noah and Goose's Adventure because that's what it felt like. I did like getting more of Noah's history, but I didn't get the hist...

this is more of a 2/3 stars but i'm biased. review coming soon after i get over the last chapter.

Whelp that was disappointing. "The Reckoning of Noah Shaw" sees Noah after his break up with Mara and the reappearance of her grandmother who is hoping to persuade him to return home and unlock the secrets of the past and help save Mara before it's too late. This is a pretty long book and nothing at all happens until the last maybe two chapters. It's not even like a quest where we had to hit certain beats to uncover more secrets about the...

I wanted to love this because it's from Noah's point of view and theoretically had the capacity to be amazing, but what a long, pointless meander to nowhere.

we aren't gonna talk about it. I was about to give it one star for tuning my life. but ya know, noah.

My goodness, this was a rollercoaster of emotions. But I enjoyed it. Well, until the very end when I started screaming.While I've noticed a lot of people having issues with this spinoff series overall, I've been in the minority of truly enjoying it and I've honestly had no problems with what I've read so far. This sequel is absolutely no different. The thing I noticed most with the first book is how well it was complimenting the Mara Dyer trilogy...

So I honestly don't really know what rating to give this, so I'm just going to give it 3.5 stars for now as I'm still thinking about what I just read. I walked into this wanting to give it 5 stars because of how much I love these characters and this whole world, but this book honestly was not really what I expected. I enjoyed TBONS, but did not particularly love it which is why I was hoping this book would change my mind about the whole series.I ...

While I had some trouble with the first book, I quickly forgot about them during the second. This renewed my faith in the series and made me love Noah all over again.Review coming soon as part of the blog tour.HUGE thanks to the publisher for sending an ARC for my honest review!-------Full review can be found here: https://agingerlyreview.wordpress.com...I read the Mara Dyer series because a good friend strongly recommend it. She was right. That ...

So okay, this book was rather odd in format, but I really enjoyed it anyway? It was clear in The Becoming of Noah Shaw that there was a lot there in Noah's mind that wasn't right, that wasn't fully evaluated. Noah had been running on fumes, and basic instinct for a really long time. There was the whole arc in Horizons with Mara, and Stella, and everyone else that we were led to believe he was not apart of. And because of that, there was so much t...

In this book we have the meandering Harry Potter and the Deathly Hallows first half. Our protagonist is struggling with what course he will take with his life and the quest they were given by someone else. Noah Shaw is not as compelling as a protagonist as Mara Dyer. I haven't pinpointed if it's because he is such a self destructive contrarian or that he is not written as well as Mara. I feel that Hodkin's got wrapped up in the twists of the plot...