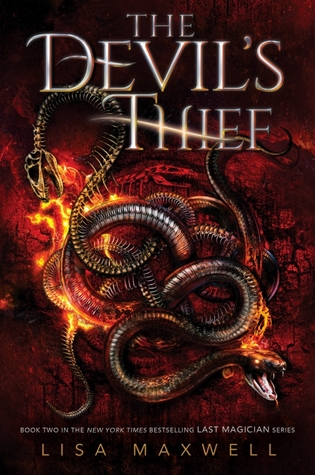 In this spellbinding sequel to the New York Times bestselling The Last Magician, Esta and Harte set off on a cross-country chase through time to steal back the elemental stones they need to save the future of magic.Hunt the Stones.Beware the Thief.Avenge the Past.Esta's parents were murdered. Her life was stolen. And everything she knew about magic was a lie. She thought the Book of Mysteries held the key to freeing the Mageus from the Order'...
---
Details The Devil's Thief (The Last Magician, #2)
Reviews The Devil's Thief (The Last Magician, #2)
Holy crap. HOOOLLYYYY CRAP. I have no words. I am in love and horrified at the same time, and I don't know which is worse. If you haven't heard it from me yet, please pick up this series. It. Is. Amazing.

Just like in Last Magician, what really shines in The Devil's Thief is the way Maxwell twines history and magic together. We get to see what our favorites are up to now that everything kind of what backward for them. Esta and Harte travel across the country and time to St. Louis during the Worlds Fair (meet me in St. Louis, Louis. Meet me at the fair) while Jian and Viola deal with the aftermath of Dolph's murder and Nibs' take over. We also get ...

She did it again! What a great story with such great characters! I loved this book from beginning to end! Esta is a badass & I love her.

This book was provided by the publisher. This does not affect my opinion of the book or the content of my review.After several hours and nearly 700 pages of YA fantasy goodness, I finished The Devil's Thief and immediately wanted to curse its author out for doing that to those poor characters. Yeah, it was that good.When I read  The Last Magician , I was blown away by the world-building and attention to detail. The Devil's Thief moves back ...

I received this book as an advanced reader's copy due to our patrons' love for the Last Magician and like the first novel, this book was not disappointing. The adventure gets bigger and bigger for Esta, Mageus, Harte, Viola, and Jianyu. This book will not allow you to stop reading because each time you turn the page, a new twist happens and it is a real game changer just when you thought it was going one way, it goes another way. Our young adult ...

There are some books you just can't stop thinking about, no matter how much time goes by. The Last Magician was one of those for me.Right when I thought I'd moved on, my mind would offer up a snippet, an emotion, a taste of the amazing atmospheres Maxwell created... It was a struggle to keep myself from reading the book over and over again. So, naturally, it made me wonder how could anything possibly be better than The Last Magician? How cou...

Just got to the end of "The Last Magician" and realized it was a book1. Now comes the waiting part!Excellent so far

I received this arc and immediately had to pick up because I loved The Last Magician and needed to know what happens after that ending. I really like the characters and the whole feel of this book, you guys, historical fantasy is one of my favorite genres.In TLM Esta and Harte's POVS were my favorites but in this book I wasn't as invested in them and their storyline with the whole Antistasi thing. I much preferred Jianyu and Viola's storyli...

4.5/5!The world-building in this installment is so fascinating and complex, and I loved getting to explore a new landscape alongside continuing to get to know the one from the previous book. St. Louis was magical and intriguing and I could picture every detail she described. Lisa Maxwell really knows how to balance and make sense of two different plots happening at different points of time yet simultaneously, and I was consistently in awe of how ...

There was a good amount of suspense in the second part of the series that I don't really remember in the first book. I specifically enjoyed from Part 4 and on -- lots of action, lots of different moving parts, lots of interactions with many characters and a few surprises for good measure. Much like the first book in the series, I would say that I "liked" the story -- but I didn't love it. I struggled a few times with all the jumping back and fort...

This novel is a little hard to review, because it is both underwhelming, yet satisfying all at once. Reading the first book, the Last Magician was one of those books I couldn't stop thinking about even after I finished it- maybe it was the time I read it, but everything came together perfectly- I loved the characters, the magic system, and the twists and turns in the plot.All those aspects still exist in the Devils Thief, but they weren't as rema...

I wish I could say more about the things I loved in this book, but that'd be spoilery. The Devil's Thief picks up right where The Last Magician left off. My one critique of The Last Magician was that it was very heavy on exposition and incredibly light on dialogue for a significant chunk of the book. That was not the case for The Devil's Thief. Maxwell dives right into the action. Esta and Harte are front and center in this sequel, but we still g...

**I received this as an egalley from the publisher through Edelweiss, and as an ARC from BookCon 2018, in return for an honest review.**I absolutely adored reading The Last Magician last year so of course this was going to be one of my most anticipated releases this year. I loved Maxwell's world-building in this first one, and it continued to be just as great in this one, if a little more confusing with some new information, and of course the cha...

Review taken from my blog - www.centersquareblog.comI was lucky enough to receive an advanced copy of The Devil's Thief by Lisa Maxwell as one of my BEA 2018 pick-ups. I started the line and refused to move for almost 40 minutes to ensure I got a copy of a book I was extremely happy to find out would be given away there. I mean seriously, just look at this cover again. After I thought the cover for The Last Magician was amazing, this outdoes it...

After my binge read experience with The Last Magician, I couldn't wait to get my hands on the sequel, The Devil's Thief. And, overall, I wasn't disappointed. Maxwell does an amazing job at progressing the story and making me love characters I already adore. We should all aspire to be Viola: amazing, badass, and loyal (although, I do not support murder).The novel begins where the last novel leaves off. Hiding from the threat of the Order and...

**You can see this full review and more at Book Briefs: https://bookbriefs.net***Note: this is the second book in a series that should be read in order. If you are new to this series, check out my review on the first novel- The Last Magician HEREThe Devil's Thief is the second novel in the Last Magician series by Lisa Maxwell. I loved the first book in this series so much. I thought the Last Magician was utterly fantastic! And I have to say that...

In four words: THIS BOOK IS SPECTACULAR.Lisa Maxwell is a rare writer. The kind of writer that can spin a web of words and images around you until the real world fades away. THE LAST MAGICIAN was one of my favorite reads of 2017. I fell in love with the rich atmosphere and the characters and the heart-pounding tension that was woven through every line. My expectations for THE DEVIL'S THIEF were high, to say the least. And this book didn't just me...

The first book in this series was easily a 5 star read for me.  At nearly 500 pages, I almost didn't request it because of the length - but it didn't feel that long when reading it.  At 700 pages, I didn't hesitate to request The Devil's Thief  because of how engrossing the first book was, but this novel felt like a chore at times, and the series still isn't complete.  With the third book (I'm assuming it will be the last?), the series will b...