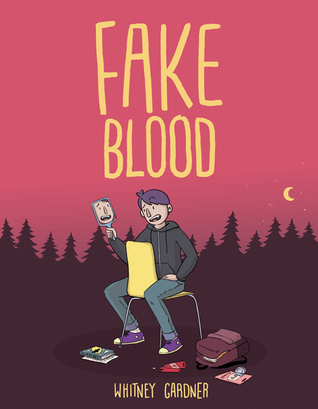 It's the beginning of the new school year and AJ feels like everyone is changing but him. He hasn't grown or had any exciting summer adventures like his best friends have. He even has the same crush he's harbored for years. So AJ decides to take matters into his own hands. But how could a girl like Nia Winters ever like plain vanilla AJ when she only has eyes for vampires?When AJ and Nia are paired up for a group project on Transylvania, it...
---
Reviews Fake Blood
http://openbooksociety.com/article/fa...Fake BloodBy Whitney GardnerISBN: 9781481495561Author Website: heywhitney(.)comBrought to you by OBS reviewer CaroSynopsis: It's the beginning of the new school year and AJ feels like everyone is changing but him. He hasn't grown or had any exciting summer adventures like his best friends have. He even has the same crush he's harbored for years. So AJ decides to take matters into his own hands. But ho...

There are three things that I know about Nia Winters. One, she is the smartest girl at Spoons Middle School. Two, she's absolutely crazy about vampires. And three, even though I really like her and I'd try to catch her bus every day for the rest of my life so we could sit next to each other and maybe one day even hold hands or whatever...She has no idea I exist.This book was hilarious, and sweet, and the coolest. I loved the illustrations and all...

AJ is starting a new school year, and all he can think about his the amazing Nia Winters. But how can he get a girl as amazing as Nia is to notice him? Nia's obsession with vampires leads AJ to an out-there plan: AJ will pretend to be a vampire himself. Little does he know, however, that Nia is not a vampire fan, but a committed slayer.This is a wildly fun graphic novel, with a delightful set of oddball characters and a zany plot.

Awful, awful, awful. I would actually recommend that people avoid this one. Why? Because it's creepy as hell, that's why. I thought this was a contemporary story. And it seems like it is for most of the book. Which makes it really bone-chilling when the love interest (yes, in a middle grade book; that part of the plot seemed too mature... especially when these kids are finger-painting at one point) suddenly tries, in all seriousness, to stab the ...

When you're in sixth grade, kids do all sorts of things to stand out or fit in like buying a new backpack, joining a club, or pretending to be a vampire to impress the girl who is clearly obsessed with them. This last one may be unusual, but it's the one that AJ chooses when he and girl-of-his-dreams Nia are paired up to do a project on Transylvania. Things go really start to go wrong when AJ learns that vampires aren't only real, but vampire sla...

Fake Blood is a funny and heartfelt graphic novel about friendship, identity, and yes: vampires. Gardner's snappy dialogue and colorful, exciting illustrations bring AJ and his friends to life. I especially loved the larger illustrated scenes where there was always a fun little detail to spot. Packed with funny pop-culture references to popular vampire series and characters, there's something here for diehard and casual fans alike. I'd certainly ...

Super fun! Definitely a blast for vampire fans. I love that it was set in Portland and there were lots of fun references to the city.

Adorable, fun, and full of references that will keep book lovers laughing out loud to the very end. FAKE BLOOD is an absolutely unputtdownable graphic novel for readers of all ages.

Undoubtedly one of the cutest love stories and best graphic novels I've read. I LOVED this one and I really hope everyone else does too. Real review to come!

I read this in one sitting! Adorable, heartwarming, and wholesome, with plenty of nods to the popular vampire culture I (admittedly) embraced as a teenager. A perfect read for fall!

What a fun graphic novel!

Well wasn't this just adorable. Full review to come!

A not-so-average vampire book about a boy, a girl, crushes, youth, and friendship. This was so sweet and wholesome and I loved it. Review to come

A nice mash-up of the coming of age story with a clear send up of the Twilight series. Perfectly-situated for that entering middle school reader navigating the changes that come with getting older and the transitions that come along with growth. Funny!

A hilarious, charming, and very real story about fake blood, crushes, and vampires.

Great story about vampires and friendship, not your typical vamp story. Love it!

This is a not so scary, funny, novel about vampires, school friends and crushes. When AJ starts the new school year he feels like his friends have changed but his boring life is still the same. Paired up with the girl he likes for a project on Transylvania, he realizes the only way she will notice him is if he is a vampire. However things take a hilarious turn when she reveals she is a slayer. This graphic fiction will appeal to reluctant readers...

Adorbs. If you are a Buffy fan - you must read this!

This is great! I giggled so hard at this graphic novel. The story is just too funny! Kids are going to love it.

Ok, this was a seriously cute and fun graphic novel about a boy who pretends to be a vampire to attract the girl he likes (a girl who is obsessed with vampires).

I really enjoyed this humorous tale. Total spoof of Twilight is included and there's a great illustrated Easter egg for Harry Potter fans as well. Also, there's a great Buffy send up. Loved the art style and coloring. Only minor issue was two of the secondary characters poking fun of French culture, but it came across as all in good fun and not malicious. (Although another reviewer pointing this out did make me decide to knock off a star, bec...

I enjoyed this book SO much! The art is so engaging and perfect for this hilarious, heartfelt, oh, so achingly middle school story. Crushes, vampires, sixth grade! I bought this book for me, but my 11 year-old is OBSESSED. He struggles with written words, but here the art captured him wholly. He's a budding comic artist and loves to draw his favorites, and this is now his new everything. There's something so Stranger Things/October cool and nosta...

This graphic novel was a complete delight. My 12-year-old read it before I did and devoured is a better way to say it. She LOVED it. I did too. The details in the illustration are amazing, the story is super engaging, and a fun mix of a realistic contemporary with a hint of paranormal/fantasy, and should appeal to kids who love both. In addition to the fun, the story also deals poignantly with friendship and how to find your way when you feel lik...

I lovedlovedloved You're Welcome, Universe and really liked Chaotic Good, so I had expectations of this one. I loved all the references to pop-culture vampires and the art is adorable. The feeling of being eleven and the complications that enter friendships at that age are beautifully and uncomfortably captured. Unfortunately, the family dynamic of AJ's family was underdeveloped and the big reveal at the end just felt a bit ridiculous. Ten-year-o...

This book is so much fun! Wonderful story about friendships and crushes and fitting in, together with a spooky setting and wonderful art. Love!

Technically this book is for a middle grade audience, but it's got crossover. One of my favourite new authors – she's the lovely mind behind Chaotic Good and You're Welcome, Universe – has just released her first graphic novel, and it's adorable. It's about a boy named AJ who is crushin' hard on a girl named Nia. Nia is obsessed with vampires, so AJ gets the genius idea that maybe Nia would notice him if he was a vampire. He's r...

VAMPIRES!!! This hilarious graphic novel follows a group of Pacific NW kids in that awkward time between elementary and middle school, and shows you how to be yourself when you don't feel like you're quite as cool as your friends. But mostly it's a laugh-out-loud tale of crushes and friendly competition. And of course, vampires and werewolves. And the people who love them... and hunt them. Whitney Gardner fills every page (and it's hefty!) with b...