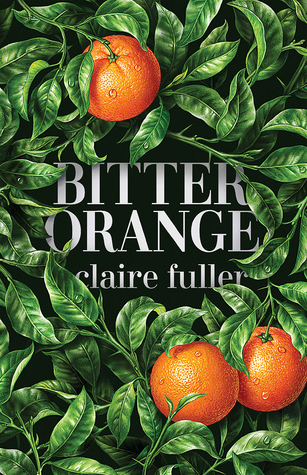 From the attic of Lyntons, a dilapidated English country mansion, Frances Jellico sees them—Cara first: dark and beautiful, then Peter: striking and serious. The couple is spending the summer of 1969 in the rooms below hers while Frances is researching the architecture in the surrounding gardens. But she's distracted. Beneath a floorboard in her bathroom, she finds a peephole that gives her access to her neighbors' private lives.To Frances' s...
---
Details Bitter Orange
Title
Bitter Orange
ISBN

9781947793156

Author

Claire Fuller

Release Date
Oct 9th, 2018
Publisher

Tin House Books

Genre

Fiction

,

Historical

,

Historical Fiction

,

Mystery

,

Adult

,

Literary Fiction

,

Suspense

,

Thriller

,

Mystery Thriller

,

European Literature

,

British Literature

,

Novels

Rating
Reviews Bitter Orange
'Do our actions betray our nature?'' 'The setting: a dilapidated mansion in the idyllic English countryside. The era: 1969, the most exciting time to be alive in recent History. The time when conventions and traditions are shuttered to make room for freedom and equality. Frances arrives in Hampshire to write a report on garden architecture on behalf of the new owner of the mansion. Her mental state is quite unstable since the death of her...

3.5 starsFrances Jellico is dying. As she lies in her bed awaiting death, she looks back on her life and that summer in 1969 which left its mark on her forever. Frances Jellico was the caretaker for her Mother for the last ten years of her mother's life. When her Mother died, Frances went to live at an old crumbling estate/manor called the Lyntons to research the architecture of the gardens. Frances will not be alone at the Lyntons. An intriguing...

A dying woman's memory of 1969, the summer in which she lived with a mysterious couple in a crumbling English country house, is delivered with a perpetual air of dreaminess. Bitter Orange opens strong, with echoes of Shirley Jackson and Daphne du Maurier: A dilapidated estate that extends into shadows, being choked by a garden run wild, and a woman named Frances whose life is mechanical, faithless, stagnant. She's repressed by a lack of physi...

3★" It was so hard to get it right, the way other people had conversations, back and forth with no effort. I wondered, not for the first time, how it was done. . . . . . . she thanked me for listening, and I saw it was that easy, that was all I had to do to make a friend; she wasn't looking for answers."Frances lived for years in a small flat she shared with her ungracious, ungrateful invalid mother. As a young woman, she didn't cross p...

This was a fantastic read, absolute woodoo spell of a book. Finished last night, I am still thinking about it. Full review on my blog

I received an ARC of this book for free from the publisher (Tin House Books) in exchange for an honest review. I give this book 3.5 stars which rounds up to 4.The best part of this book is the atmosphere that Claire Fuller creates with her prose. This book gave me the creeps which I wast totally not expecting. It was so eerie and I got a haunted house vibe from it at times. Fuller uses lush language to create an astonishing portrait of a crumblin...

It's the summer of 1969, and Frances Jellico is at Lyntons, a decaying country house: once grand, stripped of its treasures during wartime. Having seen some pieces Frances has written for an academic journal, the new owner, Liebermann, has employed her to assess a bridge that sits in the grounds. But she's not alone: Liebermann has also commissioned Peter Robertson to make an inventory of the house's remaining contents, and he arrives with his pa...

A perfect heatwave read, Claire Fuller's third novel tells the suspenseful story of the profligate summer of 1969 spent at a dilapidated English country house. Frances Jellico, who seems to be on her deathbed in a care home, recalls for the chaplain, her friend Victor Wylde, the August 20 years ago when she stayed at Lyntons, a neoclassical mansion in Hampshire, to report on the garden architecture for the new American owner, a Mr. Liebermann. ...

Consider the bitter orange tree. From a distance, the fruits look luscious and ripe and juicy. But for those who actually try them, the taste is old, dried up, bitter, and in desperate need of a little sugar.Bitter orange may be a metaphor for Frances' life. Approaching 40, Frances has spent most of her adult life nursing her mother and is finally freed. When offered a chance to research the architecture of Lyntons, a dilapidated English countr...

I think this novel must be the perfect summer read. I've enjoyed it immensely amidst Britain's recent heat wave as its themes and setting sync with this feverish weather. It's told from the perspective of elderly Frances who is lying on her deathbed. She recalls a hot summer in 1969 when she worked at a dilapidated English country estate alongside a mysterious couple. An American has purchased this crumbling residence and they've been hired to ca...

Clair Fuller's first novel Our Endless Numbered Days utterly captured me with its strange tale of a father and daughter living out his survivalist fantasy for years alone in the woods and its bizarre aftermath. (Fortunately not at all like Gabriel Tallent's My Absolute Darling's repulsive treatment of a similar theme.) But Swimming Lessons, Claire Fuller's second novel, failed to catch fire for me, perhaps because both the characters and ...

Bitter Orange is a novel about loneliness, lies, and one summer in an old house. Frances spent years as the carer of her mother, but once her mother was gone, she was a lonely woman looking for purpose. A job surveying the gardens of a dilapidated house for its American owner was an opportunity to do something different, but it becomes even stranger than she expected as she befriends Cara and Peter, the couple living beneath her in the house as P...

↠ 4.5 starsI received a proof copy of this book in exchange for an honest review.Bitter Orange is a beautifully-written and elegantly-executed novel. It feels like a classic with it's flourishing prose and narrative, and I thoroughly enjoyed it.Set in 1969 at a dilapidated country estate during a lazy British summer, Fuller beautifully evokes the beauty of these ruinous old houses, who sit in a shadow of their former glamour. The setting is a...

Beautiful on the surface, but look a little closer and everything is decaying, rotting, falling apart An intriguing book of past and present, guilt and atonement, and the way we tell stories to recreate the world and our selves as we'd like them to be. Fuller writes fluid, fluent prose and though some of her symbolic imagery is a tad heavy handed (those bitter oranges that glow with promise but which are acidic within, the trompe l'oeil déco...

The central motif of BITTER ORANGE popped out through its pungent prose, represented by a crumbling old manor on the English countryside. In 1969, an American businessman, Mr. Lieberman, bought the 1806 manse, Lyntons, (wrapped around the original 1754 brick one) and hired Londoner Frances Jellico to assess the the garden architecture, and another English expert, Peter, to report on the condition of the house and its fittings. It is evident that ...

Thanks very much to Tin House for the ARC."I knew of course right from wrong" . . . Claire Fuller's Bitter Orange is a brilliant, grotesque, nuanced novel imbued with the scent of rotting citrus. It's a story of violence, desire, and ravenous human need; as the narrative unravels, we are asked to question the very nature of guilt, and whether penance is a necessary act or a vicious maw. In this most British of books, the mundane is punctu...

edit: i bought it, and had it shipped all the way from the UK. it took 20 long-ass days to get to me. but i have it now. and i will feast.* * *dear lord,please let me obtain a review copy of this novel somehow.

Bitter Orange opens in the present time. A woman named Frances Jellico is in a prison hospital near death. Why she is there and what her crime was, is not known. Slowly, and with great detail and intricacy, she reveals her story to a man who once served as her Vicar during the summer of 1969.This novel is an intricate psychological character study of three people who share a house In England during one summer in 1969. Two of them are charged with...

Frances' assignment to write a report on the garden architecture of Lyntons country house will lead to far more changes in her life than she can possibly imagine.Everything about Bitter Orange by Claire Fuller is so utterly perfect, from the cover image to the final full stop that I am amazed at the fabulous quality of her writing. I thought her first two books, Our Endless Numbered Days and Swimming Lessons were excellent but Bitter Orange is ...

Ατμοσφαιρικό, ποιητικό, ενίοτε αισθησιακό, πολυεπίπεδο και μεθυστικό, το μυθιστόρημα της Fuller είναι εξαιρετικά κατασκευασμένο, ένα εκπληκτικό μείγμα λαμπρής αφηγηματικής δημιουργίας μιας πλοκής που φαίνεται τόσο χαλαρή όσο οι ημέρες τις οποίες ...

Thank you so much Tin House for my copy of BITTER ORANGE by Claire Fuller - all opinions are my own.This is an atmospheric, haunting, and twisty story with beautiful language that will keep you captivated until the very end.In the summer of 1969, Frances Jellico is commissioned by the new owner to survey and write a report of a dilapidated mansion located in the idyllic English countryside just outside of London. Frances leaves everything behind ...

In the summer of 1969 Frances Jellico has just been assigned to assess the garden architecture of a crumbling English countryside estate alongside two other occupants, Peter and Cara. Frances finds herself living a somewhat hedonistic life but soon discovers that how things appear on the outside may not be the truth of the matter. This deeply atmospheric novel, with its multitude of layers and slow boil approach, leads readers down a rabbit hole ...

The book opens with Frances Jellico seemingly on her deathbed. She can't remember much anymore, but she can remember Cara. And Peter. Thank goodness her memory has preserved them, her two passionate and eccentric downstairs neighbors from forever ago. They never knew it, but for many months Frances had a direct sightline into their apartment, watching and listening to them talk, laugh, fight, and, yes, make up. The three of them eventually even b...

Bitter Orange is an entrancing testament to all things guarded and unspoken. Its all-consuming summoning of memories has the power to release a tangle of hearts and minds from the anchor of the past.For the first time in her thirty-nine years, Frances Jellico gains freedom from the restraints of inhibition and detachment. Although previously condemned to life in the shadows she surrenders to the prospect of a brighter future.Wearing an optimistic...

I had expected to be seduced by Bitter Orange, the first of Claire Fuller's novels that I have read, after some glowing press reviews. Instead I found it a pretty frustrating experience with a plot that holds very few surprises and a narrative that was in the main, highly ambiguous. Although furnished with some exquisite prose and observations on the decaying English country house of Lyntons that lends a chilling atmosphere to the drama, the st...

On her death bed, Frances Jellico is transported back to the summer of 1969. A meek and introverted woman, Frances never expected to befriend Peter and Cara, a seductive couple with a penchant for hedonistic behavior. All three spend a summer together in a dilapidated mansion, tasked by the home's last surviving heir to judge the worth of antiques and architecture. Of course, just like any other summer of self-discovery, things get out of hand an...

"Justice. I've heard that word. I tried it out. I wrote it down. I wrote it down several times and always it looked like a damn cold lie to me. There is no justice." from Jea Rhys' Wide Sargasso SeaStick a lonely woman in an attic, and you should know it's not going to end well. There is no justice for an irrational woman."The question is, shall it or shall it not be linear history. I've always thought a kaleidoscopic view might be an inter...

Not an unfamiliar scenario. Frumpy and nearly forty, Frances has spent the last couple of decades nursing her mother, a bitter woman whose joy in life was extinguished when her husband left her and she fell into a slow decline. Freed at last, Frances takes on a commission to catalogue the gardens of a grand but dilapidated country house, sharing accommodation with the worldly and slightly louche Peter and Cara. Frances is entranced and, for the f...

Claire Fuller's moody and arresting novel, "Bitter Orange", beautifully reveals and ultimately resolves, the story told by Frances Jellico as she lies dying. Frances, through Fuller's luscious prose, narrates what happened to her during a few weeks in the summer of 1969, just after her mother, an invalid, dies; Frances having nursed her for ten years. With her sudden freedom, 39 year old and socially inexperienced, Frances, take a job evaluating ...

There is conundrum when reading a Clair Fuller novel. On the one hand, the story is so propulsive you find yourself gorging on words as you race through chapter after chapter to see how the twisty tale resolves itself. At the same time you want to slowly absorb the story as you marvel at the detail, atmosphere, and characters she constructs. No word is wasted, no detail extraneous to the story. Frances has lead a fairly sheltered life. At middle ...