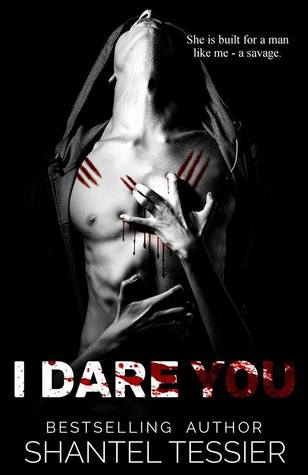 What do you do when the devil has you in his sights?You show him that you can play his game.Austin Lowes is new to town. She's running from a mom who hates her to her dad who cares nothing about her. Only a few months and she will be free, or at least, that's what she hopes ... until she meets him.Cole Reynolds is the devil disguised as a man. He wants her fear, he wants her blood, and he wants her soul.Just a little game, he says, I dare you.Wil...
---
Details I Dare You
Title
I Dare You
Author

Shantel Tessier

Release Date
Jan 1st, 1970
Language

English

Genre

Dark

,

Favorites

,

Sociology

,

Abuse

,

Young Adult

,

High School

,

Romance

,

Romantic Suspense

,

Suspense

,

New Adult

,

Adult Fiction

,

Erotica

,

Mystery

,

Crime

Rating
Reviews I Dare You
  ~WRITING - PLOT - PACE~Well, color me impressed because this book turned out to be all kinds of awesome. It actually reminded me a little of Corrupt by Penelope Douglas. The writing was fantastic. The pace was very good considering that this was a LONG book. It took me near to six hours to finish it. It is told in a dual POV style (Cole & Austin). The plot was super engaging and had me skipping my lunch so I could see where this was heading. ...

⭐⭐⭐⭐⭐STARS ARC BOOK REVIEW Release Date-27/4/18I really enjoyed "I Dare You" By Shantel Tessier a lot more than I was initially expecting.And although this was a very long read it still managed to engage my attention throughout.I was actually rather sad to finish this and leave such a vibrant cast behind.So this was my first experience with this author but I can honestly assure you it definitely won't be my last.From the very moment I s...

Cole Reynolds was the guy that you wanted to hate. He was cruel and had a huge chip on his shoulder. But damn was he sexy!! 🔥🔥Austin was perfect for Cole. She was the only girl that could handle his craziness. I think she was almost as crazy as him. The chemistry between these two was crazy hot but I shouldn't be having these thoughts because they were 18 and still in high school. The Great White Sharks were just that. They were sharks an...

The minute I read this blurb I knew I needed this book. It sounded sexy, intense, erotic and suspenseful - all things I love in my books. I thought Cole and Austin were PERFECT. I loved their chemistry, their tension-filled banter and all of the extended characters in this book. It was absolutely amazing!!When new girl in town Austin Lowes finds herself the lone girl in a crew of dangerous men where secrets and lies are like currency and danger a...

Well facccckkk me I Dare You is sinfully and devilishly good. Now I will tell you when I found out that Shantel was writing this book I thought to myself OHHHHHHHHHHHHH SHIT !!! I am such a huge huge fan of books with deplorable behaviour. Give me characters that I want to maim and yell and scream at and I'm in book heaven.Cole Reynolds was just that character for me. He gave no fucks, NOT ONE. He and the GWS or Great White Sharks (his band of br...

OHEMGEE!!I know I have a lot of friends who, like me, love authors like Penelope Douglas, BB Reid and LJ Shen. If you're a fan of Vicious, Fear Me or Corrupt, and quite a few of you are cause you message me asking for recommendations for books like it, then well, you're welcome cause I just found your next read.The plot twists and turns will leave you at the edge of your seat and you'll never expect anything that happens or see it coming.Shantel ...

Holy s***!!!!! I've never read a book that has had me wrapped up and in suspense from the very beginning until the very ending of the epilogue. I usually figure out who's behind what in some books but not in this one. I kept gasping and swearing when discovering something new. Damnnnn so many secrets and lies omg it was so bad and oh so freaking good!!!!!!!!!Cole was the devil but Austin was the female version. I thought I've read about eve...

This book was recommended by a fellow bookworm who knew it was similar to what i normally read. The new girl in town catches the attention of the elite bad boy crew and their leader. It starts out as torture, as a game & they absolutely hate each other. But that's the thing about enemies to lovers trope, the secrets in between and watching them fall for each other. No matter how hard they try to resist. It gets me every time. This book had me on ...

This book was different and I'm still undecided on how I feel about everything. Cole & Austin's chemistry and banter is off the charts. The secondary charters are also on point and add depth to the story. Nothing is off limits betrayal, lies...this book has it all! It was well written and flowed effortlessly!

I Voluntarily Reviewed an Advanced Reader Copy of this book! Shantel Tessier goes outside the  box in this dark, intense  and twisted love story. She takes the pain from each character and weaves them delicately through the pages to form a solid and enamoring gritty love story.Two broken souls. Two different agendas. Can you really not think about fate when you are so determined by to create damage and heartache? Fate had other ideas when it co...

This book is so different than what the author has written in the past. It is a dark romance, romantic suspense read and OMG I loved it!!!!! It is steamy, intense, dangerous, thrilling, twisted, suspenseful, erotic, sizzling and epic! It's a read where there are lies and misinformation is present. Cole and Austin have a love/hate relationship. Cole is someone who has an end game and in order to get to that end game, he plays his games and OMG t...

***This and other reviews can be found at www.imasweetandsassybookwhore.com ****ARC*I have been attempting to write my review for I Dare You since I finished the book and I am still having a hard time. This book, OMG, this book satisfied my need for a dark romance and kept me on the edge of my seat from the very beginning until the end. It reminded me of some of my favorite darker romances all wrapped up into one. Three simple words, I dare you, ...

WOW!! I am so Blown Away by just how Awesome this book is! First let me say this happens to be my first Shantel Tessier book and I am anxious to get my hands of everything else she has written! I Dare You was like nothing I have read before! I Loved every second of it! There were so many surprises and twists that keep you guessing. Full of secrets and lies, it was beautiful and dark. I devoured this book in one sitting! I just couldn't get enough...

4.5 Stars!! Floved It!! I Dare You by Shantel Tessier is absolutely FANTASTIC! I loved it. It is dark, edgy, suspenseful and HOT! I've never read this author before now but, after reading I Dare You, I will definitely check out her other books. When is a game not a game? In this cat and mouse chase, I couldn't be sure who was the hero or the villain. I love the characters though. Cole is such a nasty, cocky, arrogant alpha male with demons he...

WOW! This book is nothing like the Shantel books we have read before. In I Dare You we see a whole new side to her.This book is nothing that I thought it was going to be. It is twisted and suspenseful with the right amount of sexy and danger. It is a tangled mess of lies and secrets and who done its. Just when you think you have it all figured out, it takes a new turn and you realize just how wrong you were. It literally has you guessing til the ...

4+ starsOkay, I LOVE these kinds of books and get so happy when one crosses my path. So here was have some ultra-elite and wealthy kids in high school. They are cruel, reckless, indulgent, etc. Everything is completely over-the-top, dramatic, and secretive. Even the secrets have secrets. It's dark, twisted, sexy, and has you flipping the pages trying to put the puzzle together. The adults are even more evil than the kids. I live for this. It's pr...

5 Dare You Stars Oh wow, I adored this book.It is very different from others I have read from Shantel. However, I am just going to say that I think this is my favorite of hers to date.I when into this book blind Like I always like to do and I did not know what to expect, it was full of twists and turns. In addition, kept me guessing to what was going to happen. Austin and Cole I loved their characters they have a love/hate relationship. Cole has ...

Oh my freaking goodness! This book just blew my mind! I was entranced by the story, captivated by the alpha aholes, and danced on pins and needles throughout the whole book. I mean hello... thrilling, dark, twisted, suspenseful, action packed madness! I freaking loved it. Definitely on my top ten list of must read books this year. Blood is in the water...who's gonna bite?! Love me some sharks! Eek and I'm claiming Cole and Deke haha

#coleismineI absolutely loved this book!! Shantel did it again with another AMAZING book!!! This book literally had me on the edge of my seat with all the twists and turns. I didn't see a lot of what happened coming and was definitely surprised with how it ended because i DEFINITELY didn't see it coming at all. The push and pull between Austin and Cole just shows how much chemistry they really have for each other and how they don't take shit from...

*Voluntarily read an ARC and this is my honest review*Shantel has done it again by bringing to readers a new novel with two lost souls who find one another in a world of darkness. "I Dare You" lives up to its title because the characters in the book take you on a roller coaster ride of dangerous dares, betrayal, lies, and games of sex and love. Who would have thought a group of teenagers can put your imagination to the test when they take you...

OMG, this book had me gripped from the first page. While it is a long read, the plot is engaging, and the characters are fantastically dark but sexy in a twisted way.Shantel Tessier is a brand-new author to me, but after reading this book I'm an thoroughly impressed. Her writing style is fantastic. Her pacing of the story kept me interested in this long story. There were plenty of twist and turns and the secret and lies told in the storyline wa...

TEN STARS!!! 🌟🤩What can I say other than holy h€ll!!!This is by far, in my opinion, Shantel's best work to-date and that's me that loves her previous novels! And is a complete change in the type of writing.This book is dark in parts and quite angsty. A total rollercoaster ride and definitely keeps you on the edge of your seat.The story surrounds Cole and his closest friends, aka GWS = Great White Sharks, not only are they all on the s...

I Dare You by Shantel TessierLess than twelve hours after arriving at her father's estate, Austin Lowes sees five young men from her bedroom window carrying a body. Instead of ignoring them, she decides to slip out of her house and follow them into woods that lead to a cemetery. After witnessing someones death she tries to flee, but gets captured by none other than Cole Reynolds. He can't leave a witness, but after finding out her name, he de...

"These waters are infested with sharks. And you are bleeding." She looks over my shoulder at Cole, then back at me. "But there are worse ways to die."Rich kids, with even richer parents play a deadly game of dares with no consequences as they are the untouchable sharks. Austin is the new girl in town and she stumbled upon something she really shouldn't have. Drawn into their games she's a pawn in something much more dangerous than she...

Addictive, intense and all consuming, I Dare You will make favorite lists for readers everywhere! I have really only read a couple books by Shantel Tessier but of the few I have read she has consistently treated me to stories that have sucked me in quickly, entertained me beyond my expectations, and forced me through a full rainbow of emotions.Austin and Coles story was super faced paced and full of craziness and I loved every minute! There was n...

Holy Hell!!!What happened to the new generation of teens in this book?! I am scared if there are any teen who are remotely like this out there!! This is the second book I have read this week where teenagers live adult lives. They never do homework or go for pizza and roll around on a couch necking. NO!!! Not these kids. For these kids It's full on violence, murder, hardcore sex and partying, spying, revenge and betrayal.This is a full throttle ad...

***ARC provided in exchange for an honest review- Megan/Scandalous Book Blog***I Dare You was my first Shantel Tessier book and it most definitely won't be my last..this book blew me away! I Dare You is a gritty, dark & sexy read with all these mind blowing twists and turns that kept me on the edge of my seat and up til 2:00 am to find out what happens...this is most definitely a must read!Austin is the new girl in town; her plan was simple.. get...

I wasn't sure even by the blurb what kind of book I was going into. But it was FANTASTIC! I am so hoping that this is a series, and that we will get several of the characters books!I Dare You was heart pounding roller coaster ride, I didn't know which way was up or down and there were so many secrets and lies my head was spinning in the best possible way. I could not put it down!This is the story of Austin and Cole. Austin gets sent to her dad's ...

This book ... WOW ... I am on day three of my book hangover and I still don't think I have the words to adequately describe how amazingly twisted this book is.I Dare You was an amazing read that took you in from page one and did not let you go until the very end. Shantel Tessier created a plot that will blow your mind with its unpredicatable turns and dark themes. This book felt like it was so much longer as so much drama was squeezed into the pa...