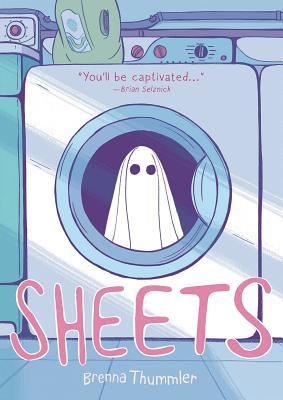 Marjorie Glatt feels like a ghost. A practical thirteen year old in charge of the family laundry business, her daily routine features unforgiving customers, unbearable P.E. classes, and the fastidious Mr. Saubertuck who is committed to destroying everything she's worked for.Wendell is a ghost. A boy who lost his life much too young, his daily routine features ineffective death therapy, a sheet-dependent identity, and a dangerous need to seek pu...
---
Reviews Sheets
Rating: 3.5 starsIn Sheets we follow Wendell, a ghost wearing a sheet, and Marjorie, a young girl running her family's laundromat. At first, we jump between their two stories but eventually, they weave together. This is such a sweet read, both heartbreaking and heartwarming. I absolutely love the colour palette - the illustrations are truly stunning!I did find the pacing to be a little off. The start is slow, but I actually really liked this. I e...

I loved this book soooo much! I added to my favorites! It just had a homey feel to it. I can't explain it! And the graphics are wonderful! And ghosts!! Grief, trying to find yourself, family. Just wonderful! Mel 🖤🐺🐾

Local Friendly Ghosts, Grief, and Solitude Sheets  illustrates the determination of a young girl to fight, even when all parts of her world seem to be conspiring against her. It proves that second chances are possible whether life feels over or life is over. But above all, it is a story of the forgiveness and unlikely friendship that can only transpire inside a haunted laundromat.This book is also quite a looker; I only wish that the storyline...

Brenna Thummler illustrated the fabulous, wonderful, I can't-say-enough-good-things-about-it Anne of Green Gables a graphic novel, so when I saw she was flying solo on her own debut graphic novel, I didn't hesitate to pre-order a copy and pay the full price for it.When it arrived, my 10-year-old (who is our resident artist), couldn't wait to get her hands on it, but I wasn't sure she was the target age, so I retreated to my room to read it. I cam...

SOLD! The ghostly book cover....the inside front and back covers....the detailed soft colored illustrations....just wonderful! The memories are bittersweet....the laundry never-ending....or is it! Poor Marjorie....so much to do. Trying to survive middle school with no friends and run the family laundry with no help while dad mourns is such a heavy burden to bear; and that coupled with an evil minded villain and mischievous young ghost bring angui...

I honestly don't understand why this graphic novel has such low ratings on Goodreads. It's not the best book I've ever read, but normally there's something really wrong with a book to get so many one and two stars.I don't often question an average rating, because we're all different and are entitled to our own opinions, but I'm just a little taken aback by the lack of love for this story, you see? Especially since, personally, I tho...

It's 1998 in Marjorie's world and the feels are no less in 2018."Mom opened glatt's Laundry when she was only nineteen. Bath then, it was "Dellaway Laundry", which is loads better. But then she met Dad and lost the ability to make rational decisions."...She died the past spring, and then Dad sort of did, too. He's still 100% opaque but slightly less visible."This is the story of a girl, Marjorie. Not just any girl; a girl who feels out of place a...

Such an interesting new kind of story. There aren't too many stories set in a Laundromat and it sets up the tone very well. Down trodden and an endless cycle. There is a creepy weird dude named Mr. Saubertuck who is trying to take advantage of the family who owns the Laundromat. He wants to build a spa and take over the building and have a yoga studio. He puts pressure on Marjorie, the lead teen of the piece. He wants them to work for him and liv...

*Disclaimer: A copy of Sheets by Brenna Thummler was provided to me by the publisher via NetGalley in exchange for an honest review. This does not affect my opinion in any way.--Initial post reading thoughts:Well, wasn't that adorable and heartbreaking and beautiful all at once.--What I LikedThe emotions. I could tell from the opening paragraph that this story was going to make me feel things. I knew it would be an emotional story and I definitel...

Sheets by Brenna Thummler is a book I requested from NetGalley and the review is voluntary. I found the first part of the book a bit slow but it did pick up when there was more interaction with the ghost. I felt for the girl and the ghost but I wasn't too invested in them. I found the flirting scene near the end out of place. It was an okay read.I really loved the art work! Very nice! Wonderful colors and could almost tell the story without words...

I was bowled over by Brenna Thummler's illustrations in Anne of Green Gables: A Graphic Novel so when I heard she had written her own graphic novel I was all in. I simply adore Brenna's ability to capture an image and present it in a way that I want her to draw the entire world for me. Seriously, I can't get enough. Her use of colour is absolutely gorgeous and she's able to evoke the emotion of a scene through colour as well as the imag...

This didn't work for me as a YA graphic novel or a juvenile graphic novel. Protagonist Marjorie Glatt (dear lord that name) is a middle schooler who's horrible father has left her as the sole person in charge of her beloved dead mother's laundromat. That's right, a child has been put in charge of running the family business because dad is too sad to come out of his room and take any responsibility at all for his children. She also has a very youn...

4.5 STARS- The cutest little graphic novel that gives me major Steven Universe vibes with its color palette. The story is so adorable, as well.

An adorable book with lovely art and a sweet story. A little girl is trying to keep her family together after the loss of her mom with the help of a special ghost.

I loved this. Following review is taken from here.A really sweet, middle-grade story of a young girl, Marjorie, just trying to get over her mother's death and figure out her place in the world. But it also has ghosts.The cool thing about these ghosts is that they wear sheets. You can't see them without the sheets and Marjorie just happens to run a laundromat. The story is okay but graphics! Like you have never seen before. I like this style....

Almost 2 completely separate stories until halfway through the book. One, a very boring story about a middle school girl, Marj, who has lost her mother and has to run her family's laundry service in addition to school. The other. a much more compelling story of a recently deceased boy who hasn't made any friends in the ghost town he was sent to and comes back to the town he's from. Eventually these stories overlap when a person in town tries to s...

This was wonderfully weird—I loved it.

So, let me start this by saying that I am a huge fan of graphic novels as a whole, but it's true gems like these that having me ranting and raving at my local comic book shop, asking everyone what they're reading and immediately adding it to my TBR. I would like to say that I was swept up from the very first page, but that's not true. I was pulled in from the first time I seen the cover photo. Honestly, look at that sweet little sheet ghost stuck...

my rating: ✰✰✰ This was a sweet and cute story with innocent characters but still with heartbreaking points. It revolves around Marjorie, a girl who lost her mother and she takes care of the family business while she feel out of this world, and Wendell, a ghost who doesn't feel welcome in the Land of Ghosts so he escapes and how they meet and how they help each other to find their path.Sadly, even though I liked it, I don't think this story...

Actual rating: 3,5 stars!Such a lovely, lovely story, with themes like grief, isolation, and hard work that seems to be for naught but isn't. While the story is mostly slice-of-life, the supernatural element gives it an extra bit of pizzazz, but also makes it more... childish, I think? It's probably the way that the Ghost World operates, which does feel like the way a child would imagine it as.But still, the story was lovely, and the art that acc...

Check out more manga and graphic novel reviews @ Perspective of a Writer...Marjorie and Wendell don't feel like they belong. She's a practical thirteen year old in charge of the family laundry business, her daily routine features unforgiving customers, unbearable P.E. classes, and the fastidious Mr. Saubertuck who is committed to destroying everything she's worked for. Wendell is a boy who lost his life much too young, his daily routine feature...

Marjorie is a lonely young teen. She has recently lost her mother, her father is depressed, and Marjorie has found herself in charge of the family laundry business. Wendell is a ghost. He died as a boy, and is adjusting to his new sheet-dependent afterlife. When they unexpectedly encounter one another, Marjorie and Wendell form an unlikely friendship.The story starts slow as it introduces Marjorie. When Wendell is introduced, the story picks up a...

I voluntarily read this ARC in exchange for an honest review. I have to admit that I only shelved this in my TBR because of that cute cover! And this turned out to be a real surprise for me.Sheets is a story of a ghost wanting to fit in and a girl struggling to make ends meet for her family by solely running their laundry shop. For a graphic novel filled with cotton candy colors and soft touches, this sure has a lot of melancholic undertones. Pin...

I liked it so much for the concept. The best thing was definitely the art and how real the character drawings are because there are imperfections and shit. Full review to come soon! Blog | Twitter | Tumblr | Instagram

This was super creative and fun!!! ☺ A nice balance between the plot and the characters.

This graphic novel is visually stunning, I'm particularly impressed by the coloring. Sadly, the story lacked. I didn't care about the characters and felt confused at moments about the point & where the story was going.