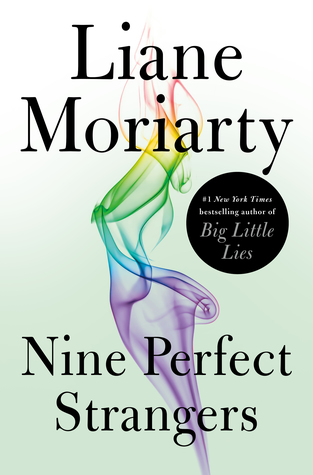 Could ten days at a health resort really change you forever? In Liane Moriarty's latest page-turner, nine perfect strangers are about to find out...Nine people gather at a remote health resort. Some are here to lose weight, some are here to get a reboot on life, some are here for reasons they can't even admit to themselves. Amidst all of the luxury and pampering, the mindfulness and meditation, they know these ten days might involve some real...
---
Details Nine Perfect Strangers
Reviews Nine Perfect Strangers
HER BEST YET.I said to my husband recently... I just love the way I feel when I'm reading a Liane Moriarty book. Like I'm surrounded by lovely, neurotic, warm, friends. And Liane has done it again with this wonderful book about nine strangers who go to a health retreat. As always, Liane's observations about life are just so damn spot on. Frances was my favourite guest, but the rest of the gang—Napoleon, Tony, Heather, Ben, Jessica, Carmel, Zo...

Liane Moriarty's latest offering is a hugely enjoyable psychological thriller that is pure fun and entertainment whilst incorporating a look beneath the issues of a wide cast of characters and the moving stories that lie behind the facade of their everyday lives. Set in Australia, Tranquillem House is a health and wellness resort that many clients claim transformed their lives for the better. The latest batch of arrivals are 9 strangers that get ...

2.5 stars, rounded up.Ugh. This one really fell flat for me.The idea of self-improvement is often an appealing one, but it takes so much work, so when someone offers us a quick solution, how can we not jump on it?That's what is bringing nine people to Tranquillum House, an exclusive health resort in a remote part of Australia. They're coming to lose weight, to detox a bit from the alcohol they've become fond of, to get lots of spa treatments and ...

Nine Perfect Strangers by Liane Moriarty is a 2018 Flatiron publication. Frances- former bestselling romance author- ironically the victim of a romance con/scamLars- divorce attorney representing women onlyTony- former professional sports starNapoleon, Heather, and Zoe- family coming apart at the seamsCaramel- Husband dumped her for a younger woman- wants to lose weight – gain positive self -image Ben and Jessica – marriage on the rocks after...

A slow starter halfway through and it wasn't grabbing me then BAM, things started to happen...but seriously how does she do it!? Get into the heads of her characters, like she has a window into the thought patterns of people. It's uncanny and it's such a skilled craft! If nothing else I'm obsessed with the way that she uncovers her characters individual foibles and indiosyncracies in the most amusing and hilarious ways poking fun at so ma...

Looks like a luscious fudge truffle, tastes like a chocolate-dipped gherkin.Watch out for the green stuff.I'm a Liane Moriarty fan. But this latest book is a mess. It's being marketed as a psychological thriller, but that's really not accurate since the story has only one major plot twist and very little actual suspense. The book's mission isn't really to surprise: instead, its mission seems to be to preach and nag. Unfortunately, by the end you ...

https://theburgeoningbookshelf.blogsp...I absolutely devoured Big Little Lies! I love how Liane Moriarty starts a story all sweet with likeable characters, then slowly a foreboding veil comes across the story and people's dark side begins to emerge changing a good story into a compelling story.Nine people book into a health resort, Tranquillum House, ready to be transformed into a better, thinner, healthier version of their former self.A washed...

Seriously, I don't know if I loved this book or absolutely hated it. Half way through I was done with it...but, there is a pull to keep you reading to see what happens to the Idiotic Nine, whom I also loved and hated. There are 10-11 storylines in the book all told sporadically from each of their points of view. It wasn't confusing in the least, but it did get rather boring, especially for the characters that I didn't like. Even the epilogue went...

Highly entertaining and thoroughly enjoyed! "It's just a story!" ......and oh boy what a story it was!I absolutely loved this book and what a clever ending. Full review and Norma's Stats to follow shortlyP.S. - anyone else see an outline of a woman's body on the cover?

Frances Welty, popular romance writer who'd just felt her first rejection, had thought her career and future were assured at fifty-five years of age. The impulsive booking at Tranquillum House, a health and wellness resort (which was expensive), had her questioning her own decisions on the long and tiring drive from Sydney. Her arrival showed her a beautiful old home built in the 1800s, renovated to within an inch of its life, with a staircase re...

*https://mrsbbookreviews.wordpress.com'She's back' exclaims the front cover of my proof copy of Nine Perfect Strangers, the latest release from household name and bestselling author Liane Moriarty. If you don't know who Liane Moriarty is I might mistake you for living under a rock! She is one of Australia's greatest exports, gracing the illusive New York Times bestseller list many times over. She also has close ties to Hollywood superst...

I have to give this one 5* for pure enjoyment levels. I can't remember the last time I laughed so much at the same time as being made to consider life so much whilst reading a book.A weirdly wonderful group of utter stranger's all rock up to a 10 day wellness retreat, all looking for different answers, all hoping to come out the other side all brand new. Well be careful what you wish for is all I'll say...This group dynamic is pure dynamite as we...

Nine, worn-down-by-life, strangers, sign-up for an exclusive ten-day, mind and body total transformation retreat, but end up getting much more than they bargained for! I was expecting the Nine Perfect Strangers to be strangers to each other but this wasn't the case. Two were a married couple, while a further three were family members – father, mother, and their 20 year old daughter, while the remaining four were indeed strangers – two male,...

Nine Perfect Strangers wasn't the fun, fast read I was hoping for. The characters who check into the Tranquillum Spa are all weighted down with sad baggage. The first half of the novel details their past woes. I kept reading because I found a couple of the characters likable and the central character, Frances, quite endearing. Then there is a pivotal, ludicrous event which is just a vehicle for more unloading of emotional baggage. This book fel...

My first Liane Moriarty novel - I was intrigued by this one after the hype surrounding Big Little Lies. This may not be indicative of the quality of her other novels, but I found this to be cliched, predictable and ridiculous. The story focuses on the nine strangers of the title who sign up for a kind of health cleanse at a spa, situated in a remote part of Australia. We quickly learn that something is amiss, and that these people are part of an ...

I never, ever thought I'd say this about a Liane Moriarty novel but...what a terrible, boring, pointless novel!I really disliked this one. Couldn't wait for it to be over, actually. It was so boring and also claustrophobic at the same time, giving me a sense of desperation for these people to just be set free already. For the life of me I could not understand what the purpose of this book was. It didn't even sound like a Moriarty.I am still a fan...

Find all of my reviews at: http://52bookminimum.blogspot.com/4.5 Stars Why haven't any of you read this yet?!?!?!? I'm the worst at posting timely reviews so you've had nearly a month. I can't wait to see what others think of this. Take note it is different than any of the other Moriarty books I've read to date . . . but somehow it's also the same. The story here is about exactly what the title states: nine perfect quirky strangers. M...

This is my 4th book by Liane Moriarty and I've loved every one of them.They are a guilty pleasure that I don't even try to hide from my self-purported highbrow literary friends.I adore the quirky characters she's introduced me to over the years.I appreciate the humor she injects into her stories that causes the left side of my mouth to curl up into a weird smile so that my boyfriend sitting to my right doesn't see it.I love that her stories are p...

Tranquillum House, twenty minutes outside Jarribong, Australia. A Place where people's lives changed within ten days. A place where nine perfect strangers experienced a jaw-dropping cataclysm in existential hogwash or harmony.They were:Frances WeltyJessica & Ben Chandler Heather, Napoleon and daughter Zoe MarconiTony Hogburn Carmel Schneider Lars LeeIn typical Liane Moriarty—style, a cross section of society is thrown together and slowly moves ...

I admit, this is only my second Liane Moriarty book.  I read Truly Madly Guilty back in 2016 and I enjoyed it, but I wasn't totally blown away. Back then I promised myself that I would read more of her books, so when I saw this at the shops I decided to pick it up. I'm glad I did! I thought it was better than Truly Madly Guilty and I really enjoyed the characters and story.Nine people seeking relaxation and change go along to a health retreat. E...

The day I got this book I had to practice utmost restraint not to start reading at 10am. I work for myself, so it was really difficult.I don't read a lot of chick lit but there are two authors I will make an exception for every time, and Liane Moriarty is one of them.The whole experience was just plain FUN.Nine strangers get together for a 10-day health retreat, one that promises to be transformative beyond their wildest dreams. Some are there ...

"'Ardently do today what must be done. Who knows? Tomorrow death comes.' The Buddha." There are several themes threaded throughout this novel, and in my opinion, they all lead back to the above quote. Whether it's embracing gratitude, processing grief, or simply finding self-acceptance, don't let another day pass without making a mark on your journey. In Nine Perfect Strangers, Liane Moriarty introduces a multitude of characters that learn ...

10 days that will change everything.... how to hook a person in! I am a big fan of Liane Moriarty and have been for many years. I couldn't wait to read this one and definitely was not disappointed. This book has it all - it is sad, it is fun, it is a bit out there but it all comes together in one fantastic story that has you turning pages way into the night.Tranquillum House is a health retreat in rural Australia - far from the busy city lives th...

[2.5 stars]I have to say, this one started out pretty strong and had me gripped, but it sort of petered out as it went along. I think by nature it was trying to do too much, since it followed a dozen characters or so. It also lacked the depth that I feel some of her other books have. It's by no means a bad book, just a lot more surface-level than others, sort of similar to watching a cheesy Lifetime thriller movie. I enjoyed reading it but I'm no...

Ahh, this rating breaks my heart. I love Liane Moriarty, but this book was too looney tunes for me. At times I thought I had fallen down a rabbit hole, cracked my head hard, and was hallucinating.To break it down further, I'd rate the characters and the witty observations of life at 4 stars. So I enjoyed chunks of it, and it wasn't a waste of time. BUT, big but..The plot lost me. Too far fetched and way too ludicrous, I felt like "it" cou...

Nine people have signed up for the retreat at Tranquillum House, hoping that at the end of the 10 days they will be transformed. 🙇🏻♀Our main protagonist is Frances -the author of romance novels which aren't doing so well anymore due to the trend of psychological thrillers being all the rage. She will be joined by Ben and Jessica, a young married couple on the verge of a divorce, Napoleon, Heather and their daughter Zoe, in need of an es...

Nine Perfect Strangers is funny yet twisted at the same time. It follows nine strangers during their ten day stay at a health retreat. What happens in this story is kind of like a psychological thriller, but because there is a good amount of humour, it doesn't really feel that way. The events that transpire are kind of funny and so are the characters' reactions to them. The slow introduction of each of the characters helped in my grasp of who the...

I am usually a reader of more hardcore thrillers and have always thought of Liane Moriarty's work as leaning too close to the women's fiction/chick lit genre for my liking, but I thought it was about time I discovered what all the fuss is about given that she's a worldwide #1 bestselling author and has had her novels made into award-winning series'. It certainly falls from outside my comfort zone, but I did enjoy it.With the number of characters,...

Thanks to the publishers and NetGalley for the ARC of this book in exchange for an honest review.I am a huge fan of this author's books. I was extremely excited to be approved for this title. The book started off really wonderfully. I had a good chuckle at times. I did feel that it started dragging towards the end. I am not one to say books are not realistic or far-fetched. Far-fetched is sometimes good. Many people love reading as they are able ...