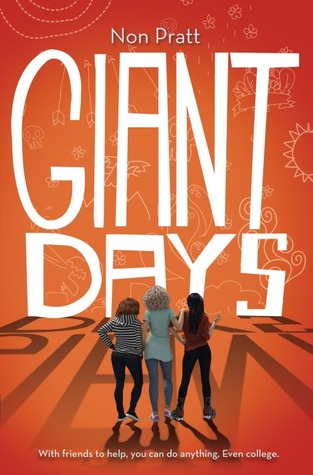 Based on the hit graphic-novel series from BOOM! Studios, the publisher behind Lumberjanes, Giant Days follows the hilarious and heartfelt misadventures of three university first-years: Daisy, the innocent home-schooled girl; Susan, the sardonic wit; and Esther, the vivacious drama queen. While the girls seem very different, they become fast friends during their first week of university. And it's a good thing they do, because in the giant adventu...
---
Details Giant Days
Title
Giant Days
ISBN

9781419731266

Author

Non Pratt

Release Date
Aug 21st, 2018
Publisher

Amulet Books

Genre

Young Adult

,

Contemporary

Rating
Reviews Giant Days
'Giant Days' was a bunch of marvellous fun, about the three best-est friends you could possibly read about. Non Pratt manages to take the exact essence of each character from the graphic novels and perfectly translate them into pure prose form. Each girl is equally focused on, so regardless of whether Susan, Daisy or Esther is your favourite, you'll definitely enjoy this book! This also perfectly balanced appealing to fans of the graphic novels, ...

Non Pratt perfectly captures the tone, humour and characters of Giant Days, and I would definitely read more books in this world written by her! It was exactly what I expected and hoped for, and now I just want to re-read all the comics again...

I haven't read any of the graphic novels that this is based on, so went straight into reading this with no context or idea at all of what to expect - other than I'm a huge fan of Non Pratt. I was a bit worried that I wouldn't understand some references or grasp the general characters, but I was wrong!It follows the story of Daisy, Susan and Esther, as they embark in their university experience and some weird and quirky things arise. Not only do I...

This book was mildly amusing, but it pales in comparison to the wildly entertaining comic book series. I am left wondering: who is the target audience here? Fans of the comics don't need to read this – it covers a lot of the same ground as the first volumes, and the new material really isn't groundbreaking. The author even appears to painstakingly describe elements of the comic books in sections, much like a nature documentarian would for a...

I love the Giant Days comics, and I love Non Pratt's YA novels - this combination of the two is just as funny and perfect as you might expect! (14+)*Please note: this review is meant as a recommendation only. If you use it in any marketing material, online or anywhere on a published book without asking permission from me first, I will ask you to remove that use immediately. Thank you!*

4/5 starsI love Giant Days. It's my favourite comic series, and, after seeing this on Netgalley, I knew I had to read it ASAP. I was fortunate enough to get access to this, and I'll definitely be buying a physical copy after how much I loved this book. As far as I can tell, this takes place just after the events of the original minicomics but before the events of the second volume (my favourite, nudge nudge wink wink), although the timeline does ...

Giant Days is one of my very favorite comics, the one I read the same day I buy it, without fail. I adore this series. I admittedly read this novel with trepidation, because I feared that the characters I love would be amiss, but my worries were misplaced. This novel is fun and funny, and reminiscent of those confusing first days of adulthood. Susan, Daisy, and Esther (and Ed and McGraw!) were portrayed true to character, and this felt very comfo...

A narrative version of the awesome graphic novels and Pratt cinematically captures what's drawn in graphics and translates it to text perfectly. I think you do need the context of the graphic novels though I think a non-graphic reader could certainly be entertained by its humor and hijinks then get into graphic novels if they weren't before. I'm a fan of this cross-pollination of narrative complimenting a graphic novel series and this one was boa...

Whilst I haven't read all the comics that this novel is based from, this book stands alone. Its such a relief to have a book about university. I feel like there is such a gap in the market. As with all of Non's previous works, the characters are amazing and I immediately connected with them. I loved the first half, but felt the second half was too rushed, and felt like its purpose was more to tie up loose ends.

very entertaining story about three girls who become unlikely friends at university in England

*Thank you to Net Galley and the publisher for the Digital Review Copy!*The biggest problem with the comic novelizations is that when you fall in love with characters in the comic book medium, it's hard to really adjust to them outside of that medium. Especially when the writers that taking on the characters are not the same as the comic book writers. I've been reading Giant Days for some time, and I love, love, LOVE the comics. Esther, Susan, an...

When I received this book through the Goodreads giveaway program, I expected to enjoy this mildly, and i did. This book definitely has a strong friendship complex paired with decent writing, but it's just fine. Enjoyable, but not overtly so. However, the frequent "feministic" comments made throughout the book may cause others to enjoy it more than I.The biggest gripes I had were definitely that the characters were forgettable. I read this book in...

This YA novel by Non Pratt is a part of the fantastic comic series GIANT DAYS and takes place within the events of volumes 1-3 of the comic. However, you do NOT need to have read the comic to enjoy this book. I would recommend reading the comic, because it's amazing, but the novel is a great place to start as well!Like the comics, the novel follows Susan, Esther and Daisy, along with their friend Ed and Susan's frenemy McGraw during their first s...

I read the first Giant Days graphic novel around a year ago, and loved how absolutely charming it was. The story was funny and light, the artwork was beautiful, and the characters were just delightful. So, imagine my excitement when I heard that a novelization of the comics was coming out! I was excited to see how much more fleshed out the characters, and the story, and the setting could be when given an entire novel to play around with, instead ...

3.5/5 starsI really enjoyed this book. It was a really fun time and a great introduction to these characters if you have never read the comics, which was my experience. I loved the relationship between the girls and I really enjoyed reading about their different paths and experiences. They each had their own distinct personality and I was very interested in what they would do next. I do wish they had a few more meaningful interactions with their ...

Being a fan of Non Pratt's other books, I knew for sure I'd have to check Giant Days out despite not having read the graphic novels. The result? A fun, totally Non style, easy read! I loved reading about what the characters were getting up to, especially lovely, innocent Daisy! This book did feel a bit mish mash at times and I'm unsure whether that's down to having an advanced eCopy. I also couldn't read much of it in one go as I just couldn't ge...

In the beginning I liked this book, it felt so good being back into this world, but the format really started to bother me. The way it would jump from each of the girls it was a little jarring. I don't know if it was because of it being an eArc or what but I hope it's not like that in the finish copy. I do think you would have to read the graphic novel to understand a few things that was going on in this book. Since I liked the graphic novels a l...

[I received an electronic review copy from Netgalley in exchange for an honest review. All opinions are my own.]A quirky story based on a series of graphic novels about three very different girls in their first year of college. It's an interesting look at the search for identity and belonging. It took a little bit to get to the crux of the story, and each of the girls was sidetracked from their friendship which led to the big ending. I got a ki...

This was a bit of a departure to Non Pratt's usual style but I really enjoyed it. The scrapes that Esther, Daisy and Susan got into reminded me of my university days, and I loved their relationship and their banter. I've not read the graphic novels, so I can't compare them, but this book was a highly entertaining romp through the first year of uni, with an added bit of mystery and mayhem. What a hoot.

I actually enjoyed this a lot more than the rating suggests, especially as the pacing picks up at the end. But I think it works better for those already familiar with the comics than as a standalone; the first third particularly feels in media res, as we're introduced to characters and hijinks that are only partly explained in the text. Still, even without the context of the comics, this is a very fun read.

(3.5/5) I have never read the graphic novels of this series, but nevertheless I decided to dive in after coming across a copy. I liked the book a lot; the characters' personalities were distinct but I feel like there should have been more time used to develop some of the minor characters. I have appreciation for the author though- it's very difficult to adequately adapt another author's work well, but Non Pratt did a nice job. I might even have t...

I was really excited for this book. One of my favorite tropes is the redhead, blond, and brunette best friends! But I didn't feel the friendship in this book. I just felt like the girls were only friends because they had no one else. But they lacked a lot in the friendship department so it felt forced and fake.

I can't say much, considering I be only read one volume of the graphic novel, but it had so much more charm than this. Possibly because of the emotive illustrations and the ease of the graphic novel, but it was much more endearing. Sad to say.

So much fun! Looking forward to checking out the graphic novels.

Starting out at university, three girls make friends, Daisy, Susan and Esther they may be very different people but they look out for each other.Susan and Rather become rightly concerned when Daisy hangs around a lot with cult like group at the university called The Yogic Brethren after signing up to their group during the welcome activity fair for new students and they appear to spread throughout the whole campus. But students go missing and Dai...