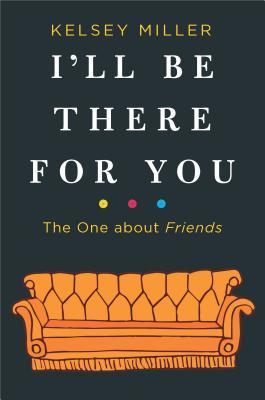 This definitive retrospective of Friends incorporates interviews, history and behind-the-scenes anecdotes to offer a critical analysis of how a sitcom about six twenty-somethings changed television forever. When Friends debuted in 1994, no one expected it to become a mainstay of NBC's "Must See TV" lineup, let alone a global phenomenon. In the years since, Friends has gone through many phases of cultural relevancy, from prime-time hit to 90s ...
---
Details I'll Be There for You
Title
I'll Be There for You
ISBN

9781335928283

Author

Kelsey Miller

Release Date
Oct 23rd, 2018
Publisher

Hanover Square Press

Language

English

Genre

Nonfiction

,

Adult

,

Culture

,

Pop Culture

Rating
Reviews I'll Be There for You
You Should Read This Book If:-You love nostalgia and want to prance down memory lane with people who can drop Friends inside jokes as frequently as you can.-You want a well-researched look at the writing, casting, and those highly-publicized salary negotiations. -You're into pop culture phenomenons. Because Friends definitely is one.Kelsey Miller loves Friends in the way that I do. Soothed by those TBS reruns and able to easily ramble off some ...

Contextualizes, unpacks, and analyzes a pop culture phenomenon. It's insightful, thoughtful, well-written, wonderfully footnoted, and fun.

First of all, thanks to Netgalley for this advanced copy. A solid outline of each of the main character's beginning. Great writing about topics like the haircut, the holiday armadillo, the weird Joey and Rachael relationship, and even the #metoo movement. This is a great read for someone who loves Friends

Friends is tied for first with Buffy as my all-time fave show. The book was, overall, enough to tug at my heartstrings and long for the simplicity of it - despite the fact that I've spent the better part of the last decade+ falling asleep to it, thanks to The One With All Ten Seasons. It's not as though I haven't seen a single episode since the finale. I have. Easily hundreds of times. A few close friends and I can have entire conversations consi...

Thank you to NetGalley and the publisher for providing a copy of this book to read and review!A few years ago having Friends on in the background was a daily occurrence. I watched my DVDs so much that I ended up killing an Xbox (red ring of death!) and once I got a new one you know what I did? Yup, back to daily Friends watching.This is a book that will probably appeal to those who grew up watching the show and even those who may have found it af...

This book is just pure fun enjoyment. Do not go into it expecting deep thoughts about the show, or even really anything new. It is an enjoyable read with fun insights and interesting tidbits that relaxed and entertained me before bed each night. If you are someone who spent their teenage/early adult years watching this show, then you will like this book too. I received a digital copy of this book through NetGalley in exchange for an honest review...

Solidly enjoyable, but mostly only for Friends Superfans. You really gotta care about the show to care about this book. (I do, so I did.)Thanks to the publisher and to NetGalley for the ARC.

This is a pretty standard book about the phenomena that was and is Friends. That said, to those who watched it as teenagers or young adults during the original run, there probably isn't going to be anything new covered on the page, though it's a nice nostalgic reminder of the climate of the 90s. The audience for this book is the millennial primarily watching the reruns or on Netflix--and that's not a bad thing at all! Much like The Golden Girls, ...

I received an advanced copy of I'll Be There for You from Netgalley in exchange for an honest review.3.5 StarsCould I BE any more excited to get a copy of this book? I have been a fan of the tv sitcom Friends since it premiered in the mid 90's. My friends would gather around for Must See TV Thursday nights, wore Monica's spaghetti strap dresses, had The Rachel and dreamed of moving into their huge apartment in the heart of Manhattan. Kelsey Mille...

I loved this book.I loved friends, yes watching them today, I do notice some sexism, but "Friends" was simply a product of the time.This TV show did not set out to be trailblazers, lighting the way for equality. It was a show from the 90's, it was written in a language we all understood.This book not only gives you a behind the scene look at the creation of the series, character development, and auditions. But it also talks about the cast dynamic...

I received an ARC on NetGalley in exchange for an honest review. (Thanks!)I watched Friends for the first time in my first year of university. (I mean like completely; I did watch some of the reruns as a kid but I don't really remember the specifics) It got me through a lot of the loneliness and stress so Friends is close to my heart. I was super excited when I got approved for the ARC and had a fun time learning about the pop culture history of ...

I was fortunate enough to win the two-chapter sampler for this book. I have always felt a strong connection to the TV show and was looking forward to connecting with the characters on a deeper level with this book. I am happy to say that it has absolutely delivered so far. After reading the first two chapters, I immediately went and watched the first few episodes. Knowing the backstory and how each of the characters felt when they were filming th...

Fun look behind the scenes at everyone's favorite show (including mine.) Once you get past the chapters about the writers it flies by.

One of my all-time favorite shows. In only two chapters, I learned a lot about the actors/actresses and early behind-the-scenes. Can't wait to read the full book!

Can't wait to read the finished book!

OMG! I was thrilled to stumble on this book and loved reading every word of it. If you are a die-hard Friends fan who watched from the beginning, or someone who's just discovering this iconic TV show now, you'll love reading all the behind-the-scenes stories about cast members as well as the creators of the show and those who worked behind the scenes to make it the outstanding series that it was (still is!).With gratitude to NetGalley, the author...

The book to read for back story and details on a show that has been a perennial favorite in many households. Confession: My family is rewatching/bingeing the show for the second time now.This well-written commentary promises to act as a companion piece to the show. And I enjoyed the clever subtitle, no less!

Such a fun look into one of my all time favorite shows! Loved the behind the scenes stories and the interesting facts it was so fun and would be perfect for any Friends fan!

I was a teenager in the 90's so of course Friends is one of my favorite shows. It is like comfort food to me, especially the Thanksgiving episodes, I have this show playing in the background quite often and I know other people from my generation do too. I will devour any book related to Friends even two decades after the show ended. I'll Be There For You: The One About Friends had some interesting behind the scenes facts. I absolutely loved the s...