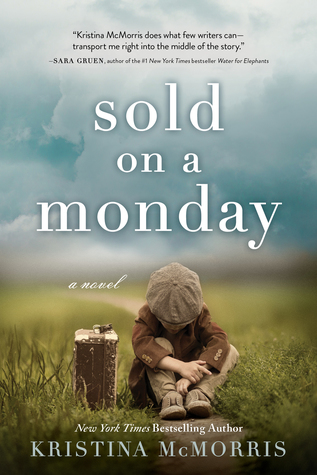 From New York Times bestselling author Kristina McMorris comes another unforgettable novel inspired by a stunning piece of history.2 CHILDREN FOR SALEThe sign is a last resort. It sits on a farmhouse porch in 1931, but could be found anywhere in an era of breadlines, bank runs, and broken dreams. It could have been written by any mother facing impossible choices.For struggling reporter Ellis Reed, the gut-wrenching scene evokes memories of his fa...
---
Details Sold on a Monday
Title
Sold on a Monday
ISBN

9781492663997

Author

Kristina McMorris

Release Date
Aug 28th, 2018
Publisher

Sourcebooks Landmark

Language

English

Genre

Historical

,

Historical Fiction

,

Fiction

Rating
Reviews Sold on a Monday
Heartbreaking and heartwarming..... I loved Kristina McMorris's last book...."The Edge of Loss"....and this is another page turning Historical Fiction story- to love - based on a real photograph. Thought Provoking Quote —- at the start of Part 1 is so darn truthful! "Photography is the art of observation. It has little to do with things you see and everything to do with the way you see them". ——-Elliott Erwitt Kristina McMorris in...

This is the book I have waited over two years for, the one I have most anticipated this summer! Five stars to Sold on a Monday! 🌟 🌟 🌟 🌟 🌟 I read Kristina McMorris' last book, The Edge of Lost, the day my preorder arrived, which was the day before Thanksgiving 2015. I can remember that book on my counter a mere foot from where I was cooking. Any spare minute I had, the book was in my hands. It is one of the most perfect reads, and...

3.5-star ratingChildren for SaleThe sign sits on a porch in 1931. It's the time of broken dreams, lost fortunes and heartbreak. What a decision to make - to sell you children. This is the scene which journalist Ellis Reed comes upon while reporting on another story. He decides to take some pictures of the two boys sitting near the sign and wonders "can they read?" Do the boys know what is written on the sign? Heart wrenching and sad.Lilian Palmer...

3.5 stars I can't stop thinking about the photographs - the cover of this book and the one that Ellis stages to support his piece for the newspaper he works for after his first photo is inadvertently destroyed, and the one in the author's note that inspired her to write this book. I always love knowing the author's inspiration for a story. But the one that haunts me the most is the first photo that Ellis takes, the one that is lost, the one...

This new novel by MsMcMorris is every bit as heart wrenching and yet satisfying as her previous novel "The Edge of Lost", also historical fiction.This book is set in 1931 during the depression when so many people lost everything they had, their jobs, homes, land, family and any means of making a living. As difficult as it is to imagine there were people who dropped their children off at churchs, orphanages, other relatives and, yes, even sold...

3.5 A picture speaks a thousand words, and it is a picture that will start Ellis on a journey of self discovery and moral questioning. Set against the Great Depression, this novel brings home the many things people had to do to survive. It is the children and a new picture that will bring Ellis his first success as a journalist, and that will bring Lily and Ellis together in a far reaching quest.It is the realistic atmosphere created, of a busy n...

3.75 Stars"And how I wish that love Was all we'd need to live What a life we'd have 'Cause I've got so much to give But ya' know I feel so sad Down inside my heart That the dollar sign Should be keepin' us apart "But you know that I love you You know that I love you Oh, how I love you" --But You Know I Love You,Alison Krauss, Songwriters: Mike Settle "Then I heard 'Can you tell me how it all started?' The reporter in my head blended...

3.5 stars! First things first…...This is one of those books where I just had to read it because of that totally captivating cover and title of this book, which I found both to be absolutely intriguing! SOLD ON A MONDAY by KRISTINA MCMORRIS was definitely an interesting, heartbreaking but yet heartwarming, and haunting tale but it left me with some mixed feelings upon finishing though. I thought this book was a good, quiet, easy and quick read t...

3.5 stars. Oh, that cover!!!If my rating were based on book cover alone, this would be a 5+ star! Perhaps due to my intense attraction to that heart-wrenching cover along with the book blurb, my expectations may have been set a little too high. With that stated, it was still an enjoyable story, just much lighter and different than expected. It simply didn't 'pack the punch' (thank you, Marialyce) that I was hoping for. This novel follows El...

Inspired by the actual infamous picture of a mother trying to sell her children during the great depression, Sold on Monday depicts that time and circumstance as well as explores and poses some different ideas about the family and the children on that picture in a fictional setting. (I wanted to insert the photo here...until I figure out how to, this review will remain without one)In Sold on Monday, Ellis Read is the newspaper reporter who strugg...

3 sadly disappointing starsMy reviews can be seen here: https://yayareadslotsofbooks.wordpres...You know book lovers that feeling you get when you see a cover and a blurb about a book and you know in your head that you just have to read it? Perhaps it is the anticipation, the wanting for this book to be spectacular, the need to read it from start to finish that propels you. Perhaps also it is this anticipation, that sets higher goals then this bo...

Thanks to NetGalley and the publisher for a free, electronic ARC of this novel received in exchange for an honest review. When struggling journalist Ellis Reed sees two children at the side of the road wearing a sign stating simply CHILDREN FOR SALE he is immediately captivated by the children's story. Soon he is photographing them and the picture quickly becomes front page news in every paper. Ellis is quickly drawn into a world of backdoor ...

Thank you Netgalley and Sourcebooks for the ARCI read this book in one sitting, it's that good!Ellis is a reporter/photographer about to become a respected journalist when one of his personal pictures is chosen for a main article. Due to circumstance he invents this little lie which then has huge consequences.Accompanied by Lily, the chief editor's secretary, he sets out to make things right.Although the subject is rather sad, the story is action...

4.5 stars Sold on A Monday was a superbly written and captivating historical fiction. It is loosely based on an old photo published in a newspaper in 1948 depicting children for sale. It was during a time in history when many had lost everything, paid work was tough to come by and people struggled to get food on the table. The author successfully builds a tale which is both tragic and heartwarming about a fictional reporter Ellis who comes across...

I received a free e-copy of Sold on a Monday by Kristina McMorris from NetGalley for my honest review.I don't normally read Historical Fiction books, but this one caught my eye. I am so glad it did. What an exceptional read. Sold on a Monday takes place during the depression in 1931. Ellis, a newspaper reporter for a Philadelphia newspaper, is out taking pictures of the countryside. She stumbles across a heartbreaking scene. Two boys that are bei...

Five Stars are not enough for this Golden book! Kristina McMorris is such a gifted writer that I dare say all her words are gold!This story of Ruby and Calvin, grabbed my heart, squeezing it till it shattered and then with the spunk of Ruby and the gentle tuck from Calvin it was put back together!In this story you have mobsters, Packards, grizzled newsman, night time sleuthing and women who find out how strong they truly are...what more can you w...

I finished this incredible book last night with a lump in my throat and tears in my eyes. It all started with a picture...Sold on a Monday Is a riveting tale of desperation; of the consequences of even the most seemingly innocent decisions and the ripple effects that follow; of loss and family and ultimately doing what's right. The most wonderful characters live in the pages of this book; people who are shaped by circumstances and choices in th...

Kristina McMorris has once again written an engrossing, page-turning story about love, honor, ambition and redemption. Set in 1931, during a period of hardships and desperation, a struggling reporter seizes his opportunity to make it big when he comes across a heartbreaking scene involving two children for sale. What he does with his discovery and the trust he's earned with Lillian Palmer, a secretary at the same newspaper office, ultimately chan...

If asked to sum up the book, Sold on a Monday by Kristina McMorris, in one all-encompassing word, I would shout "Captivating". Now to blow apart the book: amazing, engrossing, riveting, thought-provoking, heart-rending, and so much more. I was moderately interested when reading the description but when I finished the first chapter I found I could not put it down and go to bed. Hours later I fell asleep with my kindle on my pillow. The book is tha...

This is my second book by McMorris and I'll definitely be checking out the others! Sold on a Monday grabs you from the first glance at the cover all the way to the Author's Notes at the end. An excellent tale of desperate times and righting wrongs, this will no doubt be a hit!

Sold on a Monday is a stunningly successful novel that takes on the Great Depression and one man's struggle with honor and ambition. Ellis Reed, a reporter, finds big opportunity when he comes upon the heartbreaking yet intriguing scene of two children for sale. What ensues is a gripping tale that pits the inherent struggles of the time period against human nature, asking each well-written character what they will do, how they will benefit, and...

The year is 1931 and the country is in the midst of the Depression. Men are scrambling to find jobs and mothers are trying to feed their children. A young newspaper reporter, trying to get his big break, is out in the country near his home taking pictures when he sees two young boys playing and a sign on the house that says "2 Children for Sale". He takes a picture, wishes he could help the family but then leaves to go back to this job.Ellis Reed...

4 stars Thank you to NetGalley and Sourcebooks Landmark for the chance to read and review this ARC. Publishes August 28, 2018. Great historical story set in 1931 Pennsylvania. Based on the research of a factual picture showing a sign selling 4 children on a stoop in Chicago in 1948 - the desperation of just one family. McMorris, after following up with the children in that picture and learning of their sordid life after being sold, made the decis...

This book looked like it would be right up my alley so I expected to fall in love with it. I'm not exactly sure where it went wrong for me or why I am not able to be as excited about it as so many other people are. It just felt a bit bland to me. I do love historical fiction, especially stories set around the time of the great depression. This novel delivers that, but I was hoping it would dive more deeply into the ways struggling families lived ...

FULL REVIEW WILL BE ON AUGUST 28.LOVED, LOVED, LOVED this book."SOLD ON A MONDAY was about a family who had their children for sale and about a reporter who posted the photo and story in the paper. The story turned out to be something more than a story. It really happened, and when Ellis found out, he couldn't stop thinking about it.Ms. McMorris knows how to tell a story and keep you interested. SOLD ON A MONDAY is a beautiful story about carin...

With poverty comes misconception, prejudices, myths, and falsehoods. It takes a courageous individual to stand up and say the truths and not quit until the truths are revealed for all.Kristina has uncovered a story from darker times ( mid 40's) in which a woman was sitting on a porch attempting to sell her 4 children. The picture went viral but not before judgement was rendered.However was the judgement fair? Was there more to this story than mee...

While broken down on a rural country road, Ellis Reed, a reporter for a Philadelphia newspaper, takes a photo of two children with a sign in front of them reading "For Sale". Lillian Palmer, a secretary at the same paper, sees more in the photo than just a story and submits it to their boss. So begins a tale of secrets and lies against the backdrop of the desperate times of 1931 America. Kristina McMorris once again creates a spellbinding tale th...

It was an era that devastated the nation, the Great Depression. Broken dreams, broken families, the American dream was never more of a nightmare. One young reporter would use the pain of a broken family and a mother desperate to save her children at any cost to her to make a name for himself. But what he discovers is his own humanity, his own compassion and the need to redeem his very soul.SOLD ON A MONDAY by Kristina McMorris is a gut-wrenching ...

What interested me into this story was the time period of the Great Depression, "capturing the desperation sweeping the country in 1931."As the story starts it sets a tone I was looking for with a mention of the market crash of 1929 bringing dire times. "Every day, children were being farmed out to relatives or dropped off at churches, orphanages, and the like, hoping to keep them warm and fed."This is a story of Ellis, the reporter who t...

SOLD ON A MONDAY by Kristina McMorris is an engrossing story of love, family, ambition and honor. Set in the early 1930s during the Depression when many people had to resort to desperate measures just to have food for their families to eat. A struggling young reporter happens upon a heartbreaking scene where two young boys sit in front of a sign that says "2 children for sale". He snaps a photograph that ultimately gets submitted to his newsp...