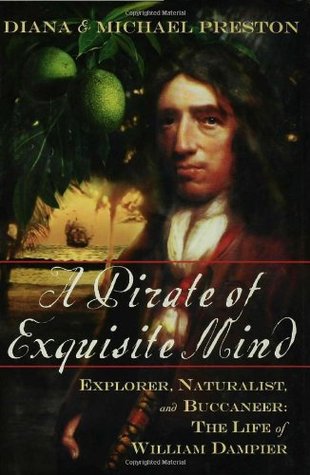 Darwin took his books aboard the Beagle. Swift and Defoe used his experiences as inspiration in writing Gulliver's Travels and Robinson Crusoe. Captain Cook relied on his observations while voyaging around the world. Coleridge called him a genius and "a man of exquisite mind." In the history of exploration, nobody has ventured further than Englishman William Dampier. Yet while the exploits of Cook, Shackleton, and a host of legendary explorers ha...
---
Details A Pirate of Exquisite Mind
Reviews A Pirate of Exquisite Mind
Quite an amazing story about a man whose story has fallen between the cracks of history; his achievements often attributed to those who came after him; his pioneering works overshadowed by those who stood on his shoulders.William Dampier's fall into obscurity is possibly the result of changing social ethics. Did the English government want to give the honour of first contact between Europeans and indigenous Australians to a group of thirsty bucca...

One of the foremost figures of the age of exploration, the English sailor William Dampier (1651–1715) rose from obscure beginnings to earn fame as an explorer, writer, and scientist. His contributions to virtually every field of natural science were astonishing, and informed generations of explorers and naturalists including Cook, Humboldt, and Darwin. He was also a notorious pirate, and it is the apparent contradiction between the ever-curious...

Before there was Charles Darwin, there was Willim Dampier. He explored the world and made observations about what we know as evolution over 100 years before Chuck D!! His discoveries and writings resulted the addition of hundreds of words to English vernacular...most still in use today. The same can be said of his maps of the ocean currents, winds patterns and seasonal changes of the oceans around the world.He sailed with the British Navy, pirate...

Dampier was the first Englishman to circumnavigate the earth three times. During the first two 'adventures' he took copious notes of the flora, fauna and cultures he came across. But more importantly, he recorded the winds and currents and opined that the winds caused the currents. This was in the late 1600s. More than a century later Charles Darwin used Dampier's work on his voyage on the BEAGLE. Hydrographers and oceanographers still cite his w...

This was a very informative book. I knew nothing of William Dampier but discovered a great deal. I had just finished, The Signature of All Things and this man and his curiosity of the natural world, tied-in nicely. For instance, Joseph Banks was mentioned in both books though not much elaboration in Dampier's accounts. The book was full of history and imparted much. I didn't care much for the writing style and notations of the author. I read this...

The Prestons searched out manuscripts in the British Library and moldering papers in various record offices and then went one better than many biographers, actually visiting the many places his path took him around the world.There are aspects of his life the authors only skimmed over and which I wish they had given more attention. While not quite as readable as Blue Latitudes, the Tony Horwitz book on Cook, I found much to admire in this book.

The authors of this biography say of William Dampier that he 'desperately wanted to make his fortune, but was seduced by the quest for knowledge.' And I think when I read that, I fell a little bit in love with the guy. There was something very likeable about his restless spirit, his tendency to see the best in people when they didn't deserve it, and his anachronistic ability to view other cultures in a non-judgmental way. A well written account o...

I am not a huge fan of this author, I don't quite like her writing style. The subject matter on the other hand is very interesting. I was pleasantly surprised by this mans life and works. It sparked a bit of the adventurer in me.

I am not much for biographies, but a friend (who also is of exquisite mind) recommended this one. After reading it, I realized why I don't read biographies.... they throw the pedestrian nature of my life into such stark relief. Holy cow! This guy lived an amazing life and fortunately for us, wrote about it. He was, amongst others, a crewman, lumberman in the Caribbean, pirate (understandably, these activities are subject to artful elision in his ...

This was a very enjoyable jaunt into a period of time--the later part of the 17th century--when it was entirely possible to be an explorer, naturalist, and buccaneer. Dampier was all these things but much more. He pioneered the understanding of wind and current, befriended indigenous people around the globe--and on occasion was their enemy. Dampier is the source in the English language for words like avocado, barbecue, breadfruit, cashew, catamar...

For his time William Dampier was a progressive thinker. During his travels he was willing to find out how the indigenous people of each place he visited lived and worshiped without prejudice. during his sojourns he did much to increase knowledge of lands hitherto unknown to the English, collecting samples of the flora of the areas and describing in detail the fauna he encountered. He was willing to try any food supplied by the natives and, at oth...

A compelling account of William Dampier (1651-1715), a fascinating character who, despite relative obscurity, contributed substantially to world exploration, science, and literature. Dampier was a man of many talents. He was a vivid writer, accomplished navigator, pioneering explorer, keen observer and naturalist, impressive artist, and self-taught meteorologist. He was also a pirate.The poet, Samuel Taylor Coleridge, referred to Dampier as a "ma...

An excellent and very readable overview of an often overlooked early English explorer. Dampier pioneered many things. He was an excellent navigator, hydrologist, keen observer of nature and early travel writer.He also had his faults. When leading an expedition he was intolerant of dissent, often distracted from his leadership duties through curiosity about a new destination and perhaps enjoyed a drink a little too much.The book also constructs an...

Dampier made so many discoveries before anyone else, not just land, but plants, animals, and peoplestoo. He kept amazing notes which he kept in a tube of bamboo sealed with wax during his many adventures. He was a Naturalist first and an Explorer and Buccaneer (and later a Privateer) because of his passion for travel and discovery. Had to buy this one; will definitely read again and also use for reference. One of my favorites.

From school days I learnt - William Dampier found Australia before Captain Cook , or that is what I remember. But what an amazing man with so much to learn from . I totally enjoyed the book and wonder why it isn't an obligatory book for School students.

As I read, I kept wondering why I'd never heard of William Dampier before. He contributed so very much to both mapping the world and writing extensively about the flora and fauna he encountered during his travels. Talk about having a life of adventure!

Such great history, another "Who Knew?" book. Well written.

Very interesting material. Learned a lot. Got bogged down, frequently.

Spectacular piece of writing chronicling a nearly unbelievable life of adventure, exploration and science. Dampier was a true legend.

This is must-read history if you are interesting in this era of piracy, Darwin, Natural History, or adventure. It's a page turner, enlightening, fun.

Reasonably well written biography of the first man to circumnavigate the globe three times, as well as one of the unsung heroes of natural history, William Dampier (1651-1715). Dampier, as authors Diana & Michael Preston make clear, had a bad case of wanderlust. A complex man, he was torn between a buccaneer's lust for gold (particularly for ultimate of conquests, a Spanish "treasure ship" returning from the New World), and a desire to make a nam...

This is a very valuable biography of a remarkable man, now almost forgotten but held in high regard by people like Charles Darwin, Captain James Cook and those who sailed the Pacific Ocean and Indonesia in the nineteenth century. Dampier's reputation has been damaged by his buccaneering activities - not quite piracy but less lawful than privateering and often a brutal life. His other preoccupations: exploration, navigation, charting and accurate ...

I came across this by chance, and it has turned out to be a good find. That is, once you get past the turgid, self-inflated papp of the Introduction where the authors fluff themselves up about how much research they have done, including sweating through the jungles of Darien. Leave it aht, mate, you make the choice to write the book - you do the collar.Having said that once you get past that chapter of bollocks, it is in fact very well written an...

It is a fascinating book because of the sheer amount of primary sources involved that reproduce the ancient historical circumstances as close as possible. Such rich context gives a detailed image necessary to understand the behavior of characters, and even allows the reader to touch the mindset of the major character. It also challenges my stereotype of piracy in many ways. However, the overwhelming amount of details that is simply listed, plus t...

This book does exactly what the title suggests: reconstructs the life of William Dampier. I did not find this book interesting the whole way through. The middle of the book was, I thought, the best part as it talked about Dampier's long and accidental FIRST trip around the world. I kept thinking, "This is unreal this guy kept getting onto ships to travel since everything seems to go wrong all the time." The beginning and end were plagued by over ...

Diana Preston is one of the finest writers of History that I have ever had the good fortune to read. She brings History to life and gives you all the facts without it sounding like she is writing a paper for her PHd.William Dampier's name has been a familiar one to me for many years - he nearly always pops up in Australian History books, but I finally realised that I knew very little about the man himself. I fact I had always presumed he was Dutc...

An Entertaining Biography that Illuminates a Fascinating Time.I really enjoyed A Pirate of Exquisite Mind. I have always been drawn to historical biographies (Galileo's Daughter, The Last Alchemist) and this tale of William Dampier a sometimes pirate and alltimes scientific observer really captivated me. I'm not too well versed in the time period covered by the book (the 1680 through 1714) so I found much to be surprised and entertained by. D...

I have really enjoyed reading this book. I don't read many non-fiction and especially not biographies / auto-biographies. I found it very interesting how one can have such intelligent minds yet be involved in piracy. Is it the means to the end or does he really enjoy it? That's the question running through my mind as I read the book. It was really quite hard to know the answer as Dampier did not really mention what he's done / what he's thought o...

I enjoyed reading about the life and times of William Dampier. He led a very interesting life. I was not overly impressed with the authors' writing style, and I was a bit surprised that I did not come away with a higher impression of Dampier based on the book. He basically hitched rides on various ships going around the world, but was never, until the very end of his life, the captain/leader of these expositions. And when he did captain a couple ...

I loved this book. Part travelogue, part wild pirate adventure, part science lesson(s), and all well-written. Yes, it's packed full of all the experiences of Dampier on each voyage but if you enjoy early travelogues, pirates, and descriptions of foreign lands you'll adore this book too. Plus, Dampier contributed HUGELY to the Royal Society and science in general, so he's worth reading, especially considering his presence in history has been delib...