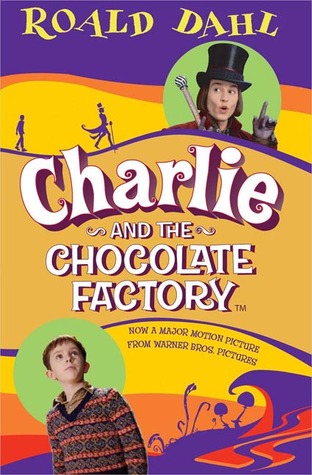 Complete with stunning new movie art for the cover, and an eight-page full-color insert of stills from director Tim Burton's new adaptation, Dahl's treasured novel appears unabridged in this tie-in edition.
---
Details Charlie and the Chocolate Factory (Charlie Bucket, #1)
Title
Charlie and the Chocolate Factory (Charlie Bucket, #1)
ISBN

9780142403884

Author

Roald Dahl

Release Date
Jun 2nd, 2005
Publisher

Puffin

Language

English

Number of pages

176

pages
Genre

Fiction

,

Childrens

,

Young Adult

,

Classics

Rating
Reviews Charlie and the Chocolate Factory (Charlie Bucket, #1)
Tonight I just finished reading Charlie and the Chocolate factory with my son. This is the first chapter book I've read all the way through with him. And it was a ton of fun. First off, I'll admit that I love the movie. I grew up with it. (I'm talking about the Gene Wilder version, of course.)I'll even admit to liking the movie better than the book. Which is something that doesn't happen very often with me. That said, the book is really, really g...

Jess, my 7 year old little girl, gives it 5 stars.Comments while reading:"How come someone is called 'Gloop'? And 'Salt'? Isn't that the thing that we use for cooking?""What is 'spoiled'? Oh, okay, I'm NOT spoiled.""Huh, Grandpa Joe is 96 years old?! How come that he's even older than my grandpa?""How come Charlie's dad can't work at the toothpaste factory anymore? What does 'bankrupt' mean?""Will Charl...

Gene Wilder June 11, 1933 - August 29, 2016 - Goodbye Gene, you'll always be Willy Wonka to me.Charlie and the Chocolate Factory by Roald Dahl first published in 1964 was an immediate children's classic and has inspired two film versions.I was surprised to see that neither of the films came close to Dahl's text. Dahl's Willy Wonka is a dark creature who killed children, crushed their bones and baked them into the candy bars.Just kidding.Thi...

I was planning on writing an extremely argumentative review explaining how sadistically vile Willie Wonka is, and how his god-like complex ruined the lives of four flawed children. But that seems insensitive at the moment. Instead I shall simply say that Gene Wilder dominated his performance as Willie Wonka. He carried all the outward charm, the charisma and the playfulness, but still managed to portray the suggestions of darkness that permeate t...

I was ten years old and already the magic was gone from the Tooth Fairy, the Easter Bunny, leprechauns, Santa Claus and his buddy the Krampus. All was stripped of its power to enthrall. Heck, even sex had been demystified years prior. Then along came Charlie and the Chocolate Factory. It gloried in candy, my number one passion of the day. But not only that, eating candy was the means to getting even MORE candy! Ah, the golden ticket. How, oh, how...

One of the first books I ever read. I wanted to watch the movie, but wasn't allowed to until I read the book. And so I did. And now, every few years, I want to again. It's been a long time. But who doesn't love chocolate and dreams and wishes and gifts? I think I may read this series... only looked at the first one.

If you ever want to cheer yourself up, go back and read a book you loved and read over and over as a child. For me, this is one book that will always be better than any movie they make from it. Nothing Hollywood does with special effects will ever be as magical as what Roald Dahl did with just plain old words. It has been MANY long years since I last looked at this book, but it all came back to me as soon as I turned to the first page and saw the...

Since the Swiss make the best chocolate figures in the world, I thought I would pick up a few to take with me to England. I was originally only intending to buy a couple of chocolate rabbits, engagingly goofy-looking with big buck teeth and natty bow-ties, but the selection was so enticing that I eventually walked out with four rabbits, a chicken with a marzipan waistcoat and a chocolate chalet. I explained to the nice assistant that they would b...

Before there were amorous zombies, sleuthing twelve year-olds, or even a teacher who traipsed around in his underwear, children turned to Roald Dahl for their literary entertainment. I thought it the perfect time to zip through time and relive one of my childhood favourites, in hopes that I might soon introduce my son to the wonders of Willy Wonka and his glorious factory. Dahl opens by presenting the reader with Charlie Bucket and his family, co...

Charlie and the Chocolate Factory by Roald Dahl is an obvious classic in my book. Besides the fact its been around for awhile already, it definitely has that magic factor that pulls you in. Anyone with even a remnant left of their kid's heart in them, will love this book. I believe this story, not the book, but at least the story has a huge following, due in part to the movie starring Gene Wilder. I love Johnny Depp, but he lacks the whimsical we...

THIS WAS GREAT! I've never read any Roald Dahl before, but of course I've heard of the legend and so when I was assigned to read this for my Children's Lit class I was super pumped. And best of all, I enjoyed it! There's always the fear that books won't live up to the hype, but I think this did.I loved Charlie and his Grandpa as the main protagonists: they were humble, and sweet, and smart. I loved Willy Wonka: he was energetic and excited and br...

يكفي إن الابتسامة لم تفارقني طوال قراءتها :)وعليك ألا تشعر بالخيبة ..فلا تدري ما الذي يُخبئه لك القدر :)

Demorei bastante pra pegar esse livro pra ler achando que, por já ter visto os filmes e o musical muitas vezes, eu não encontraria nada de novo nessa história. Mas como eu estava enganado!Nenhuma adaptação, por mais fiel que ela seja, poderia substituir a escrita gostosa e brilhante do Roald Dahl. Mesmo sabendo tudo que ia acontecer na história, cada capítulo era uma surpresa muito gostosa. O livro me deu uma visão muito diferente a respe...

This book was quite disturbing. I mean Augustus Gloop, who apparently had a nasty cold, completely contaminated the entire chocolate river, and then Wonka scoops out cup-fulls for Charlie and Grandpa Joe to drink, and they do. Nasty! You just know that Augustus peed himself from fear when he fell in, too! I really enjoyed this, with the exception of the insanely long Oompa-Loompa songs. I just don't like reading verse, no matter how clever it is,...

Harry's tormentor? Or, Charlie's mother? Or, Marla Sanger?

I can't decide what to rate this!!! It seems odd rating it, because even though I didn't read it as a child I still know the story so well since the movies (well, the first one) is adapted so nicely. It's a great story. Really dark, actually, darker when you read it, but it still feels weird rating a story I already know so well. It didn't feel new, just nice and comforting because it was familiar. I had this as 3 stars when I was writing but now...

This one has to be one of my favorite stories. Such a fun, quick and easy read. Roald Dahl's writing style is super entertaining. Can't wait to read more by him.

If you don't already know that Charlie inherits Willy Wonka's chocolate factory, then this review contains a spoiler."The meek shall inherit the earth". That biblical phrase certainly applies to this story. Charlie Bucket is the epitome of meek. But he is also serious, polite, kind, and...well, he is just the perfect kid. In this story he doesn't inherit the earth but he does inherit Willy Wonka's Chocolate Factory. Ah! What a chocolate factory. ...

خلاقیت رولد دال توی این کتاب واقعا مثالزدنیه. به نظرم اگه کسی دور و برش بچهای میشناسه که اندک علاقهای به کتاب داره، حتما باید این کتاب رو براش بخره و بهش بده که مطالعه کنه. البته نسل اینجور بچهها تقریبا منقرض شده و اکثر بچهها یه جورایی تبدیل به "مایک ت...

I am a grown up woman yet I prefer reading middle grade books. Why I am reading this kind of genre? Am I crazy? Am I not in the mood to read deeper books? My answer was NO. Simply because, reading Charlie and the Chocolate Factory doesn't give not only light read but it gives lessons that sometimes adult like us seems to forget.It was really fascinating and somehow hilarious that this kind of children books were the one gave me realizations tha...

جميلة جداً :))نفسي ف الشوكولاتة :D

بأنصح أي واحد أو واحدة بيفكروا يعملوا رچيم ، لا يتفرجوا على الفيلم ولا يقرأوا الرواية :)

هو أنا عامةً مبحبّش الشوكولاتة :'D وبكده نكسر قاعدة إنها عشق البنات*بس حبّيت القصة ديمن أجمل القصص اللي ممكن تقرأها لطفل، هتمتعه وفي نفس الوقت فيها شيء من الحكمة، البهجة،الأملحبّيت جدًا أسلوبها، الكاريكاتير، والغلافوهشوف الفيلم علشان المتعة تكمل*...

Come non dare 5 stelle ad un capolavoro della narrativa per ragazzi? Dahl esalta i valori di altruismo e generosità, condannando i vizi dei figli, spesso corroborati dal permissivismo di genitori sempre più assenti nell'ambito familiare. L'idea della fabbrica è un pretesto, incredibilmente suggestivo, sulla quale l'autore costruisce la semplice ed importante morale di fondo.

¡Me ha gustado mucho! No me suele entusiasmar el género infantil o middle grade pero este libro (y el autor) han sido todo un descubrimiento.Eso sí, no me esperaba que fuera tan deprimente al principio...

Full Review.I'm not entirely sure, if I have read it before or my only encounter with the story has been the film (2005), but nevertheless, this exceeded my expectations. I could see the lessons author tried to give, I could see the pain and poorness and almost started to cry. The unjust world and how things are run in it. And well honestly my only objection was 'winning' the unknown competition. You can't win, if everyone except you were tested,...

كل ما بها جميل ،، من رسوماتها البسيطة الطفولية .. لشخصياتها الكبير منها والصغير والتى تجمع بينهم البراءة .. هي قد تناسب الاطفال بشكل اكبر ولكنها لم تكتفي بقصة صغيرة عن الشوكولاتة معشوقتهم الاولي من اجل ان توفر لهم وقتا ممتعا فحسب ، بل اهتمت ايضا بطرح...

As with all of Roald Dahl's stories so far, I've seen the movie before I've read the book.After catching up on the stories I already knew (Matilda and The Witches) it was now time to also read Charlie and the Chocolate Factory of course.And what a delight! Roald Dahl really is a masterful storyteller! He makes one dive deep into the story and experience everything as if the reader was actually there.This is the almost heartbreaking story of a boy...