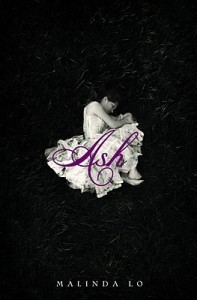 Cinderella retold In the wake of her father's death, Ash is left at the mercy of her cruel stepmother. Consumed with grief, her only joy comes by the light of the dying hearth fire, rereading the fairy tales her mother once told her. In her dreams, someday the fairies will steal her away, as they are said to do. When she meets the dark and dangerous fairy Sidhean, she believes that her wish may be granted.The day that Ash meets Kaisa, the King's ...
---
Details Ash
Title
Ash
ISBN

9780316040099

Author

Malinda Lo

Release Date
Sep 1st, 2009
Publisher

Little, Brown Books for Young Readers

Language

English

Genre

Fantasy

,

Young Adult

,

Lgbt

,

Romance

,

Fiction

Rating
Reviews Ash
goddamn it, this was my bright shiny hope for gay YA week! this was the one i was banking on to be my best "assigned-but-loved-the-whole-time-i-was-reading-it-and-this-is-why-i-am-paying-for-grad-school-discovery." a lesbian retelling of cinderella?? sign me up! i've already read what robert coover and angela carter have done to improve fairy tales, let's see where this one goes!and it starts out great - the writing is wonderful; it is very liter...

Lesbian retelling of the beloved CINDERELLA fairy tale. What a lovely book. It's beautifully-written, beautifully-told and so interesting.Although the beginning begs the question, ''Is this really a retelling?'' meaning that it's far too similar to the original story, the rest, however, is full of originality. I'm going to warn you right away that Ash is a one-dimensional character. When you think about it, so is Cinderella in the o...

I will pick Disney's version of Cinderella over Ash any day and without the slightest hesitation. For a book with such a provocative, potentially controversial premise, Ash is dreadfully, painfully dull and lacking in strong emotion and vibrant characters. This retelling is both familiar and slightly new (albeit in an uninteresting and directionless way). In this version, orphaned Ash is forced to be a serving maid to her (not so evil) stepmother...

Cinderella is a tired tale. It's been done. It's been redone. It's been re-redone.So, if I'm going to pick up (yet another) retelling, it really has to blow me away. I need to be wowed. My socks must be knocked off.Those socks remained firm. (Not even a twitch.)In this version, Ash (our Cinder) is raised by her (unsurprisingly) evil stepmother and her only joy is rereading fairytales next to the fireplace ashes (hence the name Ash (how clever)). ...

This is the fairytale I always wanted

The GoodReads five-star rating system isn't perfect because some books (like, say, pretty much all Fitzgerald and Salinger) get five stars because I think they're just freaking brilliant writing; while other books (like, say, Bridget Jones's Diary and the Traveling Pants books) get five stars because I love the characters so much. Then, of course, there are the Harry Potters and Tales of Despereaux that receive five stars because it's like they r...

eta: You know, I figured when I wrote this "review" that I had made it sufficiently ridiculous and over-the-top that no one on Earth could possibly take it seriously. I mean, I claim that DISNEY INVENTED CINDERELLA, people. And then there's the link at the end labeled "real review here", which should maybe be a hint? But okay, whatever, for those of you who are apparently utterly impervious to sarcasm, here is your blinking neon sign: THIS REVIEW...

What starts out as a simple retelling of Cinderella turns into so much more, and the Prince is all but forgotten ...If you know the story of Cinderella then you know most of the beginning of the book, but somewhere near the middle it starts to veer off on its own path. Ash has a fairy(godfather?) who watches over her named Sidhean (pronounced Sheen - I looked it up because it was driving me nuts!) In order to feel some sort of freedom from her st...

What a outstanding debut novel! Malinda Lo absolutely blew me away. The writing was elegant, beautifully lyrical. Malinda has this unbelievable talent for detail and atmospheric setting. She captures the very essence of the world she created. I just felt like I was there.Characterization was fantastic as well. With such vivid imagery you might think the characterization would suffer, but I think they stood out so intensely because of it.Ash is a ...

Lesbian Cinderella!!!!! This was a great and simple and a lovely twist on a classic fairy tale! Sidhean is a creeper and the hundreds are a great twist. I really really enjoyed this book it does an excellent job melding the feeling of a classic fairytale with a more modern style. And i would love too read more by Malinda Lo.

Ash by Malinda Lo is definitely a beautiful retelling of the classic Cinderella story - writing-wise. Lo creates an eerie yet fascinating atmosphere with her lyrical prose and the setting is described in rich details. She interweaves fairy tales and traditions of her own into the story and creates a world the reader can immerse himself in.Additionally, Ash is clearly more than a simple retelling; it adds aspects to the original tale and has quite...

I have had this one on my To-Read radar for a while because I was intrigued by a lesbian Cinderella retelling. So, now I've re-read it, and I have to say I'm a bit - no, more than a bit - disappointed with it. This whole book just felt confused. There are likely spoilers below. Read at your own risk. First of all, the lesbian aspect of this story was extremely disappointing to me. I so wanted this to be a PROUD self-identification coming-out stor...

Ash was my absolutely favorite read of 2009. A Cinderella with a twist of darkness and lore, the characterization of a young girl, family, love, and disappointment, left me inside of this world and I think I still haven't found my way out. Since reading Ash, I am desperately seeking that language, that energy, those woods, the doublespeak that Lo so artfully rendered. As I type this, I am flipping through the pages, and stopping when my fingers h...

I devoured Ash in between of my Lord of the Rings movie marathon. It's a Cinderella retelling, but with a twist. It's a wlw book! I love, love, the quaint vibes of the novel, and the lyrical writing. I wholly appreciate the in depth characterization of abuse, the difference between hero worshipping, and attraction. Verdict: I can't get enough, and Lo needs to write more fantasy books. Review to come.

(3.5 stars)Malinda Lo combines several highly creative ideas in her debut novel, Ash. We all know the tale of Cinderella, but it's never been told quite like this. Cinderella (here called Aisling, Ash for short) falls for a young woman instead of the prince. And the fairy who helps Ash break free of her stepmother is no rosy-cheeked godmother, but a coldly beautiful fairy lord right out of the older, darker legends of the fey folk, and he demands...

I've had this book on my TBR since it came out seven years ago @

[email protected]

I remember trying to find it in my tiny secondary school library, and searching the system for it every day until the librarian must have seen the searches and caved into buying it. And then I didn't even read it! Since then, I've loved fairy tale retellings, especially of Cinderella - who's my ultimate favourite - and the fact that this has an F/F romance in it just makes it eve...

DNFI stopped listenig 3 hours and 17minutes in of 7 hours. It was taking too long for anything interesting to happen, I had no more patience to keep listening to a story utterly dull.

Nothing redeeming about this book at all.SPOILER ALERTAsh's mother (who was some sort of greenwitch) dies. Couple of days later her Father goes into town and returns with the wicked stepmom and 2 step daughters. The old greenwitch Ash's mother apprenticed under warns her father of fairies/elves? but Ash's father refuses to listen to the old ways his deceased wife believes and sends her on her way. Shortly after he becomes 'sick' (some sort of fai...

I just realized I had posted this review to my blog but not here! Well, here it is...LESBIANS! BEARS!* HUNTERS! OH MY! Please, someone inform the government. We have a retelling of Cinderella on our hands that includes lesbians. The world must be ending. It must be 2011. This is more terrifying than Y2k.Other reviews I've seen claim the problem with this book is the fact that our Cinderella is Bisexual. This is not the issue with this book and ...

Find this and other Reviews at InToriLex Actual Rating 2.5 [image error] This was a book club read, shout out to the Boston Radical Women of Color Book Club. I recently joined this book club and this was my first read with the group. I wanted to like and enjoy this book much more then I did. This is a Cinderella retelling where the protagonist falls for a Huntress and not a Prince. But it is in no way too risque or racy. In fact I expected a lo...

Well that was a breath of fresh air. I think…I think I actually enjoyed reading this book.BRING FORTH THE LIST, in which SPOILERS are present. Mostly in the part about the ending.Ash What is this, a main character I don't want to punch? OH MY GOD, FETCH THE PHOTOGRAPHERS, THIS MOMENT MUST BE COMMEMORATED. Seriously though, I actually really liked Ash. She was real. Multifaceted. Capable of being more than one thing at any given time. Also she...

When I give a book this low of a rating I feel the need to explain why. Ash is a retelling of the Cinderella story with added fairies and bisexuality, although the bisexuality is fairly understated. Basically Ash is treated badly by her step mother and two step sisters. She often goes for walks in the woods, where sometimes she meets a fairy(male) and sometimes a huntress. She has pretty dull encounters with both although we are supposed to get a...

This is a BEAUTIFUL book and I liked it a lot! I just felt it wasn't so much a retelling as the plain-normal-story of Cinderella. Which is a little disappointing. I adore retellings, but I like it when they're spunky and unique and take the old tales and absolutely twist it. At least 2/3 of this book was what you'd read in the original fairy tale. The ending though? OH WOW THE ENDING IS BEAUTIFUL AND UNIQUE AND DIFFERENT. I loved it! I loved the ...

2.5 stars. I really struggled with the first 25 pages or so, then eventually got into a groove so it went faster, but my enjoyment unfortunately never went much higher than that. I wanted to like this one so much more than I did!The problem: As my friend Emily has so astutely pointed out, Lo very very accurately mimics the sound & voice of fairytales. This can be a good thing! It reads as genuinely matter-of-factly ethereal, without delving into ...

Ugh. I don't know if I'm just approaching this book wrong or what, but I've picked it up and started it three separate times, and each time I put it down before 50 pages. I really wanted to give it a chance, and after reading some rave reviews and finding out it was an LGBTQ version of Cinderella, my interest was piqued. Maybe Lo's writing gets better as the book goes on, but the first chapters drag interminably on, her characters are two dimensi...

I read this years ago and I can't remember much besides the fact that i was shook abt who she chose at the end

This is actually a reread for me. I received my own shiny cover of "Ash" as a gift from a lovely friend and was heartily looking forward to seeing how well it stood up the second time round. Most commonly referred to as the 'lesbian Cinderella', the book does retain the basic structure of arguably the most famous fairytale of all time whilst weaving in its own world, one where magic has been forgotten and viewed as a simple child's tale...

4/5 stars.I ended up enjoying this! I recently read Huntress by Malinda Lo, which is set a few hundred years before Ash. But you don't need to read Huntress to read this and vice versa. It took me about seventy pages to actually start enjoying this, I knew something was going to happen but I didn't know what.I was really surprised with how much I ended up liking this, I felt like putting the book down at one point but I kept on reading and really...