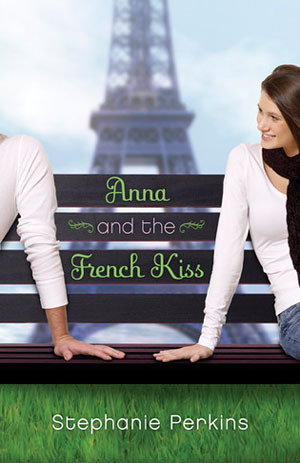 Anna is looking forward to her senior year in Atlanta, where she has a great job, a loyal best friend, and a crush on the verge of becoming more. Which is why she is less than thrilled about being shipped off to boarding school in Paris--until she meets Étienne St. Clair. Smart, charming, beautiful, Étienne has it all...including a serious girlfriend. But in the City of Light, wishes have a way of coming true. Will a year of romantic near-misse...
---
Details Anna and the French Kiss (Anna and the French Kiss, #1)
Reviews Anna and the French Kiss (Anna and the French Kiss, #1)
"I cheated on her every day. In my mind, I thought of you in ways I shouldn't have, again and again. She was nothing compared to you. I've never felt this way about anybody before—" What's the saying? Once a cheater, always a cheater? Oh, the fucking hypocrisy.There were many things I wanted to do to Anna Oliphant throughout this book. Some of them involve a bottle of choloroform, a shovel, and an unmarked grave. Mostly, I just want to ...

I found this online...NOW WHY COULDN'T THIS BE THE ACTUAL COVER?St. Clair. St. Clair. St. Clair. St. Clair. St. Clair. St. Clair. St. Clair. St. Clair. St. Clair. St. Clair. St. Clair. St. Clair. St. Clair. St. Clair. St. Clair. St. Clair. St. Clair. St. Clair. St. Clair. St. Clair. ST. CLAIR!!!!Can't I just fill this review with his name instead of explaining how much I effing LOVED this book and trying to describe in vivid detail how beautifu...

When I was four, I fell off a tree. I hit the ground face first. What I didn't know was that there was a very small, sharp root sticking out of the ground at the base of the tree. It went through my cheek. I went to the ER but had to wait until 2am because it was a busy night. I sat there for hours in that ER with a hole in my cheek. When the doctor finally saw me he thought that since it was a busy night and there were so many people in the ER t...

This book is adorable, I'm not gonna lie. Wealthy white teenagers having first-world problems. Anna, the valiant, is plucked from Georgia and "abandoned" by her parents at a boarding school for rich American teens living in Paris, where she collapses into tears at the injustice of it all.Intrigued? That's only the beginning of this incredible tale.Sadly, my hopes for a dramatic twist of the Taken variety came to naught as the entire novel p...

No thanks..Watch my full review here:https://www.youtube.com/watch?v=jM4zG...

Update after reading this book for the THIRD time:Etienne. ETIENNE. The boy of my dreams (well...second place after Will Herondale, but still, that's a high honor). Stephanie Perkins is one of my favorite YA contemporary writers as she has this way of writing books (which really sound SO cheesy plot and title-wise) that leaves you in a puddle of happy tears and hormones after the last page. This book has an inexplicable quality that even after re...

**5 BRILLIANT STARS**One lovely word: ÉtienneSweet sweet sweet.I might just have fallen in love.This story equals exactly: Friday night + rain outside + chick flick + Skittles + chocolate + popcorn + comfortable couch + lovely boyfriend/friends. HEAVEN. 10 Things You'll Find :1- A main character that has personality2- A swoon-worthy love interest3- Some beautiful friendly relationships4- Secondary characters that are truly unforgettable5- A se...

Edited to Add a Disgruntled Reader's Reply at the Bottom. Apparently, I don't know how to write reviews.The best thing about this book? The end.I don't read chick-lit. In fact, I avoid it like the plague. But this book received rave reviews from every single person on my friendlist. So I thought, hey, why not? Maybe this won't be like the formulaic Mary Kate and Ashley movies my teachers made me watch in first grade. Maybe Anna will be smart and ...

This is one of the cutest feel-good teen romances I have ever read. It has a bit of everything that you want... humour, a likeable protagonist and a completely swoon-worthy guy called Etienne St. Clair. You could fall in love with the name alone, even without the fact that he's sweet, kind, honest and nothing at all like any of the English boys I grew up with. It's a very cute book, a very nice book, neither is a bad thing but if I start mentioni...

GOD! I'm giddy... I'm actually giddy after reading this book! Oh and I'm officially a Nook hugger. This book made me a chronic giddy Nook hugger. What a hot mess! But so what I ♥ it. Jolly good book indeed!Anna and the French Kiss is an absolute hit. It immediately takes top rank in my fave YA romance, chicky-type lit reads and there is absolutely no doubt I'll be reading this book every year over and over again. The blokes and blokette...