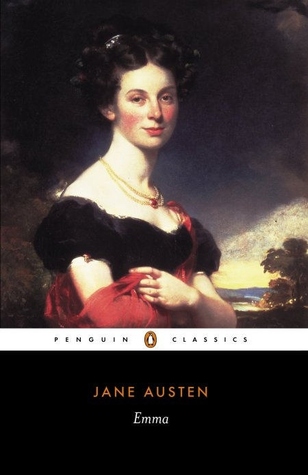 'I never have been in love; it is not my way, or my nature; and I do not think I ever shall.'Beautiful, clever, rich - and single - Emma Woodhouse is perfectly content with her life and sees no need for either love or marriage. Nothing, however, delights her more than interfering in the romantic lives of others. But when she ignores the warnings of her good friend Mr. Knightley and attempts to arrange a suitable match for her protegee Harriet Smi...
---
Details Emma
Title
Emma
ISBN

9780141439587

Author

Jane Austen

Release Date
May 6th, 2003
Publisher

Penguin Books

Language

English

Number of pages

474

pages
Genre

Classics

,

Fiction

,

Romance

,

Historical Fiction

,

Literature

,

Historical

,

Classic Literature

,

19th Century

,

European Literature

,

British Literature

,

Novels

Rating
Reviews Emma
This is my second favorite Jane Austen book, right behind Pride and Prejudice! I absolutely love Emma's character development and how she wasn't a perfect person right from the beginning. She had more than her fair share of flaws, but even so, I still really enjoyed her character? She had good intentions, even though they were truly quite selfish. Also, Mr. Knightley is my favorite Austen man ever (sorry, Mr. Darcy)!

Austen paints a world of excess. She's just so fucking brilliant. That much so I found the need to swear. The sarcasm is just oozing out of her words. She doesn't need to tell you her opinions of society: she shows them to you. Simply put, Emma's farther is a ridiculous prat. There's no other word for it. He spends his day lounging around eating rich and expensive food and doesn't bother to exercise his body or mental faculties. The tho...

My interpretation of the first 60+ pages of Emma:"Oh, my dear, you musn't think of falling for him. He's too crude and crass.""Oh, my dear Emma, you are perfectly correct. I shan't give him another thought.""Oh, my dear, that's good because I would have to knock you flat on your arse if you were considering someone of such low birth."Yawn. I tried, but life's too short. Plus, I like 'em crude and crass.Cross posted at This Insignificant Cinder

Okay, when I first started the book and was reading how Emma was taking happiness away from Harriet Smith by telling her that Mr. Martin wasn't good enough for her - I didn't like Emma at all. Now I can understand how Emma only wanted to do good by Harriet and that was how it was back in those days. But, as Mr. Knightely pointed out, Harriet was not from some wealthy family and Emma was doing the wrong thing in trying to find her a great husband....

Although using this trite doesn't mean that the fact is any less true, it is still at the risk of sounding cliché when I say that Jane Austen's classic, Emma, is like a breath of fresh air when juxtaposed to the miasmal novels in the publishing market today; especially for someone who has been on a YA binge of late.You see, the reason why I went for Emma as my first Austen read is because my mother has seen the latest movie adaptation, and she c...

Emma , a young woman in Regency England, lives with her rich, but eccentric widowed father, Henry Woodhouse, in the rural village, of Highbury, always concerned about his health (hypochondriac, in the extreme), and anybody else's , Mr. Woodhouse, constantly giving unwanted advise to his amused friends and relatives, they tolerate the kindly old man. Miss Woodhouse ( they're very formal, in those days), is very class conscious, a bit of a snob ( b...

I can't do it! I can't finish it! I keep trying to get into Jane Austen's stuff and I just can't make it further than 150 pages or so. Everything seems so predictable and sooooo long-winded. I feel like she is the 19th century John Grisham. You know there's a good story line in there somewhere, and if you could edit out 60% of the words it would be fantastic. Sorry to all the Jane Austen fans-you inspired me to try one more time and I failed!

Of all of Austen's books - and I've read them all several times - I learn the most from Emma. I believe that one of Austen's goals in writing is to teach us to view the rude and ridiculous with amusement rather than disdain. And in Emma we have the clearest and most powerful picture of what happens when we don't do this: when Emma speaks out against Miss Bates. Though rude on Emma's part, we can't help but love her for her mistake and feel her sh...

"I may have lost my heart, but not my self-control."Personally, I may have lost my self-control, but not my heart.My motivation to read this book stemmed from J.K. Rowling stating that this was one of her favourite books. A few years ago I read my first Jane Austen, which was Pride and Prejudice, and I really enjoyed it.I thought Emma couldn't be that bad, it's a popular classic and its rating is good. To be honest, it's not bad, exactly, but...

"With insufferable vanity had she believed herself in the secret of everybody's feelings; with unpardonable arrogance proposed everybody's destiny. She was proved to have been universally mistaken. She had brought evil on Harriet, on herself, and she too much feared, on Mr. Knightley." Regarded as one of Jane Austen's most important works, Emma is a novel about a handsome, clever and rich young woman - Miss Woodhouse - who lives on the fictional ...

I hope not to raise any of my friends' sensibilities when I tell you that although I liked Emma, I did not love it. Emma simply did not move me. "With insufferable vanity had she believed herself in the secret of everybody's feelings; with unpardonable arrogance proposed everybody's destiny. She was proved to have been universally mistaken. She had brought evil on Harriet, on herself, and she too much feared, on Mr. Knightley." I liked the hil...

'Seldom, very seldom, does complete truth belong to any human disclosure; seldom can it happen that something is not a little disguised or a little mistaken.'Emma Woodhouse, the heroine and namesake of Jane Austen's last novel to be published within her lifetime, spends her days of leisure playing matchmaker and offering the reader her keen eye for the character of the locals of Highbury. However, this keen eye may not be as accurate as she...

Would it be bad to say I like Mr Knightley better than Emma herself? Jane Austen famously wrote: "I am going to take a heroine whom no one but myself will much like." Truer words, Jane. Truer words.Upcoming April 2017 group read with Catching Up on the Classics. Emma gets another shot with me.

This was the perfect book to reread during my Christmas break. I am a devoted fan of Jane Austen's work, but even so, I find "Emma" to be particularly charming and insightful. The story of the "handsome, clever and rich" Emma Woodhouse, who is determined to be a matchmaker among her friends but is constantly making blunders, is one that always makes me smile when I read it. I especially like the descriptions of Emma's neighbors and of Highbury. I...

Jane Austen seems to be a rather divisive figure as of late. You love her for her wit, her irony, her gentle but pointed depictions of manners and love. Or you hate her because she seems to be harking back to an age of prescribed gender roles and stultifying drawing room conversation. I am of the former camp.Emma may be one of her more divisive novels and the title character one of her more controversial creations. Or perhaps that should be – o...

Upon my word! After reading a couple of chapters of Emma I do declare—with all due respect—that Miss Emma Woodhouse is one silly cow. I have sought assurance from my dear friend—the very learned Mrs. Roberts from a nearby vicarage—regarding correct usage of the term "silly cow", and she has given me her approbation with the greatest felicity.Yes, Emma Woodhouse is clueless, so much so that the wonderful 1995 movie Clueless is entirely...

I'm pretty impressed with this busybody know-it-all. :) As a character novel, the entire thing is extremely dense and interesting and oh-so-convoluted. As a plot novel, it's not so much of anything. :)Fortunately, I was in the mood for something that would lift individual silly characters from the realm of the opinionated and silly and and arrogant to the level of real humanity with eyes flying open.Honestly, Austen is great at this kind of zinge...

Gracias, Jane Austen, por no decepcionarme aún. Se nota que este libro lo escribió durante la madurez, porque ni Sentido y sensibilidad ni Orgullo y prejuicio tienen una trama que parece muy sencilla y que logra construir algo más complejo. Uno de los motivos puede llegar a ser una protagonista que no lleva un cartel pidiendo que el lector la quiera (salvo en ocasiones puntuales) y muchos personajes que dan falsas impresiones. No pueden faltar...

Warning: If you are a fan of Jane Austen and her "amazing" work, then don't read this. This will be a very negative review. And I am going to be pretty mean. And have been confirmed that I am the only who will never like Jane Austen!October 27th, 2013 editDon't know what to rate THIS stars!! (Maybe I will be nice and give it 1 star) Ugggggggggggghhhh!!!!!!!! So you might ask yourself why did I even read a book by Jane Austen after I had a pretty ...

Not gonna lie, I am soooo happy that I can eventually close this book. And by that means I have read it all from the very beginning to the end / every single page of it / not a cowardly DNF. I'm so proud of my self. Thank you.The main problems of this book, that it took me so long to finish it, in my opinion, are:1. The thickness of this book (no wonder Lol)2. The mind-numbing life of high class society that makes the reading felt so repetitious....

Continuing our trip down Jane Austen Blvd! Emma has much the same style that Persuasion does, but with a much, MUCH lighter tone. It can afford it; while Anne spends pretty much all of Persuasion pining for lost love, Emma is far too busy meddling in everyone else's love lives to get too weepy about her own. Where they ever to meet, Emma would role her eyes, tell Anne to get over herself and then arrange some meeting with a local gentry that woul...

Wow, what a lot of effort Austen put into her annoying characters in this one! Just to make sure I'm clear, I'm not saying I didn't like Emma because of this. I mean there are two or three characters that are intentionally annoying and Austen spent a lot of time constructing each, offering up plenty of examples for the reader. Miss Bates is incessantly chatty, okay. Mrs. Elton is bossy, I get it. It's important to establish these traits, but ther...

I approached this book with some trepidation; my smart lady friend here in Goodreads advised me to bear in mind, while reading Emma, that this book is a satire. Oh well, I did. But the more I try hard to be interested on the Georgian (1714-1830) or even Victorian (1837-1901) period, the more I get to question myself what is the use? I still could not relate to the people and practices of those British eras and what they did in their lives. Single...

Emma is going to turn 200 this December, and I can confirm, with this latest reading of her, that she is as feisty, opinionated and full of herself as ever. For a bicentenarian, she's in cracking good form and hasn't aged a bit. I, too, have gotten older since I last met her (and am possibly in slightly less good shape since I first laid eyes on her), and I find that I'm ready to forgive her much more this time round. In fact, though Emma i...

The only thing I can remember about this beloved novel is that I read it on the bus to work. That's it. On the bus. Sorry. The three stars is because I like reading on buses.

Oh, Emma. <3It's been three years since the only other time I've read this book. This re-read has definitely pushed it more towards the top of my "Favorite Austens" list. So much to love, and all the more so because other people don't appreciate Emma enough. It's lonely at the top!Why I Love This BookEmma is such a witty read. Each character has its place and purpose, and they make decisions I can understand instead of doing whatever will move th...

It was a delightful visit—perfect, in being much too short. The first time I ever read a Jane Austen novel, I had no idea what I was getting into. The book was Sense and Sensibility, and I began it immediately after finishing Lolita. My dear reader, I hope you never suffer such a complete literary shock; it was like being pushed into a pool on a cold winter's day. After such scandal, such literary rhapsody and tragedy, such depravity and blis...

September 2016: This is the fifth in my series of posts wherein I write reviews for classic books in the form of letters to the characters so as to avoid actually writing a review for a book that has been written about by everyone's mother's second cousin's uncle twice removed from a monkey. I'm re-reading all of Jane Austen's books in 2016, and it has so far been a fun experience. July was Emma month, and I was very much looking forwar...

Fine, I went "Awwww" at the end.In many ways, Emma is the forerunner of contemporary romances. A perky naive girl tries her hand at matchmaking, only to discover she's fallen in love with the man she's pairing up with her friend. It provides an interesting discourse on female friendship because Emma and Harriet's relationship is terribly unequal.The first half is really slow though. If I didn't have to read this for school, I would've given up at...

Read for my 2015 Reading Resolutions: 5 classics; 1 Jane Austen book. (1/5)Buddy-read with Mitticus ; Shii & Victoria :D2.5 I have no idea if this book is bad or good, I just know is not for me, as any contemporary classic, as any contemporary in general. But anyway, I liked Mr. Knightley <3 and the ending, even when I saw it coming. I'll read another Austen book in the future and if I don't like that one either, then that will be the end of ...