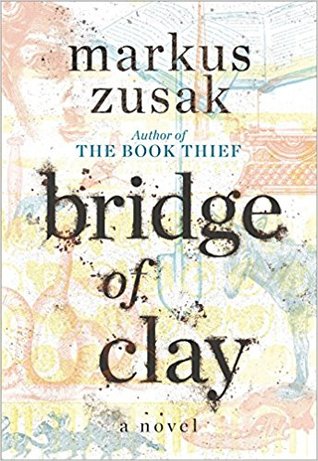 The breathtaking story of five brothers who bring each other up in a world run by their own rules. As the Dunbar boys love and fight and learn to reckon with the adult world, they discover the moving secret behind their father's disappearance. At the center of the Dunbar family is Clay, a boy who will build a bridge—for his family, for his past, for greatness, for his sins, for a miracle. The question is, how far is Clay willing to go? And ho...
---
Details Bridge of Clay
Title
Bridge of Clay
ISBN

9780385614290

Author

Markus Zusak

Release Date
Oct 9th, 2018
Publisher

Doubleday

Language

English

Genre

Young Adult

,

Fiction

,

Contemporary

Rating
Reviews Bridge of Clay
Well, what can I say about this book? I found it totally mesmerising! It took a while to get going, but suddenly you find you can't put it down! It follows the lives of the five Dunbar boys, told from the point of view of the eldest Matthew, but it concentrates on the fourth boy Clay. After their mother dies and their father abandons them, the boys are left to raise themselves in the suburbs of Sydney. Markus Zusak tells a remarkable tale here, t...

I won an arc copy of this book in a pub giveaway! I was really confused in this book, more so in the beginning until I got used to how this was being written. The Bridge Of Clay is a book I will have to revisit time and again to get all of the tidbits that we miss at times. Especially in a book like this; family, sorrow, hope, change, love, death. It's life. It's death. It's a family both past and present. It's something I can't put into words, I...

First of all I must say reading this book is hard work. It is a history of a family presented like a patchwork quilt - a bit here and a bit there, jumping around from person to person, place to place and past to present. Concentration is the key. Hard work does pay off however and this is a really beautiful book. As the story progresses Zusak's characters start to work their way into your heart and the pages just slip past as you begin to discove...

"A murderer should probably do many things, but he should never, under any circumstances, come home."🌟 After 11 or 12 years of waiting, you'd think that the author will write the next big thing. Unfortunately he wrote the next big disappointment and I fell from this Bridge of Clay into a sea of disappointment!🌟 Truth to be told, I wasn't very interested in the synopsis but October was my Contemporary month and what is better to read...

*deep breath* I'm ready to write this review. Markus Zusak is my all time favourite author and with Bridge of Clay he has just solidified that position further. I fell in love with his writing in The Book Thief and then The Messenger and now with Bridge of Clay. I always tell people that going into his book, don't expect them to be anything alike (except for extraordinary writing) because they are all so individual and different from each other, ...

Five Dunbar boys, the eldest was Matthew (who narrated the story), the fourth was Clay, who seemed to be the most sensitive and socially aware. The youngest was Tommy with Henry and Rory somewhere in between. They lived at 18 Archer Street in the suburbs of Sydney, where Matthew took over the job of caring for his brothers after their mother died and six months later their father left without a word. Their struggles were many, their ways of griev...

The only thing worse than not liking a book is knowing you are probably in the minority with that opinion. I'm left with a feeling of what did I miss? The plot is good but I just could never get into the writing style. I'll go sit in my corner alone now while everyone else has an amazing reading experience. This just wasn't the right book for me but I do hope others enjoy it. I won a free copy of this book in a giveaway but was under no obligatio...

Je-sus Christ. What a book. For anyone who was worried about this following up on that masterpiece The Book Thief, don't be. It is amazing and beautiful and heart wrenching and a million other things that I can't think of right now because I'm so overwhelmed. The first 50 pages or so were a bit confusing and hard to follow but once I got past that I was completely sucked in. Also a word of warning, find a nice private place for the ending, ...

Finally we met with Zusak's new book after Book Thief. He's taken his time, but it was totally worth the wait! Bridge of Clay is about 5 brothers who live alone. Their mother died, and father left. They live in suburbs of Sydney alone. The story is told from the eldest brother's perspective, Matthew. But, the star of the book is Clay, the fourth boy, who is trying to build this bridge. The bridge is physical and symbolic. It takes you 50 pages to...

5★"Many considered us tearaways.Barbarians.Mostly they were right:Our mother was dead.Our father had fled.We swore like bastards, fought like contenders, and punished each other at pool, at table tennis (always on third- or fourth-hand tables, and often set up on the lumpy grass of the backyard), at Monopoly, darts, football, cards, at everything we could get our hands on."Zusak basically walks you up the steps of a houseful of boys with li...

okay, i've read it.what a disappointment. i loved the book thief, as did most people who have read it (even though i read it later than most), and expected something similarly powerful here. instead, i got an overly-long, self-indulgent, emotionally-void collection of pages.from the beginning, the prose was very heightened and odd, full of strange, colory metaphors that had less an effect for me of adding anything substantial than of inundating m...

The anticipation for Markus Zusak's latest novel has been eager to say the least; heightened immeasurably by the 10-year wait. So here it is.This is the story of the Dunbar family, the parents, the five boys, but most of all the story of #4 child Clay. It's also the story of a bridge that Clay will build for and to his father. And the crux of it all is the why.I had a few issues with this book, which is why it's taken me almost a week just to dec...

I'm still trying to understand what I've just read. Suffice it to say, though, I was not blown away. I'm heartbroken. I really thought I'd be.

Markus Zusak, the phenomenally popular Australian writer, worked on "Bridge of Clay" for two decades, essentially his whole adult life. Such perseverance is awe-inspiring but risky, for all the reasons this new novel makes plain.The story — a full-throated paean to sibling affection — is about five brothers raising themselves as best they can. The narrator, Matthew, is just old enough to act as his brothers' guardian in a town that expr...

Bridge of Clay is acclaimed, prize-winning author Markus Zusak's long-awaited follow-up to the spectacular The Book Thief which was first published in 2006, and while it wasn't as enjoyable as that, there is still much to admire about it. I cannot see it as being as successful, but it will appeal to those who delight in Zusak's inimitable writing style. The story follows the lives of the five Dunbar brothers who live at 18 Archer Street, Sydney, ...

I'm probably one of the very few people on this planet who hasn't read The Book Thief or any other Zusak novel, so I had no particular expectations. Knowing how many people loved The Book Thief I wanted to find out if I'll become a Zusak fan myself, therefore I promptly requested this on NetGalley.Man, oh man, how I struggled in the beginning. The first 50 - 70 pages were hard work, I considered giving up several times, especially dreading 400 pa...

This is easily one of the best books I have read this year. The writing is phenomenal. It's a quiet story about family and forgiveness that I will not be forgetting any time soon.