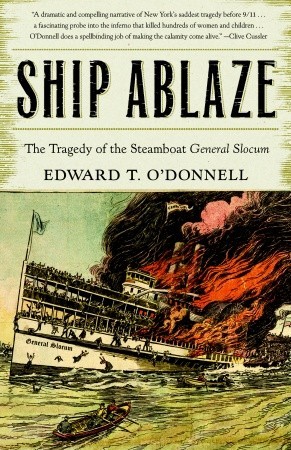 There were few experienced swimmers among over 1,300 Lower East Side residents who boarded the General Slocum on June 15, 1904. It shouldn't have mattered, since the steamship was chartered only for a languid excursion from Manhattan to Long Island Sound. But a fire erupted minutes into the trip, forcing hundreds of terrified passengers into the water. By the time the captain found a safe shore for landing, 1,021 had perished. Ship Ablaze draws...
---
Reviews Ship Ablaze
Chances are that you've never heard of the General Slocum disaster, NYC's deadliest disaster for nearly 100 years (until 9/11/01). If you don't want to read a book about a steamboat fire that killed over 1,000 people, most of them women and children, all of them on their way to a Sunday School picnic, I wouldn't blame you.But if you're anything like me, and you find disasters fascinating, then you should check this book out. It's very well-resear...

Imagine if your Circle Line cruise around Manhattan caught fire and over 1,000 people died because the life preservers were useless, the lifeboats were locked down and, instead of heading towards the nearest pier, the captain decided instead to go upwind (fanning the flames) to an East River Island minutes away. That is pretty much what happened to the unfortunate picnickers from St. Marks Lutheran church whose annual day of fellowship and fun in...

Titanic might be the most famous, but this comes close to being the most unbelievable.This is an engrossing read about a tragedy overshadowed. While not in total scope and drama, it nears the loss of life of the most famous of all sinkings — The Titanic. In fact, given the drastically different setting, it is even more of a tragedy. This recounting of the doomed ship General Slocum flies by like an action adventure disaster of the most epic pro...

A number of things conspired to make me intrigued with this story. Both the disaster, and the monument to the over 1,000 victims in Tompkins Square Park, are mentioned in NYPD: A City and its Police. Then, my in-laws told me that my husband's great uncle was born on June 15, 1904. I am thinking it must have been at Harlem Hospital as his mother was literally giving birth while watching the ship burn in the East River.The author makes the inevitab...

Last night, I read a book, Ship Ablaze, that was everything Krakatoa wasn't--a book about an event that has long inspired my curiosity, which exhaustively describes and explains what happened and why.The fire on the steamboat General Slocum was New York City's most fatal disaster prior to September 11th, but strangely almost no one has heard of it. It devastated the Lower East Side neighborhood once called Kleindeutschland, but the only reminder ...

I discovered this by accident at my favorite used book store a few years ago, and was surprised at how much I enjoyed it. I also had no idea that this relatively obscure disaster had been New York City's largest until 9/11--virtually wiping out an entire population of German immigrants. A horrific account, and very well-documented.

I thought this was an absolutely fantastic book!It's a history book but it reads more like a novel. It's an amazing story about a terrible tragedy. The General Slocum was a passenger steamer out of New York City. On June 15, 1904 the ship was carrying German immigrants to a church picnic on Long Island. The ship caught fire on the East River and tragedy ensued. The book gives the reader a look into life in turn of the century New York City. I had...

Ship Ablaze: The Tragedy of the Steamboat General Slocom by Edward T. O'Donnell is eye opening. I saw a documentary about the ship that caught fire in the east river of NYC and burned and killed most of the passengers. In other reading, I learned that the neighborhood where I lived as a child was Little Germany, but people were starting to leave for Yorkville and Brooklyn. The fire that was an annual Lutheran celebration connected to St. Marks ...

The five stars for this book is all about the wealth of historical detail reported and research that went into it. The book was written using primary source material and is as comprehensive as possible and without speculating on the unknowable or undocumentable.As far as a story-telling narrative, the book starts out strong. It weaves the stories of the Slocum's captain, the pastor of the church whose members were the passengers, and the Mayor of...

The Definitive Book on the Subject – Reads like a Novel But Is Meticulously Researched Work Of Non-fictionI cannot recommend this book highly enough. I've had a lifetime of interest in all things maritime and that includes maritime disasters. Sadly, in the category of maritime disasters, we are inundated with countless retellings of the Titanic tragedy, or if you're a Midwesterner like I am, countless retellings of the sinking of the Edmund Fit...

I have to admit one of the things I like to study is historical disasters. It can be very depressing but it's interesting to read about how they made medicine and safety better for us today. I picked this up prior to a trip to NYC and wanted to learn more about this little-remembered disaster. While I had known about things like the Triangle factory fire, the aircraft that crashed into the Empire State Building and of course 9/11, I had no clue a...

This book seemed a little slow to start, to be reaching to build empathy, but that clears up quickly as the facts are laid out. It seems inconceivable that a tradegy of this scale could be lost in American memory so quickly - official death toll of 1,021, mostly women and children, victims of fire and drowning on a steamship with rotten lifepreservers and lifeboats fastened permanently to the ship. The story just gets worse and worse as more deta...

This was a good book about alittle known tragedy. The General Slocum was a steamer that traveled on the rivers that surrounded New York City. Often these ships were used by groups for excursions to the shore or picnic areas up river. On June 15, 1904 a German church group had booked passage. It was mainly women and children.As the book title suggest the worst thing that could happen on a ship did when it caught on fire. The early 1900's were stil...

I've always been horridly morbidly fascinated by North Brother Island, and must have blocked the memories of my grandmother telling us about the wreck. My great great great aunt Maggie died in the tragedy along with her son, William. Her son George was rescued. O'Donnell's treatment of the story is excellent in combination of non-fiction and speculation of emotion in the players. Such great detail shows his dedication to research and fact, but hi...

Great readThis book tells a history of New York in 1904. You would expect to be reading about the history of the General Slocum fire, but there is so much more here. We learn about life in a tight-knit immigrant community in New York. We learn about the politics at Tammany Hall. We learn about life in turn of the century New York. Maritime history. I wasn't expecting such a concise, informative book. It was truly a page-turner, and when is the la...

Excellent History Of A Terrible Disaster:Well written history of a horrific steamboat accident that rocked the country in 1904. The description of the events and the consequences that had to be dealt with was saddening to all who have read this book. Very worth while and I recommend this to anyone who likes history or maritime books. You will be glad you took the time..

I did not know of the tragedy of the General Slocum before. It reminded me of current attempts to ease regulations on industry in the name of the economy, and the sad results when many business men put profit at the top of the pyramid of importance. It is a sad tale that needs to be remembered from time-to-time.

Well written recount of a major tragedyI applaud the author for detailing a forgotten piece of history for most Americans. It's well researched and provides very detailed documentation of the event.

What a tragic story of loss and corruption. This was a fast and compelling read, which had me crying in spots. It's horrifying how much corrupt companies - and government officials - could get away with in that era.

This is an important story of how corporate interest combined with government corruption led to the senseless loss of over 1,000 lives. Complicating the situation is the insufficient resolution provided and how little accountability those responsible were subjected to.

Well-told story of a horrible tragedy. Recommended reading for those interested in NYC history, German-Lutheran/immigrant history, maritime history, history of U.S. safety inspection and regulations.

Interesting, but nothing new.

I thought this was a bit slow to get started. The victims and survivors were mostly from a tight-knit German neighborhood on the Lower East Side, but little of that was conveyed in the opening. O'Donnell hits his stride documenting the aftermath of the disaster, the search for the missing, finding bodies, the wave after wave of funerals, the trials, and how nothing really changed to prevent this from happening again.

A compelling account of the General Slocum boating tragedy in 1904 that has faded from our cultural memory. It was difficult to read as the tragedy unfolded, especially since most of the victims were women and children. Over a century later it still evokes outrage since the tragedy was completely avoidable.It's an excellent evocation of the times, from the relative safety of various transportation modes to the entertainments of the time. One gets...

A very avoidable accident -- caused by gross negligence of the crew -- with a huge and tragic loss of life. Flammable materials were improperly stored in a location where fire was a distinct hazard; this was compounded by a highly flawed inspection of the boat for its worthiness as a passenger-carrying vessel. This accident occurred in 1904, just over 1,000 people died, and it still stands as one of the worst tragedies ever to happen on an Americ...

This is one of the best maritime tragedy stories I've read. The author told the story of the fire outbreak and subsequent sinking of the General Slocum Steamboat in June 1904 in NYC in graphic yet compassionate detail. More than 1000 souls perished that day when a church outing went terribly awry. This is an emotionally-draining story, but morbidly fascinating at the same time.

Very informative without being the least bit dry.I've had a sort of fascination with fires lately, reading into the Hartford Circus Fire and the Triangle Waistcoat Factory fire, and decided to turn towards another famous American fire - that is sorely not as known as it should have been. The Slocum Steamgeneral fire.First and foremost, my heart hurts when I read this sort of thing. I would call myself a bit hard-hearted when it comes to reading...

Prior to September 11, 2001, the burning of the General Slocum was New York City's worst disaster in terms of casualty rate. An estimated 1300 Lower East Side residents, most of them members of St. Mark's Lutheran parish, boarded the steamer on the morning of June 15, 1904 for the annual church picnic at Eatons Neck, Long Island. Barely two hours later, a blaze broke out in a storage compartment, possibly ignited by a carelessly thrown match or c...

A truly harrowing tale of what life was like in early 20th Century America and how tragedies such as the fire on the General Slocum helped pave the way for real regulation and the beginning of the call for corporate responsibility (though both have still been slow in arriving). I've read several stories of nautical disaster where the crew performed gallantly, some would say even super-humanly, so I was struck by the perfunctory nature with which ...