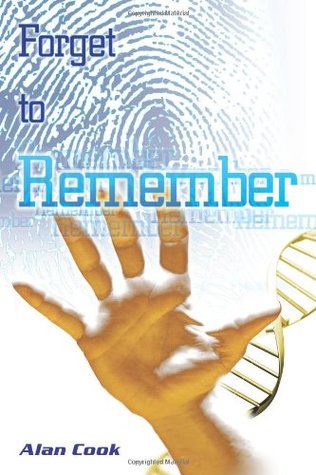 The first Carol Golden mystery. (Relatively Dead is the second). Carol Golden isn't her real name. She doesn't remember her real name or anything that happened before she was found in a Dumpster, naked and unconscious, on the beautiful Palos Verdes Peninsula in Southern California.After helping her get some initial medical treatment, government at all levels officially declares her a non-person and doesn't want anything more to do with her. She c...
---
Details Forget to Remember (Carol Golden, #1)
Reviews Forget to Remember (Carol Golden, #1)
A very intriguing and entertaining mystery, the first I've read by this author, though he has written several books. Alan Cook knows how to engage his readers and keep them guessing.The plot opens with the discovery by a restaurant kitchen worker of a naked bloody body of a female in a dumpster behind the restaurant. There is a slight pulse and she is transported to the hospital. Once she comes back to consciousness, she has amnesia, no memory of...

What would life be like if you had no identity? Imagine not having a social security number or a driver's license or even knowing your own name. That situation is exactly what Carol Golden is facing once she has recovered from a violent attack. Rigo Rameriz is a young man who works as a dishwasher in a restaurant in the Palos Verdes Peninsula in Southern California. When Rigo takes out the garbage to put in the dumpster behind the restaurant he...

This grabs your attention right away. A restaurant worker finds an naked woman in a dumpster, behind the restaurant, unconscious and barely breathing. The restaurant employee, Rigo, is an educated computer whiz, from a well-to-do hispanic family who owns property in an affluent area of the L.A. basin. He becomes attached/attracted to her as she heals in the hospital. She can't remember who she is, or where she's from. He becomes involved in her w...

This book started off so well and good have turned into a really interesting crime thriller, but it quickly went downhill. It focused too much on aspects that I thought were irrelevant such as the need to be pretty and the constant references to previously modelling experience, and the need to please and attract men the whole while. I felt that these added little to the story and it would not have made much difference to progress if they were not...

I think the concept was better than the execution. This would have been a wonderful story if the characters had been better developed. I absolutely loved the chemistry between Carol and Rigo, but Rigo was relegated to the background as Carol went on her quest to find out who she was. Once the pieces of her identity started falling into place, I also would have liked a more detailed family history. Paul and Adam both felt like caricatures of creep...

"Carol Golden" is left in a trash dumpster to die, Luckily for her Rigo Ramierez discovers her and calls 911. When she regains consciousness she has no memory of who she is. She is a non person. Rigo saves her from a homeless shelter and they meet a forensic genealogist, who tries to help "Carol" find out who she is. Add in trips to the East coast and a trip London, an airplane crash, a not so dead sibling, and a lot of money. It was a fun read.

While I liked the quick fun ride of this book, at times I was bored and found the plot a little far fetched side. There were a number of redundancies and the plot was hard to believe. The basic story was good, and the tec of the writer was fine, but with so many twists and turns it was just unbelievable.This was a free win on another site.

I enjoyed this book very much, was entertaining, interesting and kept me wondering as to what was going on ---and, the ending surpised me! Liked it enough that I bought 5 more of Alan Cooks books and have them piled up to read!

This was a good mystery. It had a lot of action and some surprises along the way. Likeable charactors (at least the good guys).

This was a very interesting book. Very descriptive. Intriguing. Good plot. Great characters. Great ending. Suspenseful. Really liked it!

about a woman found left for dead with amnesia in a dumpster. Very interesting...

The plot is interesting but the writing is just terrible. I just skimmed through to find out the ending. This author needs a new editor.

I got this book from Goodreads First Reads and I didn't want to put the book down. I enjoyed reading about Carol and her adventures to regain her memory. Worth reading!

dumb. predictable, flimsy plot. barely worth the .99 i paid for it

$2.99 for Kindle - I enjoyed the author's 99 cent books so well i 'splurged' :)what a find - a quick paced novel that had me guessing.

For the first few pages I wasn't sure I was going to like -- or finish -- this book. But I am really glad I did. It was a really good mystery/thriller with a lot of twists and turns.

A page-turner for sure. Entertaining read and well worth the .99 cost on Amazon Sunshine deals.

The plot was ridiculous and far fetched. Don't know why I kept reading it. Guess I just wanted to see what would happen.

Interesting premise, characters and situations Carol encountered.

This started with a good premise: a young girl is left for dead, recovers but has total amnesia. But the story then moved into some preposterous plot lines.