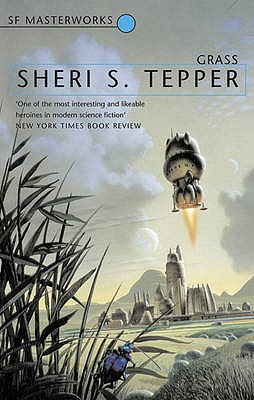 Generations ago, humans fled to the cosmic anomaly known as Grass. But before humanity arrived, another species had already claimed Grass for its own. It too had developed a culture...... Now a deadly plague is spreading across the stars, leaving no planet untouched, save for Grass. But the secret of the planet's immunity hides a truth so shattering it could mean the end of life itself.
---
Details Grass (Arbai, #1)
Title
Grass (Arbai, #1)
ISBN

9781857987980

Author

Sheri S. Tepper

Release Date
Feb 2nd, 2002
Publisher

Gollancz

Language

English

Genre

Science Fiction

,

Fiction

,

Fantasy

Rating
Reviews Grass (Arbai, #1)
'tis the season...13 TALES OF TERROR: BOOK 4once upon a time there was a delightful young story named Grass by Sheri S. Tepper. this story seemed to know exactly what i was longing for: Horror in Space! and so she provided it to me. a fascinating planet full of strange multi-colored grass, bizarre fauna, the ruins of an alien civilization. a backdrop based around a particularly esoteric and semi-totalitarian theocracy. an expertly portrayed and a...

"Grass! Millions of square miles of it... a hundred rippling oceans, each ripple a gleam of scarlet or amber, emerald or turquoise... the colors shivering over the prairies... Sapphire seas of grass with dark islands of grass bearing great plumy trees which are grass again."So opens Grass, Sheri Tepper's first fully-successful novel and her masterwork, I think.If you've read any Tepper, you'll have noticed that she takes a pretty dim view of huma...

I've no idea how this makes lists such as "most underrated sci-fi", or how it's in Gollancz's SF Masterworks range - despite one or two interesting ideas it is, on balance, absolute drivel.The pacing is terrible. The science is woeful. The characters are tedious and one-dimensional, and their dialogue wholly convincing. However, much worse than that, the entire novel turns out to be some vehicle for the author to explore some uninspired hokum abo...

There's a lot of things going on in Grass. Religion, tradition, health & illness, education, relationships—all these things get batted around during the course of the book, and that's a big load for just 500+ pages, but not unusual in a planetary romance of this sort. However I liked the main character, Marjorie Westriding, with her love of her horses, her ability to ask the right questions of the right people, and the willingness to put he...

One of my favorite science fiction books in recent years, this intricately plotted book creates a complete world and is utterly absorbing. Tepper reminds me a bit of another favorite woman sci-fi author, C.J. Cherryh, in that she takes a somewhat anthropological approach to the alien societies she creates. I won't go into details of the plot -- it's one of those complex sagas that doesn't summarize too well, but I will mention that I enjoy her st...

'Grass' is an absolutely stunning read. Shari S. Tepper is now one of my top adored authors. I hate to use the overused noun 'tour-de-force', but I do not have the imagination to use another word for this novel. It has everything a literary reader and a science fiction fan would require for an absolutely enchanted weekend of reading joy. Intelligent, forceful, fast-paced, enthralling, unique, rational - I am SO happy!However, I have read ...

When a plague sweeps humanity, a diplomatic mission is sent to Grass, the only human-settled planet without signs of the sickness. Grass is nominally run by the bons, a patriarchal society modeled after old European nobility. But the bons are far more interested in the Hunt than in the running of the planet, or even the certain extinction of humanity. The ambassadors are as ill-suited to saving humanity as the bons are. Lady Marjorie Westriding Y...

Unreliable narration is kind of trendy these days. It's not the easiest thing to do well, and often enough I've seen people kind of dismissively wave it away as a cop-out. And it very much can be a cop-out. Which is why it's really refreshing to see it used well, and I really enjoyed the way this book kept catching me off guard again and again.Grass is an old-fashioned science fiction book, in the best sense. It's set on an ecologically interesti...

Sheri Tepper has never been my favourite science fiction writer. I've only read two of her books, and while I thought The Gate to Women's Country was interesting feminist dystopia/utopia, I really disliked The Fresco. I thought the solutions in that one were very deus ex machina, (although the bit about impregnating right-to-life male senators with alien babies was very amusing), and that if you need to have unbiased aliens to come fix all your p...

I read Grass within a couple of years after I read The Gate to Women's Country. It is, once again, a science fiction novel with a great mystery guiding the action. This book is more highly reviewed than any of Tepper's other books. It is intriguing, and it is one of the books that I like to read of Tepper's because it challenges me. It forces me to ask what I believe about humankind. Are we inherently good and trustworthy, as I've believed in the...

3.0 stars. Even thought I liked this book, I was surprised that I didn't like it more. It has a lot of things that I look for in book including, quality prose, well developed characters, an interesting plot and solid world building. At the end of the day, the story just progressed too slowly for me and I found myself anxious for the story to move along. That said, after finishing the book I am impressed by the story that the author created, I jus...

Not my favorite Sheri Tepper book. I totally loved The Awakeners and Plague of Angels but Grass was a bit too wordy and tedious, even a little preachy at times. An average book from a usually above-average author.

After reading Raising the Stones by Tepper back in January of this year and really enjoying it I knew I needed to go back and read some of her other books. This book, Grass, is actually set in the same universe as Raising the Stones, but the two books can be read and understood in any order.This story, like the other one by Tepper which I have read, was a slow burner. It took me quite a while to really get going with this so that I felt compelled...

I have the hardest time writing reviews for the books I enjoy the most because it's difficult to encapsulate the experience of an entire book in a few short paragraphs. This book has a plethora of characters and settings, but the author is a master at making it all distinct and setting up very unique cultures. I'm impressed. Tepper is a new favorite author for me. Strangely, I've found myself attracted to grass lately as well. Considering tha...

This started absolutely brilliantly, but I found the resolution a little ridiculous. It's quite a long book and the resolution started to come at about half-way through, so it added up to quite a lot of ridiculous. I think this is a manifestation of a common problem with this sort of book (intriguing alien world with a strange underlying secret): the build-up to the revelation makes it seem like it will be something utterly revolutionary, but the...

Just as powerful a story as the first time I read it!

A plague threatens humanity's demise. There is the vague hope of finding a cure on the planet Grass, eponymous for a grass-covered planet with alien living forms. The planet's human aristocracy doesn't allow anyone to enter besides of a an ambassadorial family whose target is to find a cure.Mrs Tepper needs a very long exposition for her world-building and introduction of the main protagonists. The aliens - similar to large mounts and hounds - ar...

A family of ambassadors comes to the planet Grass, inhabited by isolated, rural aristrocrat families and one large commoner town, to figure out why it's the only human-inhabited planet where people are dying of plague. Really great human-alien interaction as well as between humans of extremely different cultures. The whole thing takes place in a universe dominated by a religion called Sanctity that is trying to cover up the existence of the plagu...

It's a pretty solid guarantee that if a book is anthropological science fiction, and it was written by a woman, and it was published in the 80's or 90's, I will love it. Don't know why those three factors seem to converge on the sweet spot, but they've rarely steered me wrong.I would love to find the time to write a real review of this one at some point. Until then, I'll just recommend it to everyone I can. It's hard to find a copy of these days....

Man, this was a weird one. It was a bit of a ponderous read for me. There was good and bad in Grass, and I think other people might enjoy it more than I did.I said in my last status update for this book that reading it was "like having a vivid, strange nightmare that didn't quite make sense." I think this captures both the good and the bad of Grass. Sheri Tepper's world building is excellent. Her universe is nuanced, vibrant, original and memorab...

I have given Grass 4 stars though I would have given it 4.5 if I could but it just didn't quite make it to my top rating.It is, however, a very good book; thought provoking, entertaining and believable (mostly).The first half of the book has an almost claustrophobic feel to it that put me in mind of a Hitchcock movie. The full picture is deliberately hidden from us (somewhat crudely at the beginning of the book), instead the writing is filled wit...

The beginning was probably the best: the setup, the mysteries, the danger, and Grass. So much grass. Grass the planet is amazing.Marjorie slowly became a layered character that I wanted to read about, but by the end, this was noticeably conveniently plotted (ooo, a letter fell out of his pocket! the nasty hierarch just runs away! wait, is this about a plague or religion or aliens or exobiology or a failed marriage or...) and it was heavy handed o...

A wonderful book, with beautifully realised characters and a totally involving setting. It put me in mind of the SF classic 'Dune', but reduced to a more personal, less epic scale with a cogent human future and accessible characters. The planet of Grass and its societies are finely crafted and its alien inhabitants are some of the most intriguing I've come across. The storyline is interesting from the very beginning and continually develops and a...

There were some crinchworthy moments in the book, especially regarding the vanished girls – and I'm not convinced by the biological explanation at the end. So this counts for the deduction of one star.This out of the way: I loved the book!The world building was convincing, lush and mysterious. The protagonist is a middle aged mother - which I always rejoice at – who has to find her way in a patriarchal, religiously oppressed society. It was...

This is probably one of the most unusual first contact stories that I have ever read. For a start, the story begins long after the aliens in question have been first contacted, on a planet long settled by humans.Grass, a planet covered in swathes of multi-hued grasses with exceedingly long solar cycles and inhabited by strange creatures seemingly analogous to Terran horses, hounds, foxen and vampiric bats. Grass, with it's deeply isolationist pol...

Plague threatens to ravage all of mankind, and only one place is exempt: an isolated planet called Grass, with its strange human culture and stranger native residents who may be nothing that they seem. Grass is reminiscent of Mary Doria Russel's The Sparrow: spiritual/philosophical issues brought to light by human exploration of a truly alien world and society--so alien that humans are initially unable or unwilling to realize the world's true nat...

An odd read. Like alot of sci-fi, this book is packed full of ideas. Some of these are very thought provoking and insightful, others less so.I thought the story started strongly, a nice sense of brooding and mystery is generated when the main protagonists arrive on the planet Grass. However, the first of several "reveals" come a little too early, and comes at the expense of a interesting subplot concerning a breakaway religious sect. The several ...

What a thoughtful, beautiful book!I was surprised how much I enjoyed this...I thought it would be a little more 'preachy'. Although there was a little of that near the end, it was mostly philosophical. I did have some issues with the Foxen, and the MCs attraction to them came off a littlebestial to me. But maybe its because they never are described very well.I also thought that the fact that EVERY eligible male in her vicnity seemed to fall head ...

Horrific, strange things happening on this far-future planet of humanity where the grass grows in all colors of the rainbow and the decadent feudal lords are driven by the (not-so) traditional hunt. A romantic quadrangle helps to retain interest in characters while the mysteries of this planet are slowly uncovered by outsiders from an equally sinister far-future human society. A very odd and hard-to-categorize SF novel.

Some reviewers have called this book "social SF", and I feel this label is a disservice to what SF should aspire to be. Yes, it features very intricate social bonds and relationships, but isn't that what SF should always do? Good SF shows us how a society twists and bends when some fantastical pressures are applied, and the resulting is social. Dune was political, but also social SF.In Grass, the social intricacies are multi-layered. The first ha...