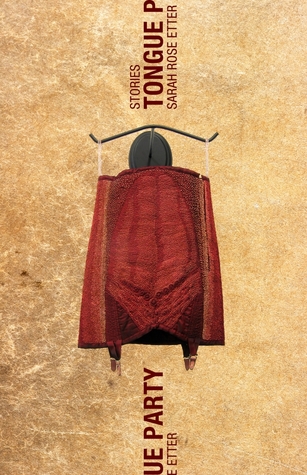 Tongue Party is a collection of short stories by Sarah Rose Etter. It was selected by Deb Olin Unferth as the winner of the 2010 Caketrain Chapbook Competition and is currently available from Caketrain Press.
---
Reviews Tongue Party
The end of (or rather, the destruction of) innocence. A father that pimps his daughter at an all out Tongue Party.Categorization of unnamable things, atrocities, niceities in nameless cities.Dancing loving stinging jellyfish.A husband's insatiable hunger. Devour the world.The only reason this collection isn't five stars is because I've held that last star back in its cradle in hope that it will spawn another collection by Sarah Rose Etter. Becaus...

April 2012Lesson learned: Just because you can read an 80(ish)-page story collection in one sitting, one hour, one evening, doesn't mean you should. I'm going to have to think about (and reread) this one...The "Koala Tide" isn't quite as adorable as it sounds. "Cake" should be enjoyed in moderation, while "Tongue Party" may not be enjoyable at all. "Men Under Glass" didn't get there by accident. "Chicken Father" is very sad, and "Husband Feeder" ...

an amazing collection of insanely imaginative, terrifying, and funny tales. here's the blurb i wrote for it:"There are stories that show you the way things are, and ones that show you the way things might be, and then there are stories that tear you apart and build different things from the pieces. You might be happy with some of them, but I assure you, you won't like them all. Sarah Rose Etter isn't a writer; she's a witch, and this is a...

I recently had the pleasure and privilege of hearing Sarah Rose Etter read the title story from this collection, and now that I've read the book that story feels like the pivot point of the set. "Tongue Party" forces us, through an incredible turnabout midway through, to wonder about the implications of telling a story straight versus telling it through filters of metaphor and fantasy and suggestion, and to ask which story is "real." I don't want...

You could call these stories disturbing, bizarre, and surreal. You could also call these stories imaginative or creative and fresh. One thing you cannot call these stories is dull. I read the book in a single sitting and will likely do so again in the near future. There is a certain darkness lying in some of these stories, a darkness I don't see too often in the things I've been reading. It's as if any of the stories could turn on you, the reader...

One of the freshest, most original and engaging books I've read this year. Sarah Rose Etter's imagination is a daring, disturbing place and in these stories she invites us into the world as she sees it. I don't ever want to leave and can't wait to see what she does next.

Imagery and emotion that makes your soul shiver, your brain ask uncomfortable questions, and your heart swell with both hope and dread.

I need a root canal and I am having a flu shot hangover and I am (expletive) pregnant, which means I'm sneezing nonstop and I'm waddling from this weird uncomfortable ligament thing that shoots up the back of my thigh into my gluteus Maximus, the volume of which my condition has maximized, and I have a pressure and tension headache which makes any task involving my eyeballs a mite annoying. And yet... Tongue Party hit the (expletive) spot. Its sh...

Tongue Party is quite a unique little things, a short book with short stories, but these stories are ridiculously good. The thought behind these stories, the creativity and the abruptness, impact like a hammer. Sometimes they hit your thumb, sometimes they hit your face. Either way, each story hurts. I read this collection outloud to a speical person, and after I finished "Cake" and promised her that I would never shadow the actions of the man in...

A lot goes on in this little book. Sarah Rose is a slight of hand artist. She shows you absurdity: waves images of tides of koalas, fathers with chicken masks, parties of tongues, unsatiable husbands and men behind glass but then she brandishes a flourish---sparkles, explosions, lightning---and suddenly you are hit with the emotion she weaves deeply into each story. The best bait and switch ever!I loved this book. I loved being moved on a gut-lev...

beautiful scary stories about hunger and how to satiate it. turns out you can't. stories from 'her' perspective about dads, husbands, lovers devouring or being devoured, but still you end up a bit peckish. where does that appetite come from? your senses receive and send the salty, savory, sweet, the sour, but something else sends the signal for MORE, or less, just to make it stop. what is it that won;t let you stop? these stories are about that s...

I enjoyed this intriguing and eclectic little book. "Cake" is disturbing and brilliant. I found "Chicken Father" equally mesmerizing. "Husband Feeder" is horrific in a truly skillful way and is deeply affecting. I look forward to future works from Sarah Rose Etter

Fantastic writing, fresh, bold, imaginative stories. I loved this collection!

Sarah Rose Etter is immensely talented, managing to pull off the difficult pairing of the insanely bizarre with the emotionally true. One of the best writers out there.

If what you are putting into your brain does not at some point make you feel very uncomfortable and disturbed, well then, the writer isn't doing his or her job. Sarah Rose is doing her job.

My reading of this went way too fast. I wish there more husband feeders, chicken fathers, koala tides and tongue parties. Such a great collection. I feel like ripping my heart from my chest.

Sarah Rose Etter writes with such power, her voice so sharp and original, she scares me and thrills me at the same time and I enjoy it all. On first reading I felt myself attacking the words, eager and impatient to learn the characters' fate, and then I had to go back and read each story a second time to appreciate her prose, the choices she made, what was included and what she omitted, what she left readers to determine for ourselves.I loved all...

Thankfully I couldn't find this one at the library, so now I own it. Imagination and meaning seem to crawl over each other on the pages. They mingle, mutter, and blur; then crystallize as hard pockets in soft places. Etter's storytelling is equally readable and genius.After reading the last short story 'Husband Feeder' I turned back to 'Koala Tide' and read the book again. This is the first time I've read a book using a shampooing method.

Interestingly Devastating... However the abstract style works as a double edged sword... It does wonders for some stories while kills the effect of some... Having said that, this book shouldn't be missed out on, specially for the way these stories have been engineered to leap at you and hold you down...Tongue Party is a little book that leaves you breathless...

I read this book really quickly because I didn't realize it would end so soon and then there wouldn't be any more great/creepy/strange but truth-y stories for me to read and I would be sad. LUCKILY, there are links to more stories by the wonderful Sarah Rose Etter on her website to hold me over until she puts out another great collection.

Absurd and terrifying. "Koala Tide" really nails that feeling of what it's like to be childishly, irrationally scared. But as crazy as some of the stories get, they never become too in love with themselves—there's never that wink/nudge, or self-aware cleverness. All the stories feel grounded. I had a bunch of weird nightmares while reading this book.

For nothing else in the collection, "Chicken Father" is one of the most beautiful & heart-crushing things I've read this year. (By all means, the rest of the collection is fantastic. That one just got to me, and did it with such care and such elegant prose.)

This book is quite the interesting little read. It's fast paced and difficult to put down. While one or two of the stories are a little predictable, most completely surprise you at the end. My only complaint is that there is not enough stories... I want more.

A promising collection of stories from the wonderful Caketrain. Some moments it startles (the opening, Koala Tide and the title story, Tongue Party) and sometimes it doesn't quite work (Chicken Father).

Intense, sharp, focused slaps to consciousness all throughout. I read it through three times just to savor the taste.

Little jabs of beauty.More - http://bentanzer.blogspot.com/2012/04...