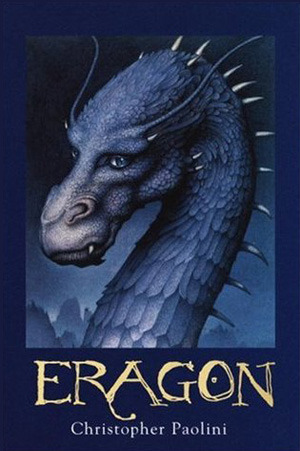 One boy...One dragon...A world of adventure. When Eragon finds a polished blue stone in the forest, he thinks it is the lucky discovery of a poor farm boy; perhaps it will buy his family meat for the winter. But when the stone brings a dragon hatchling, Eragon soon realizes he has stumbled upon a legacy nearly as old as the Empire itself. Overnight his simple life is shattered, and he is thrust into a perilous new world of destiny, magic, and pow...
---
Details Eragon (The Inheritance Cycle, #1)
Title
Eragon (The Inheritance Cycle, #1)
ISBN

9780375826696

Author

Christopher Paolini

Release Date
Apr 1st, 2005
Publisher

Alfred A. Knopf

Language

English

Genre

Fantasy

,

Young Adult

,

Fiction

,

Dragons

Rating
Reviews Eragon (The Inheritance Cycle, #1)
I could read this one a hundred times and love it just the same. This was my middle school book series. I read it over and over and over (and, as you may have guessed, over and over...). It had dragons! And elves and magic and swordplay and not a love triangle in sight.Even rereading it as an adult, I just...cannot separate all those happy memories So keep in mind, my review might be is more than a bit biased. Eragon, a farm boy, stumbles upon ...

I cannot adequately express my complete and utter loathing for this book. I was working at a library during the time that this book was being published and had access to a galley of the novel. I did finish it, but only so I could know (entirely how much) Christopher Paolini (the supposed 16-year-old author-genius) had plagiarized J.R.R. Tolkien's "Lord of The Rings" trilogy. If you are not familiar with the Inheritance books, allow me to inform y...

Standard fantasy fare, except that while most fantasy authors lift their plots only vaguely from a previous author, Eragon is simply the plot of Star Wars with a Lord of the Rings paintjob:Princess flees, trying to keep precious item out of the evil emperor's hands. Boy finds item. Bad guys burn down his farm and kill his uncle. Old mysterious man helps him, and turns out to be part of a secret order of knights to which boy's (now evil) father be...

Here is a short list of things I find more enjoyable than reading Eragon:Why does this book read like it was written by a fantasy-obsessed 15-year-old? Oh, nevermind... Is THAT why is has EVERY single one moth-eaten fantasy cliché??? It's like Paolini actually, in all seriousness, used Diana Wynne Jones' humorous The Tough Guide to Fantasyland as a real technical manual on how to create the Eragon universe. And the proud parents of a budding "ne...

Two or three years ago, everywhere I went there was some display attempting to sell me Eragon, by Christopher Paolini. It was obviously a bad book without opening the cover: the back cover carries a quote from the book, and an endorsement by Anne McCaffrey, and I'm pretty sure I could get that woman to supply a blurb for a double mint wrapper to the effect of "I couldn't put it down! An author ... to watch for!" The quote is "Wind howled through ...

I LOVE the Inheritance books. I had never heard of Christopher Paolini before, and was walking through Barnes and Noble when I saw this book on the end display. What caught my eye was the dragon on the front cover (I love dragons, and my "artistic eye" was captivated by the artwork). This is a great fiction/adventure/fantasy novel. Anyone who is a Lord of the Rings would truly have an appreciation for this book. I was hooked from the moment I pic...

Before we get started -Please,please do not judge a book by its movie.-I read Eragon for the first time when I was 15 years old.I've re-read it 5 times since (I didn't own many books back then so after I took advantage of my neighbor's and my cousin's library,I kept re-reading my poor collection) and every time I loved it just the same,because it was the book that introduced me to the world of fantasy. The story When I got this beauty in my hands...

EDIT: Re-wrote/fixed up this review on 8/21/2012 to reflect my changes as a critiquer/reviewerRight so. I'll just say it: I hate Paolini's work. To my very core. I don't really think it's so much the "he stole from Tolkien/Lucas/Gandhi/God/my dog..," though whoever may say this has a point. Even though he blatantly took ideas from pioneers in their respective fields, that isn't what bothers me the most.When I was fourteen, I admired him out of me...

seriously, Ben. Why have you not read this sooner. This beast has been sat on your TBR pile for years. What is wrong with you? Was little Ben intimidated by the size? I FINALLY READ THIS BOOKand breathI honestly think this is one of the best fantasy YA stories. Such a classic! ERAGON YOU ARE MIGHTY FINEEEEEEE

This was straight up painful...Full review to come!

Age of the readers and how well acquainted they are with the high fantasy genre seriously need to be considered here.I don't think I need to say a lot on my review on this, Eragon is a very popular book and it's been quite mixed received, to say the least. The majority of love and dislike usually depends on when did you read the book for the first time? If you were still a child or teenager, and haven't read a lot or any high fantasy books ...

appalling.as if written by an enthusiastic but tragically over-encouraged teenager with insufferably supportive parents who somehow happen to be well-connected in the publishing indus—wait....oh.carry on, then.

A short (and somewhat sarcastic) summary: Main character = Eragon, mysteeeeerious boy-child left with his aunt and uncle by wandering mother, father unknown. Boy finds mysteeeeerious stone. Turns out to be dragon egg. Boy raises dragon and bonds with it strongly. Bad guys come and destroy boy's house and kill his uncle. Boy swears revenge. Boy's secret dragon is discovered by mysteeeerious storyteller who turns out to be master swordsman and rand...

I hadn't read this in a super long time, so it was fun to come back to. This is still one of my favorite YA fantasy series! The writing is a bit clunky at times, but then I remember that the author was only a teenager when he wrote this and everything becomes straight up impressive.Yes, there are obvious Tolkien influences (Aragorn Eragon, Arwen Arya the elf, the urgal/uruk similarities, and a lot of other names)... but I kind of like it when aut...

Dragons and elves and dragons!A lot of people faulted Paolini for trying to copy Tolkien, but the truth is, their styles are nothing alike. Tolkien is much more poetic and his writing more archaic. Paolini is a much more straightforward fantasy guy. And that is not a bad thing. I really enjoyed this book and the series overall ranks as one of my all time favorites! Why? Because it is so well written! Seriously now, the descriptions and characters...

I will always love Saphira!

A wonderful rec from my GR friend, Anish :) Thank you! :) Also a super great BR with Sweet Pinky , Lovely Saphy's Trainer and Gentleman Grumpy Cat :)I saw the movie and loved it, but when I heard about the book recently, I was curious together with a slight feeling of worry as reading the book after watching the movie adaption works quite bad for me. But I wasn't disappointed, this book is wonderful! RL keeps messing up with me, so, sorry in adva...

Probably the most expensive fanfiction I've ever read. I'm not sure what possessed the publishing company to publish this book (although I heard that Christopher Paolini was self-published at first). I also wrote a book when I was 16 (much like Paolini) and the quality was pretty much the same as Eragon, that is to say, awful. Eragon (the character) is a total Mary Sue/Gary Stu: he learns to fight with a sword in just a few weeks, his past is a...

WrensReads Review:You know that saying "I'll wait till the movie comes out?" Don't.So I am an aspiring author. Let me shed some light for those who don't understand this series is a unique series."Imitation: a method of writing instruction that bas dropped off the map, fallen through the floor, and disappeared from the face of the earth as far as modern education is concerned. And yet imitation is arguably (according to Aristotle, Cic...

Eragon (The Inheritance Cycle #1), Christopher PaoliniEragon is the first book in the Inheritance Cycle by Christopher Paolini. Paolini, born in 1983, wrote the novel while still in his teens. After writing the first draft for a year, Paolini spent a second year rewriting and fleshing out the story and characters. His parents saw the final manuscript and in 2001 decided to self-publish Eragon; Paolini spent a year traveling around the United Stat...

Eragon (The Inheritance Cycle #1), Christopher Paolini Eragon is the first novel in the Inheritance Cycle by Christopher Paolini. After writing the first draft for a year, Paolini spent a second year rewriting and fleshing out the story and characters. His parents saw the final manuscript and in 2001 decided to self-publish Eragon; Paolini spent a year traveling around the United States promoting the novel. By chance, the book was discovered by C...

"The greatest enemy is one that has nothing to lose."It's been a while. Many years have gone by since I read this as a young teenager/old child. The only problem is that I have never read the fourth and last part of this series. At the time of its release, I had already forgotten what had happened in books 1 - 3. Since then I have not been able to find the time and motivation to reread them. I finally decided to start listening to the audiobo...

September 2015 Updated ReviewAlthough written by a homeschooled teenager (and it definitely shows, especially in the sequels), I was entertained by this novel. I had seen the movie first which makes it look like the world was cobbled together while trying to bridge the gap between Star Wars and Lord of the Rings, and was turned off to reading the novels. After being told by a cousin of mine that the book was next to nothing like the movie, I trie...

Holy guacamole.A great read.Definitely try it. :)

i learned that this book kicks butt i mean common ppl you see this explosion in a forest gather up the guts to go see what it was and its a hue piece of saphire (or is it?) well then eragon goes around trying to sell it because his family is poor but know one wants it because it came out of the spine! (for those that dont know what te spine is its a collection of mountians only the brave go in but only the lucky come out) i seen the movie and i l...

I tried writing a novel when I was fifteen, too; but the difference between me and Paolini is I had the decency to chuck it when I realized how terrible it was. I'm not going to list a host of authours he 'borrowed' from — many people just have different opinions where exactly he borrowed from so I don't want to get into it. It's just… I think he had potential; descriptively, there were some parts of Eragon that were very well-writt...

This book spells 'trite' excellently. Unfortunately, that's the best quality it possesses.This idea has been overworked many times before, and, if I may borrow a baking metaphor, overworked dough makes for flat product. Not only does he steal from successful greats, but ignores completely that the reason why they were great would be because of their ingenuity with GOING TO THE SOURCE and making it their own from there. The book takes information ...

Eragon has got to be one of the most tedious books I have ever read. I normally love fantasy (my love for Harry Potter is an indication of this) but Eragon, I could not get through. It was excruciatingly long for such a simple journey. He chances upon all things magical and makes such a big commotion of things. Everything is supposedly mysterious. But it is actually more annoying than mysterious. I love adventure, but his journey was slow paced a...

One of my former roommates is addicted to Young Adult fantasy books, and got me hooked right along with her. She had read the first two books in this series right when they first came out, and urged me to read them before seeing the movie (which, I later found out, was awful). So I did. Despite the criticism that Paolini's books get, I found I really, really enjoyed Eragon. He pulls a Tolkien and creates his own world, complete with different rac...