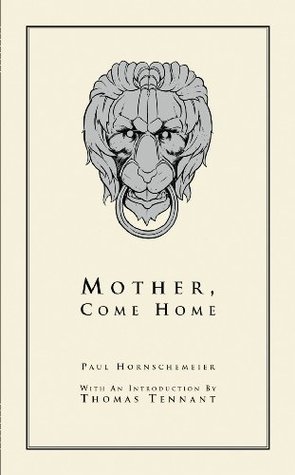 With his clean, distinctive art style and poignant storytelling, up-and-coming indie comics sensation Paul Hornschemeier has earned comparisons to and accolades from today's top graphic novelists. Mother, Come Home is Hornschemeier's graphic novel debut-the quietly stunning tale of a father and son struggling, by varying degrees of escapism and fantasy, to come to terms with the death of the family's mother. The story seamlessly weaves through th...
---
Details Mother, Come Home
Reviews Mother, Come Home
i can't even get close to reviewing this book. ("well, who asked you to?," they sneer) i can't but i feel like i have to. i have been putting it off for a really long time now but i think i have to get it over with once and for all. this review done, i am going to wash my hands of all complicated human emotions because this week has been far too full of mourning and apprehension and second-guessing and worry. after this, i am pure cylon and you c...

Puissant! Melancholy at its striking best.There is a sweet pain and there is a bad pain. Sometimes, some souls suffer sufferings. Not a problem, not uncommon.The problem begins when they start loving this suffering.To be frank, I did not expect a book to render me clueless after 25% of its total page length. I did not know where it was heading, what the genre was or am I reading an actual book even?And then it came to me. Hard and powerful. The k...

Shit.This one disarmed me.Today is beautiful outside. A little warm for my tastes, but this is the weather normal people like and they all go outside and do normal-people things. Personally I like a little gloominess, a little overcast skies, even some rain. It doesn't have to be cold, but I'm not a hot-weather kind of gal. I do not like to sweat. Or even glisten. I do not like to glisten.But in honor of the nice weather, I took the longest walk ...

My mother loved to give presents. Ever felt as if you're so shattered after reading a book that hardly one or two sentences will come out of your mouth, not just because you are flabbergasted with the brilliancy of the book but also because you are troubled to see what situations people go through dealing with death of their loved ones?The story is about a son and father dealing with the death of their mother/wife.Both have different styles of ha...

1.5 starsThis was just so weird for me. The story is about a boy and his father. The boy's mother has just died and his father is basically like a zombie that he neglects his 7yr old son. The uncle and aunt try and step in and help but it's not enough. Dad gets institutionalized and the boy goes to live with uncle and aunt. There were just so many things wrong with this book. The print was so hard to read, I almost gave up into the first two page...

so i read this book because 1)it was a graphic novel and as of late, being a new mommy and all, graphic novels complement my short attention span very well. 2)i was familiar with this guy because of the whole jeffrey brown/holy consumption affiliation and figured it was about time to read something from him, especially because the drawings were just the right type for me when it came to graphic novels and 3)because i saw it on karen's list of boo...

WARNING: DO NOT READ THIS BOOK IN PUBLIC!I think the word depressive comes short to describe this comic thingy… is there a word that express more depression than well, depression??? Maybe There is a term among my people used to describe depressive songs... it translates to something like "wrist slitters" or something like that. but if there is an actual word for it please let me know so I can update this review! When I asked a friend to pic...

Sad and depressing, but beautiful at the same time.

It has to be a hard decision for an author to begin a book with something that moves in the direction of North-by-North-Impenetrable. Especially when the rest of the book is engaging and enjoyable. And moreso when the author hopes to secure readers.(Those who don't write to be read are more than welcome to make not just their introduction but their entire book a roadblock to diligent readers.)Personally, I'm working on a novel and the first chapt...

This book happened to me like a gust of wind: sudden, unexpected and startling.It had been a while since I read a graphic novel, so I reached for the shortest one at hand, deciding to give this a second chance. I'd started it a few months earlier and promptly set it aside because the first few pages are just... weird. But on this attempt, once I'd made it past the oddity that is the introduction, it proved a thoroughly captivating and complet...

WOW!I read a lot of comic books as a kid, but have not read many graphic novels as an adult because I generally find them unappealing. This book is so different from any book I have ever read. The pictures are an integral part of this story and bring meaning to the words.In graphic novel form, this book tells the story of father and 7 year old son who have lost their wife/mom, mostly through the eyes of the son. Even though the pictures are kind ...

Overall depressing.Too wordy for a graphic novel. Even worse, the font chosen is hard to follow.The artwork is also lame. If possible, skip this one.

Zo hee, dit was me een partij verdrietig. De achterkanttekst zegt al wel dat het over verlies en trauma gaat, maar verwacht absoluut geen happy end. Verder doet het heel interessante dingen als graphic novel, met een veranderde tekenstijl die een soort cartoon wordt als copingmechanisme voor het kind.

"My Heart is far too clouded." Death. Loss. Agony. Existential Dread. "Sometimes, when I'm sad, I think life was a commercial for something so much bigger, but then we ordered it and it was broken or didn't come. That's a bit muddled, I think. Does that make any sense? Probably not, I think up a lot of things when I'm sad that I think must be pretty great or profound, but then someone points out that they (the ideas) are foolish."

Spoiler-free review My impressions.Pros:-Nice linework, textures, colour scheme and panels to suit the mood.-Easy to read speech and panel transitions.-Clear focus (albeit, not direction).-Punch-in-the-gut morose imagery. Cons:-Too melodramatic and directionless.-Plot feels claustrophic and much too abstract/cryptic/confusing for some readers. I'm a bit unsettled about this. This is an odd disappointment, as I tend to very much enjoy work that pl...

"Mother, Come Home" is Paul Hornschemeier's first graphic novel. I've read two of his previous books "Let Us.." and "Paradoxes" which were interesting and enjoyable with shades of Clowes and Ware. It follows the breakdown of the family once the mother dies leaving the father and son shattered. The father seems hardest hit - he is unable to function properly and the 7 year old boy soon assumes the day to day running of the household and acts as se...

What a gut punch of a book. There are few emotionally manipulative, emotionally draining works by indie white people, in the category of white-people-hating-stuff, that I feel are on the level of actual tragedy. As such, I was skeptical of "Mother, Come Home," but Paul Hornschemeier deftly transcends this category. Technically beautiful, this book is well worth your time if you can stomach depressingly sad works. Though the repetitive dream seque...

Maybe because I went into this read thinking, "Brace yourself, you're going to cry" that I never got to the point where I needed to. Yes, it's beautifully written book and a few times I choked up. There's the time where there's a shot of everyone sleeping in their separate beds at night. Another time when Thomas talks about the feel of his father's cordoroy jacket.The kid was great, walking around in his lion mask. It reminded me of the kid in th...

this book is sad and dumb, it probably shouldnt be read by anyone but absentee parents, and only so they can see the bullshit that their selfish behavior puts their children through. the final actions of the father in this book are strictly self-important and vain. it makes me angry even to have read it. angry and sick.

Melancholic!A poignant story of the loss of a family's mother - how father & son strive to accept the fact through various levels of escapism & fantasy. Paul's drawings provide a beautiful narrative of this fateful sad tale.

Retrato de un abismo desde la óptica infantil. Sútil. Mortífero. Con un dibujo y un color muy acertados.

I read someone's review that said not to read this book if you've lost someone or feel culpable in someone's death. To which I cry bullshit. As far as I'm concerned, this book belongs on that hallowed list of comics that are required reading for the entire human race.

What. Did. I. Just. Read? Holy. Crap. I. Just. Can't. Even. Right. Now.

Excellent. And completely depressing. After reading, I sat silently for fifteen minutes contemplating the impossibility of happiness. And then promptly watched "Animal Crackers," as a rebuttal.

«Ha detto che si capiva che stava per piovere perché le foglie erano diventate bianche. Ma le foglie non diventano bianche» disse dolcemente. «Quello che vedi è il retro delle foglie, a causa del vento che accompagna la tempesta, tutto qua. Per spiegare le cose…la gente crea dei piccoli sistemi. Cose non vere ma più facili da accettare delle complicazioni della realtà.» Una storia di disperazione, che parla chi rimane, di chi non riesce...

The artwork was great, it captured the mood perfectly. I liked how the drawing style slightly changed in Thomas' reality vs. imaginations. I loved the part where he was imagining his aunt and uncle as a duck and a cat, I believe. I'd love to see that scene made into an animation, with like clay figures. The ending was complete whiplash, I can't completely comprehend what happened with Thomas and his dad on the cliff. The abruptness was actually a...

Bella grafica, minimale. Bella realizzazione editoriale. Bella scansione tra premessa e svolgimento. Bei colori. Storia dolorosa e infame. Psicoanalitica.

Paul Hornschemeier writes a heart-breaking book. There's no getting around that. Nor, after reading "Mother, Come Home" is there really any desire to.Death is one of life's inescapable parts, and this books deals with it on many different levels. I'm pretty sure this is autobiographical, seeing as that Paul's uncle (referenced and drawn at several points throughout the book) draws the introduction. It grants its reader a squirmingly intimate look...

Here's what happened: I was at the library looking for Faith Erin Hicks, who writes delightful books that are very different from this one. But this book was alphabetically nearby, and so beautifully bound that I HAD to touch it. And then I had to pick it up and read the back. The wife-and-mother of the story dies. I said, "Hell no, I'm not reading this!" I am a wife-and-mother and am not drawn to stories conjuring my surviving family mourning me...

Not great. The story could have been tightened up a bit. The art could have definitely benefitted from more accurate rendering. The problems I have with the book are not due to the author's experimental bent, but rather from a technical, craftsman perspective. The story content was fine, meaning I didn't have a problem with the suicide or the mental health hospitalization. But if this was fiction, there were plenty of opportunities to make these ...