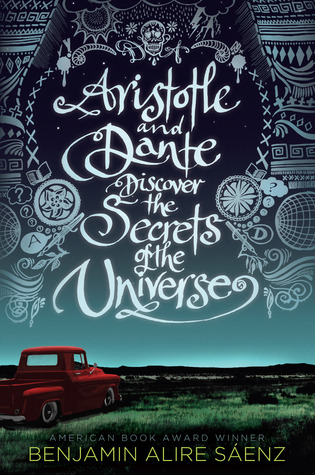 Aristotle is an angry teen with a brother in prison. Dante is a know-it-all who has an unusual way of looking at the world. When the two meet at the swimming pool, they seem to have nothing in common. But as the loners start spending time together, they discover that they share a special friendship—the kind that changes lives and lasts a lifetime. And it is through this friendship that Ari and Dante will learn the most important truths about th...
---
Details Aristotle and Dante Discover the Secrets of the Universe (Aristotle and Dante Discover the Secrets of the Universe, #1)
Title
Aristotle and Dante Discover the Secrets of the Universe (Aristotle and Dante Discover the Secrets of the Universe, #1)
ISBN

9781442408920

Author

Benjamin Alire Sáenz

Release Date
Feb 21st, 2012
Publisher

Simon & Schuster Books for Young Readers

Language

English

Genre

Young Adult

,

Lgbt

,

Contemporary

,

Romance

,

Fiction

Rating
Reviews Aristotle and Dante Discover the Secrets of the Universe (Aristotle and Dante Discover the Secrets of the Universe, #1)
3 STEPS TO BECOME ME, THOMAS:1. Obtain a copy of Aristotle and Dante Discover the Secrets of the Universe.2. Read the book.3. Fall in love. Fall in love with the writing, the characters, everything. Read past midnight, read in school, read everywhere and all the time. Slam the book shut and whisper-scream oh my gosh, oh my gosh, oh my gosh. At the end of the book, allow a single tear to run down your right cheek and say a silent prayer of thanks ...

YA realistic fiction.This book has won so many awards I could barely see the cover under all the stickers! After reading it, I understood why it gets so much praise. Sáenz tells the story of two young men, Aristotle "Ari" Mendoza and Dante Quintana growing up in El Paso, Texas during the 1980s. We follow their lives from age fifteen to seventeen, watching their relationship slowly grow, change and strengthen. Told from Ari's point of view,...

This book was so so beautiful.In actuality, it doesn't have a "plot". Not a main story or event that the characters center around. It's about a boy. It's a story about a boy who is sad and angry and can't figure out why. It's about him trying to love himself and others. It's about the teenage condition and mentality.Let's talk about why I loved it. Mainly, I loved the mood and tone. It made me feel mellow and warm. I liked that it was slow paced,...

I'M NOT CRYING YOU'RE CRYING

"The summer sun was not meant for boys like me. Boys like me belonged to the rain."I've heard so many good things about this novel and seen it all over Tumblr. I wanted to read this so badly, which is why I finally, finally got my hands on a copy and started reading right away. I also finished reading it right away.My thoughts:Well, first of all, I love the way I can identify with Ari and Dante, but especially with Ari. Sometimes his stubborn...

I have been saving this book. Just waiting for the right moment for us to come together and love one another. And this book is fine, I guess. It's okay. But I really don't see the magic that prompted so many five star ratings and literary awards. It's weird because I was sure we were meant for each other. A Printz Honor book featuring a gay romance between two quirky characters - one of whom is a rough guy who gets into fights and has a complicat...

Oh gosh, my feelings are all over the place.It started in a very captivating way. I liked the narrator. Aristotle-nicknamed Ari-is a calm fifteen-year-old boy who prefers being alone...He doesn't feel comfortable being around people his age but that doesn't necessarily mean he's a recluse. Everyone things he's sad and lonely but, really, he doesn't mind it.And then he meets Dante. Dante who made him see the world differently. Gosh, how ...

"Why do we smile? Why do we laugh? Why do we feel alone? Why are we sad and confused? Why do we read poetry? Why do we cry when we see a painting? Why is there a riot in the heart when we love? Why do we feel shame? What is that thing in the pit of your stomach called desire?"I think I rarely read an introduction to a book that touched me as much as this one did. It were exactly questions like that I asked myself when I was a young and confus...

i really thought this was going to be a slam-dunk of a book. all those prestigious awards and recognitions, a gay coming-of-age story that got the coveted dana stamp of approval, that cover….and it is not a bad book, not by a long shot; i definitely enjoyed reading it. it just doesn't transcend its YA status like so many YA books do. this is an excellent book for its audience, but for me, it doesn't have that crossover appeal that so many recen...

I'M CRYING. THIS BOOK WAS BEAUTIFUL.

"Maybe we just lived between hurting and healing." I put off writing this review for months and months. Not because I didn't want to write it - I did. Believe me, I've worked this draft over and over like it's my magnum opus. I just wanted to get this review right, and to really communicate exactly how much this book means to me. I failed, but I did my best. This review is going to be grossly personal, because this book meant so much to me p...

Such an amazing story about love, identity, and family. I really feel everyone should read this book.

Update Feb 2017Lowering my rating to 3 stars since I think 4.5 was super duper generous 4.5*I just didn't really love it as much as I had thought I would. Another case of a book being too hyped up for it to possibly live up to my expectations unfortunately. That being said I did still really enjoy it and thing it was a beautiful story, pretty similar to some other books I've read though.

okay, im bumping up my original rating because sometimes i find myself randomly thinking about this book, even months after finishing this, so obviously i liked it more than i initially thought i did. this was a sweet and touching story, but i keep coming back to the way the story was told. the writing was honestly of the highest quality. it was pure and raw and just so dang honest. i dont think i have ever related to a teenaged boy before, but t...

2nd read: March 2019 (audiobook)★★★★★I loved this even more than I did the first time. An absolute favourite.1st read: Sep-Oct 2017 (audiobook)★★★★★speechless.

That was just straight up beautiful. I put off reading it for so long because I saw everyone's reviews that they were crying and I thought this book would be depressing. But it's not. Not at all. I usually don't get as into books that are mostly dialogue, but this one totally pulled me in... I could feel everything Ari went through. And I know I'm like the last person left to get to this story, so I'll just say that the hype is real.

REREAD: JULY 2017Okay wow. Just wow. You know how there are some books you love but then when you come back to reread, you realise you truly adore them SO MUCH YOU HAVE NO WORDS??? Because I'm having that moment. This is an emotional, painful and beautiful book and I hAVE feelings. omg. I swear I love this 53 x more than the first time I read it. I need more stars??SMOL LIST OF THOUGHTS DURING MY REREAD:• I listened to the audio (narrated by Li...

Do you remember the feeling you get when you watch the sun rise or set?Do you remember the feeling you get when you're so happy that you felt like flying?Do you remember the feeling you get when you're so sad and alone that you felt like curling yourself into a ball and wishing you never had to move on?Do you remember the feeling you get when you're so mad that you don't know why your mad?Do you remember the feeling you get when you wished you kn...

Reread for a challenge in one of my groups and omg, I forgot how much I loved it! One of my favorite quotes: So I named myself AriIf I switched the letter, my name was Air I thought it might be a great thing to be the air I could be something and nothing at the same time. I could be necessary and also invisible. Everyone would need me and no one would be able to see me www.melissa413readsalot.blogspot.comThere are almost no words for how much I ...

you know what??? it was a REALLY good idea to reread this book I mean it's not like I sobbed myself to sleep at 1am last night or anything

"As Dante was watching me search the sky through the lens of a telescope, he whispered, 'Someday, I'm going to discover all of the secrets of the universe.'" All of the stars in the universe - an instant favourite. As some of you may know, I'm a sucker for a good coming-of-age love story, and this one completely delivered. I read this in one sitting. One. I don't think you understand, I'm ADHD, I hardly ever finish a book in one sitting. But thi...

I was fifteen.I was bored.I was miserable.As far as I was concerned, the sun could have melted the blue right off the sky. Then the sky could be as miserable as I was. This started off well, continued to, and was living up to my expectations, but then everything went down a little. I noticed things I didn't notice before. I wasn't even gonna bother with writing a review for this but I got 2 friends telling me to hurry up and write it although I ...

BEAUTIFUL. THAT WAS BEAUTIFUL.

So, this is probably going to be the last review I write bc I don't think I'm going to survive the boycotting my friends are going to inflict on me after I roast this book.Firstly, I want to apologize to the world. Secondly, WHAT THE HECK WAS THE POINT OF THIS BOOK??!!??So the beginning was cute. It was cute in a middle-school-book kinda way. But going in thinking this was YA and getting an onslaught of 99% CONVERSATION and 0% PLOT made me f...

This is the second time I've read this book now and I still have no words...This book is honestly the most beautiful book I have ever read. It's so precious and I deeply connect with it in a way that I don't often do when reading a book. This book truly is a blessing and I beg you all to read it. It's so important and well written and real and stunning and precious and true and perfect I just can't even express it!!!!

This book is so deeply beautiful. I don't really know how to identify what works so well about this book, but the emotions it inspired in me outweigh the emotions I have felt about... pretty much any other book. Perhaps it's the prose. The prose of this book is excellent without being overtly pretentious. It flows across the page like music. It's like... John Green except less forced and never tiring. It's just fucking gorgeous. Perhaps it's the ...

Ahh this was everything I hoped it would be and more. Full Review on YouTube: https://youtu.be/vtntRxbpS4c

This was such a quick read! I can definitely understand why so many people love this book - had tears in my eyes a few times!