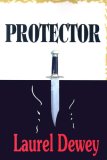 When the killer makes a bold attempt on Emily's life, Jane is chosen as the child's sole protector. However, Jane's disturbing visions continue and seem to portend a tragic end to the child's life. In order to solve this horrific crime, Jane must come face-to-face with her greatest fear in order to save Emily.
---
Details Protector
Reviews Protector
I got this for free in one of the Barnes and Noble Free Friday giveaways so I guess I can't complain too much.The story's not bad and the writing's not terrible but, if you're looking for an original storyline, this isn't it. Detective Jane Perry, like every other character in the book, is a walking cliche. This women is a hard drinking, chain smoking, foulmouthed genius who has no problem dashing a mile when the situation calls for it despite th...

Protector is the first of the Jane Perry series, and it is not a cozy, armchair read, but a book that will alternately keep you on the edge of your seat and disgust you. At times you want to shout at the character's refusal to overcome the horrible abuse of her past, and at other times, you feel her pain and are moved to tears.Jane Perry walks a razor-edge of sanity, and sometimes she slips just for a moment and acts reprehensibly before recoveri...

I'm a wee bit indecisive when choosing books. I put this on my to-read list a while ago and, in a moment of frustration because I was adding more "to-reads" to my list because I couldn't decide what to read, told my husband to look through my list and pick my next one and I'd read it – no questions asked. He had no idea what he started until he woke up at 2 a.m. and asked, "Are you STILL reading?" What? It was a good book! Serious...

Ugh this read like "Saving Grace" fanfiction with no beta help. The main character was unsympathetic and swore like a sailor, even in her own head and in front of children. She was basically white trash with a good job that she would have been fired from in the real world. There are a few moments of decent writing, but overall the dialogue was robotic and the voice confusing and it needed a really good editor.

I had heard good things about this author and the Jane Perry series.I was not real impressed. It was a good story, but I just never felt comfortable with the main character. Jane's mother died when she was around 10. Her father is a retired Denver cop. He was abusive to her and her younger brother, at one point almost beating her to death. As a result of her upbringing she started smoking and drinking around the age of 14. She's unfeeling, hard, ...

I read this last year and it's why I'm totally hooked on Laurel Dewey's books.PROTECTOR is a powerful, deeply emotional story about a damaged female detective, Jane Perry, who is forced by circumstance to protect a 9-year-old who witnessed the brutal murder of her parents and cannot remember any of it. Together, they share a powerful connection that neither is aware of until the end of the book. It's not just a "murder mystery." In fact, IMO, tha...

I love the main character Jane Perry. She is so my hero. She drinks too much, she smokes too much, she swears too much, she carries a glock and she is excellent at her job as a Denver police detective. All of the characters are well developed and the story seems so real. Yes I will read more of Janes adventures.

I wouldn't really call this a mystery. The majority of the book is about the evolution of the main character as she interacts and "protects" the child that she has been ordered to hide out with in a small town in Colorado. I didn't really like the main character. Jane is kind of a jerk. Yes, yes. She had an abusive childhood but does that mean she can threaten a 10 year old girl with bodily harm just because the kid is spoiled and bratty? I kept ...

While I eventually got sucked into the "who-done-it" of this book (although I had it figured out) by the end, I will not read another book by this author. I didn't like Jane Perry, the lead character, very much. She was abused by her father as a child and has huge emotional issues as a grown up. She's a nearly-out-of-control alcoholic, confrontational and just plain crude and rude. She's assigned to work with/protect a 9-year-old child, Emily, wh...

Laurel Dewey weaves an interesting storyline in her novel Protector. Jane Perry is a hard-working detective who has problems of her own. She is dealing with the murder cases of what seems to be average, everyday family members. But as the plot gets more involved, so does Jane's role. Her character is well-developed, and I like how Dewey used little Emily to actually help Jane see more about herself and her own shortfalls. The language used is har...

I read book number two some time ago. I forgot how much I liked the Jane Perry series book until I read this one. Jane Perry is an officer of the law with some deep demons from her past that cause her to have a hard time not only with relationships, but also with alcohol. And her demeanor is not much to be said for. She also has a special sense of what some may call seeing the future or deja'vu . In order for Jane to hang on to her career which i...

This starts out as a police procedural but morphs into a coming of age/finding oneself type story. The main character is a very conflicted woman with many foibles (heavy drinking, etc.) due to a troubled/abusive childhood. It doesn't help that she seems to be a bit physic which makes her think she is going insane.She turns out to be a very good police detective with a strong sense of responsibility.Some great twists and turns in the story, a good...

I really wanted to love this book, and in some ways, I did. However, the main character, Jane Perry, is completely unbelievable as a person. Due to abuse issues in her past, Jane's a very flawed individual, which should serve to illustrate her humanity (aren't we all very flawed?). Yet I felt like Jane was overdone. She was always about half a second away from a complete breakdown, and I just don't believe she'd be able to function in any capacit...

Awesome book! I am already scoping out the next one in the series. I have a gift card on the way so should be able to get it soon. Several exciting - can't put the book down - parts in the story. A little graphic on the bloody parts, but that is a small part of the story. Couple of sub-stories that are interesting and weave their way into the main plot. Similar in style to Patterson.

Really engrossing mystery, lots of twists, I wasn't sure I had it figured out til the end. The only complaint I had was the language. It is possible to tell a story, even a good story without pages and pages of profanity... Even still, I'm looking forward to reading more books in the series.

Excellent!!! Hard boiled gutsy main character. Could hardly put it down. Loaded up the next book by Laurel Dewey already!!!!

Loved it! I'll have to read more of her books. This was the best suspense book I've read in a long time!

Wow, what a great storyI did not want to stop reading this story, but life required me to take a break from it a few times. When I wasn't reading it I was thinking about it, my sign it's a great story. Recommend to anyone that likes to read.

Predictable, but fun thriller

I was pleasantly surprised by this book. I got it as a free selection on Free Friday from BN.com for Nook devices. This is the first book by author Laurel Dewey.The protagonist--Jane Perry--is a gritty, seasoned, alcoholic homicide detective for the Denver (Colorado) Police Department. She had a rough childhood as the oldest of two children. She and her younger brother had to live with their alcoholic father, who is a respected homicide detective...

As many of the other reviewers have said, I received "The Protector" by Laurel Dewey as a Free Friday selection. I typically enjoy the mystery genre and trying out new authors. Sorry to say, I did not enjoy this book.The main character, Detective Jane Perry, is a charicature of the driven, damaged police detective. She has it all: an alcoholic, chain smoking woman whose father physically and mentally abused her as a child and continues to verball...

"35 years of barely holding it together, she feared she might be unraveling" writes Laurel Dewey in her description of Denver homicide detective Jane Perry in "Protector". Detective Perry is a screwed up mess - she smokes constantly, cusses like a drunken sailor, and drinks a lot. And I mean A LOT! The digital version of this book was offered by B&N for free, so I figured I had nothing to lose by downloading it to my e-reader. I guess I enjoyed t...

I liked this book a lot. It's a murder mystery set in Denver. Detective Jane Perry is coming off a high-profile case where the Stover family died due to a car bombing right in front of her, and she was powerless to stop it. Besides that, Jane is an alcoholic trying to recover from the abuse from her father. Now she's drawn into another murder case: 9-year-old Emily Lawrence's parents are murdered right in front of her and she's the murderer's nex...

This book took me months to read because the first 75% of the book made it easy for me to put down. I picked the book up again a few days ago and am v. pleased I finished the story. The story is about Jane Perry, a no nonsense homicide detective who deals with her past through whiskey bottle therapy and shutting out anyone who wants to play a part in her life. Although Jane is perceived as a cold-hearted detective, Dewey gives the reader little s...

What to say about this book....the main character, a cop with problems named Jane Perry was by far one of the most unlikeable characters I've ever read about. She slightly redeemed herself by the end, but by then it was too late and I disliked her so much that I vowed to never read another one in the series.It was her treatment of her brother, his girlfriend and the young girl who's put under her protection that I found particularly despicable. P...

I really thought I was going to be recommending this one and then it just went off the rails.The protagonist put me in mind of the Holly Hunter character who was on a short lived TV series. (anyone remember?) Very damaged and tortured. Torn between good and evil. An alcoholic. Yet possessing an intuition that somehow protects her or touches spirituality.There were many references to body language which I enjoyed and seemed spot on.There were two ...

This was one of the "free fridays" selections by the Nook. I downloaded the book and then it sat in my "library" for awhile. I had just finished another book in a different genre and didn't want to read anything from that genre to detract from the awesomeness that was just read. So I opened my "library" and this popped up...I thought what the hell let's give it a try.Well I am glad that I gave it a try. It was a little predictable, I had the whol...

Protector is a pretty unique story. Alcoholic homocide detective Jane Perry is assigned to care for nine-year-old Emily Lawrence, who witnessed the murder of her parents and is now in hiding so she isn't next.This is a pretty long and multi-faceted story. Jane must learn to deal with her abusive, alcoholic father and their history, her brother, Mike, who she has always felt the need to protect, her partner on and off the clock, Chris, and now Emi...

I got this book for free from Nook, and I'm glad I didn't pay for it. It was Dewey's first book, which is very clear by the fact that she tried to pack EVERYTHING into it. All of the characters were exaggerations of a personality stereotype. All of your cop murder-mystery cliches were in the same book: alcoholic cop who suffered from abuse for years (OH! and also has premonitions that are only mentioned when coincidentally helpful), mafia, (spoil...

Jane Perry is a hard drinking, chain smoking homicide detective for Denver Police Department whose life is spinning out of control due to booze, a bad relationship with her partner and past abuse she suffered at the hands of her father. While she is wallowing in her own self-pity, she is assigned to protect a young girl who possibly witnessed the murder of her parents. A strange bond develops between her and the girl and Jane begins to confront h...