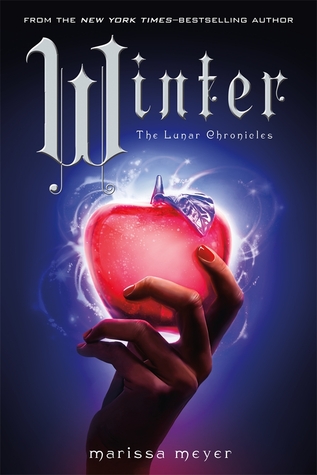 Princess Winter is admired by the Lunar people for her grace and kindness, and despite the scars that mark her face, her beauty is said to be even more breathtaking than that of her stepmother, Queen Levana.Winter despises her stepmother, and knows Levana won't approve of her feelings for her childhood friend--the handsome palace guard, Jacin. But Winter isn't as weak as Levana believes her to be and she's been undermining her stepmother's wishes...
---
Details Winter (The Lunar Chronicles, #4)
Reviews Winter (The Lunar Chronicles, #4)
"She was prettier than a bouquet of roses and crazier than a headless chicken. Fitting in was not an option." And... I've finished! *sob*The last few weeks have been a whirlwind of Lunar Chronicles. After finally giving in and picking up Scarlet, even though I hated Cinder, I just haven't been able to get enough of this series. And this longass final installment was a heart-pounding, fast-paced finale.You know, I actually checked and this is ...

THIS WAS AMAZING! It was exactly what I wanted from a series finale--epic, intense, emotional, and satisfying! Just like with the previous books, I loved the world, the characters, the story, and the writing. This is one of my favorite series of all time, and I'm so so happy with this beautiful conclusion!If you like sci-fi, fairy tale retellings, or you just want to read an epic & satisfying series--YOU NEED THE LUNAR CHRONICLES IN YOUR LIFE!

I'm going to miss these little train wrecks. I'm going to miss the banter between Cinder and Thorne. I'm going to miss all the relationships & friendships. I'm going to miss my sassy queen Iko. I'm going to miss this series so much. AHHH. THIS IS ALL JUST SO BITTERSWEET. WOW.UPDATE - Full video review here: https://youtu.be/KIcWKgTN294

WHAT A FANTASTIC FINALE!!!!!! I LOVED IT. HERE'S My full review/ discusison booktalk! https://www.youtube.com/watch?v=qaaxw...

After finishing the last page, I got a little teary. From finishing not only a fantastic book, but also one of my favourite series. I don't really know what to do now...

WINTER IS GOALS. LOVED EVERY SECOND SPENT READING THIS. A MASTERPIECE.

"Even in the Future the Story Begins with Once Upon a Time." Once Upon a Time, there was a lonely girl who dreamed too much. Her name was Katerina. She used to gaze at the sky and observe the faint light of the moon. One night, she watched a falling star and made a wish. She wished that she would belong. Escape. Travel. Feel. Little did she know that her heart's desire was about to be granted. For when the star landed on Earth, it took a wom...

4.5/5A great conclusion for such a wonderful series! A TAD underwhelmed by the ending, but it was action packed and all of my little babies ended up where I wanted them, so I'm happy!

AFTER READINGI write this review 3 months after finishing the book to give me the space to think about why I was so disappointed by this book so much. This review is definitely not representative of the majority opinion, and one I never expected to hold before reading this book. Don't get me wrong though. I was SO EXCITED for this book as it was the conclusion to what is a wonderful series. Maybe I was expecting too much, or perhaps I have change...

RE-READ AUDIO 2017. This narrator nailed it! 💕MY BLOG: Melissa Martin's Reading ListI CAN'T BELIEVE IT'S OVER! I was so happy with the way this book went and the way it ended. Well, one part made me sad. There were parts that I wanted to yell, throw things, hulk smash, off with heads and so forth and so on, but I digress. I don't want to give out any kind of spoilers since so many people are reading this book right now or are going to be readi...

Reviewed by: Rabid ReadsI've been a champion of THE LUNAR CHRONICLES for years now. I saw CINDER featured for months and months on Fantastic Fiction (b/c before I started using Goodreads), and I was simultaneously intrigued and horrified by the concept of a sci-fi YA retelling of a fairy tale. Honestly, I don't remember what finally convinced me to pick it up. I was just glad I did.Now I'm not so sure. The first two books were fantastic, and wh...

3.75* if I'm being specificI really enjoyed this, it was a great action packed conclusion but boy was it long. It kind of felt like the same thing over and over again after a while. Honestly I wish Fairest hadn't happened and this had been split into 2 books instead. The ending was meh but overall this was a very enjoyable series!!

I'M NOT CRYING, YOU'RE CRYING

4.5 stars "I can't believe this is happening. I can't fight like this, or start a revolution, or be a queen. I can't do anything like this. I'm literally broken."Iko settled a hand on Cinder's shoulder. "Yeah, but broken isn't the same as unfixable." Winter isn't perfect. Marissa Meyer has some very big shoes to fill. Expectations are high, fans are passionate... but I do feel she left us with a largely satisfying ending.I know what a lot of non-...

My Reviews for this series:•Fairest•Stars Above•Cinder•Scarlet•CressThis finale to the Lunar Chronicles finds Cinder on a mission to take her rightful place on the throne of Luna, as she is the lost princess Selene.Winter faces a major pacing problem. It's over 800 pages and a lot of it is just blah blah. It reminds me of a video game with too many tedious side quests and overlong cutscenes that you can't skip through. While there's ple...

That's how you end a series. I am in love! A star for each one of my ships:*Scarlet & Wolf, forever my favorites. They, I think, have had the roughest journey of all, but they're love also seems the strongest. They never waver, especially in this book. *Cress & Thorne, who fully stole my heart in Winter. They are adorable beyond words, and so very, very perfect for each other.*Winter & Jacin, with their childhood love turned into something far fi...

"Broken isn't the same as unfixable."A grand finale!This had everything I'm looking for in a conclusion of a series. Everyone got a satisfying and even happily ever after. Satisfying is actually the best word to describe this novel. Often the last installment of a good series is a let-down ( End of Days or Clockwork Princess).But this one had it all: suspense, romance and diversity (even though I really missed glbt-characters).Great world-buil...

4.5/5I HAVE A LOT OF FEELINGS DON'T TOUCH ME RIGHT NOW.I really really loved this book. The character interactions were ON POINT as always. I love this cast of characters so so much and I care SO MUCH ABOUT THEM. World building - YAS. I loved reading about Luna and picturing everything, especially the throne roomI can't really totally give it a 5 stars because it just felt so long and like so many things happened at the beginning that there wasn'...

No one touch me, I'm very fragile right now!!!Oh my GaaawwwwdddddddWhat was that?! What splendid tragically heartbreaking exhilarating heart warming masterpiece of a conclusion was that? Okay, deeeeeeppp breaths.........Now to begin my review; first of all 823 pages of a story it was indeed. This was easily two books fit into one. Secondly they all finally got their happily ever afters, so I'm a messy ball of goo right now. The book started of wi...

Solid 4.5 STARS. "Do me a favor, Princess. The next time someone says they're going to kill you, don't just let them." I finished this! Again. They left me. Again. It's a bittersweet feeling. On one hand, I am completely satisfied with how Meyer decided to tie things up, but then on the other, i wouldn't have minded another book. Things felt a little rushed at times? The only complaint I have is Thorne and Cress's relationship. It feels wro...

So PERFECT! This will always be one of my favorite series! Highly recommend if you love fairy tale retellings or sci fi!Full discussion with spoilers will be written tomorrow! Its late!

Buddy Reading the fourth and final book of the Lunar Chronicles with none other than Blue Boo Bear <3Rating: ★ ★ ★ ★ ★ / 5 starsLead Male Character: ★ ★ ★ ★ / 5 starsLead Female Character: ★ ★ ★ ★ / 5 starsPlotline: ★ ★ ★ ★ ★ / 5 starsGenre: Dystopian, action, adventure, fairytale-retelling, and romance Will I recommend this book to others?: YES!Will I reread this book?: Definitely! Overall story summed up in o...

4.5 stars. Satisfying ending, great series overall. Had fun.

4.5 Stars. My heart is happy. This series is precious.First off, the plot of this book was pretty nuts - packed to the brim with action. Completely wild and stressful. I was in CONSTANT worry about all my little book darlings. Honestly there were very few dull moments. Is it completely contradictory for me to say this book was light and sweet but also intense and full of feels? Winter + Jacin Alright, I'm probably in the minority on this one. ...

WrensReads Review:This is one of the hardest reviews for me to write. I have so many feelings and even after a week of finishing it, I still don't know where to begin or how to gather my thoughts into actual words. So here is me trying my best.It was absolutely wonderful. This whole universe that Marissa Meyers morphed into her own is wonderful. Cyborgs, moon-people with brain manipulation (that is actually more scientific than magic) and the fig...