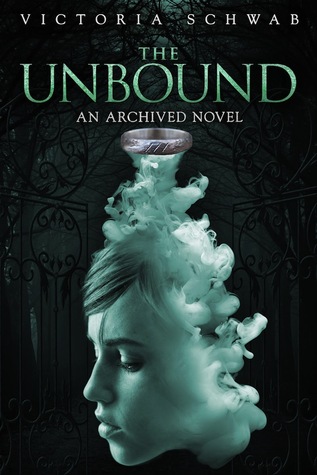 Imagine a place where the dead rest on shelves like books. Each body has a story to tell, a life seen in pictures that only Librarians can read. The dead are called Histories, and the vast realm in which they rest is the Archive.Last summer, Mackenzie Bishop, a Keeper tasked with stopping violent Histories from escaping the Archive, almost lost her life to one. Now, as she starts her junior year at Hyde School, she's struggling to get her life ba...
---
Details The Unbound (The Archived, #2)
Title
The Unbound (The Archived, #2)
ISBN

9781423178200

Author

Victoria Schwab

Release Date
Jan 28th, 2014
Publisher

Hyperion

Language

English

Genre

Fantasy

,

Young Adult

,

Paranormal

,

Mystery

Rating
Reviews The Unbound (The Archived, #2)
I liked this even more than The Archived! It expands the world a lot, and I simply adored the new characters we're introduced to. Also, Wesley is definitely new book boyfriend material. I know this series was meant to have a third instalment, and I truly hope we get one someday. But I was very happy with how this book ended.

"Smiling is the worst thing you can do if you want the world to think you're okay when you're not."So this could've been the perfect book but there was one big thing - or better, a character - which annoyed me to the point where I wanted to stop reading: Owen Chris Clarke. I thought this chapter was over and I hoped I would not have to see him again in the sequel, but I did. Much to my disappointment he had a huge impact on the plot. Apart fr...

Buddy read #2 with the Knightess The best feeling ever is when a book and its characters and its plot and its setting captivates you to a point where you'd rather live forever between its pages than return to real life. And this book has done that for me. The second book in the Archived series, Unbound continues a few weeks after we left book one. Mackenzie is about to begin school at the prestigious Hyde School and despite her very norma...

To all the people: who like me, thought A Gathering of Shadows was the best Victoria Schwab, or anybody for that matter could do?I love everything about this book. Everything.→ I love Roland.→ I love Wesley Ayers.→ I love Dallas.→ I even like Cash, poor guy. → But above them all, I love Mackenzie Bishop. You know why? Because as Roland would say, she makes things infinitely more interesting. (Which reminds me, this was BR #2 with Joshua...

ALL! THE! STARS!Wowsers! I mean, seriously, I didn't think it could get more awesome than The Archived, but holy wow, it SO DID! Lovedlovedloved it! And now I must devour every known work by Victoria Schwab. Every. Known. Work._______________________________________I re-read The Archived prior to picking up my prized galley of The Unbound because, well...because of the Wesley Ayers. Among other things.  But, gawd, if I wasn't stoked  for th...

"The funny thing about armor is that it doesn't just keep other people out. It keeps us in. We build it up around us, not realizing that we're trapping ourselves." Oh guys, I loved this book much more than the first one, so I'm very happy to have continued with the series, although I feel that it wasn't very smart of me, since now I want more and I've realized that there are no more books after this one for the moment and I'm just like WHY!?...

I enjoyed The Archived so much I had to move on quickly to its sequel. There's always a danger that the second book in a series does not match up to the first but this one does. It actually reminded me a lot of Twilight since our heroine starts a new school and immediately gets herself into a bit of a love triangle. However the action outside the school quickly picks up and the last part of the book races to a dramatic and very satisfying climax....

Rating: ALL THE STARS!!!!This series is so unique, action-pack, humorous, and it keeps you on your toes. I wish more people would give this series a chance because this book it underrated/heavily slept on. Although, because not many have experienced this amazing book, I feel special for being a part of the small few :). But for real...READ!!! IT!!!NOW!!! P.S. Wes is a very pretty excuse. Hehe

No sequel trauma here! What a knockout!!Back with our independent heroine Mac, we start off with a new beginning, a new territory: school. Mackenzie is trying to cope with the trauma she experienced in the previous book with Owen, while attempting to take control of her life. Easier said than done in her case.She finds it of course difficult since she suffers from morbid night terrors involving Owen that start to bleed into her waking life making...

Thank goodness this didn't fall victim to Second Book Syndrome. While I do think I enjoyed The Archived a tiny bit better than The Unbound, this was still up there as a tightly-plotted and well-written book. The best thing about both books is that the mystery is really solid. My mind was constantly trying to figure out who the bad guy was or how things would turn out in the end, but it surprised me. Also, more Wesley FTW! The thing that bugged ...

2.5 stars - SpoilersNot as good as the first book, it was mostly disappointing. The latter half of The Unbound was quite good, unfortunately the first half was a struggle to get through as nothing really happened except the main character whining non-stop about her life. -What's what: Mackenzie is a Keeper, she finds Histories (escaped ghosts of sorts) and returns them to the Archive where they're kept.In this one Mackenzie starts her new school....

Brilliant!2nd book and it's sitting right next to the first one on my 2017 favourite shelf!Ms Schwab has done it again. I loved the first book, it was so different to anything I've ever read before. The fact that Histories are people that have died and they are stored like books in a library was one of the reasons this series caught my attention. The first book delved into the mysteries right away and the way the story played out had me anticipat...

(4,5)Victoria Schwab strikes again! Every time I finish one of her books I get so emotional, and this time is no different. This sequel was so good! I just hope in a third book, cause I've grown very attached to this series and its characters and I'm not ready to leave them yet.

"The funny thing about armor is that it doesn't just keep other people out. It keeps us in. We build it up around us, not realizing that we're trapping ourselves." Another beautiful installment to this series, this book is the second book in the Archived series or duo-logy. (I hope it becomes a trilogy, please make it a trilogy!) This was just so good, I am so happy I read this book on Christmas because it made my day. After writing my last...

I love this series and I can't believe I don't hear talk of it more often!! Such a unique world! Perfectly dark and mysterious...and that's why Victoria Schwab is the QUEEN!!! Great ending...I felt like I wasn't left with a major cliffhanger but I definitely want more!!

I love this series. So much. This was a great sequel to a great book.Short list of things to love:- The world building was fantastic! (I mean, it's Schwab, so of course.)- The characters not only are really likeable, but also had some GREAT development in this book! They felt way more unique in this one.- The plot was murderous and exciting!- The new side characters were fantastic too!- THE BANTER!- Literally everything.

Prep school Wesley was a thing that I never knew of but holy hell, am I glad it exists. You'll never get a real review from me. I put this book off for exactly a year. I just needed to know Wesley's real name. But instead I was hit by a truck of emotions. Apparently I was so caught up the first time that I didn't even rate The Archived. Why was past!Jess so lazy? Half the load of words that I've read in my lifetime aren't even recorded because ...

Buddy read with the adorable Anna and the fabulous Elena *4.5 Stars* "Open your eyes," he warns.I drag them open and find his face inches from mine. "Why?" I growl. "So I can see the truth?"His smile sharpens. "No," he says. "So I can watch the life go out of them."And then he drives the knife forward into my chest. Well, well, well.....color me surprised. You see, I received an ARC after finishing book one of this series, so immediately afte...

6 stars. The good sis Victoria Schwab has somehow gone and done it again. I love how every sequel she writes is like its predecessor but more thrilling, sexier, and a whole new level of hell. Basically, book 1 on crack. So, for the approximately 3 people who don't know, Victoria Schwab is the best fantasy author in the modern world. The Archived is a duology she wrote before making it big. I don't know why this one wasn't as successful as her lat...

I don't think I am capable of writing an organized review right now, so I'm just going to list some things I liked and disliked. Maybe I'll do a proper review for this book and The Archived one day, but right now I am horribly stumped. Things I Liked About This Book: Roland (view spoiler)[DOESN'T DIE! (hide spoiler)] Y'all have no idea how happy this makes me, because he's like a father figure to Mac and you know what happens to father figures?...

Whew. That was great!! 4 stars!! Review to come.

Can Victoria Schwab be any better of a writer? This book was everything I hoped it would be and more. I just want to live in the world of the Archived.

The Unbound takes off where the first book ended. Although the novel started off very slow, as the story took off, it elaborated through the impressive plot and writing. This novel is far more darker than the first installment, very much sinister in certain aspects. Mackenzie battles with post-traumatic stress disorder. After the scandal and aftermath of Owen she starts to drown in her own fear and is unable to distingish between what is real and...

"You can't be two people. You end up being neither." Dark, so dark. Beautifully morbid. At times downright sinister. Perfect!This sequeel differs very much from the first book. In the atmosphere, the setting, the characters' behaviour. It is much darker, for instance. Mackenzie Bishop is still recovering from the events of the summer when school starts. She is haunted by nightmares that seem to be too real to be only nightmares. Slowly she lo...

Review also posted at Young Adult HollywoodIt's one of those days that I wish my review would write itself and I hope it would do justice in describing how brilliant The Unbound is. You have no idea how I nearly cried when I got the approval to read the E-arc of The Unbound. I could have sworn the angels were weeping with me.The Unbound follows up where The Archived left off, as Mac starts her junior year at Hyde School. She's struggling, try...

Before reading:DID SHE MOVE? IS THERE NO MORE WESLEY? WHY VICTORIA SCHWAB WHYYYAfter reading: GAAAHHHH!!!!! I AM BOMBARDED WITH SO MANY FEELS. AND WESLEY O M G AAAAAAAA.(review to come VERY SOON)FINAL REVIEWARGH OKAY I have no idea how to start this review but okay let's do this.I always have a fear for sequels. Fears that the second book would not achieve the greatness of the first or that it won't be as good. BUT… The Unbound was fantasti...

Question time: when dreams and nightmares and life align together, how do you break free, how do you tell real from unreal? How do you find the force to move on when you are breaking apart? Victoria Schwab writes exquisitely, there's such a vivid world created, so complex and dark and full of mystery and anguish. The mental breakdown of the main character was beautifully described and (at least in my case) it's a wonderful feeling to have to ...

❤ Buddy read with my awesome friend Chelsea❤Rating clarification : 4.5 starsSee, if I had wondered if I'd love The Unbound as much as The Archived (I never doubted), I'd be smiling big time right now, because man, I loved every single page of it. That's not flawless. That's not the best book I've ever read. But it did meet my ridiculously high expectations. Almost completely.Meet me! Future Victoria Schwab's books stalker. What? I guess she ...