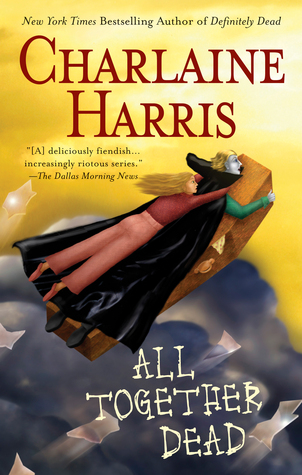 Louisiana cocktail waitress Sookie Stackhouse has her hands full dealing with every sort of undead and paranormal creature imaginable. And after being betrayed by her longtime vampire love, Sookie must not only deal with a new man in her life—the shapeshifter Quinn—but also contend with the long-planned vampire summit. The summit is a tense situation. The vampire queen of Louisiana is in a precarious position, her power base weakened by hurr...
---
Details All Together Dead (Sookie Stackhouse, #7)
Reviews All Together Dead (Sookie Stackhouse, #7)
You know the worst thing about these books? They're like cotton candy. On face they look incredibly filling and satisfying but then you bite into them and the fluffy candy mass turns into so much sugar and you're just as hungry when you're finished as you were when you started. Except now you're out of money and your mom wants you to ride the Ferris wheel with your little sister.I've devoured all seven of the Sookie books and now I want more, exc...

(B+) 76% | GoodNotes: With more scope and exposition, it's a sort of locked-room mystery (not really) solved by speculation and conjecture.

OK, so I love the HBO series "True Blood" and wanted to learn more, so, like a fool, I went to Amazon.com and bought a specially priced box set of the first 7 books. What. A. Mistake.The first two books of the series, "Dead Until Dark" and "Living Dead in Dallas" were passable. The author certainly has a great imagination, which is the foundation of great storytelling.But the main character, Sookie Stackhouse, telepathic waitress from Bon Temps, ...

Snooze fest. The avalanche of characters and the painful descriptions of the wedding just came so ridiculous, and I had to skip many pages. I am not the biggest fan of Quinn -- so that could be my reluctance to this book. I just wish Sookie would go to Eric and stop fighting her feelings.

I quite enjoyed this book, although it did remind me a bit of 'Living Dead in Dallas' where Sookie is also asked to go with the vampires to use her telepathic abilities, and finds another telepath called Barry, who also shows up in this one.This book was a bit slow and heavy-going in places, but I still enjoyed it, and I liked the unexpected twist at the end, as I really didn't see it coming! (view spoiler)[ Who knew that the Fellowship wou...

**POSSIBLE SPOILERS**Again, I have to mention that this series is in desperate need of a decent editor. I mentioned this in my review of Book 5 (Dead as a Doornail): "Jason's boss is Shirley (Catfish) Hennessey in Book 4, but in Book 5, all of a sudden he's Shirley (Catfish) Hunter. What?!?" In Book 7, we're now back to a version of Hennessey, although it's misspelled as "Hennessy". This series as a whole, is interesting, mysterious and sexy. I f...

One of the consequences of reading these in rapid succession is that it's easier to catch continuity errors. I'm on Chapter 2 and have spotted two. Harris has Sookie think about how she's 26, but Sookie was 26 in the very first book and more than a year has elapsed since the events in that book. She also thinks about how Selah Pomphrey has been dating Bill for "weeks," but Selah has been dating bill since Book 5, and that book was set in late win...

2019 Re-ReadAnother evening, another Sookie Stackhouse book. At least I managed to cook some dinner last night, although my kitchen is still a mess. I have to find a way out of this groove I have found myself in—there are other things I need to be reading and other tasks that need my attention. But I may only find the way out by finishing up this series as a re-read.I've always felt that this is the book where Sookie proves that she has good ...

Yet another of the thrilling adventures of prize bitch Sookie Stackhouse. She is certainly on form. There are half a dozen pointless descriptions of the characters' outfits and a horrendously awful sex scene in the first 30 pages alone. Sookie continues to bitch about every other woman's sex life and fashion sense, despite the fact that in both cases her own are questionable at best. Meanwhile what plot there is slowly stutters into life. Soo...

My absolute favorite Sookie stackhouse to date. A lot of stuff happens in this book, but towards the end the action is great and goes somewhere you weren't really sure Ms. Harris would take you. Sookie travels to a Vampire Summit with Queen Sophie-Ann's entourage, which lends to some hilarious moments with different vamps and the fangbangers at their side. Like I said before, there is a lot more action then in previous books which is just excitin...

5 All Together Dead Stars Well, well Sookie gets herself into some pretty crazy predicaments. I have to say I really liked the Vampire Summit, and how Sookie helps and gets put into some danger. Quinn the shifter is yummy and I liked that he seems to really be in lust with her and she with him. Andddd then poof Erik comes into play and they end up getting closer than they were. Sookie is starting to hear Vampire brains and that can be verrry dang...

If i pray every night, and hang around with humans, and leave the Weres alone, i'll be okay. Murder,court,law,lies,bombs,bloood... It would have been more help to me if he'd come ten minutes earlier... or not at all. Useless as always. Is Quinn supposed to be interesting and are we supposed to care about his relationship with Sookie? And i thought that her relationship with Bill was boring.I feel like the start wasn't THAT strong but i was really...

Best one in the series! Easy read, Eric comes center stage for sure. A Bill fan no longer am I.

So, there's a big event that has a lot of protesters who want to kill all of the people at the event. All of the people attending this event are staying at the same hotel which supposedly has great security, because, again, there are crazies who literally would LOVE to kill everyone in attendance. Soon after arrival, each and every party gets a phone call from the management of the hotel saying that there is an extra piece of luggage that belongs...

Still very entertaining, but I was disappointed by her adding creatures from another dimension that could become invisible. It was a bit too much for me. The parts could have been handled by other supernatural creatures without going so far afield. It went too far beyond the scope of the world she's created without a good reason.Also, the setup by the Fellowship was too transparent & unrealistic. The security lapses were just too gross & the sche...

Rating: 3.4* of fiveThe Publisher Says: Louisiana cocktail waitress Sookie Stackhouse has her hands full dealing with every sort of undead and paranormal creature imaginable. And after being betrayed by her longtime vampire love, Sookie must not only deal with a new man in her life—the shapeshifter Quinn—but also contend with the long-planned vampire summit.The summit is a tense situation. The vampire queen of Louisiana is in a precarious pos...

All Together Dead is the seventh full-length novel in the Sookie Stackhouse series by popular American author, Charlaine Harris. As well as preparing for imminent weddings, Sookie has to get a wardrobe together for the Vampire Summit to be held in Rhodes. The Queen of Louisiana, Sophie-Ann Leclerq has engaged Sookie's services as a telepath to assist with various negotiations and deals. And of course, Sookie is the only witness to the murder of...

I love this series. I also love the True Blood series that's based on this series of books. I've always been a believer in not reading the book if you're going to watch the movie, read it afterward but for this series the rule doesn't apply. They've changed the series so much from the book that I can read the books and still enjoy the HBO series. I enjoy both and this book follows right along with the previous Sookie Stackhouse installments. Ms. ...

I haven't read this in a couple years, but I remember thinking it was my favorite since book 4, Dead to the World. Eric is in it more too. If I'm remembering correctly, there's a lot more action and excitement. There's more Quinn in this one and Sookie meets another telepath, Barry the Bellboy.At the end of this one is a fantastic scene involving one of the Queen's children, Sookie, and Eric. Sookie's bond with Eric grows at the end because (view...

This book was a hit for me. I love this series, even though it doesn't make me smarter or a better person for having read it. And even though it's totally unbelievable and Sookie is nothing like me, and a little silly.In All Together Dead, she's heading to the Vampire summit, the Vampire Queen of Louisiana(that's right, Queen of Louisiana, see above paragraph)plans to use Sookie's telepathic abilities. She and Quinn are hot and heavy and Eric and...

Και αν το κομμάτι της ποιότητας μέσα μου μείνει scorched earth για πάντα?Κι αν όλα αυτά τα cringe με αναγκάσουν τελικά να κάνω μπότοξ?Κι αν πάω να ανοίξω κανα άλλο βιβλίο και δεν ανοίγει?Notreadathon18: Ένα βιβλίο που διαβάσατε στην τουαλέτα και μετά σκουπιστήκατε ...

This book was a letdown after the run of Sookie books which I thoroughly enjoyed. The bridal shower which even Sookie didn't enjoy was a big letdown.It was fun to see Barry Bellboy again when he showed up at the Summit with the Dallas contingent. But the vampiric political shenanigans went on too long for me although many readers probably enjoyed this part. The various vampire royalty gushing about how glad they were to see someone and thinking h...

4.5 stars.Pretty much from start to finish, I adored All Together Dead. Sure the reveals in it were pretty damn glaring but I definitely was entertained. It was interesting how Harris wrote it with the aftermath of Hurricane Katrina. It certainly brought more dire circumstances for the Louisiana group at the summit. Sookie's romantic life wasn't holding this book down at all, it's quite obvious, at least to me, who she's meant to be with. ERIC. J...

Ahhhh such much action! The way the explosion was written was just perfect, the scene played in my mind just like an action movie. I'll definitely give Charlaine Harris credit, she knows how to write her battle and action scenes, in a way that's perfectly descriptive - not under or overly so. I wish that Sookie hadn't taken so long to figure out the entire thing though, she sort of just kept it all locked up in her mind for ages - it frustrated t...

For those who can't stand it any longer, Sookie and Quinn finally have some quality time in the beginning. Then her life goes back into the usual chaos she seems to thrive on, in this case a vampire summit during which A LOT of bad things happen and Sookie manages to entangle herself with her former beaus again. I liked this one because there are so many new characters and yet you get a strong impression of each one. Some old characters reveal a ...

This one again culminates in a battlefield of a climax. I suppose Bill will no longer be part of the bizzarro love triangle, as Quinn the were-tiger (lame) debunks Bill. Eric is still a contender though...Anyway, this one seemed a bit smaller a story than the others... probably because it all takes place in a hotel. The vamp summit is, of course, very eventful and the story continues with alligences being switched left and right and new character...

Every time I take a break in between one Sookie book and the next I have to reacclimate myself to the heinosity. This series really is quite stupid. But I can't help myself, I love it. Sookie's thought process at the beginning of the book over the merits of warm penis vs. cold penis was way too gross for me to handle. For real. But otherwise this one was alright...especially once the fireworks started at the end.

Oh, COME ON is there a person on the planet that doesn't (view spoiler)[find an unclaimed suitcase suspicious?? Particularly post 9/11 (hide spoiler)]. Grow some fucking BRAIN CELLS already Sookie. You've just made yourself accessory to (view spoiler)[an act of terrorism. (hide spoiler)] And that waiter that is purposefully avoiding you maybe you should, you know, find out why? Ditto for (view spoiler)[Jake (hide spoiler)]. Because of course the ...

All Together Dead4 StarsSookie accompanies Sophie Ann, the Queen of Louisiana, and her entourage to the Vampire Summit in Illinois. There she must contend not only with the political machinations of the various vampire factions, and the murder of the Arkansas contingent, but also a possible terror attack that may wipe out everyone she knows. The mystery in this installment is one of the more predictable and could have been resolved more easily if...

Sookie Stackhouse is becoming quite the popular waitress - for her telepathic gift, mostly. She accompanies the vampiric Queen of Louisiana and her entourage to the vampire summit near Chicago, in order to read the minds of the human hangers-on to the other vampires. In the aftermath of her disastrous wedding and Katrina, the Queen is facing a trial over the murder of her vampire husband, Peter Threadgill, and the dispute of his territory, Arkans...