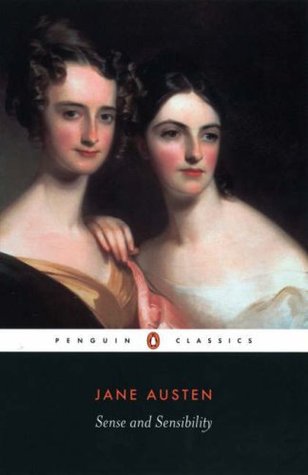 'The more I know of the world, the more am I convinced that I shall never see a man whom I can really love. I require so much!'Marianne Dashwood wears her heart on her sleeve, and when she falls in love with the dashing but unsuitable John Willoughby she ignores her sister Elinor's warning that her impulsive behaviour leaves her open to gossip and innuendo. Meanwhile Elinor, always sensitive to social convention, is struggling to conceal her own ...
---
Details Sense and Sensibility
Reviews Sense and Sensibility
I love Jane Austen. I LOVE Jane Austen. I LOVE JANE AUSTEN!!I…LOVE…JANE…AUSTEN!!I……LOVE…..JANE..…AUSTEN!!I still twitch a bit, but I'm getting more and more man-comfortable saying that because there no denying that it's true. Normally, I am not much of a soapy, chick-flick, mani-pedi kinda guy. I don't spritz my wine, rarely eat quiche and have never had anything waxed (though the list of things that need it grows by the hour). ...

Here is this book in a nutshell:Marianne and Elinor: 'O, why are we not married yet?'Hot Guy #1: 'Let's get married.'Elinor: 'Yes, let's.'Hot Guy #1: 'Nah, forget it.'Elinor: (pines)Old Guy: 'Let's get married.'Marianne: 'No, let's not.'Hot Guy #2: 'Let's get married.'Marianne: 'Yes, let's.'Hot Guy #2: 'Nah, forget it.'Marianne: (pines)Hot Guy #1: 'Hey, let's get married.'Elinor: 'Hark! Now I may stop pining!'Marianne: 'This sucks. I am way hotte...

Money. It's all about the money. I mean, why else would you marry someone?In Sense and Sensibility there are three major factors beyond the usual considerations of appearance, personality and character conduct when looking for a marriage in 19th century England. Indeed, what the Dashwood sisters look for- well Elinor really because she has more refined tastes and is far more discerning in regards to men- is a man's opinion on literature and his...

Jane Austen's first published work, Sense and Sensibility, published in 1811, is more straightforward than most of her later works. The story focuses on two sisters, ages 17 and 19, and how their romantic interests and relationships epitomize their different approaches to life. The older sister Elinor embodies sense, good judgment and discretion.Her sister Marianne is emotional and volatile, following her heart with a supreme disregard for what...

RE-READ September 6, 2015This is one of my all-time favorite books. I like it even more than I do Pride and Prejudice.Everyone goes crazy over Lizzie Bennett and idolizes her, but my role model will always be Elinor Dashwood. She is a great sister, a trustworthy confidante, someone who always acts with honor and compassion. She is smart, fiscally responsible, stoic, and strong. I admire her so much and wish I could be more like her in real life.I...

Sense and Sensibility is dense with inactivity.

"The more I know of the world, the more I am convinced that I shall never see a man whom I can really love. I require so much!" Yes. So much yes.

The story of two teenage girls with romantic troubles, caused by unreliable men (they have dark secrets, but who doesn't ? ), in 1790's England, calm Elinor Dashwood 19, and her younger sibling , by a couple of years, the emotional, Marianne, 17. When their father is no longer living, all the family, including the mother, Mrs. Dashwood and third sister, Margaret, 13, must vacate their mansion, in Sussex, Norland Park, a large estate, which many g...

This is the third Jane Austen book I've read and it's by far my favorite. I love the story, love the heroines, love the MEN I just love everything about this. There was so much happening that it never felt slow or boring and the SUSPENSE and REVELATIONS at the end of the book were so fantastically done. AGH JUST SO GOOD.TIME TO GO WATCH THE MOVIE.Reread mid-Jan to early Feb 2016 for AustentatiousSTILL MY FAVORITE

[reread] 01.29.18: added another star this time roundMy penultimate Jane Austen novel. (nooooooo!) For me, it took too long to get going. Not until they arrived in London that I started to get curious about how the story will unfold and what will happen to the Dashwood sisters. Elinor, I liked well enough but I found Marianne to be too self-righteous and annoying. She did turn a new leaf in the end but I think it came too late for me to start lik...

'Know your own happiness. Want for nothing but patience -- or give it a more fascinating name: Call it hope.'What does it mean for one to be 'sensible'? As we are all individuals, with our own needs, is it sensible to always act according to our countenance (to steal a lovely phrase from Austen), to keep true to ourselves, or is there a code of manners that we should adhere to in order to maintain a proper course of action? Austen's aptly title...

This my first Jane Austen.Okay, I LOVED this book. I don't even know why. It's about . . . girls who like boys! Who are jerks! Um, the end! But it was funny. But clever funny, which is my favorite kind. And I enjoyed deciphering the late 18th century prose. It made me feel smart, just to figure out what she was saying half the time!Also I love all the wacky British society stuff. Like sending notes! And walking places! And having breakfast at oth...

940. Sense and Sensibility, Jane AustenSense and Sensibility is a novel by Jane Austen, published in 1811. It was published anonymously; By A Lady appears on the title page where the author's name might have been. The novel follows the three Dashwood sisters as they move with their widowed mother from the estate on which they grew up, Norland Park, to their new home, Barton Cottage. The four women must move to a meagre cottage on the property of ...

New review to come eventually. Can't quite put it all into words yet. * * *ORIGINAL:Ah, the third member of the Holy Trinity of Austen. Also deservedly so. This is my intellectual favorite of the Austens. By that, I'm not calling it "intellectual" I'm just saying that taking emotional attachment to other books out of it, this is my objective favorite Austen. I actually believe that the story of the women is better than Pride and Prejudice. Go on,...

Hmmm, how to critique one of the most revered writers of romance literature? Now, before all of your Jane-ites get on my case for being unromantic or whatever, let me say only that unfortuantely, I read "Persuasion," Austen's last novel, and found it to be one of the best books I've ever read. Now having read "Sense and Sensibility," I will say that it truly doese feel like a first novel, as if the author was still trying to find her voice. So I'...

This book nearly failed the Bechdel test. There were an equal assortment of men and women, only the men seem to have a lemming like migratory bent, and fly from the nest for some reason or other.Elinor is a blueprint for heroines that are strong. At least we can agree on the fact that most strong heroines in films are indistinguishable from men. But here there cannot be such confusion.I was not immune to the charms of Sense and sensibility. It wa...

¿Qué puedo decir? Jane Austen siempre será la maravillosa Jane Austen, y esta historia, como todas las que he leído de ella, me ha encantado. Sin embargo, me ha faltado un poquito más de romance.

Call me Elinor.Being the older sibling, while growing up I often felt like I was shoved into the role of being the sensible one, the reasonable one, the responsible one. That is how I was seen. That is what people believed of me. Underneath the skin of the rational, reserved tut-tutter writhed an often non-sensical, unreasonable, irresponsible being. But it took the occurrence of extreme circumstances for others to see it. Such is the life of Eli...

Dear AustenI will confess right off the bat that I'm one of those readers who never "got" you. I tried to read Pride and Prejudice years ago, but gave up after a few pages because of your writing style. What can I say – I had less patience in those days with long, indirect sentences which seemed to use 20 words to say what could be easily said in five (hah! I'm one to talk on that score…). I read Emma a few years ago and honestly did ...

Rereading Sense and Sensibility was a joy and a delight. It was also surprisingly enlightening.Wait, enlightening? Seriously? Isn't that a bit much for a girly romance story?Well, I think reading a Jane Austen novel can be enlightening because the characters are drawn so well that they resemble real people. I've been slowly rereading Austen's novels, and I am constantly impressed by her powers of observation and description. Even though she was w...

February 2016, Part II: A couple of years ago, I re-read Jane Eyre, and because I was overwhelmed with the task of writing a review for such a classic book, I decided to get weird and write the review in the form of letters to the characters. Since then, with an eventual plan to re-read all of Jane Austen's books, I've had it in the back of my mind that I'd do the same with as many future classic books that I could. So. This is me doing that. And...

Sense and Sensibility is a lot like a Fast & Furious movie, except there are no supercar races, gun fights, fist fights, robbery, and scantily clad girls. Come to think of it Sense and Sensibility is nothing like a Fast & Furious movie. I just had no idea how to start off the review.Actually Sense and Sensibility is (seriously now) a lot like Pride and Prejudice. What with the sisters, one stoic and worldly, one a little wild, impulsive and naiv...

The more I read this novel, the more I am convinced that I shall never be able to write a proper review. ......one that it truly deserves But it is so hard to write one when you love a book so much. Maybe this time, I will come up with something worthy. When I feel so much out of depth, I turn to some trustworthy quotes and on this particular occasion I think I managed to find a really good one by Ian P. Watt. It is from the book A Truth Universa...

This is actually the first time I've read this book the whole way through! I had this movie memorized by the time I was 7, so I've always set the book aside when the beginning chapters weren't done in as much detail. And yes, a lot of detailed movie scenes are summarized in a few sentences in the book, BUT I finally admitted that the book expands in so many other areas. I loved seeing more into Elinor's mind and got a way stronger understanding o...

Sense and Sensibility, Jane Austenعنوانها: حس و حساسیت؛ حس و احساس؛ عقل و احساس؛ دلباخته؛ شور و شوریدگی؛ نویسنده: جین آستین؛ انتارتیها: عنقا؛ نشر نی؛ جامی، ثالث، گلشائی؛ سمیر؛ جاوید؛ کوشش، آبنوی؛ پر؛ تاریخ نخستین خوانش: 6 نوامبر سال 2001 میلادی؛ دویمن خوانش: اول فوری...

I DID IT. WOOOOOOOOOO! ABSOLUTELY FANTASTIC!Not going to lie, the middle was rough.. quite tedious and slow, BUT, the character development in this book was just fabulous; Austen truly understands the human condition. Next? PRIDE AND PREJUDICE!

I hate romantic comedies. I hate them for a wide variety of reasons - I hate their formulaic plots, their repeated character tropes that never seem to change (hmm, will this one have a sassy best friend who only exists to dispense advice?), I hate their consistent failing of the the Bechdel test, and I hate the way they try to make me believe that a skinny and gorgeous woman is incapable of finding a man because she's clumsy or has a job or somet...

I wish Jane Austen could see she became an admired literary standard. She conjures such scholarly connotations, I was wary of enjoying "Sense And Sensibility". I hope my words attain quality that is discussed and absorbed for meaning but books are about the story, personages, message, setting, and sympathizing with them. I couldn't care less about structural intentions, like "symbolism", thus my reviews are never going to be critical essa...

It's a Jane Austen novel so this is obviously brilliant and should be read by everyone!!!! Duhhh!!!!!! "And books!—Thomson, Cowper, Scott—she would buy them all over and over again: she would buy up every copy, I believe, to prevent their falling into unworthy hands; and she would have every book that tells her how to admire an old twisted tree." Oh if only I could go back and read this for the first time all over again.... Would my firs...

Another great story from Jane Austen; this time about the three sisters, Elinor, Marianne and Margaret, and their mother who settle themselves in a small and charming cottage in England. "Sense & Sensibility" is mainly about the two elder sisters, Elinor and Marianne, and their journey of falling in love and finding a husband. I liked the sisters a lot and I enjoyed reading about their experiences in the world of love. They go through ups and dow...