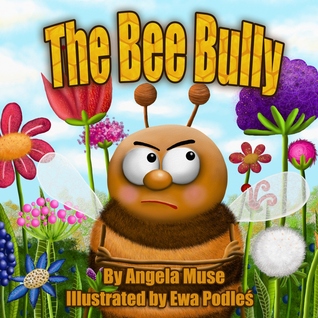 This is the tale of a grumpy little bee who learns the error of his wicked ways. This bee soon finds out that treating others with kindness is the best way to earn friends.
---
Details The Bee Bully
| | |
| --- | --- |
| Title | The Bee Bully |
| ISBN | 9781478369325 |
| Author | Angela Muse |
| Release Date | Aug 4th, 2012 |
| Publisher | 4eyesbooks |
| Language | English |
| Genre | Childrens |
| Rating | |
Reviews The Bee Bully
The illustrations were cute (although the printing quality was a little questionable/fuzzy), but the story was not really compelling. I realize that I am not in the target age group for this book, but even as a young child I don't think that the story would have been satisfying to me. (view spoiler)[While other characters are mentioned in passing, the only character who we see into the mind of at all is the bee, which makes it kind of hard to acc...

I didn't read thisIt won't let me look for the book that I want without putting in 20 words. So here ya go. Enjoy, hope you find this enlightening!

The Bee Bully is a great children's book. The book teaches children the importance of being nice to people. The bee is always mean to the people around him. One day he goes to sting a child and the child captures the bee in a jar. While the bee is inside his glass prison, he becomes very remorseful. He feels horrible about the way that he has treated everyone around him. When the boy surprisingly lets the bee go, the bee puts actions to his tho...

Angela Muse's "The Bee Bully" is actually a cute & rather short tale about a bee who was pretty much mean to just about everyone & everything around him. After being captured by a little boy & realizing it isn't nice to be captured, the bee turns around & is nice to everyone. A very quick & easy read for children & even adults to remind us of the golden rule of "do unto other as you would have others do unto you". A very enjoyable book indeed.

I received this book in a giveaway on goodreads. I really enjoyed this children's book. My 10 year old daughter read it and liked it. She felt it was relevant for her age group and was able to understand the message the book is putting out. She also said she wants to read other books by the author.

This was a cute book. My children enjoyed it very much. It was a simple story of how the bee was mean to everyone. He was going to sting a little boy, but ended up getting trapped by the same boy and at that point he had time to reflect on the bad things that he did to others. The boy eventually let him out and the little bee ended up changing his ways.

Good concept. Claimed to have rhyming text; some of the text rhymed, some of the text did not rhyme. 2 stars for false claims. It has great potential, but is lacking overall. This rating is based on the kindle edition.

I truly enjoyed this children's book. The graphics were amazing, a very talented artist, no doubt. The rhyme was cute and clever. It teaches children about bullying. I would recommend this for your little ones.

Another beautiful book by Angela Muse. I love the message and can't wait till my little girl is old enough to understand it. A valuable life lesson is imparted in the pages of this once again stunningly illustrated book. I recommend for toddlers - 5.

The bee bullythe bee starts out being mean, but he learns his lesson after being caught in a jar. an easy read book which young readers will enjoy

Great child's starter book teaching it is better to be kind.

I thought it was a good children's book showing kindness from an animal's perspective.

Kindness will bring you lots of friends!

Very good book about a bully learning to be nice. Granddaughter loved it and asked to read it again.

A cute little book. Didn't look the best on my Paperwhite but it's more designed as a color picture book. Not the fault of the book at all!