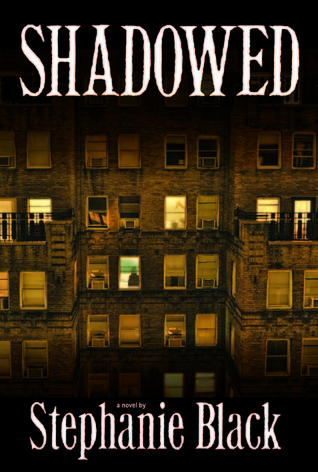 Gifted musician Catherine Clayton was born into a life of wealth and privilege. Following the death of her father, she makes a bold decision she hopes would make him proud: she's using the family money to establish a music school and offer free lessons to the underprivileged. A providential suggestion from an old college friend leads Catherine to select Riley, New York, as the perfect location for her new school. Hit hard by the economic downtu...
---
Reviews Shadowed
Action/Suspense is a bit outside my usual genre preference. So is "Mormon Lit", at least when it is as specifically targeted as this book is*. Since I have a tenuous connection to the author, however, (note how carefully I didn't say the word "old" there? When did I become someone who hung out with interesting people decades ago?) I thought I'd give this one a try—particularly as I managed to impose on an old (crap) friendship to ca...

I actually would give this book a 2.5 rating. I was suspicious of who the murderer was and turned out that I was right. I didn't think that it was as good as the previous books that Stephanie Black as written. Hopefully, her next books will be better and have more suspense in them.

Thinking she'll really make a difference in Riley with her music school and program, Catherine Clayton is immediately challenged by the town's warnings and the murder of school secretary Olivia Perry. The story is written in a way that even I began to question Catherine's acquaintances. There's death threats, vandalism, and a love triangle.

(Genre:LDS fiction/mystery) 3.5 stars. Plot: Catherine Clayton has just moved to Riley, New York to start a music school, using funds from her personal inheritance. She choose Riley because her friend Danielle is a principal at the elementary school there and they have had to cut all art and music programs due to budget deficits. Catherine is very excited to give free music/instrument lessons to the people in Riley with the hope of helping less f...

great mystery/suspense read! Most mysteries are really easy to guess the ending and the culprit to the crime, this is not one of those. It keeps you guessing and re guessing. Loved the characters and the depth of their personalities.Catherine Clayton has never wanted for anything and wants to help because she can. She uses her inherited money to set up a free music program in Riley, New York where there aren't many jobs and the school music progr...

Stephanie Black captures the reader's complete attention throughout this suspenseful, enthralling novel!A wealthy young woman is led to a small. economically depleted town to offer free music lessons for anyone interested. Her sole desire is to bring meaning to and develop talent in the participants who could, otherwise, never afford. Invited into the community her former college roommate is principal over a school there. After arriving, Catherin...

Read this for a book club. The only other murder mysteries I have read and I can compare this to is "And Then There Were None" by Agatha Christie and all the Sherlock Holmes books. It didn't measure up. The writing style wasn't engaging. I found myself reading scenes and feeling like they were hollow and full of unnecessary conversation, and like I was way too aware of the words and far from being "lost in the story." The main character was not r...

Shadowed is loaded with great characters, suspense, and just the right amount of romance. Stephanie Black is a master of keeping the reader guessing right up to the very end. Her characters have depth and believability, and her writing style is clear and easy to read. You get drawn into the story and it's hard to put the book down until you reach the exciting conclusion.The protagonist, Catherine, is strong and smart, but because of her privilege...

I really like how Black, doesn't put the LDS them heavy in her books. The LDS views are in her books, but she isn't preaching to the readers. Over all I do like this book, but I do think that 3.3/4 stars should be an option. Ester is living with the killer, you'd think she'd know who killed Olivia. The younger sister Ester in her own way was trying to help her sister, but manage to get herself into trouble. As for Catherine's character, wow, she ...

I listened to the audio version of this on a recent road trip. It kept my husband and I guessing until the end—we kept saying "it's him" or "it's her" about nearly every character in the book. Like the other novels I've read by Stephanie Black, it all came together in the end and answered my questions about who and why and how.I didn't love the narrator/reader. She wasn't awful or anything, just not my favorite. Hubby said she...

What a refreshing read! My husband and I have been listening to this book as we travel around town, or drive to a nearby town. Today we finished listening, and both felt satisfied with the conclusion. This was the first book we have read from this author. She did a good job developing the characters and making the plot not so easy to figure out. We really enjoyed the people in the story and the part of their life occupied in this novel. It is not...

Surprisingly (since I'm not a fan of most LDS authors), this was a fairly intense mystery and kept me guessing until close to the end. Several things fall into place in the last few chapters and the murderer becomes evident in spite of attempts by the author to still throw you off track. A few inconsistencies here and there, and if you're not a member of the Church of Jesus Christ of Latter-day Saints, there are a few Mormon references that would...

If you like really good suspense...then you will LOVE this book!Catherine is just trying to find a nice town who is in need of her musical talents.She is trying to give the gift of music to those who cannot afford it on their own.But when she arrives in Riley, New York she is immediately drawn into the vandalism that has just taken place...And the town is drawn up into the murder case that happened two years earlier.Suspicions fly, feelings get h...

Catherine inherits some money from her father and decides to start a music school with free lessons for those who can't afford it. She goes to a small town in New York, where her college friend lives. There was a murder there a few years ago, along with some vandalism. Things seem to pick up again when Catherine arrives and starts receiving threats, but no one knows who is behind it all. This book seemed a little slow in places, but I think it fi...

Another great suspenseful Stephanie Black mystery. This was definitely a page turner but I was not as emotionally involved as I have been with her other books. The connection I felt with the characters was not as strong this time around. She still had me guessing until the end. I thought I had it figured out but I was wrong. Close but wrong. I love the why and how in all her stories. By the end it all wraps up and makes sense but I would have nev...

I'm not normally a murder mystery type, but I had a friend recommend this and thought I'd give it a try. It was intriguing and interesting. Stephanie Black was clever at keeping me guessing. I about went crazy trying to decipher who it was all through it. A nice breezy read that took me out of my life and into another in a strangely relatable way. A safe not too scary but not too bland choice. The Mormon twist reminded me of (a book Breanne let m...

Who even knew I read LDS lit? I didn't know this book was LDS based, but it was recommended by a friend. I enjoy a good murder mystery and this one wasn't bad, but it wasn't great either. I enjoyed the actual plot and the suspense of finding out who the murderer was, but the actual writing was kind of cheesy and many of the scenes felt a little forced. So, overall, good plot (I was surprised at who it was if that says anything) but lacking in wri...

Good suspense in this sister of my wonderful friend, Dianna, novel! Catherine moves to a small town to give the citizen's free music lessons and open a music studio. (She is independently wealthy.) A good thing to do but she finds herself in the middle of a murder investigation-or I should say that SHE is the investigator because the leads had gone cold. Who did it and who is next is the theme.

I really liked this book. I needed something to lose myself in for a few nights and this did the trick. It was deliciously creepy without ever having graphic violence or any objectionable content. I will admit that I was a bit apprehensive to go to bed the night I finished it. The author did a great job keeping me guessing. A really satisfying read!

Probably one of the most important things to me when I am reading a story is that I like AT LEAST the protagonist in the story. In this book, I did not like a single character. Zero. For that reason, I am surprised I finished this book at all. I have a "mandatory minimum score" of two stars if I finished the book (regardless of whether I liked it or not), so two stars it is.

Oh my! Started it last night and could not put it down until finished, so intense it took me several minutes to get to sleep afterwards. I forgot how griping her books are!I liked how Catherine would think about what her dad would say about a situation and then follow his advice - good advice too.

Another fun mystery by Stephanie Black. I liked this book, but it wasn't my favorite Stephanie Black mystery. I guessed who the villain was pretty quickly, but it was fun to see how all the clues came together at the end. There were enough twists and turns to keep me interested and reading. Really like this LDS author.

Another great novel from Stephanie Black! Wow, it is a little intense and even a little bit creepy, but thrilling! I couldn't put it down! She once again had me changing my mind 100 times about who the murderer was. Great read!

This is another great Stephanie Black mystery. Both my daughter and I liked reading this book. The killer is someone that you wouldn't think it is, though there are many suspects. The motive behind the killings is interesting, also.

I could not put this book down! It has so many twists and turns, always keeping you guessing. I thought I had it all figured out, and then things changed again. I have read several of Stephanie Black's novels, and I think this one tops them all.

I enjoyed the well-written mystery that kept me guessing, but it was hard to relate to the main character. She never seemed to respond to people or situations as I expected, and her thoughts were so profuse and silly. It's still an interesting story, but not my favorite Stephanie Black.

I liked this one quite a bit. It kept me guessing.

This is probably slotted as Mormon fiction but the Mormon parts were so minor I wouldn't let it scare you off from a really exciting book. Really enjoyed this one!

3.5 starsI enjoyed this mystery. Had the villain pegged from the beginning. LDS fiction.