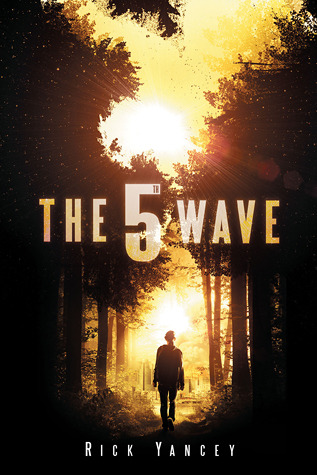 After the 1st wave, only darkness remains. After the 2nd, only the lucky escape. And after the 3rd, only the unlucky survive. After the 4th wave, only one rule applies: trust no one.Now, it's the dawn of the 5th wave, and on a lonely stretch of highway, Cassie runs from Them. The beings who only look human, who roam the countryside killing anyone they see. Who have scattered Earth's last survivors. To stay alone is to stay alive, Cassie believes,...
---
Details The 5th Wave (The 5th Wave, #1)
Title
The 5th Wave (The 5th Wave, #1)
ISBN

9780399162411

Author

Rick Yancey

Release Date
May 7th, 2013
Publisher

G.P. Putnam's Sons Books for Young Readers

Language

English

Genre

Young Adult

,

Science Fiction

,

Dystopia

Rating
Reviews The 5th Wave (The 5th Wave, #1)
"...bastardized sci-fi for the Twilight crowd..."Well this is awkward. Everything about The 5th Wave - an award winning male young adult author, a high octane alien invasion plot, the comparisons to Ender's Game and The Passage - made it seem like it'd exactly my kind of book. But now that I've finished, I'm just so pissed with the whole thing I have nothing nice to say and really just want to punch something, and in fact, I dislike The 5...

"If aliens ever visit us, I think the outcome would be much as when Christopher Columbus first landed in America, which didn't turn out very well for the Native Americans." - Stephen HawkingSometimes, I am lucky enough to get my hands on an ARC of a book and go into it with as close to no expectations as possible. I haven't read any reviews before, so the first experience is entirely my own, as I find it. And sometimes I love these books. Som...

Attention Mister Rick Yancey,I have kidnapped your review. Your review is not harmed and shall be released as soon as you meet my demands.In exchange for giving you back your review, which I am prepared to do, you will first need to provide for me:1 copy of The 5th Wave #2 – undamaged, complete, unmarked (except for your signature or a stylized message to me).This copy of The 5th Wave #2 must also contain certain characters unharmed and ready f...

If you could buy just one book this year, this one should be at the top of your list. I'm just going to say it: this book could very well be the next The Hunger Games! I've never seen a book more likely to be a crowd-pleaser, nor one with more potential to sweep away a legion of fans. This book was so crazily addictive that I read it in literally half a day, and several months afterwards I am still jazzed over its edge-of-your-seat action.What ma...

i am not the kind of person who gets off on hating the things everyone loves - i don't really see the value in reading books just to be snarky and contrary and "ohhhh, the plebs are eating this up, but iiii am the internet's arbiter of taste and i only read underappreciated, obscure books and thumb my nose at what is popular."i do both. i have read Twilight, i have read Fifty Shades of Grey. i like to know what all the hype is about as much as i ...

5 FREAKY ALIEN STARS!The first 4 waves were okay but the 5th wave... MIND BLOWING.I seriously didn't expect it at all.And the ending was perfect.Actually one of the best book endings of all time.You can find the full review and more about this book on my blogI can't describe how much I enjoyed this book.One of the best alien books I have ever read.This is probably going to be on my top ten favorite books on 2014.The style of writing , the charact...

one of the best books ive had the honor to read! A MUST READ!!

Warning: This rant will contain lots of swearing, and massive anger. This is a rant, so I'm sorry if there's weird grammar or bad writing. I'm really not caring that much at this point. So, please, bear with me.And please know that by no means do I intend to offend anyone, including the author. DNF- Sammy's POV. I HATED THIS BOOK!Best thing to describe it? Boring as fuck.This book was my most anticipated book of the year. I was expecting so much...

I have successfully survived all 5 waves.The 1st Wave : Confusion (Not as good as I thought)The 2nd Wave : Hope (Maybe it gets better)The 3rd Wave : Boredom (zzzzz....)The 4th Wave : Disappointment (This is not getting any better)The 5th Wave : Annoyance (Just end already)Then why am I even giving it 2 stars?? Because my hatred for this book does not translate into this being a bad book. Some of the best reviewers on GR have loved The Fifth Wave ...

SO GOOD. Loved the writing style, loved the lead characters, full of twists, and wonderfully paced. Here's my full blown review/discussion http://youtu.be/ZvFFjazW930 =D

Maybe the last human being on Earth won't die of starvation or exposure or as a meal for wild animals.Maybe the last one to die will be killed by the last one alive. The 5th Wave is exhilarating.The story is so thrilling and suspenseful that it'll draw you in before you even get the chance to finish reading the first sentence. And it will truly seal you interest when you will get acquainted with all the adventurous, intrepid and bracing chara...

1/24/16 Movie Update: I finally saw it... Mixed feelings. Like many of you commented, I think the weakest parts were the romance. I hated how the last 1/4 of movie seemed rushed compared to the book -and my big pet peeve was that Ben recognized her and knew who her brother was (soooooo not how it happened in the book) and that when Ben and Evan finally met it was not awkward & hilarious (because of Cassie's lies and obsessions) like the book. To ...

Now THIS is how you write a book, ladies and gentleman! With the slew of dystopian and post apocalyptic novels coming out you can only imagine how refreshing it is to stumble upon a truly refreshing, incredibly well created novel about an alien apocalypse. And don't let this term fool you, aliens may not be running rampant on our planet (yet), but Yancey has succeeded in making this event just as realistic as any other world disaster. Plus, in my...

I am actually embarrassed for Mr. Yancey here, he is a Printz winner after all. All the money invested to hype this The Host Redux mumbo-jumbo, which makes so little sense if you just think about the plot and the role the children play in this 5th wave, why go into so much trouble, dear aliens? I can only explain the popularity of this book by the same sci-fi for those who don't read/like sci-fi effect The Host rode on, because this novel is noth...

Pss! Pss! I have a theory.Want to hear it? I'm starting to think that Rick Yancey is a genius. What does a genius do, you're asking? He makes people think they are the genius, by creating a story so predictable that every reader will feel so fucking clever. No, no, this is not sarcasm (not entirely, anyway). See, I was here bitching about how I guessed everything - every fucking thing apart from the ear teddy bear rumpled (come on, I'm not that g...

I JUST RE READ THIS BOOK AGAIN!!!! finishing it in perfect timing--aka about to walk into the theater!!! (Old) re read this book this month and it was even more amazing the second time aroundThis book this book this book! I don't know how i fell upon this book, but I am so thankful I did! THE 5TH WAVE IS AMAZING! No wonder they are already making it into a movie without the series even being finished yet! I downloaded the sample of it on my ki...

I really enjoyed this book. Is it weird though that I preferred the Ben story line, but liked Evan waaaaay better?

I really enjoyed this book! I wouldn't say it blew my mind or anything, but it was entertaining.

Una novela trepidante que engancha y te deja sin aliento. Sinceramente, increíble.

I decided I'd get this book done before I see the film and boy was that a good decision. I loved the concept behind this book with the numerous waves eventually wiping out humanity and the mysterious aliens behind it. The idea unravels to become much more than a straightforward explanation or plot with many unpredictable moments involved.I really couldn't predict this book, every time I tried I was wrong and I loved that.Yes, there was cheese and...

*5 EXTRATERRESTRIAL STARS* "How do you rid the earth of humans? Rid the humans of their humanity." HOLY CRAP. This was good! I mean, like, extremely, terrifyingly good! I have already read plenty of books dealing with aliens and/or invasions, but for me this is the best one yet! I expected this to be yet another overhyped book series, but boy was I wrong!This is the first Rick Yancey novel I ever read and it completely blew me away, I don't eve...

Me ha gustado mucho el libro! Aunque creo que es mas un 4.5 que un 5. Hace rato quería leer este libro y por alguna razón no le había sacado el tiempo, pero ahora que lo leí estoy encantada y deseando leer la continuación.La historia mantiene el misterio, vas descubriendo poco a poco una gran cantidad de datos alarmantes que te intrigan mas y mas. Y aunque por la mitad del libro sentí que el ritmo bajó un poco, definitivamente los últimos...

-- Tried to reread it because of the movie but I still don't get it :/ --I choose to start this book because of all the hype that it is having. They even had promo posts on the subway. The quotes were really interesting and the thing about a strong heroine in an alien invaded earth, how can it be that bad? And then we can add the alien-earth romance to have the spicy in the food. Well, it was promising enough. It should have been.The writing in t...

Why oh why did I wait so long to read this!? This book gripped me from the very first page and didn't let up even when it ended. I need more! The world building was phenomenal and the picture painted was so real, I could see it play by play in my head. And Rick's story telling ability is a work of art. I loved the way he told the story from didn't pov's and the inner monologues of his characters were the best! Especially Cassie, she's a riot! It ...

it's the APOCALYPSE, people ! :D the 5th wave is one of THE BEST DYSTOPIAN BOOK OF THE YEAR , it has everything suspense, action, a bit of romance, Stong charcaters, one of them was a bit a weirdo (i'm sure you know who that is) overall i loved the combination Rick yancey has created of the Dystopian and Science Fiction genres, it's perfect, really enjoyed it, The narration is captivating, Beautiful writing full of Inspirational Quotes. i watched...

4.5 starsThe first of work of young-adult fiction to impress me in four months. Rick Yancey writes about an alien invasion of the earth that takes place over several waves. Our protagonist, Cassie, has lost everyone - except for her younger brother Sammy, who she has made it her sole mission to rescue. Yancey shows us many characters' perspectives, including Ben Parish, a former high school football player Cassie once had a crush on, who now figh...

Okay, so my thoughts are basically: um, well then. Which is reeeally eloquent of me, I KNOW. But first off: GO ME FOR FINALLY READING THIS!! I put it off because of so many bad reviews I'd seen (ergo I went into it with very low expectations too) but I READ IT SO YAY. I can watch the movie now! #priorities Ahem.So okay, I did like it? But definitely didn't love it. The beginning was freaking awesome. Like bullets and freaktastic apocalypse stuff ...

Find all of my reviews at: http://52bookminimum.blogspot.com/ ♪♫♪♪That's great, it starts with an earthquake. Birds and snakes, an aeroplane ♪♫♪♪Okay, maybe just the aeroplane part. Like this . . . . It didn't take long for people to realize that . . . "The arrival of the mothership was not the beginning, but the beginning of the end." Nope, the first wave was followed in quick succession by waves two . . . three . . . a...

Wow! I was blown away by this story!! I was completely riveted by every single word! My heart raced, and I was on the edge of my seat pretty much the entire time. The world as we know it is over. Aliens came, kicked ass, and all that's left of humanity is three percent of the original population. One of the "lucky" survivors is sixteen year-old Cassie. She lived through all Four Waves that's decimated the human race, and is trying to stay...