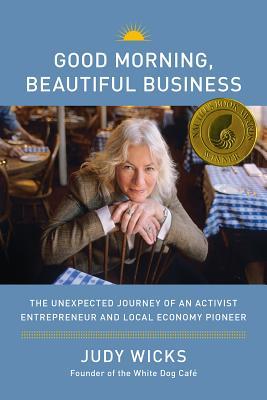 It's not often that someone stumbles into entrepreneurship and ends up reviving a community and starting a national economic-reform movement. But that's what happened when, in 1983, Judy Wicks founded the White Dog Cafe on the first floor of her house on a row of Victorian brownstones in West Philadelphia. After helping to save her block from demolition, Judy grew what began as a tiny muffin shop into a 200-seat restaurant-one of the first to fea...
---
Details Good Morning, Beautiful Business
Title
Good Morning, Beautiful Business
ISBN

9781603585057

Author

Judy Wicks

Release Date
Apr 3rd, 2013
Publisher

Chelsea Green Publishing Company

Genre

Nonfiction

,

Autobiography

,

Memoir

,

Business

,

Food and Drink

,

Food

,

Culture

,

Society

,

Biography

Rating
Reviews Good Morning, Beautiful Business
I was a kindergartener when White Dog Cafe opened in Philadelphia. I wouldn't know about the cafe until after I opened my own cafe 22 years later. My business was founded on a Triple P bottom line – people, planet & profit – and about a year after we were opened, I came to the conclusion that if I really was committed to that foundation then revitalizing local economy was the first step towards sustainability. It took a couple more years to...

Judy Wick's autobiography is a snapshot of what one small business owner can do to make an impact in her neighborhood and in the world. It was great reading it with my friend who is an active Philadelphian because he knew many of the people and locations in her book. After reading Wick's book, some of my habits have changed. I care more about where my coffee and food comes from (and who produces it), I recycle more than I throw out, buy local, an...

I appreciated Judy Wicks' point of view and find her way of doing business. She sees business as a force to create change rooted in community. She talks about her own path, the way she found herself through her work in building a sustainable community and ultimately a larger global point of view. Even so, I thought the book was a bit repetitive in its explanation of values and even examples. I would have appreciated a more condensed story with mo...

My husband and I enjoyed going to the White Dog Cafe and remember taking our children. One time we were there and the piano was in a room, outside of the dining room, when our two kids sat at the piano and started playing it. The dining room was full of talk and clatter or dishes, so no,one seemed to notice or mind. I never knew how much that piano played a role in the business.I enjoyed the book overall and I have high praise for Judy and her lo...

4 stars for Judy Wicks' amazing journey, creativity, intuitive business sense and impact - really inspiring! 2-3 stars for the writing. It started off fine and finished strong but there were 100+ pages in the middle that were hard to follow (so many acronyms), repetitive and not clearly moving the narrative forward. Still recommend this book for the great story of one local woman's important impact.

Now I can say I've read a book that changed my life. This book is awesome! Judy Wicks explains her journey in creating a new economy. This book is a must read for anyone interested in local economics and small business development. At times the writing is a bit self-congratulatory but then again, she deserves a pat on the back for all of her amazing accomplishments.

This book is well written, interesting and totally IS Judy. As someone who I've admired - starting Philadelphia's sustainability movement, she's always willing to share her opinion and fight for what's right. We're lucky she's shared her stories as a presenter at SustainPHL, our annual sustainability awards and celebration. Good Morning, Beautiful Business shares the back story and explains why she's developed her triple bottom line...

Judy Wicks calls her book "a memoir and business guide." As our business sometimes define us, then that is true for Judy Wicks. She wasn't content to run the White Dog Cafe, a restaurant with good food, on a small street in West Philadelphia. It became a center of community and political activity. There were "table talks," celebrations marking Bastille Day, Independence Day, Christmas, New Year's, Martin Luther King's birthday. She not only opene...

I am reading along and I keep thinking, man the things Judy is talking about is right out of urban activist Jane Jacob's playbook. Then on page fiftysomething Judy mentions that Jane was a guiding light. Not that I needed to, but it made me pay even closer attention.I am all for social, environmental and business responsibility. But I bought and read Judy's book to learn more about what went into her creativity, thinking and how she conducted bus...

I read this for an organization I'm involved in, and I was wary at first. The White Dog Cafe is one of my favorite restaurants in Philadelphia and I was interested to hear its story, but given that Judy Wicks has never been a writer by profession, I was afraid this book would be dull or slapped together. Thankfully, that turned out not to be the case--this book was well-written and interesting. I enjoyed the stories of Judy's early life and the f...

I felt like the majority of this book meandered & I had trouble focusing while reading. By far the best chapter was the last one, showing the amount of work that went into building the business, rather than happenstance and good fortune (which no doubt played a role, but are less helpful for those looking to also forge their own path). I think it would have been much stronger if the rest of the book had been written in the same style, and with as...

Thank you Judy for writing this book. It was a real inspiration to me, and I hope it will be to so many others who are hoping for and working towards a human and humane social-economic community where the striving spirit of human beings may find others of like mind and heart to truly make this a better world. As a Waldorf educator of many years, I see your work is a high tribute to the kind of human beings I hope I have had the privilege of inspi...

Judy Wicks learned how to advance the local food, economy, and triple-bottom-line movements in Philly before many others did. The book tends toward an autonomous, individualist bent but also has some great lessons about community, public fun, and how to do good in business for good.I especially appreciate the consistent spirituality threads. Interconnectedness is the core value Judy brought to all her endeavors and even the name of her restaurant...

Judy Wicks was local before local was cool. Her book is part memoir of her, part memoir of her business, The White Dog Café. I especially love her thoughts on how a business (or a person) can grow by doing different, related things, rather than just replicating the same thing over and over, bigger and bigger. Both charming and insightful –a great combination.

Loved this story of a business owner who found a way to truly blend her passions with her work life. I want to do the same. It was like hearing from the best of mentors. Sometimes the acronyms (for organizations she was involved with) got to be a little too much to follow, but still a great book with some good storytelling.

It was so encouraging. I felt the need to be a much better business owner.

Wonderful and inspiring. I've never felt so motivated. Now I can say that I've found my idol.