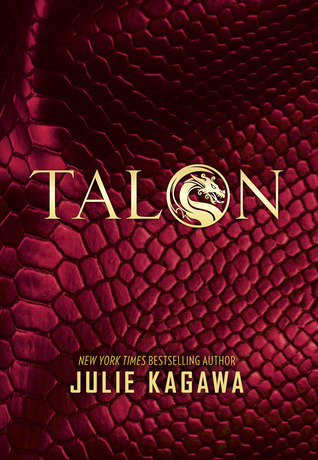 THE DRAGONS OF TALON: Once hunted nearly to extinction, they are now poised to take over the world. THE ORDER OF ST. GEORGE: The legendary dragonslayers will stop at nothing to wipe dragons from the face of the earth. These mortal enemies are locked in secret and deadly combat, with humanity none the wiser. To take her rightful place in the Talon organization, young dragon Ember Hill must prove she can hide her true nature and blend in with hu...
---
Details Talon (Talon, #1)
Reviews Talon (Talon, #1)
DNF at 25%. I have theories about what happens throughout the rest of the book. Read my theories at the end, those who have read this series, and tell me if I'm wrong.I fully expected to enjoy this book, or at least find plenty of entertainment value, given that it was written by Julie Kagawa.I was wrong.Last week I read the fantastically craptastic Firelight which was essentially Twilight with dragons. So my standards weren't high to begin with....

Could this really be the same author who wrote The Iron King?Never have I heard of dragons being boring. Until this.Where is the incredible world-building? The originality in characters? The exciting romance?I would like to know. Have you read the blurb? The blurb which promises us so much…yet the story does not deliver. And it is disappointing! To tell you everything, the only reason I have not DNFed this is because I just DNFed These Broken S...

Challenge #7 A book with non-human character (popsugar 2015 reading challenge: http://tinyurl.com/mmbkthd)***Two stars only because 1 star is for DNF's***Today! On our segment of "REALLY?!?!" 1. Dialogue so cheesy you could grate it... 2. Heroine too trusting of the wrong people in very bad situations... 3. Frustrating amounts of NO ACTION... 4. Love triangle introduced in the last 20% of the book... 5.One guy has rape-y vibes and one guy wants t...

What I expected:What I got:I love Julie Kagawa. I've read her Iron Fey series and I liked it. So I had great expectations upon this book. I mean… it's about dragons! But I'm actually disappointed.Ember and her twin Dante are exceptional. Dragons usually lay only one egg a time, so they don't have siblings. They live in a Talon – organization that helps them to survive in a world, where dragons are killed by St. George – military for...

well that was painfully average. I love Julie Kagawa. Truly, I do. Her Iron Fey series was once my favorite YA series. She's awesome. This book… not so much.This book is an average YA novel, at best. It has average, unimpressive characters. An average plot. Average writing. And of course, average inta-love with an average love triangle.This is the kind of book I feel that I've read before if only because of how uninspiring it was. There was...

Hear goes another review! So I will start by letting you know I read this whole beast of a book in 5, 30 min reading sprints. Yes it was that good! I loved the fact it was a fantasy based in modern time all about kick ass dragons that roam around as humans. Almost like the fantastical version of Hannah Montana! I can not wait for the second book! I currently have a headache from reading so much but just believe that this book is amazing! you all ...

2.5 stars, as much as it pains me to do this.Julie, oh Julie. Why you gotta do me like that? u_uPrior to reading this book, I was like:Because it's Julie! I adore her to pieces. The Iron Fey series to date is one of my favorite series' of all time, and so is Blood of Eden. She put out constant masterpieces that, naturally, I put her on a pedestal.After reading this book, I'm starting to think that was not a very wise idea. ._.This book suffered a...

Review:I FINISHED IT. FINALLY. YESSSSSSS!And if you're wondering, then yes, it was definitely worth the wait.First off - this book was different than Julie Kagawa's usual adventure type of books. If you've read her Iron Fey series, or her Immortal Rules series, you'd know that adventure is a big part of the story. It's one of my favourite things about her books. But Talon didn't really have any of that - and I actually didn't mind. I still enjoye...

Okay. I have seriously been looking forward to writing this review. Because I HATED Talon with every fiber of my being and can't even think of ONE redeeming quality, aside from perhaps the fact that my roommate and I had a joyous time bonding over our simultaneous hate-reads of this audiobook. Sometimes reading a bad book can be fun, I'll admit it. But other times, it can make you want to drive your car off a cliff as you BEAT YOUR HEAD AGAINST T...

I am a huge, huge, HUGE Julie Kagawa, fan. Her Iron Fey series as well as Blood of Eden are on my list of favorites, which is why it pains me so much to say that Talon did not deliver as I thought it was going to. It did not hook me until the very very end and by then I was looking at the Epilogue. I thought Talon focused too much of its efforts on the wrong stuff, mainly the romance and the painfully obvious love triangle. It should have focused...

Disclaimer: This is a review of an uncorrected Advanced Reader Copy.Know how to ruin a potentially great fantasy novel?Cram it up to the brim with Young-Adulterism. That's what I'm coining this phenomena.When, at around 60 pages I'm already smacked in the face with:- beautiful main characters- beautiful love interests- a third party making unwanted sexual advances to female MC just so male LI can step in and rescue her- a beautiful bad-boy to pos...

A ruse. That's all it was. Pretend to like this girl. Pretend to have feelings, to pursue some kind of relationship. Earn her friendship and trust, knowing I might have to destroy it, and her, in the end. Ruthless. Julie Kagawa is ruthless. Mad. Intoxicating...Brilliant. I just....I don't get why people aren't loving this one. Is it the content? Is it because it's about dragons and you just can't get past it? Is it the non-existent love triangle?...

What I THOUGHT Talon would have:• Epic dragon battles and wars• FIREBREATHING!• Dragon lore• Dragon politics• Awesome dragon heroine• Epic romanceWhat Talon ACTUALLY had:• Beaches, parties, the mall, boys, surfing• Very little action, with a super slow pace• Practically NO world building• Girl kicks guy where 'the sun don't shine'• Insta-love... TWICE!• The LAMEST dragon ever!This is a book about dragons right?!I could cou...

3.5 stars (0.5 stars for sentimental value) "We were taught their entire blood-filled history, from the dragonslayers, to the fanatical Templar Knights, all the way up to the militaristic order they were now... St. George was ruthless and cunning and unmerciful, the enemy of all of our kind." Look at that passage. Just look at it. Does it not reek of potential? Does it not guarantee High Fantasy epicness in the form of dragon vs human smackdowns?...

"The human race is weak and self-destructive, and the only thing they know how to do is destroy."I was genuinely excited to begin this book and, judging by the synopsis, I felt it had a lot of potential. Unfortunately, I was left disappointed for a large portion of the book. The premise of a book about a teenage dragon assimilating to life amongst the human race, whilst in her human form, was intriguing, but whilst reading, this felt like more of...

Rating: 3.5 / 5 starsI received this book for free from the publisher through Netgalley in exchange for an honest review.An exciting start to what should be a promising series. It is an intriguing concept, with dragons hidden amidst a modern setting, and I really loved progressively learning more about Talon and St George.It took me a little while to get really invested in the story. The beginning is slower in pace and I didn't find myself connec...

➸ Book 2 : Rogue ✬✬✬ (2.5)Actual rating : 3.5 starsDeciding to read Talon was an instant-jerk reaction for me. After reading a bunch of mixed reviews, I reached the decision to never, ever read it. Guess I was fucking wrong. Because what happened next is kind of a blur : reading Chelsea's review - downloading it - eating it - loving it.I ended to disagree with almost all the warnings I read before. Go figure. Maybe I'm a weirdo. *shrug*...

2 stars. I read this book a while back, and tried re-reading it this past month before I realized I had already read it. I'm not too sure how I got through it the first time. Talon read like a cookie-cutter YA novel. I am extremely disappointed in it, especially since this is Julie Kagawa. I don't think I have it in me to read the sequel for such a lackluster start to this series. ________________________________________________update: Oh my God....

WrensReads Review:I'm not going to spend too much time writing a review on this book.I did like it, don't get me wrong, but it was just so predictable to the point that I was skimming some of the pages. You have a Romeo and Juliet thing going on in two different corners.St. George: Killing dragonsTalon: A big organization of dragonsRogue: Dragons not in Talon.Girl: TalonBoy 01: St. GeorgeBoy 02: RogueIt's very youngly written, so it's towards the...

www.melissa413readsalot.blogspot.comI thought this book was really good! I love dragons and the thought of dragon shapeshifters, so to speak, really got me stoked for this series. I wasn't impressed with Ember's brother Dante, I really wished he could have been more like Ember, although she was a bit careless at times. I think you have to have the good cop / bad cop thing going on to create this particular story though. And it's not that Dante wa...

I came here for dragons. Was not disappointed.Summary: Ember and Dante are dragons disguised as humans. They are learning to act human by making friends with humans and doing fun human things, while doing secret dragon training on the side. Garret is a dragon-hunting human, whose latest mission involves pretending to be a normal human. He does this by making friends with humans and doing fun human things.I liked these characters. Ember is so feis...

I really enjoyed this book. It was entertaining and the characters were likeable. It was predictable but still enjoyable. I will continue on in the series for sure. Fun and easy read that was amusing and lighthearted.

Actual rating 2.5 starsWeak and Undeveloped, but entertaining enough.It is fine, interesting. But there is something missing here.The story is not all there, and the romance is too superficial. More development and connexions between the characters are needed, more deepness. The characters and fantasy are feeble. The dragon part is too weak. To me, it needed to be more prevalent and powerful in the story. More fantasy. The dragon characters are p...

3.5 of 5 stars at The BiblioSanctum http://bibliosanctum.com/2014/12/06/y...I was a bit taken aback by the tepid to cool reviews I've been seeing for this one. Not that my own review is all that glowing, I realize, but while Talon probably won't rank among my favorite Young Adult novels read this year, I had a lot of fun with it. By all means not a bad book. Surprisingly, most of the disappointment appears to be from fans of Julie Kagawa's ...

Seeing as I was approved for an eARC of Rogue, I though it was time to give Talon a go, and I wasn't disappointed. Talon tells the story of Ember Hill, a female shape-shifting dragon (dragonelle) who is tasked with blending in with the humans for the summer in California. Whilst there, she faces many difficulties, including falling for a human (a big no no), and becoming close to a Rogue, a dragon who has left the Talon organisation (an even bigg...