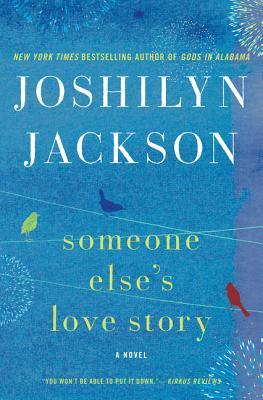 At twenty-one, Shandi Pierce is juggling finishing college, raising her delightful three-year-old genius son Natty, and keeping the peace between her eternally warring, long-divorced Catholic mother and Jewish father. She's got enough complications without getting caught in the middle of a stick-up in a gas station mini-mart and falling in love with a great wall of a man named William Ashe, who willingly steps between the armed robber and her s...
---
Details Someone Else's Love Story
Title
Someone Else's Love Story
ISBN

9780062105653

Author

Joshilyn Jackson

Release Date
Nov 19th, 2013
Publisher

William Morrow

Language

English

Genre

Fiction

,

Romance

,

Womens Fiction

,

Chick Lit

Rating
Reviews Someone Else's Love Story
I guarantee that when you reach the end of this novel the sound you hear will be coming from your own mouth, 'Awwwwwwwwww.' The last book I read and reviewed before this was David Vann's magnificent Goat Mountain. Outstanding stuff, heavy with content, violent, dark. Someone Else's Love Story, while not the opposite, is certainly worlds away. An antidote. Maybe chicken feathers for the soul. The book opens with a poem by Emily Dickenson: "H...

Update .... love this book..$1.99 kindle special today. From start to the wonderful ending ... it's just great! Perfect for summer!! Update: Several great deals this holiday season: This book is $1.99 today on Kindle!!!I thought it was sooo much fun...all the way to the ending! I could not put this book down!! This book kept me company while not feeling too well ---PERFECT CHOICE --GREAT SURPRISE DISCOVERY! Of course I don't want to give anything...

Ahem.Excuse me a moment, while I get out my feminist soap box.Okay. This is going to be a tricky book to review from up here and this is why: rape plays a significant role in the plot of this book and I'm not sure I was comfortable with the way that it was portrayed. This book doesn't come out for six more months, but I kind of wonder about the fact that no one's thought about putting the brakes on it given the recent troubling events in St...

Edit: Available on Kindle for $1.99 Shandi is a young woman who believes in miracles, with faith in immaculate conceptions, struggling to finish college and raise her own three year old mini-genius and major miracle, Nathan, aka "Natty Bumppo" with some help from her Mom, her friend Walcott, Walcott's "Momses" and some financial help from Shandi's Dad, despite his new wife and Shandi's half-siblings. Shandi isn't lacking in the love department, s...

I didn't really understand what this book was trying to be. Although it does have romantic elements, the story is too strange to really be considered a romance. I think that the author tried to do too many things, mixing too many genres at once.It's hard to create a believable love story with a character like William, one of the protagonists. He is supposed to have Asperger's syndrome, but it is not a well developed aspect of his character....

After listening to Almost Sisters, I decided if I'm browsing audio books and see Joshilyn Jackson as narrator for any of her work I will be listening as soon as possible. Great, entertaining narrator!"I fell in love with William Ashe at gunpoint, in a Circle K." When a book has a really great opening line, that really gets me. This opening line grabbed me and didn't let go until I finished.Jackson has a way of writing colorful characters ...

This was one of those rare books that I knew would be good before I even got into it. Even if I was surprised by some of the turns it took.I mean a book that has an epigraph with the lines of my favorite poem (and one of the few I actually know); well let's just say we were meant to be.I have no idea where to start though.I've re-read certain parts of this book multiple times, I've had more than a week to think about it yet I am completely ...

This is a tough one! I enjoyed parts of this book immensely and other parts I simply thought were okay. I am trying to come down off of my ivory tower of feminist idealism to write this review in the most non-judgmental way that I can. While I do see that Joshilyn Jackson is exploring the grey area between black and white thinking in this novel, there were some things that I just didn't get. The questionable decisions of the main character at tim...

What happened to this book? It started as a light and quirky story of a young woman with a breezily dysfunctional family and a precocious child, and quickly deteriorated into a mess of of unfinished story lines, awkward transitions, and an extended and very uncomfortable commentary on the gray nature of rape. By the end of the book, Shandy, the main character, turned into an erratic and unlikable character who could not be wished on anyone's happ...

I had big expectations for Someone Else's Love Story—the kind that can be scary for a writer if they know how much we anticipate from their shiny strings of words and disappointing to a reader if those words don't flash like diamonds.Someone Else's Love Story did not disappoint.The opening scene is like a bad joke: a meth head, an autistic genius, a too-young mom, and a brilliant toddler born from a virgin walk into a convince store . . ....

This is such a beautiful book it's hard to know how to review it. Maybe by starting with what it isn't. It is NOT a romance. A love story, sure, but not just one. Many, many kinds of love come into play in this story, as many kinds of love as there are people. The characters are real and flawed and kind and stupid, but Joshilyn Jackson manages to find the "possibility of good" in all of them. The book starts out with a robbery gone wrong, then go...

Thoroughly enjoyable story that jerked me to attention with the opening sentence and did not let go until the end. With just a handful of pages remaining, I still didn't know how things were going to play out. I call that a job well done.The characterizations reign supreme here. Shandi, Natty, Walcott, William, and Paula were made very real to me. The author's way with words was stellar. Nothing too flowery - it would not have fit with the story....

I never felt comfortable while reading this book until the very end. This is fitting; this is right. None of the characters are fully comfortable with each other (or, let's be honest, even with themselves) either. And that's perfectly okay, because this book isn't about fitting in, but about finding the right fit. Shandi Pierce is struggling through figuring out what has even happened in her own life, forget about trying to figure out what's goin...

I love Joshilyn Jackson. I'll read anything she writes. This one however, while I thoroughly enjoyed her description, left me cold. There was way too much stuff going on that got brushed aside or explained away in an effort to make some kind of point that all life is a miracle, that coincidences are not coincidences. For example, the heroine Shandi's 3-yr-old is the result of date rape. Shandi doesn't seem to have had a life up until the point sh...

Sometimes you must break yourself apart to become whole again.There are some authors who can dish up anything and I will happily tuck in. Joshlyn Jackson is one of those. Although not my favourite, this story was the perfect end to my spree of fluff reads.Shandi is on her way to start a new life for herself and her savant 3-year-old. A quick pit stop at a convenience store on route changed the projection of her life forever. But then again, a hos...

Twenty one year old Shandi is taking her child to live in the city where he can go to a school to better suit his needs. On the way, she becomes a victim of a robbery and falls in love with the man who saves her. Together, they try to solve the mystery of her son's "virgin" birth and discover too often that life interferes with the heart's true destiny .Each character, from her mother and father, to her best friend, Walcott, to William and the pe...

Someone once said, when asked why she was still single, "I've met the man I'd marry and the man who'd marry me and the two are not the same" and this story reminded me of that old quote. There are several over-lapping love stories, some of which are a surprise, not only to the reader but to the people involved in this story as well. I loved the characters and their quirkiness, haunted William, brilliant little Nathan, Shandi and Walcott. Jackson ...

Joshilyn Jackson's SOMEONE ELSE'S LOVE STORY, a complex, brilliantly written and inspiring love story! I recently discovered this author through some other fellow authors; Wow, so glad I did---Since then been catching up with her back list. Southern Jackson is highly talented ; creative and love the way she thinks "outside the box" not afraid to tackle any issue.Highly recommend the audio version--Jackson is the narrator, which is always special...

There is a so much to love about this b0ok. The lyrical writing, amazing characters, details of place and time.This isn't a romance really (exactly) as the actual couples (there are two) spend most of the book apart but we do get Happily Ever Afters that are well earned,Our hero is a brilliant neurodivergent and utterly wrecked with grief and rage. We get his love story in flashback. He is the king of romantic gestures and has an amazing bestie. ...

The moment William Ashe stepped in front of her three year old son to protect him from the gunman in Circle K, twenty one year Shandi Pierce recognised the stranger as her destiny, a truth William seemed to confirm in a whisper as Shandi hovered over him after he was shot saving their lives. Though Shandi believes William to be her saviour, her soul mate, and as a geneticist, the man able to help her identify her son's father, William's heart, an...

I can't stand this book for one main reason. There is a rape at the core of this book, and the author writes it very sympathetically with regards to the rapist. I've read Jackson's books in the past, and I've always enjoyed her portrayal of strong southern women. This book grabbed my attention because of the strength of the first chapters. After that, she loses me, and the plot. We've got some side characters that aren't as fleshed out as I would...

I won't go into a long winded review as I read an uncorrected proof. I had a hard time with the writing, I am not sure why. It just read strange in my head. The main character annoyed me and I have a son on the Autism Spectrum and while I know every individual is different, William did not seem like any autistic person I know. The fact that he was this Thor type in the beginning threw me off, most Aspies I know aren't your usual jocks and tend to...

Joshilyn Jackson is a talented writer whose new works I always look forward to. She has the ability to take what might seem like "chick lit" or a basic "love story" and turn it into something else, something uniquely Jackson. Dark, southern fiction. Well written and interesting, though perhaps not all that realistic. The story starts strong and sucks you right in. The characters are fun and flawed in ways which are entertaining to uncover as the ...

3.5 stars. I wanted something light, but something I knew I would enjoy as we were away with friends for the weekend, and this definitely hit the spot. I have to admit I wasn't wild about Shandi, but I loved everyone else, especially William. I was laughing out loud at some of the antics, which was so well done, because there are a lot of sad things happening in the book. I also did not see the big reveal coming. I adore this author, her personal...

Shandi Pierce became pregnant with her son Natty while still remaining a virgin. She believed Natty to be a miracle, not wishing to face the reality of his conception. On her way to Atlanta she is caught up in a robbery at a convenience store. There she encounters William Ashe and believes he is her destiny. Shandi and William have both isolated themselves from love, though for very different reasons. Their relationship with each other opens them...

This was my first Joshilyn Jackson book, and I really enjoyed it. It was everything I love in a book - easy to read, compelling, interesting, with characters I grow to care about. Now my goal is to read all her other books. I highly recommend this book to fans of southern authors and women's fiction.

While I was reading this book, I started inserting little colored stickies to mark Things I Love About This Book. Pretty soon, the whole book looked like it was lost in a sea of Buddhist prayer flags in Kathmandu.This book has so many more layers than I can tell you much about without spoiling it. There is a theme that comes from the poem by Robin Behn, "It Is Not Always Possible To Fall in Love in Blackberry Season" which inspired the author to ...

Let me begin with, I've not read anything by Joshilyn Jackson before. I've wanted to and even have one of her other books. So when I saw her newest book was going on tour I was thrilled to finally read one of her books. I started reading SOMEONE ELSE'S LOVE STORY and as soon as I started reading it...I found it to be odd--not the right word, quirky? Just not what I was expecting. I was interested in the story, but not really committed to the char...

I really liked Gods in Alabama so I had high expectations for Someone Else's Love Story. It did not deliver. I was caught up in the book at the beginning - it was good, but I would say more than halfway through something shifted. I couldn't see where it was going and didn't until the final few pages. I didn't love the ending. It felt like it kind of ended abruptly actually, which at 300 pages is not something I hope for. Maybe I would've liked th...