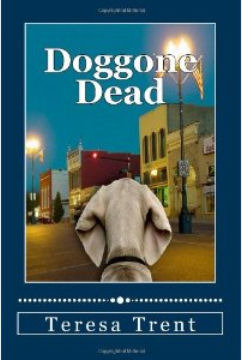 Give me land lots of land....and a puppy on the loose. When Betsy Livingston's puppy runs away, she has no idea it will lead her to a murder on a movie cowboy star's estate. Not only has there been a murder, but the town reports sightings of the dead cowboy himself. He's out to seek revenge on all who wronged his daughter who became the victim of her own money-loving butler. Enjoy a little time on the Fourth of July in the tiny town of Pecan Bayo...
---
Details Doggone Dead (Betsy Livingston / Pecan Bayou #3)
Title
Doggone Dead (Betsy Livingston / Pecan Bayou #3)
ISBN

9781482561791

Author

Teresa Trent

Release Date
Feb 1st, 2013
Publisher

Tightwad Tess Press

Language

English

Genre

Mystery

,

Cozy Mystery

Rating
Reviews Doggone Dead (Betsy Livingston / Pecan Bayou #3)
Betsy finally gave in and allowed her son Zach to have a dog, but when the dog runs away, he leads Betsy to yet another dead body. With the town blaming a ghost for the murder and her father being accused of planting evidence, she has another mystery to solve.Welcome back to Pecan Bayou, one of my favorite fictional towns. One of the great things about being a book blogger is finding new favorite authors, and that is exactly what happened last ye...

I love reading mysteries where they provide recipes and/or tips. This mystery has the usual suspects in the death of a blackmailer, add in a legendary ghost who may or may not be trying to kill Betsy, and a surprise ending.

puppies and cowboysPuppies and murder don't mix. This Betsy finds out the hard way. If you enjoyed the previous 2 books you're in for a treat. If you haven't but enjoy a cozy mystery with a real family story then give this a read.

Literature with dogs as supporting characters is as old and new as literature itself, so it's no wonder that this Teresa Trent mystery featuring single mother Betsy Livingston begins with the search for Butch her son's lost/kidnapped puppy whose blood covered paws lead to the discovery of a dead body. DOGGONE DEAD is the third book in this series set in the small Texas town of Pecan Bayou. The townsfolk include an unusual array characters ran...

Betsy is a columnist/blogger with the local paper of her small town. Being a single mother and the daughter of a law enforcement officer, she finds herself right in the thick of things when she discovers a body. Whether an apparition or a real person, someone is out to stop her from finding outwhat happened. My first by this author, I wish I had not started with the third book. Perhaps I would have seen the characters more developed if I'd starte...

Love this series! One of the best parts of my recent vacation was finally having time to curl up with another of Teresa Trent's fun reads. The town of Pecan Bayou and the folks who populate it are so real, and the latter are very likeable. This story has lots of twists and turns to keep the reader engaged. I think it's my favorite in the series, so far. I definitely plan to keep reading!

Correct rating 3.5 stars. Pretty good cozy. Would like to see more of the series. Some typo and misplaced quote issues, but nothing series. Liked emphasis on rescue dog, but characters made it sound like chips are tracking devices (they aren't. they're just a form of ID that can't be lost).

Cute story. Fun characters. A neat mystery where I didn't catch whodunit until the murderer was revealed. Plus, an adorable puppy! (Can't go wrong with puppies.) All in all well worth the read. =o)

Great mystery. It has it all - dogs, kids, ghosts, romance, and a bit of misdirected e-mail that could have been disasterous. Even the title of the series - Pecan Bayou hints of mystery and fun. Excellent choice for a good read.

What a cute, fun, easy read. I will definitely keep these in mind the next time I'm looking for a fun quick read.

I really enjoy this more than I thought I would. Another series to my list

Love this series! Character Betsy is quirky, funny and intelligent. Oh the trouble she gets herself into! Engaging and fast read! Highly recommend this series.

A great short story, I loved the characters, give it a 4 star rating.

#3 in the Pecan Bayou cozy mystery series. I like this series. It is set in Texas. My favorite state!

Another pleasant cozy. I like the characters and the story has a bit more development in the plot. Typical cozy but I enjoyed it enough to read others.