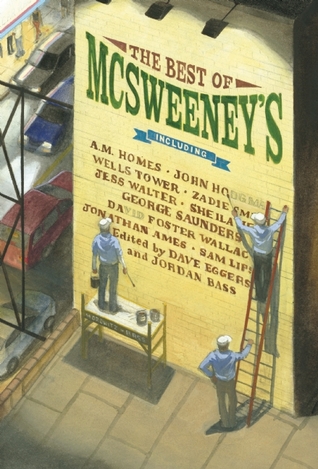 To commemorate the fifteenth anniversary of the journal called "a key barometer of the literary climate" by The New York Times and twice honored with a National Magazine Award for fiction, here is The Best of McSweeney's—a comprehensive collection of the most remarkable work from a remarkable magazine. Drawing on the full range of the journal thus far—from the very earliest volumes to our groundbreaking, Chris Ware–edited graphic nove...
---
Details The Best of McSweeney's
Reviews The Best of McSweeney's
Woohoo!You're wondering how I read so much. Like most of you, I reckon, I'm about halfway through maybe 20 books. This was one of them. I've essentially been reading it off and on since this time last year, even. It's a bit like how George Saunders writes his short stories: sure, they may take 6-8 years each, but if you start 100 stories 6-8 years ago, then every year after, in 6-8 years you'll seem incredibly prolific. It's like a locomotive tra...

Half of wanting to read this collection is either that you're already a fan of what McSweeney's does, or you're curious because you've never read it before and you always thought it must be an awesome literary experience (I mean, these guys are probably as close to a modern family of writers as we've got).You may not have a real answer, those coming in from the second group of readers, after actually reading the collection. Part of this has to do...

I read these stories (comics / essays / poems / lists) sporadically between novels over the past year until I finally made it through the massive book last night. Reading it became like homework. Now I can return the book to Bob so he can lug it back to his place. McSweeny's sure is a cool looking publication. Some of them come in wooden boxes and some come with toys. The dustjacket on this volume is very impressive too. Most of the writers ins...

No matter how hard I try, I don't really like short stories, I hate the inconsistencies . I thought that with this McSweeney's anthology I would warm up to the medium.As alwaysthe same problem started to occur. For every one I like, I'd dislike and skim through another three. Granted there are quite a few gems here but not everything will be to everyone's taste.

It took me years to get through this mammoth collection. I'd occasionally commit to trying to plow through it but give up when I kept falling asleep and incurring mild concussions from dropping the book on my head. Then I'd forget about it for several months, letting it gather dust without its dustjacket (!) on my nightstand. Eventually, I started reading a story or two between novels, and that was the strategy that finally allowed me to make it ...

Excellent anthology ... The letters at the start get things off to a great start and there are many great finds throughout. Of course I'm partial to my favorite authors and Mr. Squishy by David Foster Wallace is here along with Four Institutional Monologues by George Saunders ... I've read these previously and they still do it for me. But I also found a lot of new authors with great stories. Kevin Brockmeier's The Ceiling has a great metaphorical...

Like much of McSweeney's, this collection was hit-or-miss, but bound in an astonishing physical publication. I question the editing, as I know I've read better stories/essays/poems in individual issues, but it may have just been an opportunity to showcase big names, e.g. George Saunders, whose work shows up in this but is so very far from his best.

Great collection of short stories! Recommended.

An outstanding collection. From the typography and jacket design to the deluxe edition's great collection of uniquely designed excerpts, the collection shows the passion and dedication that McSweeney's has for the written word. The anthology itself is full of gems. I particularly enjoyed the 'dead form' (Pantoum) poetry, a form I'd love to see more of in contemporary lit mags, as well as most of the essays. Surprisingly, it's not the heavy-hitter...

It's really saying something that I like a bigger proportion of the stories in this collection than I do for most collections. Standouts for me included New Boy, A Child's Book of Sickness and Death, Mr. Squishy, Can a Paper Mill Save a Forest? (more for bringing the issue to my attention at all rather than the actual piece itself - it could have gone a lot deeper), Girl with Bangs, Bored to Death, and Bastard. I didn't like The Retreat, but appr...

I loved Stephen Millhauser's short story Phantoms. David Foster Wallace's Mr. Squishy shows off his genius... I really must read the rest of his work. As a writer, I really enjoyed seeing Wells Tower's process as he wrote The Retreat and then rewrote it from another POV.I'm biased about Zadie Smith's short story (which inspired the song Bangs by They Might Be Giants) because by now everything I read of Smith's seems brilliant, poetic, droll, and ...

Wow I finally finished it. Well, a couple of stories I had to skim through because I couldn't deal, but other than that I actually read the whole thing (took me almost the whole year!) Read partly because Powell's Books sent it to me, partly because it was simply a beautifully made book, and partly because I was curious about McSweeney's.I'm not a huge fan of short stories, and this compilation did nothing to change that. Often times it felt self...

There was a diverse range of stories, fiction and nonfiction, domestic and international, brief shorts and long-form shorts. Plethora of genres as well. There were several stories that were of 'five-star' quality (The Ceiling, The Bees, The Girl with Bangs, We'll Sleep in My Old Room, K if for Fake, There is No Time in Waterloo), and several that I did not enjoy at all (S&J, Benjamin Bucks, Four Institutional Monologues, How to Sell, Can A Paper ...

I love McSweeney's and have every issue they've ever put out and every book of poetry they've ever published. McSweeney's does awesome things. A "best of" McSweeney's was bound to be a mixed bag, especially since what I love about McSweeney's is their attention to the book as a physical object. The Best of McSweeney's is a 600+page, non-descript brick of a book. There's some good stuff in here and then there's some stuff that's just okay. I think...

I lied. I never finished this book. But then again, this isn't a book to finish. It's not meant to read from cover to cover. It's a book to explore and discover stories in. It's also an event book: different fonts, comics, illustrations, photography, etc. make for a visceral experience. I used to look forward to new McSweeney's. I thought I was so cool back then--reading a counter-culture lit journal. Anyway, I don't want to keep a library of McS...

Reading through this collection, I can really see why people freak out so much over McSweeny's. I didn't absolutely adore every single story, but I certainly dug each and there were some absolutely sparkling ones in here. There were some I already knew, and some I was happy to get to know for the first time. McSweeny's is a cool mag and this is a great collection.

I didn't read the whole thing, but I did love a couple of the bits I read--letters to the editor, and also the two variants of Wells Tower's short story, and his intro note, which really helped me see the writerly process in a new way.

Perhaps "The VERY best of McSweeney's" would make a better collection. This one has some outstanding short fiction works and a lot of strange fiction, non-fiction, and hard-to-characterize prose. I found finishing the book tedious: there's just too much here.

This was so up my alley. A diverse set of engaging stories, comics and (one or two) nonfiction pieces. There are a few genre tales and nothing so horrifyingly pomo or lit-precious as to drive one crazy. This book has been my fave for the past month. Sad to put it down, really.

What an enormous, diverse collection. A few of them did not hold up over time, but the majority of these are excellent -- even on second and third readings, as is apt to happen with best-of collections.

Genius condensed into one massive tome (and a box of extras). If only it had been 600 pages longer.The perfect jumping-on point if you are not yet on board the McSweeney's train (outside the website, which does not count you guys).

I really tried to like this book. I really wanted to like it. It just left me feeling like I'm the only one who doesn't get it.

Uneven. A few of the stories were very good, especially Retreat, and Retreat 2, others not so much.

I have never been able to get into short stories- not sure why I thought it would be different this time.

Very enjoyable. So much great talent out there. Makes me wish I could afford to subscribe!

An excellent collection from an excellent publication. Plus, it is a beautifully designed book, worth the space on your physical bookshelf.

great collection of short fiction. favorite stories were from chabon and DFW, but the highlight was probably the letters to the editor. I haven't laughed that hard in forever.

Worth it alone for the comic section - Love Chris Adrian - and the twenty-minute stories - Love anything by Peter Orner, the man's a genius.