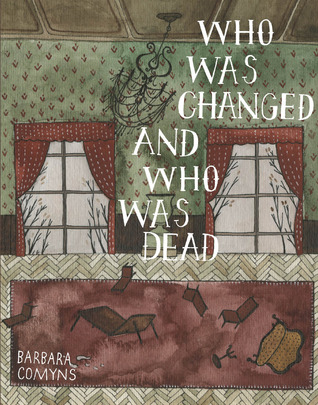 This is the story of the Willoweed family and the English village in which they live. It begins mid-flood, ducks swimming in the drawing-room windows, "quacking their approval" as they sail around the room. "What about my rose beds?" demands Grandmother Willoweed. Her son shouts down her ear-trumpet that the garden is submerged, dead animals everywhere, she will be lucky to get a bunch. Then the miller drowns himself . . . then the butche...
---
Details Who Was Changed and Who Was Dead
Title
Who Was Changed and Who Was Dead
ISBN

9780984469314

Author

Barbara Comyns

Release Date
Nov 10th, 2010
Publisher

Dorothy, a publishing project

Language

English

Genre

Fiction

,

Classics

,

European Literature

,

British Literature

,

Novels

,

Literary Fiction

,

Female Authors

,

Humor

,

Horror

,

Literature

,

Mystery

Rating
Reviews Who Was Changed and Who Was Dead
this book was a perfect book to read directly after prayer for the dying. when i was reading the o'nan, i kept thinking "this is like an even sadder winesburg, ohio", even though that was a poor comparison. but i still feel that way. this one is closer to what an even more depressing winesburg would be, because it is also funny, which is an element not to be found in the o'nan. but funny in the way that, as you are laughing, you are horrified.the...

A quirky, forgotten classic brought back to print and deservingly so. I'm particularly impressed by Comyns' ability to float among POVs as often as the wind changes without driving me crazy. As they say in the introduction, this novel shouldn't work. Developing an entire town of characters in 200 pages seems like an insurmountably difficult task - and yet here it is.The plot is infused with tragedy and dark humor and sometimes it's hard to discer...

There'll Always Be an EnglandThe saving grace of the English is that they don't take tragedy all that seriously. Recently this has been shown clearly in the process of leaving the European Union. Everyone agrees it's been handled badly. But very few are terribly upset. Things will work out. Life will go on. In fact life going on means that there will be any number of replacement problems once this one is resolved. There isn't likely to be...

Bitter and delicious as dark chocolate, this story is a treat. It is resolutely English, both in its setting – a run-down country estate in Warwickshire – and in its tone of brisk tragic comedy. This is established to great effect in the virtuoso opening scene, which follows the effects of the river flooding:As the day went on the hens, locked in their black shed, became depressed and hungry and one by one they fell from their perches and com...

I recently purchased books from the Dorothy Project, and one of the books was this one. I had never heard of the author or the book. So there it was, on my shelf, and then a character in another book I just finished, Swimming Lessons by Claire Fuller, mentions the book in passing. It was a clear sign that I should read this next.This is a weird and disturbing book (in a good way) - the town seems to take floods, epidemics, and dead animals (and p...

First caught my eye via the incredible title, before I realized I'd been meaning to read this for a while. And it's great, the best thing I've read this month, probably. Comyns shares certain peculiarities of tone, observation, and conviction, perhaps, with interwar favorites Jane Bowles and Denton Welch, but seems initially to be taking things into much more phantasmagorical territory. Initially we have the macabre pastoral British landscape, a ...

Introduction--Who Was Changed and Who Was Dead

A perfect little Hallowe'en treat for gruesome children. It reminded me strangely of The Man Who Loved Children; twisted family dynamics are pitched at you and the author moves on, leaving a sickening afterimage to burn into your eyeballs. Dark genius at work in fairy tale land. Can you say macabre?

This novel probably sounds more macabre than it reads: It opens with a disastrous flood and takes place in a small English village beset by a mysterious epidemic of suicides. But once you get past the gruesome knife wounds and floating animal corpses, it's a surprisingly wry and often gentle book. The story circles around several children growing up in a beatific countryside and the turns their lives take during these strange events. Comyns strik...

As soon as the funeral was over, and before the mourners had hardly left, the uninvited surged into the churchyard to watch the gravedigger fill the grave with clods of clay so recently removed and to examine the dying wreaths. They were accompanied by many dogs. Grandmother Willoweed commissions a boat to transport her to the funeral of the summer. The rest are a bunch of Johnny come latelys. The doctor's wife finally kicked it after extending h...

(3.5) An extremely entertaining, weird and funny story about a family that doesn't get along, a tragedy within that same community and what happens in the aftermath of said tragedy. Comyns was a writer with a hugely imaginative mind and this kept me reading without boredom. Generally, when there is a lot of death and grief I feel a loneliness, a darkness inside. She finds a way to make the act of dying not sad, but a part of the actual entertainm...

4.5 on the five side, because it's a downright brilliant book and I love Barbara Comyns' writing. much more here (no spoilers at all): https://www.readingavidly.com/2019/04...My introduction to the work of Barbara Comyns was her The Vet's Daughter, which I absolutely loved. Like that book, Who Was Changed and Who Was Dead is disorienting, dark, and filled with small moments of rather wry, black humor that caused instant guilt feelings whenever a ...

Listing this book on my humor and literary-horror shelves makes me all warm and fuzzy inside. Yet as a word of warning, the humor is very dark, satirical at times, with the entire book meeting in the middle between humor and horror. This is one of my flirt-finds. There is a young woman who works in the local used book store and I have been lucky enough on more than one ooccasion to approach the register when she is busy flirting with a customer. ...

Other reviewers have compared Barbara Comyns to Shirley Jackson, and they're right to do so. Both authors have a way of describing awful situations and people with detached, pinpoint precision.The Willoweed family, living in a small English village in 1911, ruled by the tyrannical and cruel Grandmother Willoweed, are beset first by flood and then by an epidemic. Who is changed, who is dead and who escapes has nothing to do with who is good and wh...

Barbara Comyns is absolutely one of my new favorite writers. Her work is so strange, so precise, so ever-so-slightly gruesome. Reading Comyns is a kind of submersion; like lifting your feet from the lake bottom and drifting; like closing your eyes against a grey sky as the water rises around you, lifting your hair, filling your ears, slipping overhead until everything around you is blurred and green. A world recognizable--but barely.

Barbara Comyns is one of those writers who has been on my to-read list for so long that an almost mythic status has been assigned to her name in my mind. Based on reviews I've read through the years I was also uncertain as to what exactly to expect from her books. Sometimes these conditions can set the stage for disappointment when I finally get around to reading a writer's work. Thankfully such was not the case with Comyns. This novel encapsulat...

On the basis of this, I'd say Comyns seems like the bastard love child of Stella Gibbons and Edward Gorey - the macabre and the droll fighting it out for supremacy. A breezy, entertaining read - my one quibble is that the book was published in 1954 and the beginning states it takes place "About Seventy years ago..." (i.e., 1884) and yet the coronation of George V is mentioned, which took place in 1911!

Storia veramente particolare, con personaggi caricaturali e parossistici sino all'estremo......la narrazione è particolarissima e nn sempre si capisce a chi si riferisce l'azione. La storia è tipica inglese con protagonista una famiglia simpaticissima ma trasportata in un mondo dell'assurdo che rasenta il distopico. Piaciuto il libro mi è piaciuto, purtroppo mi ha anche stancato in più parti.

This book belongs on the shelf next to "Let's Murder Uncle," "I Capture the Castle," and of course, that famous gem of odd goings on in the British countryside, "Cold Comfort Farm." However, be aware that Comyns tragicomic little gem is dipped in a blacker hue than any of the previously mentioned books. Originally banned in Ireland for it's singularly bleak vision, "Who was Changed..." begins with a flood, goes on to a mysterious string of violen...

Morbid Adorable.Reads like a children's book with a horror plot. I'm not sure what it means. Is it supposed to be symbolic or not?I first read this when I was 17. I found the Virago copy in a knock off bin in a mall bookstore. Drawn to the title. It was 1993. This novel was formative for me, I loved it. Probably more than I do now.

A dreamy-grotesque summertime tale set in a village of England's West Midlands in the 1880s. The village is afflicted first with a flood and then a terrible epidemic, and through it all the characters--the strange Willoweed family, in particular--float like obsessed apparitions or dangerous sprites, distending the fabric of their community with the momentum of obscure, private agendas.Comyns' limpid, fluid narrative voice is a true marvel, co...

I love weird English tales about rural village life. Maybe because it's what I've descended from or maybe because it doesn't exist the way it used to and I have some kind of weird nostalgia for a kind of simplicity that shuns modern conveniences associated with efficiency and cleanliness...It's funny that this was a banned book. Was it the cat with it's eyeball popped out of the socket or the butcher who sliced his own neck in the shape of a smil...

The setting is the village of Warickshire around the turn of the century. When the novel opens, there has been a flood. The ground floor of the Willoweed home has filled with water and ducks swim through the windows. For the Willoweed children the house and grounds have become an aquatic playground, although the bloated dead animals strike a melancholy note. Their father finds the flood another ordeal to be endured. For their grandmother, in whos...

Tone is not just lost in emails but can be easily passed over in prose, at least for me. Maybe that's why I tend towards writing that follows the VaryView-like toy you used to get in Crackerjack, where the image looks one way from one perspective and another from a different one. I like a sentence that can be deeply moving and absurdly funny at the same time. It took this dull reader a bit of time to realize that's where I was in Barbara Comyns' ...

I wish I could have kept reading this book for several weeks, but it's such a quick read I had to work hard to make it last longer than a single afternoon. I read The Vet's Daughter a year ago, and came across this new printing of Who Was Changed and Who Was Dead while browsing the Dorothy catalogue. I love the sweeping gore, and the gleeful way her characters react to tragedy. Thanks to the Dorothy Project, this is also a book that feels good in...

(4.5) Talk about gothic humor! Who isn't dead or probably dying in this novel, and gruesomely at that! However, it is wonderfully surreal, with the innocent and poignant moments of childhood. Comyns has the delightful ability to succinctly get to the point while painting wonderful scenes of this town—you feel as though you are there (which in some scenes is a rather unpleasant feeling). Through a series of surprising twists and turns, Comyns ke...

Wow - a deft, strange, singular, disturbing little book from a midcentury writer who deserves to be much better known. Horrifying sequence of events befalls an idyllic English village, described in language that is lithe and darkly funny, evoking the vertiginous emotions of childhood. Grandma Willoweed is unforgettable. Barbara Comyns is an original, brutally clear writer. I will be reading "The Skin Chairs" and "The Vet's Daughter" soon.

Barbara Comyns has a fine imagination. I enjoyed this book, which was very warm and full of humor and quirks, despite the gruesome deaths.