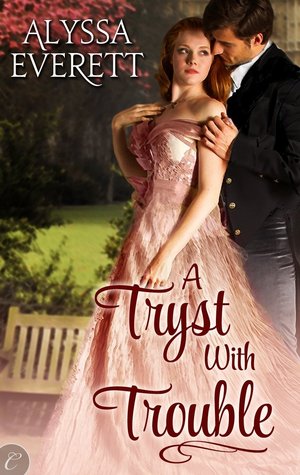 London, 1820Lady Barbara Jeffords is certain her little sister didn't murder the footman, no matter how it looks…and no matter what the Marquess of Beningbrough—Ben—might say. She can scarcely help it if his cousin is the only other suspect. In fact, she wants nothing to do with ruggedly handsome Ben; he reminds her of all the insensitive clods who passed her over.For years Ben has been dogged by painful gossip about his father's rumored ho...
---
Details A Tryst with Trouble
Reviews A Tryst with Trouble
Update and re-postAlthough I reviewed this book as an ARC in 2012, the title was never released by the publisher. A Tryst with Trouble will now be released by Carina Press on 23 September, 20134.5 starsLady Barbara Jefford's sister, Helen is engaged to Lord Beningbrough's cousin, Teddy. However Teddy is having second thoughts and wishes to break off the betrothal believing that Helen has been unfaithful with a neighbour's footman. When the foot...

This was a light and fun historical romance. Alyssa Everett has an engaging writing style and seems to prefer a light tone to her stories which makes reading them an enjoyable experience! The romance was good. I liked Barbara and Ben both as a couple and as individuals so it was easy to root for them. It helps that they felt like a good match and genuinely seemed interested in each other. The other thing I really liked was that both characters fe...

Happy "It's About Bloody Time" Release Day!! A Tryst with Trouble is finally being published! Seems Ms. Everett is another author who fell victim to the mess that is/was Dorchester Publishing and her book release was delayed...as in, it didn't happen. But I'm thrilled to share that Carina Press was smart enough to see it for the gem it is and now you all have the opportunity to do the same! I'm wishing Ms. Everett much LONG OVERDUE success with t...

4.5 starsThe Marquess of Beningbrough -or Ben for short- has tried for many years to prove that he's not like his father, a notorious homosexual. He indulges in lightskirts, boxing and other manly pursuits in order to prove his manliness. However, it becomes obvious pretty soon to the reader, that behind his facade Ben is a decent and honorable man, deeply devoted to his family and friends. His devotion to family is the reason he gets involved in...

A Tryst with Trouble was just a fun regency mad caper story, With two at times a two hard headed leads whom both have something to lose and something to win by solving the death. Marquess of Beningbrough or just Ben has had to dodge rumors of his father's homosexuality, creating a cold shield around himself to protect himself from the harsh words throw at him. Barbara has always felt she's played second fiddle to her prettier sister. Because of ...

It was very well written, very engaging and entertaining story. I love very part of it. Imo, romance books with include suspence are not very successful. At least, I haven't read a good one until this one.It's official now, Alyssa Everett is a winer and one of favorites authors in HR genre for me.

A Tryst with Trouble was a historical romance novel that made me laugh, kept me interested with the storyline centered on a mystery murder, and dealt effectively with issues such as sexuality, insecurity, and devotion to family. The CharactersBen, otherwise known as The Marquess of Beningbrough, is a proud man trying to prove to society that he is not like his father. Ben's father, a married man, is a well-known homosexual. Ben, tortured in sch...

This is a Quickie Review. For the full review, please visit The Romanceaholic.Expected Release Date: *(See note at the end of the review)Publisher: Dorchester PublishingImprint: DPAuthor's Website: http://alyssaeverett.com/My Source for This Book: NetgalleyPart of a Series: NoSeries Best Read In Order: N/ASteam Level: Warm-SteamyTo be perfectly honest, I was a little hesitant to read this book when I first read the synopsis. "Dogged for years...

I really enjoyed this one, provided by netgalley. I'd read another one by this author Ruined by Rumor, and enjoyed it, but found it a bit lacking. The heroine annoyed me a bit and the plot was too predictable. With this one, I didn't have those issues at all.So what did I enjoy?- The hero and heroine are just wonderful. Both of them. And, quite frankly, how often can you say that you really enjoy reading about both main protagonists in a romance?...

2.5 stars.I like Everett a lot. This, I believe, was her debut and she's writing better than this now and, thank sweet Jesus and all the elves, has left the first person behind. I dislike the first person generally but in a historical it really doesn't work. You're just never going to get into the head of someone from the nineteenth century. It's hard enough in third person, let alone opening yourself up to having to examine their introspection m...

Setting: 1820 England4 1/2 Stars!Lord Beningbough the future Duke of Ormseby,is determined to help his cousin Teddy Lord Cliburne avoid a marriage to Helen who is a flighty young lady who already has a reputation for dallying with her neighbour's footman. Ben does not think to highly of the future Lady Cliburne, but her sister Barbara is another matter as she is nothing like her sister Helen at all. Barbara is a lady possessing a quick wit and a ...

A fabulously, fun read! Great debut!

Review online here: http://rnslnitelite.blogspot.com/2012...It's been ages since I read a really satisfying Regency romance. I read a few last year that I don't even count as having read since they were so poorly written and disengaging, I might as well have been leafing through a ten-year-old copy of Cosmo. (Wait, is Cosmo still around?)A Tryst with Trouble, Alyssa Everett's debut novel, was just what I needed to revive my love for Regency. Ben ...

A Tryst with Trouble is a thoroughly enjoyable Regency romp in which our two leads – Lord Benborough (Ben) and Lady Barbara Jeffords, by turns bicker, sleuth, and fall in love. It's a fast-paced, fun read which brought a smile to my face more than once, but there are definitely deeper emotions and insecurities buried beneath the humour, which I felt lent much to the overall balance of the story. While this edition was published only a few wee...

This is Alyssa Everett's debut novel, but because her publisher suddenly went into bankruptcy last year, the book was unavailable. In the meantime, I've read and been most impressed by her two subsequent books, Ruined by Rumor and Lord of Secrets. Both of these books were excellent, five-star reads for me, and I'm very pleased that she's found a new publisher.A Tryst With Trouble is written with the same impressive competence and a feel for Regen...

It has been a very very very long time since I've enjoyed a book as much as I enjoyed Alyssa Everett's debut novel, A Tryst With Trouble. I know most of the books I read and review on here are from the Christian Publishing Market... but last week I was getting to the point of frustration at not being able to find a book WORTH reading. There are TONS of books out there--but I wanted to read something I would LOVE. This is the very reason I thought...

3.5 stars. I listened to the Audible version. Excellent narration. This is a British who-done-it with romance and steam, but no actual sex. Little or no swearing. A little violence. Some humor. Good dialogue. Textured and imperfect characters, including secondary characters. Alyssa Everett's first novel. Kudos! Jolly good show! A talented author, especially for a début novel. I'll read more of her books. Main quibble: I grew highly impatient wit...

My review at "Dear Author": http://dearauthor.com/book-reviews/ov...

Cheeky, sweet and entertaining read.

This is the third Alyssa Everett book I've read. It's a credit to the author's versatility and willingness to step outside the proverbial box that all three of those works differ sharply in terms of writing style, theme and general tone. I admire an author who experiments, though for me this one was mostly unsuccessful. Lord of Secrets and Ruined by Rumor did have at least one vital characteristic in common: both books gave us two of the surprisi...

Redonk nutshell: Unlikely friends ally to solve a murder mystery and end up finding loveThis book ended up not being at all what I was expecting. And you know something? I kinda liked it.The Marquess of Beningbrough is a stand-up, straight-laced kinda of guy who has had to go above and beyond to prove his masculinity amid whispers of his father's scandalous homosexual desires. After years of putting up with taunts he's become cold and detached. U...

Buddy read with my pretty one, DhiniLoved it so much !!!! It's just amazed me how Historical Romance make a love story so beautiful...Its a fun read...I laugh a lot.....the mystery was also brilliant !!!It's a fun read having two POV. So I won't be questioning the other main character's thinking.I feel like reading Julia Quinn with a touch of Amanda Quick and a bit Agatha Christie. The story was great, the mystery was so smart and brilliant...I ...

Ben the Marquess of Beningbrough is the son of a Duke who happens to be gay. He has always been a fighter to prove to everyone he does not follow in his fathers footsteps. Ben's cousin is engaged to the beautiful Helen Jeffords. He accompanies his cousin to break of his engagement, because it was rumored that Helen was seen alone with the neighbor's footman. The footman end's up murdered, Ben's Cousin is accused & he meets Barbara, Helen's sister...

A Tryst with Trouble was an adorable and quirky historical romance filled mystery and two very fun characters. Lady Barbara Jeffords is forced to join forces with the odious (yet handsome) Marquis of Beningbrough when their relatives are implicated in a footman's murder. Barbara is convinced that her sister did not murder the footman, and Ben is equally convinced that his cousin had nothing to do with it. Setting aside their intense dislike of ...

Sweet romance and thrilling mystery, secrets and scandals. We get all of that and more in A Tryst with Trouble. I absolutely loved this historical romance. It was thrilling, romantic, and full of surprises. I really enjoyed reading this book. It was simply amazing.Barbara was one strong heroine. She was not someone you wanted to mess with. She was clever and formidable and not prone to dramatics. And I really liked her. I thought she was great. T...

It was somewhat difficult for me to get into this book, since I didn't expect the first person narrative with alternating viewpoints in a romance novel. But eventually I warmed up to it and ended up really liking the characters. I wish a few more things had been wrapped up in the story: (view spoiler)[Helen seemed crazily manipulative, and I wish she'd been made to answer for her spiteful testimony about Ben, because WTF??? And I wanted to actual...

These are my favorite type of historical romances. With depth and heartache, miscommunication, and interesting characters. I'm not usually a fan of novels written in the first person, but this novel is perfect just as it is. I love Barabra. She's outspoken, brave, and no nonsense. And Ben is anything but your average hero. Both of them have issues that they haven't been able to resolve since childhood and the fact that we're invited right into th...

4.5 STARSLoved it a lot!!!Buddy read with my dear friend, mba Lelyana Taufik

This book was a very welcome surprise. I loved the characters, story and the general feel of the book.Everett was very creative when she wrote, A Trust with Trouble. The title is completely accurate and the book was such fun.Ben was such a great character. He came off as a jerk but he was really cynical and hesitant of people because of the way he had been treated in his past. He has some daddy issues which I loved how Everett addressed this issu...

Audiobook Review Narrated by Lizzie Owensby.While listening to the book I couldn't stop thinking of that show Murder She Wrote with Angela Lansbury with the twist of an adult romance. The story is really quite good and kept my interest. The courtship of Barbara and Ben, Marquess of Beningbrough is the primary focus as they search for the villain. They share more of a witty banter with each other and slightly less sexual heat but it doesn't take a...