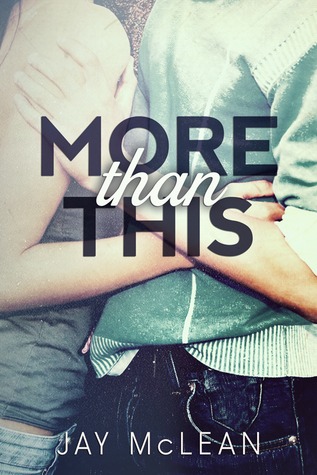 When Mikayla imagined her prom night, she envisioned a fairy-tale evening full of romance. So when betrayal and tragedy come in quick succession, Mikayla is completely destroyed. Suddenly, everything she loved and everyone she relied on are tragically, irrevocably gone.Jake, a handsome boy she just met, happens to witness her loss. With no one to turn to, Mikayla is forced to depend on this near stranger and his family, and he in turn is determin...
---
Details More Than This (More Than, #1)
Reviews More Than This (More Than, #1)
5- I more than a lot liked this book- stars!!! This book hooked me from the start and I couldn't put it down. Loved every single page! I'm going to throw this out at the very beginning of my review- this one is going straight to the favorites shelf! In one night my fairytale ended... or it may have begun. It's just one day. 24 hours. But for Mikayla, that one day alters her entire life. Kayla's life was pretty great. She had fun and aweso...

SPOILER FREE REVIEW -mature content reader discretion is advised.5 STARS out of 5Genre:New Adult Romance2013 FAVORITEThat moment when you find a book you love..and can barely contain your excitement because you want to share it with EVERY ONEIt can't be just me… You have to read this book I cannot be alone in this love fest. I need my fellow book lovers to read this book! ASAP! My Casting REVIEWBecause I need to know.I need to know how she fe...

(SPOILERS ahead...) It took every ounce of control I had not to DNF this book. It's one of the most unrealistic stories I've ever come across with!Here are the reasons why I didn't like it:UNREALISTIC PLOT - This is a work of fiction, I know. But why make the whole thing unbelievable to the extreme? Mikayla found out one day that her boyfriend cheated on her with her best friend. That same day, she also met the gorgeous guy with a sexy Aussie acc...

4.5 STARS More Than This is book one in the More Than series by Jay McLean. This book was recommended to me by two different friends but I hadn't really read many reviews so it took me by completely by surprise. I WAS NOT prepared for all the feels, and let me tell you, there are plenty. And the hotness factor, oh my gosh, was off the charts. Mikayla is eighteen years old, just two weeks away from graduation, and it's prom night. She is goin...

*3 Stars*Great story, but left me slightly conflicted...This book had such a powerful, gripping start that broke my heart and made me anxious for the complex story I presumed would follow. Instead, I found that the middle strayed considerably from the intensity and intrigue of its promising beginning. That's not to say that I didn't enjoy what this story offered, because I did. But I felt some major issues were never fully explored while certain ...

2.5 StarsMaybe I've just read too many things similar to this and thus the blush is off the rose...but this pretty much sums it up for me:Don't get me wrong, Jake was cute and I liked him and all...but Kayla and her cock teasing ways were really starting to make me want to slap a bitch.Two words: Blue. Balls. Not nice, Kayla. Even I was getting sexually frustrated, and I don't even have balls. Something else random that annoyed me? This quote:"If...

Jay McLean… I FUCKING LOVE YOU!! Seriously your words, this story, the characters, the emotions.. THE GODDAMN EMOTIONS!!… It just blew me away! You blew me away. I can't believe that this is a debut novel!God I love Indie authors!So seriously dude I know some people out there have been haters, due to a few grammatical errors etc, but seriously.. If you're that into the story you don't worry about those things. But I saw that you said ...

In the beginning I was having a fair amount of fun. I always enjoy contemporary reads and people had been recommending this series for a while now. Logan and Lucy's books in particular so those are the ones I'm anticipating the most.I really tried to like this book and for a moment I thought I was going to but the characterization was so poor. There was no arc at all, either.I was legit concerned about Mikayla's mental health because that girl di...

JUST ADDED Author Interview - > HERESUPER ADORABLE character interview here - > Jacqueline's Reads 5 STARS I more than a lot like you ... so much more than a lot WHERE DO I BEGIN?! I'm just going to be upfront with you. I.LOVED.LOVED.LOVED.LOVED --- > MORE THAN THIS! My Emotions:At 1% - I had no idea what to expect, my girlfriend recommend it to me, so I said, oh what the heck.At 1.1% - I KNEW this was going to be something specialAt 8% I am g...

Find all of my reviews at: http://52bookminimum.blogspot.com/I was going to call this one "Hey, I just met you . . . and this is crazy, but my family just croaked so I'm going to move in to your house and have a completely unhealthy relationship with you maybe," but I decided to go with something a little classier instead . . . "Nothing says awkward like coming in your pants while dry humping." If you're only interested in the Cliff...

5 stars of a more than a lot of epic greatness !!! JAKE.Fucking.ANDREWS he's kind of a big deal.....Hmmmmmm Australian Accent.....hell yes mate!HE WAS MY PRINCE CHARMING. MY WHITE KNIGHT. MY HAPPILY EVER AFTER. MY EVERY FUCKING THINGMIKAYLA ~ this beautifully broken girl....her world collapsedI WILL NOT LET BAD PEOPLE DICTATE WHAT SHOULD BE A GOOD LIFEI pretty much was in tears for the better part of this book ! The tragedy that happened with M...

FOUR MORE THAN STARS. I think I'm in love with this beautifully broken girl. Why, oh why, oh why, did I wait so long to start this series? It's been under my nose for so long, so many of my friends have read, devoured and adored this series and here I am only just starting this epic 'more than' marathon. I can only say that I'm an idiot, but at least right now I'm a happy idiot and blissfully enjoying the start of my Jay McLean type book binge. F...

This is a read now on NetGalley - if you haven't fallen in love with this series, now is your chance!!5 More than love this series StarsThis series was recommended to me a while back by two of my favorite friends, and every week I kept moving it on my calendar. Well this last week I decided to read some of the books that I have been meaning to read, but they kept getting pushed back. I knew I had to start with this one, and let me tell you I am s...

*****Warning this review contains spoilers******I completely and utterly Loved this book!!!What a beautiful story!!This is a sad and oh so sweet story"I feel sorry for all the girls in the world that never get to experience a Jake Andrews at least once in their lifetime."This is a story of the end and the beginning of the life which Mikayla knew..The night which was supposed to be her beautiful fairytale... Senior prom with her boyfriend and best...

** FULL REVIEW NOW POSTED ** "In one night my fairytale ended. Or it may have begun..." More Than This  was a very sweet and sometimes heartbreaking book about love, loss, healing and friendship. It was laced with some sadness following a horrific tragedy but the feeling of the book was more focused on healing, rebuilding and finding happiness again.I loved the hero and the core group of characters and will be looking forward to the next in the ...

4 So Much More StarsMikayla has everything going for her. A loving family, a hot boyfriend and a best friend, it seems nothing could happen to ruin the life she's living. Until the night of her prom when everything falls apart, everything she's always held dear ripped from her life. Everything she has always believed in is proved to have been a lie.The one thing that anchors her and prevents her from drifting away is Jake. A chance meeting but he...

This is the first new adult novel I've ever read (listened to on an audiobook). At first, I thought I was reading YA. I read probably one YA a year now that I'm no longer in junior high, which was one million years ago. Then when there was all this explicit sex and swearing, I thought, my my, YA has changed.Duh. New adult. I'd heard the term, I'd just never stumbled on it before. The premise of the novel starts out well. Mikayla goes to p...

THIS BOOK WAS TOTAL FANFUCKINGTASTIC!!! IT WAS JUST........ This was a book I could not put down... it consumed me. This story.. this amazing story... is honestly unlike any other I've ever read. Most books follow the same formula as far as true love goes.. and this one did have a few predictable elements.. but what happens in the beginning to Kayla ( aka Mickey).. is like nothing I've ever read before.. well--- nothing put together like that be...

***5 tender and loving "more than a lot" stars*** What a lovely and tender story!!! Yeah, i know it was heartbroken in the most part, but i like ever single moment inside that book!!!First of all, it was a book about kindness, strength and courage... About family and real friendship... And finally it was about love... The kind of love that never ends!!! The kind of love that from the first moment stand by you and become more that everything!!!Yea...

I had no idea what I was getting into when I picked this book out. It was on KU, so I thought... why not?I more than really really liked this book. More than really liked Kayla and I for sure really really more than liked Jake. More Than This was absolutely wonderful and heartbreaking. It is about high school/ college kids but the story is amazing. Now I'm on to Logan's story!

UPDATE: Jay has released an EXTRA bonus scene 10/10/2013! It'll be spoiler-y if you haven't read the book. Here's the link: click here 5 stars!!!I loved this book so, so much I am going to do an interview as a review!!! First time so bear with me! All answers are from the book and not made up! I promise there are NO SPOILERS! Okay here we go! Me: Hi Ms. Jones! Thanks for agreeing to meet with me! (Technically, I had to drag her here…prying her ...

"Talking without speaking. Feeling without touching." I shouldn't like this book, but I really did. I've had all these issues with this genre lately, but I keep getting sucked into reading them. And sure, yeah...this story contained some of my pet peeves. It's pretty darn angsty. The setup is a bit off the charts, and so is the melodrama. But I was glued to these pages. I don't want to even say what happens within the first few chapters because I...

I adored this book. I loved every single second (even the frustrating ones). At its heart, this was a modern day fairytale about a "regular" girl. And, as all good fairytales do, it starts with a tragedy. Well, actually two tragedies. The first is the catalyst for Mikayla and Jake's chance meeting. The second is what both keeps them together, and threatens to tear them apart. The thing that makes this story different, and sets it apart from...

4.5 - There is only so much shit I can take before all the fucked-up things in my life consume me. Stars!More Than this is the first book I have read by Jay McLean, it is what I affectionately class as a 'kitchen sinker', in that it feels like the author has literally thrown as many tropes as she possibly can at it. This is the type of book I need to be in a certain mood for, otherwise I just get frustrated and annoyed. Luckily, I was in the ...

4.5--SWEET and HEART-WARMING--Stars!!!That was the sweetest story ever! *sigh* Mikayla's life changes forever the night of her prom. And it all started with a spilled beer.... More Than This is the story of Kayla and Jake. And I don't want to tell you too much about how they met and how they fell in love because I think that will spoil so much of their story. It was a chance encounter that led to a tragedy. It started as a friendship and grew in ...

More Than This was so much more than I expected. This is the beautiful coming of age story of Kayla and Jake. They meet on a night in which Kayla loses everything she loves and Jake was there to help keep her together. The author did such a wonderful job depicting their pain, sorrow, joy, and intense chemistry. Their commitment to each other was felt on every sentence, every page. All the characters were well developed and the author took great c...

This was a good story.....A very original storyline and it kept my attention and I had to find out what happened next. I got mad quite a bit during this book as well. I will say however the writing/grammar was a wee bit distracting for me so I cant give it a 5. Update 7/16/13 I have been told book was edited to remove legits! Authors do listen! Everyone cheer! Now go forth and read this book! Right NOW! Too many legits and too much slang. Sometim...

5 Amazing Stars!In the most tragic night of her life Mikayla and realizing that her life will never be the same again, she finds the most unexpected silver lining in the middle of the darkness.On that night she finds Jake and trough the next months he will be her shoulder, her best friend and the only person she can completely rely on. He'll be her knight in shining armor. Their love isn't lighting strike, it will take its time to evolve, the...

"It's a small touch,our skin only lightly grazing,but it feels so intimate,like we're more than what we are.I know I want to be.I want to be more than this." More Than This is a sweet,tender,sexy,heartwarming story,that left me lightheaded and smiling!What can I say,cute romances are my guilty pleasure!Micky's whole world shattered in her prom night.She felt the sting of betrayal by two people she loved,and the only reason she didn't collaps...