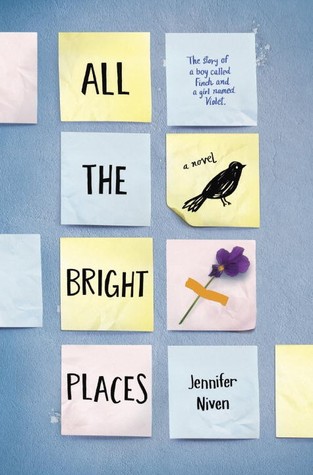 The Fault in Our Stars meets Eleanor and Park in this exhilarating and heart-wrenching love story about a girl who learns to live from a boy who intends to die.Soon to be a major motion picture starring Elle Fanning! Theodore Finch is fascinated by death, and he constantly thinks of ways he might kill himself. But each time, something good, no matter how small, stops him. Violet Markey lives for the future, counting the days until graduation, w...
---
Details All the Bright Places
Reviews All the Bright Places
I DON'T EVEN KNOW HOW TO FUNCTION RIGHT NOW. I HAVE JUST READ THE MOST BRILLIANT AND HEART-RIPPING STORY OF THE UNIVERSE. How do I do words?! How do I explain how much I'm feeling right now? I think I could cry and sing all at once, but mostly cry. Just know this very very truthful fact: This is the most incredible book I have read. It's probably my favourite contemporary in the world. I can't....I just...I need a moment. I love this book. You k...

Hmm, so there's a girl whose name is a colour (Violet) and a boy whose name makes him sound like he burst from the pages of a Dickens' novel (Theodore Finch) and they're both super quirky, intelligent and know the names of a bunch of dead poets. Then there's that whole death thing hanging over this novel... why does it feel like I've read this before?Err...Oh, right.Okay... so don't you just hate it when reviewers try to tell you what you should ...

*EDIT*Full review here: https://www.youtube.com/watch?v=DXQBq...I don't even know what to say... I'm sure the words will come, and at that point I'll try to film a review. But for now I'll just think about a million and one things. My gosh

the characters weren't people, just mental illnesses put into bodies. "quirky" but in reality mentally ill. not cool. nobody treated the characters' problems like they were real problems and that pissed me offfffhowever, if you enjoyed the book/could relate to the characters, that's totally fine. this one just wasn't for me unfortunately.

Fuck. I'm a glorified classics guy but what the hell happened here. I cried. Fuck. I rarely go for YA trust me; I'm a condescending jackass who's read one too many books. Usually I never even touch these kinds of sappy stuff, I basically hate the genre. I don't like John Green. Fuck the Fault In Our Stars overrated sack of shit. But I don't know why this book got through to me. For one thing, it doesn't condescend, it doesn't sound ...

$1.99 on Kindle US 1/28/18This is one of the best books I have ever read. I'm going to say a lot of personal things on here then go on with the review which will include spoilers, but I will put up the spoiler alert before I do. I also want to add some quotes from the book and the author's note at the end. This book is about teen suicide and bullying. But, it's also about some wonderful people, happy moments and a bit of crazy-wonderful. When I w...

Seeing other people's reviews on this book that I really trust made me realise a lot of things that I don't really agree with. Right at the time I was reading this, I felt like I could really relate to the main characters and their depression and I think that's why I thought I loved it so much and why I somehow overlooked some really concerning things. It's kind of written in a way that the characters are nothing but their illnesses, if that make...

"I know life well enough to know you can't count on things staying around or standing still, no matter how much you want them to. You can't stop people from dying. You can't stop them from going away. You can't stop yourself from going away either. I know myself well enough to know that no one else can keep you awake or keep you from sleeping."I honestly don't know how I'm supposed to write a review about this book.It made me so d...

First things first. In the blurb of this book it says..The Fault in Our Stars meets Eleanor and Park. That should go. I liked both those books in their own right. This book should and does stand on it's own. It's better than that.This review may go all spoilery and too much personal information. Be warned. My writing of reviews have been said to be Awkward..fuck that. I'm going all in on this one. If I can get one person that needs to read this b...

This is my secret---that any moment I might fly away. Somehow I think 5 stars aren't enough for such an ultra-remarkey-able book; if I can, I'll definitely give it as many stars as those shining in the entire universe because All The Bright Places deserves them all, seriously.For starters, I actually like the way Theodore Finch met Violet Markey---on the ledge six stories above the ground at the Bell Tower in their high school on a rainy day...

Updated- 2015-07-02This book has been bothering me for a while in all honesty. I thought I loved it when I first read it, I really did, but honestly I think I was caught up in all the hype. What Raeleen (padfootandprongs07 on YouTube) said has really stuck with me: the characters become their illness. And while depression really is all consuming and can make you feel like you're made up of not molecules but sadness, I feel that a book about depre...

"My beloved boat is broken on the rocks of daily life. I've paid my debtsand no longer need to countpains I've suffered at the hands of others. The misfortunes and the insults. Good luck to those who remain." I was not prepared for this emotional upheaval! A damn good YA contemporary that deals with the complex issues around suicide. It is something that so many of us have dealt with first hand, I myself know two people who have committed...

Where to begin? I heard great things about this but I should have stayed away. VioletI feel like she only really existed here to be the emotional component of this book. She's used as a prop mostly and a prize, yet I never saw her as having any personality beyond just being a sounding board. There is plenty of woe is me/my sister died so I use that as an excuse to hide from life from this character. She just felt insubstantial to me, her only pur...

Finch and Violet are two very different persons. She is popular, down to earth and is trying to please everyone. He's the ''Freak'', careless and doesn't know or acknowledge how the many things he does every day might hurt people around him. (Or maybe he does, and that is why he is lying to everyone about his deepest feelings, but I couldn't know for sure. Was there more to it, or just his personality?) Yet, they both have something i...

All the Bright Places is the story of how Theodore Finch and Ultraviolet are brought together by death--which would be gloomy, except the two personalities bloom, becoming something beautiful, as their wondrous adventures bring them closer together. Jennifer Niven takes a girl meets boy story, sets it in the dull landscape of Indiana, and turns it into a Seussical wonderworld with these extraordinarily conflicted characters.Saying their journey i...

2.5 starsI would rate Jennifer Niven's author note five stars if I could. We need more books about mental illness; authors should strive to tackle uncomfortable subjects like abuse, suicide, and bipolar disorder. While Niven's intentions come across as meaningful and good, her delivery through her first YA novel, All the Bright Places, falls short. Some reasons why:1: These characters have QftSoQ (Quirkiness for the Sake of Quirkiness) syndrome. ...

MY FEELINGS:REVIEW TO COME!!!

Every now and then you find a book that not only makes you think, but changes the way you look at the world. 'All the Bright Places', in all its clever, poetic and honest beauty is one of those books. It will stay with me, forever.

very very sad but extremely beautiful

Ugh. Just, no. Mental illness is not a cute little quirk. It isn't something that kickstarts a misfit, high school romance. It is not something that automatically makes you more witty, or intelligent, or really all that different from your peers. It isn't at all what is portrayed in this book. Niven's intentions may be wonderful, and she is right that we need more books about mental health and illness. But this makes a mockery of it. Please, YA a...

"You make me lovely, and it's so lovely to be lovely to the one I love." Well, my heart has been butchered again. But, I can't complain because I chose to reread it.I woke up in a state of mourning. This is what this book was. It was honest and raw about mental health, parental neglect, lack of understanding about the topic in schools and society as a whole.Jennifer Niven did an amazing job showcasing all of this and I felt so deeply conn...

Is today a good day to die? All the Bright Places turned out to be one of the most personal books of the year for me. Although it's being marketed as "The Fault in Our Stars meets Eleanor and Park", I have to violently disagree. As someone who detested The Fault in Our Stars and hasn't read Eleanor and Park, All the Bright Places touched something inside me that these books did not.Theodore Finch, seventeen, wants to die. He knows the best ways ...

5 stars! This year instead of having New Years resolutions I won't keep, I decided to make book goals and one of those goals was to read more YA. 25 is my goal for the year. This was the first on my list this year and it blew me away! For real, I had ALL THE FEELS while reading this. Powerful, memorable, smart, funny, sad, real… this book was completely authentic and moving. There were so many 'quotable' things in this book. I just want t...

Horribly pretentious, overtly ostentatious, and highly deleterious! Niven concocts a controversial narrative about suicide and mental illness with the intention of bringing forth light into all the darkest places yet the way she handles/executes this story is both disheartening and callous to those who are facing their everyday "black holes and blue holes and bottomless bodies of water and exploding stars and event horizons, and a place so dark t...

I can't even scramble my thoughts together for a review. Unrealistic and incredibly irritating. None of the characters' actions made sense. The only time I liked the story is whenever Theo's depression (????) was triggered and he became aloof and dissociated, because that was more tolerable than his annoying antics leading Violet on and perpetuating this "Theodore Freak" label at school. As a reader, I feel really guilty that the only parts of th...

2.5 stars "He smiles out at the ugly trees and the ugly farmland and the ugly kids as if he can see Oz. As if he can really, truly see the beauty that's there. In that moment I wish I could see it through his eyes. I wish he had glasses to give me." Can someone give me their glasses too, because I can't see it. I don't see the appeal. I don't see what inspired thousands of reviewers to post sobbing gifs, and those that disliked The Fault in Our S...

This is the sort of story that kinda sneaks up on you. You're not sure what kind of book it is at first - especially if you're like me and don't brush up on the blurb beforehand. It seems intense and gritty and even a tad confusing. You notice right away that the characters are definitely messed up with deep rooted issues they need to work on. Then there's romance and profound conversations and soul searching and what seems to be a light at the e...

Wow...what a great book! Theodore Finch and Violet Markey first meet on the ledge of the bell tower at school. Finch very gently talks Violet off of the very ledge he himself was thinking of leaping off. After a bit of pushing on Finch's part the two pair up to "Wander" together exploring their state for a school project. It seems like opposites attract for the two unlikely friends. While Violet is counting the days until graduation Finch is coun...