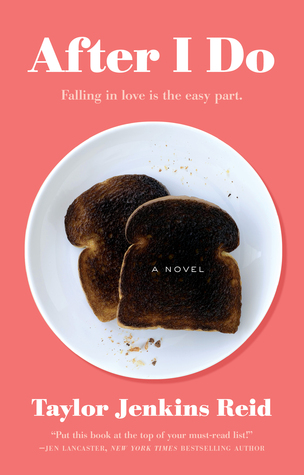 When Lauren and Ryan's marriage reaches the breaking point, they come up with an unconventional plan. They decide to take a year off in the hopes of finding a way to fall in love again. One year apart, and only one rule: they cannot contact each other. Aside from that, anything goes.Lauren embarks on a journey of self-discovery, quickly finding that her friends and family have their own ideas about the meaning of marriage. These influences, as ...
---
Reviews After I Do
"Isn't it nice...once you've outgrown the ideas of what life should be and you just enjoy what it is?"I love how TJR is able to weave together different elements of a story (such as flashbacks and emails) so seamlessly. This went beyond a simple "finding yourself" and "discovering love again" story as we got different character's unique perspectives on what love is. There wasn't just one definition of a "perfect" love or life, just whatever made ...

*5 Stars* for a refreshingly genuine read!This book seems so incredibly simple, yet so profoundly important. A husband and wife who have reached a crossroads in their marriage agree to separate for a year to find out if they can make their marriage whole again. Lauren and Ryan have reached a point in their relationship where they no longer bother telling the other what is important to them. Communication is stifled, and they become so withdrawn t...

I was given a gift certificate from my daughter Ali and her boyfriend Adam to the Burkes William Spa. While driving to Santana Row in the morning, I was listening to Taylor Jenkins Reid audiobook "After I Do". I was so close to the end ...I was sure I'd finish it before my 'fancy-dancy' spa treatment began.But I didn't.... I had 26 minutes to go. While Lucas was giving me a wonderful 2 hour massage including hot stones and an exfoliating skin scr...

6 stars!!I am in awe of this book. This is the kind of story that makes me think, makes me feel, and stays with me long after the last page is flipped. It doesn't just become another book on the 'read-shelf.' It's in a league of its own, and no matter how much time passes, the profound impact it's made on me won't diminish. This is one of THOSE books: the kind that will get you out of a book rut, continue your book roll, and is fill...

★★★★/ 5It was such a beautiful and genuine story! Usually I'm not a very big romance fan, but this book in an exception. The story itself looks simple, but underneath it, this book brings such amazing points about relationships and life in general.I very loved main character and how she stayed herself, but at the same time tried to change herself to become better. I really liked her inner monolog and how she dealt with everything what h...

2 stars. Review posted July 25 2014From the blurb: (…) And above all, After I Do is the story of a couple caught up in an old game—and searching for a new road to happily ever after. With all due respect I dissent. This is the story of Lauren. It's not a story about a couple because Ryan hardly exists. He drops by sporadically (view spoiler)[in the form of letters (e-mail drafts). (hide spoiler)] And what did they search for? It's all about...

Re-read 12/21/18: Aw look how cute 2017 chelsea was down there before she realized TJR would become one of her favorite authors. Not at all surprising: this book was still so fucking great. Original read 4/18/17: I really, really, really, really, really, really liked this. I want to read everything this author has written now.

I read this despite it sounding like something I wouldn't be interested in because I LOVED Evelyn Hugo & for the #TJReidalong and WOW I really enjoyed this! I'm now a lot more open to adult contemporary & definitely want to continue reading Taylor Jenkins Reid's other books!

This is on sale only 1.99$ guys you must read it!!One of my favorite books

"Just because you can live without someone doesn't mean you want to."This book is incredibly emotional and moving and I absolutely loved it. This book follows Lauren and Ryan, a couple who meets in college and is together for eleven years (married for six). We see them at their best and we see them at their worst, and the couple is struggling to make their marriage work. They just don't care about each other the way they used to. This book ...

You know how in the beginning of a relationship, everything the other person does is just so darn cute and adorable??But THEN, after a few years of marriage, you're baffled at their inability to pick a simple towel up off the floor? 😂 That's what this book is about.Lauren and Ryan have been together a little over ten years, married for six, and feel like they've fallen out of love. Miserable and desperate, they decide to do a trial separation ...

" My heart is truly broken. And I know that even if it mends, it will look different, feel different, beat differently." Lauren and Ryan have been together for 11 and a half years, and have reached a point in their marriage where they are questioning whether or not they still love each other, if their marriage is worth saving. They decide to take a year long break from each other with no contact whatsoever. "Ryan and I are two people who used to ...

4 Solid Stars!It's no secret I really enjoy married couple stories and this one was no different. But I couldn't give it 5 stars because for me this was more Lauren's story. I felt like it was more about Lauren finding herself and becoming a better woman. Which is ok, but I really wish Ryan was more apart of it, I actually missed him while reading it.Also, the end came together just way too quickly. I'm not a fan of the year apart thing, I feel l...

4.5 StarsLauren and Ryan meet in college, fall in love and after a couple of years are married. But what happens after the vows are said and the cake is cut? After 6 years of marriage, they find themselves extremely unhappy, and resentful. They've lost their way... Ryan and I are two people who used to be in love.What a beautiful thing to have been.What a sad thing to be. Together they decide to take a break, 1 year apart with no contact. During...

4.5 Stars "Ryan and I are two people who used to be in love. What a beautiful thing to have been. What a sad thing to be." I truly adored this author's writing style! This book is well worth it's high price tag because it was truly an enjoyable tale of the good, the bad and ugly of marriage.Lauren and Ryan have been married for a little over ten years when they realize that they aren't in love any longer and that they get on each other's ne...

"Just because you can live without someone, doesn't mean you want to." I love, love, loved this book! After I Do is the story of Lauren and Ryan, who have been married for six years, and together for eleven. When they first got married, they both thought their love for each other would conquer everything. As time went by, they both began to drift apart, to the point where they've fallen out of love. In an effort to save their marriage, Lauren ...

*****4.5 STARS*****(BR with Dee, Mel, and Sharon) Lauren and Ryan Cooper have been married for six years and have been together for eleven. They met while they both were attending UCLA.When every relationship first starts, the newness of it all is so exciting. You get those butterflies in your stomach when you're with teach other. Kissing till your lips are both swollen and sore, is something that you look forward to.Sex is always incredibly hot ...

5+++ "It hurt so good" Stars! This is going to be one of those annoying gif-filled reviews. I hate to do it but this book elicited such a plethora of feelings for me, this way just works better. So... Lauren and Ryan have been been together some eleven years...starting out as college sweethearts. They got their first apartment together, struggled financially, eventually married, got their dream home...grew apart. Each and every day, they grew apa...

4.5 GUTTED STARS! ★★★★☆ "Ryan and I are two people who used to be in love. What a beautiful thing to have been. What a sad thing to be." So I've been putting off this read for too long & after a DNF, I've decided to pick this one up from my trusted buddies rec list. Thanks Feifei & Rachel for convincing me to read this! ♥♥*******After I Do tells the story of Lauren & Ryan; they've been together for eleven years and married for six. ...

Plain and simple, After I Do is absolutely phenomenal. It's a touching story about marriage, and what happens long after the honeymoon phase has ended. I suspect readers who've never been in a committed, long-term relationship may not be as affected by the book because it's less about falling deeply in love than it is about slowly falling out of love. However, as a woman who has been married for twenty years and known my husband for more th...

5 stars Lauren and Ryan have reached a time in their marriage where they forgot what it was like to be in love. And so they agreed on a year long separation.This book gave me a lot of feels and the writing so addictive. It wasn't all serious as I found myself chuckling at parts. There was a few minor issues like I was expecting to be really emotional but that never came. Also I felt like the end was a bit rushed.This is a stay with me forever boo...

5+++ I Do Stars!Me while reading this book. Me after reading this book. This book slayed me. It turned me into a blubbering mess, mmkay? But before I tell you about my feels, just a few things about this book. Lauren and Ryan have been together for 11 years. They met in college, fell in love and got married soon right after. They went through the same struggles most couples did early in their marriage but they were in love. So they worked, paid t...

Lauren and Ryan have been together for eleven years. At first they're madly in love and you can feel the rightness of their passionate connection. But just because a relationship starts off that way doesn't mean it will automatically stay that way, especially if you don't work at it. It takes work to put up with someone, to remember to appreciate the things they do for you on a daily basis. Because we tend to be selfish creatures, it takes ...

This is probably THE most incognito genius, badass book on so many levels I've ever read. It manages to not give any Fs and all the Fs at the same time like a Lifetime movie. This is a PRIME example of how characters don't need to be likeable and redeemable in the reader's eyes for a book to really hit it home because it basically says "everyone's scale of likeable/unlikeable is different and I'm never gonna please everyone so I'm just gonna do m...

5 heartbreakingly uplifting starsWow, this is an amazing story. The story of a husband and wife, once blissfully happy and in love who now… aren't. Ryan and I are two people who used to be in love.What a beautiful thing to have been.What a sad thing to be. After ten years together and six years of marriage, Lauren and Ryan find themselves unhappy and living a life full of resentment and bitterness. Somewhere along the way, they have lost the...

This book is rated 'G' for Good!Genre: Adult Fiction-Romance4.5 STARS out of 5 He is next to me but not beside me. We are both in this bed, but we are not sharing it. "We're not in love anymore," I say. Just the sound of it coming out of my mouth makes my skin crawl and my adrenaline run. I am shaking. Ryan stares at me for a moment, no doubt shocked , and then he pulls his hands to his face, burying his fingers in his hair. He is a ha...

"Ryan and I are two people who used to be in love. What a beautiful thing to have been. What a sad thing to be." After I Do shows the delicious high of being in love. The kind of love that sparkly young eyes think will last forever as long as you just believe. Sigh. But when your partner's adorable oddities start grating on your nerves and you're feeling unappreciated and invisible and that beautiful love slowly turns to indifference, then ...

******5 Hopeful Stars*****(BR with Mel, Sharon and Patty)This book was God-send, I loved reading it and I know this will be the gift that keeps on giving. You know, we all interact with each other here on GR, some girls are sweet, some hate spoilers and some become the best friends you never thought you could have. When I asked my friend Feifei if I could borrow this book; because of the high price tag, we all know how expensive it can get buying...

Lauren and Ryan are two people in a troubled marriage and they just plain don't like each other anymore. They try to figure out a way to save their marriage...by being apart for a whole year with everything that entails. Will this keep them together or break them up for good?The story starts with Lauren and Ryan fighting over silly things really. Then we go back in the past to where they met and fell in love and then got married. It was full of b...