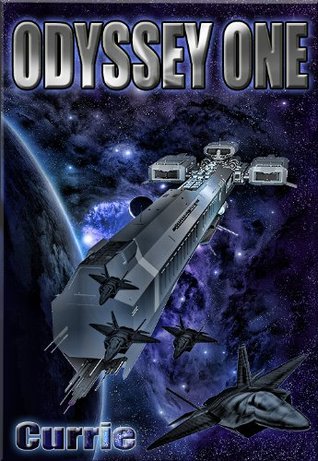 Beyond the confines of our small world, beyond the well of our star, lies a galaxy, and universe, larger and more varied than any of us can imagine. Assigned the task of blazing man's first trail into that great unknown, Captain Eric Weston and the crew of the NAC Odyssey launch on a mission destined to make history.Past the bounds of comfort, they encounter horrors and wonders beyond their imagining, with people and monsters beyond reckoning.Ody...
---
Details Odyssey One (Odyssey One, #1)
Reviews Odyssey One (Odyssey One, #1)
Often, with me, Space Operas are hit or miss. There's either too much mindless action or too much mindless action or there's even too much mindless action.But sometimes, fortunately, I get caught up with a crew of some really great characters. They get thrown in some interesting situations with plenty of translator humor, and then, suddenly, all my worries just seem to melt away. If you're looking for some great pew-pew, vroom, and kaa-plowie act...

This book was just what I was looking for at the time I picked it up (low-brow schlub that I am). I have included it on my space-opera shelf as well as my other science fiction shelves. We get lots of action here, lots of esprit de corps as the crew of the "new star ship", made up of people from all services pull together into one cohesive unit.So far as this being a military science fiction/military fantasy we get fleet action, groundpounder act...

Into the Black is the first published work (as nearly as I can tell) by Evan Currie, published thought he Kindle Direct Publishing program that Amazon has put into place. It is a piece of military science fiction. For those not entirely familiar with the term, military science fiction is just that - science fiction focused around some military organization. In most cases, it involves mankind at war against either themselves or some variety of ali...

Just finished and would like to quote Cpt. Weston as much as Adm. Tanner: "Wow!"The author is incredibly good in writing what I call a classical sci-fi novel. Nothing is sleek, shiny or too clean as most new sci-fi novels and movies are. The characters are being introduced, then developed as if the reader was on board the Odyssey itself (the crew got scrambled together so that gives the reader a sense of reality). The action is incredible, breath...

This is Space Opera - Science Fiction. For the most part, this was 3 stars for me. It was heavy on the science which isn't a bad thing even though science was never a favorite subject of mine. There were times where it seemed a little on the wordy side. I did add a star to the rating because I was impressed by the time I finished. I liked the story and the characters, even though both were a little on the 'perfect' side. The world building was al...

A real action fest with some nice ideas on technologies and the problems of waging war in space. I would never call it a space opera. The people on the Odyssey are all perfect soldiers: idealistic, courageous, professional, (almost) infallible. Their motivation is very thin and their characters would be the typical soldier/cannon fodder used in many movies, if not for the fact that it is not possible to kill them (unless they want to sacrifice th...

Originally posted at FanLit.http://www.fantasyliterature.com/revi...Because he was such a spectacular fighter pilot during WWIII, Captain Eric Weston has been given command of the new spaceship Odyssey which is making her maiden voyage beyond the galaxy, to boldly go where no man has gone before. What Weston and his crew find out there is quite a surprise: a small spacecraft emitting a distress signal and containing a nearly dead human woman name...

A free (on special) book from Amazon and it reflects that. The story takes place after World War 3, when the good guys (North Americans, of course) have won and are just starting with a new phase of space exploration that includes faster than light speed travel. Captain Weston takes his starship out of system and receives an alien signal in another star system. What do you think he does next? Travels to that transmission without any communication...

This book gets my personal BIBLIOGASM award. You know, that high we all get when reading a good book. Where your practically jumping out of your skin with anxiety, anticipation. Losing sleep because you have to know what happens. Slightly manic and bursting to tell anyone who will listen how good the story is. I was really excited because it's hard for me to find military sci-fi that I like. That has a good story, straight-forward space travel an...

More like 2.5.What to say, the book is competently written with a fast paced plot and looooots of action and some great "stealth" sections. The tech is futuristic, of course, but described just enough for us to suspend the disbelief and see it as possible. And the story is nicely rounded with an ending that suggest grand things to come.Personally the greatest failing for the book ar the characters. Fairly one dimensional and uninteresting. I ...

Since I received this book through the Amazon.com Vine program, I am unable to post the review directly on this site. You can see it here: Now is Gone review of Into the Black; URL is: http://katysozaeva.blogspot.com/2012/...

Following WWIII, the North American alliance has launched the Earth's first interstellar spacecraft, the Odyssey. Lead by Captain Weston, its mission is to explore other systems. (view spoiler)[ Barely out of the solar system they receive a distress call, leading to the rescue of a sole survivor (Milla) who looks exactly like the humans on Earth. Once the crew deciphers her language, they learn about the brutal species that has the power to destr...

I didn't like this book. It's too heavy on military tack and bearing and very light on science fiction. I knew pretty much from the first several pages that this person is a lightweight sci fi writer. I think I read a review that said as much. The book is based on the story line that a ship from Earth named the Odyssey One leaves on an exploratory mission around the universe. But the ship uses a technology that makes the crew sick when it goes fa...

There really are too many editing errors in this book. This couldn't stop me from giving this the five stars it deserves.Of the 6+ books Evan Currie has written, this is the third one that I have read. Interestingly enough it's as impressive to me as his others because it was his first. This fact is only noticeable through the editing error that mottle this otherwise exceptional military science fiction. Take note, Evan C. Currie is to military s...

No character development, no back story. The characters don't interact and don't form relationships. What is the reason of introducing 1500 characters by name if it is not to learn anything about them? And to this point, I have no idea, what the culture of the humans or the aliens is, or why the Drasins attacked. No, they are evil beings doesn't count as a reason to me. I have no issue with books that are parts of series, but this book doesn't ev...

Into the black bag. Shocker. DNF.

The overall concept was neat: humans venture forth to find civilization(s) much more peaceful than ours, where our penchant for violence and conflict is exactly what's needed to save the day.However, the actual storytelling is as vibrant as mayo on white bread. The vast majority of characters are just names, a few with varying degrees of military bravado. Much of the activity in the book is a recounting of procedure, or bland technical descriptio...

Captain Weston and his crew are thrown into an unusual situation on their shakedown cruise in the first real Earth spaceship, at least with jump capability. They handle the resulting conflicts with a lot of competence and this makes for an entertaining read. The story left one major aspect unexplained that should have been explained, and that was about the race of the initial contact. (Trying to avoid spoilers here!)Also, I do not believe that th...

This is a classic space opera tale, big on space battles with a new twist of faster than light speed travel. First of series and it does a great job of setting up an extended plot without cheating you at the end of this tale. Character development was pretty good as far as it went meaning that when there wasn't space battles going on the characters were pretty interesting. The battles were good but a little drawn out and detailed for my taste. I ...

I'll admit that I did not finish this book. This is the only book on goodreads that I failed to finish and still reviewed. I read most of the book a year ago and failed to get into it. Honestly, I think it was Evan Currie's writing style. I did not feel connected to the characters or absorbed into the space odyssey environment that I was promised.

Good enough to make you want to read the rest of the series.

This is an engaging first contact, space military adventure. My rating 4.25.The Odyssey is the first spacecraft sent out from earth with a crew culled from the best of the best. They were really on a test mission, intended to see what the Odyssey can manage and do a little exploring beyond the Solar System. They didn't plan upon warping into the debris of a devastating battle…and rescuing a survivor. Now they know there are other human races ...

Evan Currie's military science fiction space opera novel Into the Black: Odyssey One, originally self-published, was released by Amazon's new imprint 47north back in March. The novel centers around the exploration crew of the titular Odyssey One, Earth's first interstellar spaceship, as they embark on the first manned journey beyond the bounds of the Milky Way. The discovery of the new Transition Drive and the creation of the Odyssey One fi...

"Warriors are never appreciated in peacetime, except by those they saved during the war." I have never read military science fiction before and am now official in love with the genre. It was great to find our armed forces written with such nobility and compassion in the genre. Too often in science fiction there is a dark military industrial complex looking to rule the universe.This book takes place in a near future where the world is getting back...

This was another debut military sci-fi novel, this time by Evan C. Currie. However, unlike the "Man of War" series I recently started as well, this one is not only quite clearly a "first novel", it is also clear that it was self-published first. Although it gets better near the end, the first part of the book is amateurish and difficult to continue listening to. It shows why good editors are so important in fiction writing. The author makes a num...

At the end of a long and devastating war on earth - World War III - the nations of the confederation (The US, Canada and Mexico) built the first FTL ship and sent it off "into the black" for a shakedown cruise. Until then they had labored under the impression that they were the only sentient species in the galaxy and the Odyssey One was the ship to find out if that was true. What Captain Eric Weston, war hero and Archangel Pilot, finds out change...

This book started out as a 4/5 star story. I'm a Trekkie, so earth's first star ship 'The Odyssey' going on her maiden voyage and immediately getting into a dangerous situation and has to battle it out with 'Star Ship Trooper' type insects was right up my alley. But the stars started falling off my rating about about half way through the book. The Odyssey is gearing up for the fight of her life, soldiers and civilians are fighting for their lives...

This is an exciting space opera where some humans from Earth first journey to the stars, and discover that it's a scary place out there. If you are relatively new to scifi, this should be a refreshing read.If you are well-read in this genre, you will see where the story borrows from Heinlein, Kris Longknife, and others. The author even acknowledges this, but don't let that deter you. This books is well crafted and entertaining.

And from the sublime Alice Oswald to the slightly ridiculous. This is thoroughly a holiday read. It's a an unsubtle welding together of Starship Troopers, Battlestar Galactica and various other Golden Age "Barbarous Terrans are the warriors who will save the wimps of the Galaxy" tropes. One of the minor characters, a self-described SF fan even jokes about 'bug hunts'. It is not good. But I finished it, even though a skimmed a great deal (it is lo...

This is an archetypal space opera, but is no less enjoyable for being typical of the genre. I quickly became involved with the characters and was looking forward to how the story might develop.However, I did have a few worries early in the book, the Captain appeared to be ridiculously Gung-ho and was beginning to wonder if the whole book was going to be unbelievable.(view spoiler)[The ship comes across the debris of a big space battle and he deci...