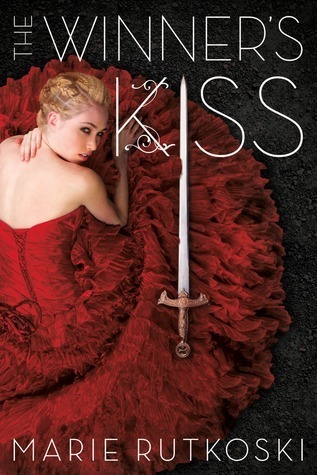 Some kisses come at a price.War has begun. Arin is in the thick of it with untrustworthy new allies and the empire as his enemy. Though he has convinced himself that he no longer loves Kestrel, Arin hasn't forgotten her, or how she became exactly the kind of person he has always despised. She cared more for the empire than she did for the lives of innocent people—and certainly more than she did for him.At least, that's what he thinks.In the...
---
Details The Winner's Kiss (The Winner's Trilogy, #3)
Title
The Winner's Kiss (The Winner's Trilogy, #3)
ISBN

9780374384739

Author

Marie Rutkoski

Release Date
Mar 29th, 2016
Publisher

Farrar, Straus and Giroux

Language

English

Genre

Fantasy

,

Young Adult

,

Romance

Rating
Reviews The Winner's Kiss (The Winner's Trilogy, #3)
No battle is won without a good gamble. This series has come a long way from its tame romantic beginnings in The Winner's Curse. The final installment finishes the series on an emotional, action-packed high, weaving in more game, winning and gambling metaphors to add to the running theme.A couple of years ago, I was disappointed with the much-loved The Winner's Curse. The author had a good writing style that engaged the reader, but it was so tame...

Final books are hard. Readers dive in with so many expectations, hopes and fears, and let's not forget the ships. I suspect it must be at least a little daunting for an author to want to give their readers everything and stay true to their story. Friends, for me, Marie Rutkoski has done just that. This story has taken me on a remarkable journey, capturing my heart and and melting my emotions in one fell swoop. The Winner's Kiss is a perfect concl...

Gods I love this series. Flawless.

4.5 stars Exquisitely painful, in the best of ways.

I finished this book on one sitting. I have no regrets.

a beautiful end to one of my favorite series ever. quintessentially marie

I'm crying and screaming and laughing and shaking, I'm full of so many emotions but most of all just happiness; I can't believe this series is over, but I am so so overjoyed with how it ended. Review to come when I finally stop smiling like an idiot and my hands stop shaking.

Before Reading: I'm going to need Arin and Kestrel kissing. Each other. A lot. Forever.After Reading: NOT ENOUGH STARS IN THE UNIVERSE! LOVELOVELOVELOVE! This was beyond anything I could have imagined or asked for, for this book and these characters. Seriously. It was perfection. PERFECTION. Read it.Dear Marie Rutkoski,Thank you.Thank you for this world and these characters and this story. Thank you for showing that a girl's intelligence, tenacit...

Marie Rutkoski isn't an ordinary author.She's an artist. "Later, Kestrel wished she had spoken then, that no time had been lost. She wished that she'd had the courage that very moment to tell Arin what she'd finally known to be true: that she loved him with the whole of her heart." The Winner's Kiss isn't an ordinary book.It's a poem. A sad melody. The blood that pumps in your veins. The air that ruffles your hair.It's a promise. A prom...

"He didn't smile. He cupped her face with both hands. An emotion tugged at his expression, a dark awe, the kind saved for a wild storm that rends the sky but doesn't ravage your existence, doesn't destroy every thing you love. The one that lets you feel saved"I finally finished this series! YAY!!!!I promised myself no more reading until after my basic science exam, but I broke it. Shame on me!I have this hollow feeling after reading this bo...

"You don't need to be gifted with a blade. You are your own best weapon."*Please note that there are spoilers from the Winner's Curse and the Winner's Crime, as well as some minor ones from the Winner's Kiss. So, if you haven't read these, proceed at your own risk.* (aka: don't @ me in the comments for spoilers!)This was another buddy read with Laura, of course (OMG this is like our fourth by now. Go us!). AND NYAH NYAH NYAH! I'M ...

Are you really a boy, like Xash says? the god asked Arin. You've been mine for twenty years. I raised you.The Valorian signed the scrap of paper.Cared for you.The message was rolled, sealed, and pushed into a tiny leather tube.Watched over you when you thought you were alone.The captain tied the tube to hawk's leg. The bird was too large to be a kestrel. It didn't have a kestrel's markings. It cocked its head, turning its glass-bead eyes ...

"I want better choices.""Then we must make a world that has them." Doesn't it feel good when you finish a really great book and you just stay still and thank God for what you've just read?After this long year of anticipating this book, the only thing I can say is: wow.Remember this review contain untagged spoilers so read at your own risk.Marie's writing style was as rich and fluid as always and the POVs intricate themselves into so...

"Her worst trait. Her best trait.Her mind ringed with hungry rows of foxlike teeth."I have had to deal with heroines, or called so, of all sorts. The fierce, the whiny, the hotheaded, the softie-and-swoony. The ones who can fight and the ones who cannot, the ones who can think and the ones who cannot; princesses, commoners, magicians, assassins, many, so many of them, and all different one from the other, for better or for worse.But none, none of...

Reread. Flawless as ever. Original review."You don't need to be gifted with a blade. You are your own best weapon."Well, shit. This book!!!! My heart feel so heavy right now. I'm so sad that it's over! The Winner's Kiss was absolute perfection for me, start to finish. Every page. My mind is all over the place at the moment, and I cannot find the words to declare my love for this trilogy or write a comprehensive review for it. The things is, I d...

Satisfied with this ending =) ♥So lets talk spoilers =)So many things took a turn in this book. Kestrel was found out! She had been supplying information to a spy for Arin and the Herrani. Of course, Arin didn't know this because Kestrel had to keep him at a safe distance. Otherwise he would do a dick move and get them all killed. Arin is a twat at times and he thought everything Kestrel did to make him not like her was true. Men! So he decides...

Rating has been raised to 2.5 stars.*MAJOR SPOILERS AHEAD*I think I finally understand how my parents feel about me. D I S A P P O I N T E D big fucking time man. I feel like a totally different author wrote this book. Literally everything about this book seems so different and changed and you know what, I refuse to believe that this book is the ending to my most fucking favorite series (hint: The Winner's trilogy). At the mines, Kestrel is given...

The Winner's Trilogy is without a doubt one of my favourite series ever, from its captivating writing, the incredible characters and those crafty plot twists, Rutkoski has proven with each new release that she can still leave us in a complete state of shock…. The same can definitely be said for The Winner's Kiss; my dear friends, you may want to brace yourselves. After the heart-breaking ending of The Winner's Crime, Kestrel is in a barba...

this book is a fr*cking masterpiece. it is everything i could've dreamed it to be and more. there's not a thing i would change about this book.

I received an Advance Reader Copy via NetGalley. This in no way impacted on my view.I'm sure it will be no surprise that I loved this book. I don't think I know anyone who hasn't loved this series, and when I found out that The Winner's Kiss was up on NetGalley, I requested it so quickly. I was in the library doing research for an assignment when I got the email came through that I'd been approved, and let me tell you, it was extremely difficult ...

I am writing this as a ghost because this book killed me. I, Erica's ghost, have a lot of things to say about this but feel inadequate to verbalize my love/obsession/adoration/fascination with this spectacular story using coherent thought. Some other reviews somehow managed this, such as Nina's, Simona's, and Chantal's. But I shall try.To begin, I would like to say that I read this for about 7 hours straight. I ignored the existence of time to fu...

Fellow readers and fangirls, I have come to preach to you the awesomeness that is this book, this series, this writer. And I've come armed. With words. And feels. And quotes. The Winner's Curse was a gentle introduction to the characters, the world and the romance. I loved it. The Winner's Crime was a crescendo of court intrigue, sticky webs of lies and the first glimpses of war. I loved it. The Winner's Kiss was a battle cry. I loved it....

After that ending of The Winner's Crime, I was dying to get my greedy hands on this book and I could never have expected what we got.The feels start right from the beginning and it's a rollercoaster that lasts the entire book. I have loved Kestrel and Arin and I loved seeing how much they've grown from book 1. They're different, yet the same. And can I please get a novella or spin off with all of the Roshar? I floved every single scene with him.P...

This may even be 4.5/5 stars but it just wasn't quite there for me though it was prETTY STINKING CLOSE.I am a ball of emotions guys. I cried MULTIPLE times in this book from lots of feELINGS. Kestrel is seriously one of my favorite protagonists ever. She's smart strategically and doesn't let anyone tell her what she can and cannot do - and she's not *totally* adept at fighting, though she is competent, but her real strength lies in her amazing ab...

"Arin pulled her onto his lap. He held her shaking form, tucked his face into the crook of her cold neck as she sobbed against him. He murmured that he loved her more than he could say. He promised that he would always choose her first." 5 Shining Stars!The Winner's Kiss is the best and the most emotional book in the series, so prepare your tissues before starting to read it! I was an emotional mess after The Winner's Crime and I'd thought t...

Español - English Tal como había predecido, este libro tiene un escenario totalmente diferente a los anteriores. Este es el más doloroso para los personajes, no sólo porque están en medio de una guerra, sino por sus situaciones individuales y como pareja.El emperador se enteró que Kestrel no estaba haciendo lo que había ordenado y que era espía de los herranies en la corte y la desterró y envió como prisionera a las tundras hacer trabaj...

Well, cancel 2017.https://emmareadstoomuch.wordpress.co...What do you rate a book when you're saddened to your core that you finished the series, but also you didn't enjoy it and thought it was objectively not good? WHAT DO I DO? It's like mourning a childhood friend who turned out to be a meninist, or a My Little Pony fan, or a fan of buttered popcorn-flavored jelly beans. You know, something definitively but somewhat harmlessly Bad™.God...

Buddy read with my partners in suffering Katerina & Vera. Thank you, girls, for helping me survive this book *hearty hug*Actual rating: 5+You don't need to be gifted with a blade. You are your own best weapon." If you know me, you probably know that my two most favorite book series are ending this year. The Raven Boys and The winner's trilogy. It's hard because they end a mere month from each other. An emotional blow. The Winner's kiss's time...