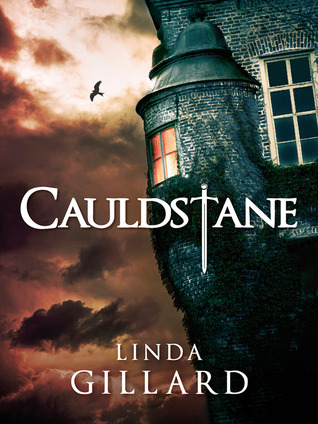 When ghostwriter Jenny Ryan is summoned to the Scottish Highlands by Sholto MacNab – retired adventurer and Laird of Cauldstane Castle – she's prepared for travellers' tales, but not the MacNabs' violent and tragic history. Lust, betrayal and murder have blighted family fortunes for generations, together with an ancient curse. As members of the family confide their sins and their secrets, Jenny learns why Cauldstane's uncertain future...
---
Details Cauldstane
Reviews Cauldstane
Wow, Linda's done it again!It's no secret I'm a big fan of Linda's books, Star Gazing remains top of my favourite books ever list, 5 years after reading it, and I've decided there are 3 reasons for this, and Cauldstane was definitely no exception to that, if anything, I think it's her biggest triumph!1) Her settings! With Linda's books, you don't just get a book set somewhere and it all just happens there, the setting is like one of the character...

A Ghost story about a ghostwriter, and a ghost writing. Spare me!

Linda Gillard is an author I had never heard of, until I stumbled onto her fabulous gothic novel, House of Silence, a few months ago. Since then, I've read two other of her novels, purchased a fourth, and visited her beautiful and information-packed website several times. Gillard is an author living in Scotland whose House of Silence was voted Amazon UK's "Top Ten BEST OF 2011" in the Indie Author category. Many of her previous novels are difficu...

When Jenny Ryan travels to Cauldstane Castle in the Scottish Highlands to meet with the enigmatic explorer, Sholto MacNab, she expects that his aversion towards female writers will prove something of a stumbling block; however, Sholto needs someone to ghost write his memoirs and Jenny is the best there is in the business. With some trepidation on both their parts, Jenny and Sholto begin the daunting task of fleshing out the glorious details of Sh...

'Hell hath no fury like a woman spurned'– especially a dead woman. Set in a crumbling castle in the Scottish Highlands, Cauldstane steps briskly through its chilly clime, blending romance with an entertaining dose of the supernatural. Both love tale and ghost story, Gillard breathes life into modern and believable yet satisfyingly romantic characters. And there is pleasing symbolism in the novel's well-researched background: the batty occ...

A 'thumping good read' that I didn't want to end.

We are proud to announce that CAULDSTANE by Linda Gillard is a B.R.A.G.Medallion Honoree. This tells a reader that this book is well worth their time and money!

Linda Gillard is a wonderful writer. Her books – and I've read them all – always have strongly drawn characters that leap off the page, great insight into thoughts and emotions and a wonderful sense of place. And they always tell an excellent story. And if you're like me, you have to read them immediately they hit your Kindle, and not stop until you hit the very last line. If you've enjoyed any of her previous books, you most certainly ...

A VERY WELL DESERVED 5 Stars. In the words of two of the characters ..... ' ''It has all the right ingredients.'' ''Let me guess .... Money. Class. Sex. Scandal. And a big country house?'' 'At the heart of Cauldstane are the MacNab family, consisting of Sholto, his sons Alec and Fergus and Zelda, Sholto's sister. The MacNabs have been the resident family of Cauldstane for centuries but the family are struggling to make ends meet and keep the roof...

Ghostwriting with actual ghostsFall in love with a good old fashioned Highland haunted castle, a family curse, a trio of swashbuckling MacNab men, and a heroine who will steal your heart. Jenny Ryan is a professional ghostwriter invited to work on the memoir of the charming elderly Sholto MacNab.Disclaimer: I am a professional ghostwriter. Unfortunately I have yet to be invited to a spooky but charming Scottish castle to do a memoir. But the work...

This book is described as 'A Gothic novel in the romantic suspense tradition of Daphne du Maurier and Victoria Holt.' To my shame, I've never read Victoria Holt, but I am a du Maurier fan, and I think this description is spot on. Jenny Ryan is a ghostwriter, who travels to Scotland to stay in a castle and write the memoirs of its laird, Sholto MacNab. There is a great cast of characters, all beautifully drawn, and the castle itself almost becomes...

Finally finished. I did take a while to read this one, can't pinpoint why, but I did take a break from it half way through. However once I settled down to it again I enjoyed the second half slightly more than the first. Scottish castle, family curse, romance, unexplained deaths to family members and a ghost writer who comes to write the Laird of Cauldstane memoirs. Things unfold along the way for Jenny but she is troubled by the uneasy presence b...

What did I think? I think all the people who gave this book 4 and 5 stars must've been paid off with gift certificates to Applebee's or something, because this was one of the most overblown, soapy, cheese fests I've ever encountered. The first half was somewhat bearable, but every page past that got worse and worse. I finished it because I'd reached its event horizon, but I'm kind of sorry I did. Those are two or three hours of my life I'll never...

Absolutely amazing. I loved this book and it just got better and better. It has everything in it. Intrigue, mystery, murder and best of all the supernatural ghost of a jealous wife. Cant wait to read the next one by her. Ive fell onto another fantastic writer. THANK YOU LINDA GILLARD YOU'RE BOOK ARE AMAZING.

Excellent. Great gothic mystery, romance, old castle in the Scottish highlands, ghosts, what else would you want. Read this in one sitting. As you can tell I very much enjoyed this book!📚

Great story! If you're in the mood for a haunted mystery, then give Cauldstane a whirl. You will not be disappointed. I especially liked the originality of the story. It starts out with a writer looking to make a few bucks and ghost write a story. Then, it turns into an old fashioned ghost story. I like this author and will be looking for more from her!

What do you call this, romance, mystery, ghost-stories? I really enjoyed it, and it reminded me of watching Monarch of the Glen. This is a bit darker than that show, but it has moments that make you chuckle too.

This is the first novel by Linda Gillard I've read, despite her being, so I understand, one of the most popular author-publishers around today. I really don't know why it took me so long, but I'm very glad I finally made a start and read Cauldstane. The writing is easy, fluid, and the story well-told and compelling; I found myself believing absolutely in Cauldstane Castle and its highly diverse group of inhabitants.Cauldstane is, in the wor...

This is the first Linda Gillard novel I have ever read. I was attracted to it by the fact that it was compared with Daphne Du Maurier's classic, Rebecca, and by its rather gothic cover which was intriguing.Imogen Ryan, a successful novelist, has turned to ghost-writing for other people as J J Ryan, after a very difficult time in her own life. After deliberately keeping quiet about her gender, she is hired by the famous explorer and adventurer, Sh...

What a lovely, gentle, atmospheric cosy mystery with a ghost on the side!I was drawn to this book largely by the setting – a decrepit old castle in the Scottish Highlands, an area I know and love. Much to my delight it proved to be filled with such realistic Highlanders I felt I could easily come across these very characters next time I'm in the area.Cauldstane is the name of the castle, and the story revolves around ghost-writer, Jenny Ryan,...

Cauldstane is the fourth novel by Linda Gillard that I've read and enjoyed. Linda writes 'cross-genre novels' – stories that encompass different elements. In her case, mystery, romance, modern settings with a gothic atmosphere and often a haunting. Well-written novels along the lines of Daphne du Maurier. I'm all for cross-genre novels – their very difference appeals to me. I gave 5 stars and glowing reviews to House of Silence, Untyi...

The castle Cauldstane of the book is a place I'd love to visit. The chilly Highland setting made me want to cozy up to the fire with a cuppa, which is what I did. Being a fan of all things Scots, mysterious estates, and a ghost or two, I was very pleased with the book. The romance aspect of the book was standard and predictable, and with me not being a fan of blending any significant amount of romance with mystery, I was less interested in that t...

Another brilliant story by Linda Gillard. I so love the way she doesn't underestimate the reader and I get quite excited picking up the threads and clues she weaves into her stories. And I get a tingle when I find a link to Shakespeare, as I often do in her work! I found this latest book haunting on lots of different levels and I really found it hard to put down! I read it in 3 sittings when I would have preferred to read it in one! Life just g...

Cauldstane – a Novel of Redemption in True Gillard FashionOnce started, I couldn't stop reading until the last page of Gillard's latest novel was turned. The characters leapt to life; they grabbed hold of my imagination and wouldn't let go. A highly recommended read by an author that is tried and true.When I was a little girl, I used to dream of living in a real Scottish castle. As a teen, I read more than my share of Harlequin romances t...

This book included some interesting surprises and the overall storyline really held my interest. Shalto McNab is the laird of Cauldstane and a fascinating character. The interaction between Jenny and Shalto was great and I came to love the old man, despite his shortcomings. Alexander McNab, heir of Cauldstane was such a beautifully tortured hero. His story really made my heart ache. Jenny Ryan was an unlikely heroine at 40 years old and a 'ghost ...

This is more of a 4 stars for me! I quite enjoyed the story and love books that take place in Scotland (for some odd reason I haven't yet figured out). Once you start reading this book it will give you what you expect, but not EVERYTHING that you want. I wished at some points near the end that there would be a little bit more drama, but I am quite a content reader. I do not often complain about books but rather accept them for what they are. I am...

One of the strengths of author Linda Gillard is her ability to create loveable, flawed, delightful, endearing, frustrating reluctant heroes .... And she doesn't disappoint in this, her latest book. Set in a dilapidated castle in Scotland, Cauldstane, the hero this time is Alec McNabb, son of Sholto and defender of his family. Sholto, a retired explorer is old and ill and, in a bid to raise the money needed to restore his beloved home, he agrees t...

This is a well written ghost story in which Gillard builds an appropriate atmosphere before spilling a lot of the build up with a soft and disappointing ending. The publicity for the novel says its gothic. Does an old Highland castle make for Gothic? There is little else about the book giving it a gothic tag, so I guess the answer is yes. Goes to show how important the house is in a ghost story. As in so many ghost stories, the characters are not...

Great start but disappointing ending... I really liked this book at the beginning. It was engaging and very descriptive and I loved the setting and characters. The plot was intriguing at the start, but as the novel wore on it became predictable, some of it unbelievable, and the last scene was a let-down. I would describe my feelings of this book as a firework display that starts out very beautiful and exciting but ends with with a few simple litt...

It didn't really take me nearly a month to read Cauldstane, in fact, as when reading other books by Linda Gillard, I had to force myself to slow down or I would have been reading through the night. I just didn't have access to Goodreads until now.Cauldstane is set in the author's beloved Scotland and around a Scottish laird and his family living in an ancient and suitably crumbling castle. As always with Linda's book the characters are well round...