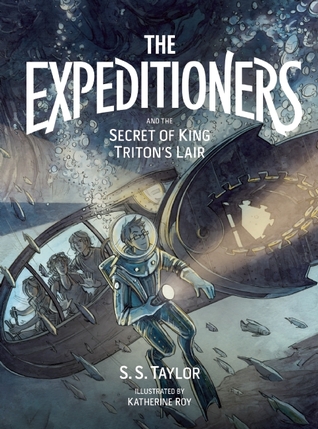 Kit, Zander, and M. K. West are settling into their new lives as students at the Academy for the Exploratory Sciences when Kit finds another mysterious map left for him by their father, the brilliant, famous — and presumed dead — explorer Alexander West. Why did Alexander leave the maps behind, and why are government agents so determined to seize them? What is really going on in a mysterious and unknown stretch of the Caribbean, famous for it...
---
Details The Expeditioners and the Secret of King Triton's Lair (The Expeditioners, #2)
Reviews The Expeditioners and the Secret of King Triton's Lair (The Expeditioners, #2)
Reviewing a book won via Goodreads First Reads, with thanks!The Expeditioners and the Secret of King Triton's Lair is the 2nd book in the terrific Expeditioners series, and frankly, I can't wait for more! Back in 2013, I reviewed the first book, The Expeditioners and the Treasure of Drowned Man's Canyon, and I was so happy to get book #2 without too huge a wait in between volumes.The Expeditioners books are set in a steampunk-ish world, where c...

Oh good heavens, I thought I would never make it to the end with Kit acting all like Harry Potter book #5. (view spoiler)[Yes, no one understands him; the girl he likes likes his big brother instead; everyone has their own thing; and it's tough to be on your own with a secret destiny. (hide spoiler)] Thankfully the action kept driving everything along and the storyline was good. Now for Book #3....

Holy sea turtles! This book is absolutely amazing. The Expeditioners and the Secret of King Triton's Lair is an expertly written adventure novel with a perfect blend of thrill, mystery, intrigue, action, and romance. With a steampunk futuristic planet Earth, S.S. Taylor crafts a crowning novel that appeals to science geeks and nerds (geology, geography, and topography galore!), leaving me hoping and praying for more. More adventures of Kit, M.K.,...

The second adventure for these three siblings and their friend. This time they have to venture to the bottom of the sea to find King Triton' Lair to discover the next map their father left for Kit.Suspense, adventure, hint of romance, sibling rivalry, nasty enemies. Includes something for most middle grade readers.

a good fllow up to the first. My son enjoyed the adventures. Characters are developing in a real way.

Just as good as book 1! So excited to read book 3! TURTLESSSSSS /Users/Madeline/Desktop/Randomness/Gifs and gifs and gifs/Star Turtles.gif...okay. Sorry. Ignore me and my inherent weirdness. ;-)

what a great book! I loved the plot, and how much character transferred from the first book to the second, Loved It!

Synopsis- After their escapades in Drowned Man's Canyon in the first book, Kit, Zander, M.K. West (and Sukey) are back in another adventure! When Kit's supposedly dead father gives him clues that lead to an island in the North Carribean, Kit finds the perfect excuse to go there – via an expedition request! After the Drowned Man's Canyon fiasco, the Wests joined the Academy for the Exploratory Sciences (a school for expeditioners). The Aca...

I received this book through the Goodreads Giveaway program.I received a beautiful hardback book with a color map on the inside of the cover, as well as a great many illustrations throughout the book. A good job was done in the editing and I was not distracted with annoying errors. I rate the quality of the book itself as high, perhaps a 5.The storyline is interesting and full of potential. The idea of a school teaching explorers and the students...

Great follow up to the first. Kit is a dynamic character though no one else is as developed or nuanced as he is, some just straightforward caricatures. The use of maps and mapping is phenomenal and overall world building is excellent, but I feel a disconnect with the pace of the book. At times too drawn out and then suddenly too quick. The blending of steampunk tech, a future without computers, and sudden fantasy lands/creatures was welcome in th...

very excited to receive and review this book, i'm also looking forward to sharing it with others.it sounds like an excellent childrens book and seems perfect for sharing with my brother and sister as well as sharing with others. excellent hardcover book with a very beautifully detailed cover. i am hoping that i will be able to devour this book with my younger brother over his holiday break and that we both will enjoy it. also love that the author...

This is the second book in the Expeditioners series. It takes place in an alternate future where different countries & lands have been found and steam power is the way to go. Kit & his brother and sister are set on another adventure by their missing father, not really knowing what it is they are looking for or what they will find. Adventure & steampunk elements make for an exciting story. I can't wait to see what the next book will take them.

I was excited to see this sequel on the library shelf. I knew there must be more to the Expeditioners' story. The political stakes are higher than in the first book, and the exploration gets, um, pretty weird. But the descriptions are fascinating, and Kit's character is developing, and I look forward to reading more!

This sequel was far more entertaining and engaging than the first! I enjoyed the world Taylor created with her first book. I cared deeply about the characters and supported their endeavors. But this book brings the adventure and the characters to a whole new level! Every page left me wanting more. I just wish a few more questions were answered for Kit.

Solid, if slightly flawed, sequel to The Expeditioners and the Treasure of Drowned Man's Canyon. Great world building and lead character, but pacing is a bit off. Read more of my thoughts here

I received this book at part of a Goodreads giveaway. I liked this book very much, I only wish I would've started the series from the beginning..which means I will! The characters were colorful.. It's like Jacques Costeau meets the Baudelaire children on a great adventure. Would recommend this to any teen.

Great continuation of the story. Fun, exciting, mysterious. Love this series! Perfect for middle grades on up (4th grade and up). And good news, MK gives up her cussing habit, not a single word in this one (for those who are sensitive to bad language in children's books)

Fun read, with a fairly fast pace. Engaging and entertaining. Looking forward to the next in the series. The children and I enjoy the artwork that accompanies the story throughout the book. Interesting characters and story line.

Fun adventure, but definitely not as good as the first. Hoping for better with the next one.

I think it was very descriptive and technical. It was very exciting, I liked it a lot. I hope they write a third book soon!

This book was even better than the first I cant wait for the next to come out. I recommend this to any one who loves adventure or mystery.

*makes noises to explain dislike* It was...boring? It felt like a children's movie that you watch once and forget about it? The best way I can explain it is that it wasn't clever..?

I loved this. Personally, I thought it was better than the first one. I can't wait for the next one to come out

Didn't like this book as much as the first, although I still had an interest in finishing it. Simply another adventure

I also enjoyed this book, but it felt like it needed to go on and finish out more of the story. The characters are strong and smart. I love the rethinking of alternative history and inventions.