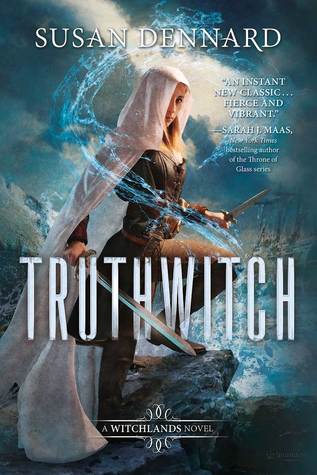 There is an alternate cover edition for this ASIN here.In a continent on the edge of war, two witches hold its fate in their hands.Young witches Safiya and Iseult have a habit of finding trouble. After clashing with a powerful Guildmaster and his ruthless Bloodwitch bodyguard, the friends are forced to flee their home.Safi must avoid capture at all costs as she's a rare Truthwitch, able to discern truth from lies. Many would kill for her magic, s...
---
Details Truthwitch (The Witchlands, #1)
Title
Truthwitch (The Witchlands, #1)
Author

Susan Dennard

Release Date
Jan 5th, 2016
Publisher

Tor Teen

Language

English

Genre

Fantasy

,

Young Adult

,

Magic

Rating
Reviews Truthwitch (The Witchlands, #1)
"I will kill you," he went on."No." The girl's eyes thinned; she pushed herself further upright and the moon streamed over her. "I d-d-d..." She coughed. Then wiped her mouth. "I don't think you will." Ah, this book. I went back and forth on the rating and I do want to say this: unlike the other highly anticipated January novel - Passenger - Truthwitch is a fast-paced, enjoyable adventure. However, I know picky fantasy readers will see right thro...

My full review can be found here: https://youtu.be/sFv_OsfgZKYTHIS WAS REALLY GOOD AHHH. I HATE TO ADD TO THE HYPE POOL, BUT IT WAS REALLY GOOD. Susan built up such a unique world with amazing characters. I even liked the little romance that starts to build in this book! I'm all for books with romances that aren't overwhelming. My one complaint is that I found myself confused at times, because you're just expected to pick up on the different role...

Make room on your all-time favorites shelf: TRUTHWITCH is an instant new classic. It reminded me of why I started reading fantasy in the first place: its fierce and vibrant world, richly-drawn characters, and dazzling intrigue harkens to the best of Megan Whalen Turner, Robin Hobb, and Jacqueline Carey. And while it pays homage to the epic fantasies that have come before it, it also lays the foundation for a bright new chapter in the genre. I hav...

4.25 I love female friendships

I saw another author do this--give some insider info on the book via a review--and I thought it was a cool idea.Basically, the entire Witchlands series will be full of the stuff you've come to expect from me (if you've read the Something Strange & Deadly series or the Starkillers Cycle). There's epic action, really high stakes, diverse lead characters, a huge world, and tense (tense!) romance(s).On top of that, Truthwitch has elemental magic and ...

I'm so very sad to have to admit this, but TRUTHWITCH really isn't working for me. The world-building is hazy, therefore, I feel confused and frustrated. I keep trying to make order of things in my mind, and it's exhausting. The writing is not horrible but it doesn't flow. Many have mentioned fast-pacing, but I crazily feel like this is super slow because of how much it asks for our undivided attention and quick understanding... when nothing is r...

"Safi acted instantly – as did the monk. His sword swished from its scabbard; her knife came up. She clipped the edge of his blade, parrying it aside. He recovered and lunged. Safi lurched back. Her calves hit Iseult, yet in a single fluid movement, Iseult kneeled – and Safi rolled sideways over her back. Initiate. Complete. It was how the girls fought. How they lived. He was good. The best fighter she'd ever faced. But Safi and Iseult we...

5/3/18 - ON SALE for $2.99:https://amzn.to/2HLhMFYReviewed by: Rabid Reads4.5 starsI don't know about the rest of you, but when one of my favorite authors recommends a book or another author, I AM THERE. How much more so when the recommended author is the real life bff of said author? How much more so when the book in question is meant to be (at least in part) an expression of that friendship?In her acknowledgements, Dennard says: Friendships can...

"If you wanted to, Safiya, you could bend and shape the world." Dear Susan Dennard,I love you. Je t'aime. Σ'αγαπώ. Te quiero. Ti amo. Ich liebe dich.You are the sunshine to my stormy day. The medicine to my flu. The butter to my bread. The Saturday to my hectic week. The oasis to my desert. The strawberry topping to my chocolate ice-cream. The lyrics to my music.The answer to my prayers. For it was the work of Book Gods that sent you ...

No, just no! This is easily one of the worse fantasy books I've ever read. It does everything so badly; it literally embodies everything that can go wrong with the genre. Firstly, the plot is basic at best. The protagonists are being hunted, that is all. Secondly, the world is barely explained; there is no sense of history or the possibility that this world could have existed before the events of this book. Thirdly, the romance is a crappy case...

me as Susan Dennard tries to make me feel a single thing about the plot, worldbuilding, characters, and romance in this damn book:This book was so ridiculously underwhelming. It's got a lot of series potential, but a lot of it is very Bland Fantasy™. If you want random countries we're not invested in, and characters you'd like to love but truly don't, you'll probably like this. Mostly, I just felt this was super narratively all over the p...

I really really REALLY LOVED THIS BOOK. It's probably the first very very hyped book that has gone so far above and beyond my expectations that I can't even DEAL (six of crows is another but this went EVEN ABOVE THAT FOR ME)I loved all the characters, their relationships, the plot the world building, the magic system, EVERYTHING so much. It took a little bit for me to get into this (130 pages-ish) but once that mark hit, I was super into it. As m...

Although the world building was a bit confusing and clunky at the beginning, Truthwitch more than made up for that with its characters, twists, and turns. Rarely do I feel so instantly attached to an entire group of characters like I did with this book. Even though I originally got this ARC at BEA, I'm glad I waited to read it because I cannot imagine having to wait over a year for the next installment. A year will be painful enough. I am already...

1.5 starsI haven't felt this let down by a book in a very, very long time. At first, I put this down at about 60 pages because I thought I wasn't in the right frame of mind for it (or something to that extent), however as it turns out, this book was just not for me at all. I really wanted to love this and tried so hard to enjoy it but I just couldn't. This book was EVERYWHERE. I couldn't go on Twitter, Youtube or freaking Instagram without seeing...

"I guard the light-bringer,And protect the dark-giver.I live for the world-starte,And die for the shadow-ender.My blood, I offer freely.My Threads, I offer wholly.My eternal soul belongs to no one else.Claim my Aether.Guide my blade.From now until the end." I AM OBSESSED WITH TRUTHWITCH. It was on my top ten most anticipated releases of 2016 and it DID NOT disappoint one bit. I can already tell that this series is going to become one of my favo...

3.5 stars.I did really enjoy this novel. But for me I just could not connect with anything. From the names to the places everything was just extremely confusing to me. What i did love is this novel is a mixture between the grisha trilogy by Leigh Bardugo my FAV author and Aang the last airbender! :D Better review to come soon!

First of all: A+++ for those heartthreads and the slow-burn-turned-crazy-hot-tension between Merik and Safi. Best way to describe this? Adult fantasy meets YA. For those of you that love super intricate world building and plot lines, this is your book....I read someone's review that said this book was a light fantasy read for people who wanted to read about dresses & balls and that picky fantasy readers would want something more complex. I don't ...

Just as good, if not better, the second read through. Now on to Windwitch!

3.5? 4?For the positive, I love the magic system, the world, and the overall story.For the negative, the love story was a bit too sickly sweet for me and the writing was not good.I will continue the series!

3.75⭐Now that's what I call a pleasant little surprise. I loved this book. The reason why it'd taken me an entire year to finally decide to read it was because I'd already banked on it disappointing me. What a mistake that was. I loved the overall plot and were it not for the gross lack of world building, it would've been a solid 4.5⭐ read.But what it lacked in the WB, it more than made up for it with its characters. AMZING CHARACTERS...

If you are looking for new captivating YA fantasy series, look no further. Here are five reasons that will make Truthwitch your next book-hungover-worthy read.1. CHARACTERSTruthwitch has very interesting set of main characters (four different POVs) and every single one of them provided something unique and memorable to make me fall in love with them. Safi, a Truthwitch, is funny and sarcastic, impulsive and unrestrained, fierce and passionate. Sh...

3.5 stars. There was SO much hype for this book that it really affected how I viewed everything. Like if I had just gone into it without expecting the greatest YA fantasy novel yet, it might have been way better. Because it IS good.Basic plot: Safi is a rare Truthwitch so everyone wants to use her for their own means, but she doesn't want to be some pawn. Iseult is a Threadwitch who can see colored strands of everyone's feelings/emotions, which t...

Sale Alert: Kindle deal for a limited time 02May18 on Amazon for $2.99You want to know what there is a distinct lack of in Fantasy in my opinion??? Strong female friendships. I'm not talking about sisters or girls who grew up together but real friendships where you feel so strongly for that other person that no one could ever come between that. Not some boy or culture or a coming war. The beauty of Truthwitch for me was the relationship between...

Ah, Truthwitch. The truth is, you let me down.Did you see that? 'The truth is'. Because she's a Truthwitch! So it's like a pun! You know when you can just feel yourself being really annoying, and you can tell the people around you are getting sick of you, but you just cannot stop? I usually get like that when I'm extremely bored, and so I caught myself doing it a lot as I was reading Truthwitch: knowing that I need to finish this, but being bored...

FULL REVIEW POSTEDCan I just get a big HELL YES because this has been one of the only books I have genuinely enjoyed in a while and im v impressed by susan Dennard, you got me interested, lady, im coming back for more(s) - The world, while confusing initially, is really thought out and developed - Culture, history, politics, magic, all really well done- I really enjoyed how the plot was intricate and the story revolved around that- There were mul...

I received the manuscript for this book from the editor - she was hoping I'd enjoy it enough to give it a blurb. I really liked the book - the beginning was a little hard for me to get into, mainly because the two protagonists do something I thought was foolish. However it was important to show how the two characters grow and change during the course of the story so it didn't prevent me from reading the rest of the book. And once past that, I was...

ARC provided by the publisher via Netgalley in exchange for an honest review.I actually received an "Extended Extract ARC" for this book. So basically, the first half of this review is going to be my opinions on chapters one through fifteen that were given to me for review. Then, I will tell you the rest of my thoughts on the book, now that it is officially released and I have bought it for chapters sixteen through forty. The fifteen chapters I d...

$2.99 Kindle sale, Nov. 10, 2018. Final review, first posted on www.FantasyLiterature.com:Truthwitch starts off in media res, in the midst of a failed heist, and the resulting armed clash and escape are highly dramatic (even if it's not entirely clear at the time what's going on). At the same time, it's hard to escape the feeling that this is yet another typical young adult romantic fantasy, complete with a teenage kickass heroine (except this ...

HANDSDOWN MY FAVORITE BOOK OF 2016 SO FAR. I am absolutely blown away by how much I LOVED Truthwitch. This was one book that was VERY hyped up in the past few months, and I'll admit, I had seen many many mixed reviews and I was terrified that I would end up not enjoying this as much as I hoped. Fortunately, my expectations were EXCEEDED. HOLY HELL FLAMES, WAS THIS EPIC. Truthwitch is a story about two characters, Safiya and Iseult. Safiya is a ...

4.5 starsOKAY OKAY. So first of all I know this is super hyped. It was the IT book at BEA. THE BOOKTERNET WAS ALL ABUZZ. I don't want to play into that hype because it's such a disservice to books a lot of the times. It's hard to live up to it. I went into it knowing that I loved Susan's first series but I was scared because I was building this up in my head SO MUCH. But I just really need to tell you that I LOVED this book. Truly. It has the mak...